My Big Americana Feast guide includes everything you could ever possibly need to help you host a no-stress American inspired shindig. You'll find recipe links & drink suggestions plus entertainment, place setting & decoration ideas galore. I've even created an extensive checklist to help you plan and prepare.
This post may contain affiliate links. Please refer to my Disclosures Page for more details.
This whole guide is designed to help you plan every detail of your Americana Feast. As I was writing these feast guides, I realised that what you also really need is a comprehensive checklist to print out. They are so handy whilst you're prepping.
So I made you one! It even includes space for your planning and shopping list. You are welcome!
Why Americana?
I am a bit obsessed with what I see as traditional American cuisine. I've been lucky enough to travel throughout the US pretty extensively. The meals that always stuck with me were the ones that were totally different to our UK food!
Gian Pertusi, one of my lovely former tour managers and now owner of TASTE Tour & Travel introduced me to the concept of the "meat and three restaurant". These canteen style joints had a whole range of side options which were totally foreign to me.
And then the Food Network came to the UK and I've been absorbed ever since!
Some things like Pizza Hut style pizza, hot dogs and burgers have been around in the UK for a long time. Brits are pretty involved with chicken wings and ribs nowadays. But we almost never serve them with a whole wedge of iceberg lettuce. And buffalo sauce is barely a thing.
Zucchinis, eggplants, arugula and garbanzos remain foreign words. And don't even get me started on the concept of topping a whole pan of sweet potato with marshmallow. Or serving it with roast turkey!
It might be commonly said that "The UK and the US are two nations divided by a common language". But I'd argue that we're more divided by common foods!
What Time For An Americana Feast?
I have given vaguely specific timing guidance for my Brunch Feasts on what time is best to host your feast. But this Americana Feast really is an anytime affair. Although after midday would likely be preferable
The first (appetizer) course is more of a picky affair. Its best served with drinks rather than as a sit-down course. This reduces the overall sitting down time considerably.
If I was hosting this feast as an evening meal, I'd consider asking people to arrive from say 5.30/6pm. I would look to put out the appetizers at around 6.45pm and sit down to the main course at around 7.30pm.
This allows plenty of time to partake in the socialising and to finish off heating up the food for the main course etc. I am not a fan of hosting a meal and then spending the whole evening in the kitchen. I'm having friends over, not providing an unpaid private catering service!
The slightly earlier sitting down time also gives you a opportunity to have another drink and digest the main course before serving the dessert. But without dessert not arriving until 10pm when people might be starting to want to drift home (lightweights!).
Recipes for The Big Americana Feast
Remember that this collection of recipes that I've provided is just a guide. Feel free to mix and match as you wish.
But it is worth bearing in mind that the rest of this post and the accompanying checklist do assume that you are using this exact set of recipes. So do prepare to be flexible with everything from tableware to cooking equipment.
I've categorised all of my Americana collections with the American way (and spelling) of talking about courses. No real reason except I loves a theme!
Appetizers are the starter course. Entrees are the main course despite always sounding to me like they should be the first or 'entry' course. And dessert is well, it's dessert!
Appetizers
These starters are designed to be more finger snacks than something that is served at the table. Grab a drink, hang out, chat to friends and then leave them to the chips and dip whilst you do the last minute bits for the main course.
Holy Guacamole! Did you know that you can own a house and enjoy avocado on a regular basis? I'm living proof folks! Guacamole is a family favourite around these parts this is my recipe for a fully loaded but nearly smooth guacamole. So tasty!
Make more than you think you'll need. My friends can swarm on a tub of guacamole with a ferocity that would make grown men weep. At the very least I would serve half an avocado's worth for each person.
And then of course you will need tortilla chips. It turns out that not everyone is willing to just dunk a cheeky finger in a dip. Try to figure out a balance between having enough chips for the amount of guacamole served, but without having so many that everyone fills themselves up!
I prefer a plain salted tortilla to a flavoured version but it is ultimately up to you which you prefer. The other option is if you can get hold of the puffy pork scratching which the Mexicans call chicharrones. They are great for dipping too. Crudites are another options. Or you could serve a mix.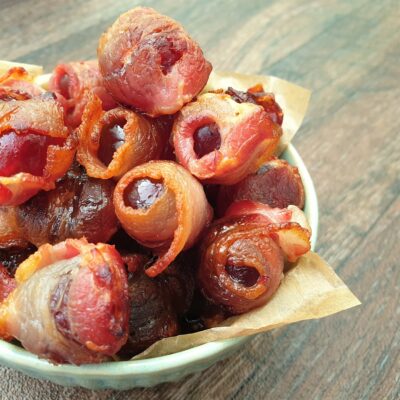 My Bacon & Cherry Bites are the perfect canape for almost any occasion. And I know they sound weird and I know that your guests will give you the side eye before trying them but trust me, you'll wish you made double because everyone loves them, even the strongest sceptics. Including me!
Is there anything more American than sugared fruit wrapped in bacon? I think not. You'll also want to make a decent sized portion of these. You will eat half as they're cooling, never mind how quickly they'll go on the day!
Entrees
Everything on this menu can be served family-style at the table for everyone to help themselves.
In addition, everything can be prepared and cooked in advance then reheated. Or prepared and cooked last minute. Whichever makes you happiest and less stressed.
BBQ Pork Ribs are one of my favourite sticky, sweet and smoky treats. Individual spare ribs are first boiled and then baked in the oven to produce soft and tender glazed morsels. They're perfect for nearly any occasion.
Suggested Extras
The recipe does call for shop bought BBQ sauce to be used but you could of course make your own. I'm yet to publish my best BBQ sauce recipe just yet (watch this space) but in the meantime…
I'd suggest you take a look at this smoky number from Tin & Thyme, this easy peasy version from Easy Peasy Foodie or this pot of BBQ deliciousness from Something Sweet, Something Savoury.
Some extra sauce served on the table also cannot be a bad thing.
Southern Baked Chicken Wings are a spicy and crunchy American classic. My version is baked, not fried which makes them perfect for hands off cooking. A buttermilk marinade makes sure that my wings are tender and soft on the inside too. As a bonus, they're shockingly easy to make!
Suggested Extras
Wings and ribs are the quintessential American finger foods. This isn't a menu to be worrying about knife and fork etiquette!
I love to eat both my ribs and wings with the coleslaw as I find that the creamy coleslaw dressing gives me everything that I need sauce wise. But you can also serve some other dressings/sauces for dipping.
These can be from bottles/jars or homemade, it is up to you! These are some of my favourites:
A Light & Easy Creamy Coleslaw is a staple of any cooks repertoire and everyone seems to have their own classic recipe. This is mine. Its light, sweet and crunchy without being claggy or feeling like a "healthier" version of something better.
My Easy Boston Baked Beans are a whole world away from our everyday baked beans. These beans are rich, sticky and deeply savoury. They're a classic American side which is perfect with BBQ. But do try them on toast!
My Cheesy Garlic Rolls are the perfect grab-and-go version of my ever popular Cheesy Pull Apart Garlic Bread. The enriched bread is gorgeously soft, the cheese stringy and the garlic bordering on spicy. You're going to want to make a double batch!
I've said further down that you should make a whole batch of 18 rolls. Even if you are only hosting for 4 people. This is because I don't think its worth making them in a smaller batch.
What I have suggested is that the whole batch is part baked on preparation day. Only the number of rolls being served then need to be cooked off on the day. Any remaining rolls will sit happily in the freezer until you want them another time.
Baked Macaroni Cheese is the ultimate American side dish! My basic mac'n'cheese recipe includes a creamy and velvety sauce packed with three cheeses topped with a crunchy panko and mozzarella crust. Its perfect as a side or gussied up with any manner of extras to make a whole feast on its own.
Suggested Extras
This menu will also benefit from a little salad. I like to keep it simple with a bowl of baby spinach leaves or maybe even some rocket (arugula). You could also throw in some cut cherry tomatoes and/or red onions for extra freshness.
I don't generally bother with an additional salad dressing. The coleslaw provides enough dressing to help out with the moisture requirements. Plus anything you decide to serve with the ribs and wings can also play double duty.
Dessert
My Chocolate Peanut Butter Cheesecake does what it says on the tin but in a rather decadent and sophisticated way! Not too sweet or too rich despite it's brownie base, it's significantly quicker and easier to make than you'd ever imagine! Give this Americana inspired cheesecake a go and I promise it will be a firm favourite forever more!
This is my best make ahead dessert option. For something different, my Chocolate Lime Pie with Italian Meringue is equally show stopping. But doesn't have the benefit of being quite so prep-ahead-able.
Consider serving the cheesecake simply with double cream, sweetened whipped cream, creme fraiche or even ice cream. As the cheesecake is quite decedent in itself, I would tend to stick to a simple vanilla ice cream if you go the latter route.
Serving Sizes
I come from a world where we regularly use the phrase "never knowingly under-catered". Obviously in this day and age, we don't want to be creating excessive food waste either.
But people rarely complain if you send them home with leftovers. Waste tends to not be much of an issue in my circle! Don't forget that each of my recipes give suggestions for how to use up leftovers. And/or how to freeze them for later.
The following table is therefore my suggested serving of each recipe included in this feast for various party sizes . I've aimed to provide abundance but without too much excess.
Adjusting The Serving Sizes
Some recipes multiply by certain quantities more easily than others. Others just aren't worth bothering to make in really small quantities.
My Guacamole recipe serves 4 using 1 large avocado. I feel that that portion is too small when serving it as the main appetizer, hence why the portions look rather excessive!
I also don't believe it is worth making less than 30 of the Bacon & Cherry Bites. My larger suggestions anticipate using either a whole or a half tub of cherries.
Equally I wouldn't make less than one whole batch of 18 Garlic Rolls. Even if you are only serving 4. They will undoubtedly get eaten and they freeze like a dream. The same is also true re the cheesecake. Make a whole one!
I've portioned the Boston Baked Beans as a hearty main course or lunch. And so I've suggested significantly lowering the portion sizes when serving them as a side. The same is true for the macaroni cheese.
If you actively want more leftovers then do feel free to up the quantities.
An Alternative Americana Feast Menu
There isn't really anything 'Alternative' about this Americana Feast, it is simply an alternative menu suggestion.
The centrepiece is a glorious boiled and glazed Ginger Ham served with loads of US inspired sides like Green Bean Casserole. The whole feast is followed by a stunning Chocolate Lime Pie. Yum!
A Vegetarian Americana Feast Menu
I've also prepared you an entirely meat free Americana inspired Feast!
My White Bean Chili is truly the star of the show along with loads of great topping suggestions, Sweet Potatoes and my epic Garlic Bread Rolls.
I finish with my Chocolate Monkey Bread for something a little different. Who needs meat eh?!
Everyday Americana Feasts
I am a huge advocate that feasting does not have to be reserved for when you are hosting or having a large number of people round to feed.
And so I put together little feasts all the time. I love the variety and little Americana feasts are some of my favourites. These Everyday Americana Feast collections are perfect to serve, 1, 2, 3 or even 4+ people.
Let me know if you can think of any more combinations of my Americana inspired recipes that I should add!
This feast is a mini version of my Alternative Americana Feast menu. Serve my Ginger Glazed Ham with my baked Macaroni Cheese and Green Bean Casserole for a little veg on the side!
Whats more is that there should be plenty of leftover ham to see you through some extra meals and lunches throughout the week.
My classic Caesar Salad recipe with homemade Dressing is beefed up with tasty Roast Chicken and topped with a Poached Egg to make a full feast of a meal.
Serve my Mexican spiced Dry Rub Pork Ribs with my Creamy Coleslaw and garlic Roast Sweet Potato.
The whole thing is ready in just over an hour which is mostly hands-off time. Perfect to throw in the oven when you come home from work.
Mix It Up
Don't let my suggestions here limit you. Why not try mix it up with some of my other Americana inspired recipes or even create a whole collection/menu from scratch.
For even more ideas, check out my dedicated savoury and sweet boards on Pinterest. The boards are chock full of ideas but let me know if you think there is anything I've missed!
Drinks at The Big Americana Feast
Just like with the food, the key to serving drinks is to set things up so that guests can help themselves as much as possible. You should have less waste and everyone gets exactly what they want. Whilst relieving you of some running around.
In this case think jugs of cocktails/soft drinks, buckets of beers and help yourself coffee.
I had so much to say on the subject and so many great looking drink suggestions that I've written you a whole separate post. Don't forget to bookmark it because you're going to want to go back!
And because I'm extra helpful, I even have a dedicated Pinterest board just for Americana inspired drinks! Have a look and let me know if you think I've missed anything. Don't forget to follow all of my boards while you're there!
What Drinks to Serve and When
I have a few suggestions of the type of drinks I'd serve at my Americana Feast but what you decide to serve will truly depend on you and your guests.
There is no point in buying a whole load of bottles of beer if you know you are a bunch of wine drinkers. Equally don't go crazy making jugs of bourbon cocktails if you mostly prefer gin. And obviously stocking up on the booze when everyone is driving is folly.
Water & Ice
It doesn't matter what kind of feast or what time of day, you need to make sure you have water available. This is especially true if you are also serving alcohol.
I also make sure that I have water glasses on the table. And I make sure to keep the carafe or jugs of water that I leave on the table topped up.
The amount of ice that you need will depend on the climate, time of year and the type of drinks you want to serve. Consider whether you need extra to keep a beer/wine bucket topped up as well and any that you will need to put in the drinks themselves.
On Arrival
I love to serve a short cocktail when people are arriving. I'd also have some beers on hand for any cocktail dodgers and some kind of soft drink option available as well as water.
However. In the summer, I'd maybe switch this up and serve a frozen cocktail. I don't want to be faffing around mixing blender drinks whist wanting to be socialising and dealing with the food. So getting everything ready to go before people arrive and then doing some whizzing first thing is the perfect compromise.
For my photo feast I made Smitten Kitchen's Bourbon Slush Punch. Good god it was good! I made the base ahead of time and then whizzed that up with ice in the blender as guests were arriving.
During the Appetizer
I've designed this feast to have a starter course when the appetizers are more canape like and served away from the main table. This provides further opportunity to have some more drinks whilst chilling out.
I would tend to either stick with some beers and perhaps serve another helping of my initial short cocktail. Or crack on with a longer cocktail.
Along with my slushy cocktail, I served Fab Food 4 All's Old Fashioned Lemonade as a non-alcoholic option. It was lip puckeringly good!
During the Entrees
So now that everyone is sitting at the table ready to dig into the main courses, I would be looking to make sure that everyone has their choice of beer, wine (if serving), soft drink or long cocktail. Don't forget that water should always be available too.
I chose to serve Super Golden Bake's Long Island Iced Tea. I made the mix up beforehand then added ice and coke to serve. Perfect and easy.
During Dessert
There are a few options here. You can serve coffee at this stage or after dessert. That's if you are serving it at all.
And/or you could serve a milkshake or hardshake alongside the dessert. Boy do I love an alcoholic milkshake! Alternatively if you are hosting in a colder climate or winter time, you might want to try your hand at making an eggnog or hot chocolate.
If you chose not to serve a signature short cocktail on arrival, after dessert would be the time to do so. It is quite a classic aperitif moment. Otherwise just crack on with whatever beers, cocktails and soft drinks were served with the entrees.
After Dessert
Drink what you will!
Equipment needed for the Big Americana Feast
None of the recipes in this feast absolutely require any equipment that is too specialist.
A comprehensive list of the equipment used to make each of my recipes is included in the main recipe card on each post. Click on any recipe to see an example.

There are no hard and fast rules so many items can be sensibly substituted to achieve the same results. Each post also includes my thoughts on any alternatives that you could use and details of any specialist equipment if needed.
Bakewear
You will however really want to have a loose bottomed cake tin to make the Chocolate Peanut Cheesecake. It is also ideal if you have some kind of grill or oven rack that you can use to cook the Southern Chicken Wings.
Appliances
A small food processor or mini chopper will help to make light work of the Guacamole and crushing the peanut brittle to top the Cheesecake.
A stand mixer or electric hand mixer with dough hooks will save you significant time and elbow grease when kneading the dough for the Garlic Rolls. And beating the fillings for the cheesecake.
But all of these things can be done by hand if you need to. So please don't let a lack of small appliances put you off! Just make sure to factor in a little more preparation time.
Oven to Table
Both the Boston Baked Beans and Macaroni Cheese can be served straight to the table in whatever they were cooked in.
I am particularly fond of using my red enamel dishes for this. Or, if I'm being super organised, using pyrex glass dishes with lids also makes storing them overnight a breeze. Good old ceramic casserole dishes are another easy option.
Table, Serve & Drinkware
It is highly unlikely that you need to go out and buy anything new here. Save your money to spend on good ingredients. Saying that, if you are catering for a bigger crowd than usual, you will want to ensure that you have enough of everything.
My suggestions can be found in the equipment list section of my handy printable checklist that I've prepared. Don't forget to download it!
Everything I've suggested should really be taken as the minimum recommendation quantity wise. Spares are always helpful and will save you running around and washing up bits and bobs whilst trying to enjoy your own party!
Tableware
Crockery
My main dinnerware is from Sainsbury's home range which I love. I buy a lot of kitchen stuff from there along with Ikea. And I try to always buy very simple and plain dishes as I don't really like patterns detracting from the food.
Disposable plates are a great option, especially for a larger crowd. It really saves on the washing up but isn't exactly amazing for the environment. However there are now many more options above and beyond the old paper or polystyrene plates.
Some spares are always handy. Someone will inevitably go rogue and put something on a plate designated for something else. It is inevitable so just embrace the chaos!
One of the tricks to avoiding such chaos is to present all the crockery next to what you're serving on them. In this case I suggest having the main course plates as part of the table setting. The smaller dessert plates can be set to the side next to the cheesecake.
This will all depend on the space that you have available of course but we can all dream about the ideal scenario.
Cutlery
I kept my "entertaining cutlery" out of the way and in a box when I lived in a shared house. No way was that going into general use. Even with my extra diligence, I'm still missing a teaspoon!

Now that I'm back in my own house, my "fancy" copper cutlery gets used everyday but I do still have an expensive canteen stashed away for really special occasions.
As with the crockery, disposable cutlery can be a great idea, especially as the number of guests increases. This can be a good idea even if just used for the incidental extras and a full set of proper cutlery is provided for the actual eating.
For this Americana Feast, I thought it would be a nice idea to use my set of wooden handled chunky steak knives. I felt like they fit the theme and would help anyone that refused to use their fingers to eat the ribs! if I owned a set with matching forks included, I'd have used those.

A simple fork and spoon is all that is needed for the dessert. Speciality dessert forks are nice to have but not really required.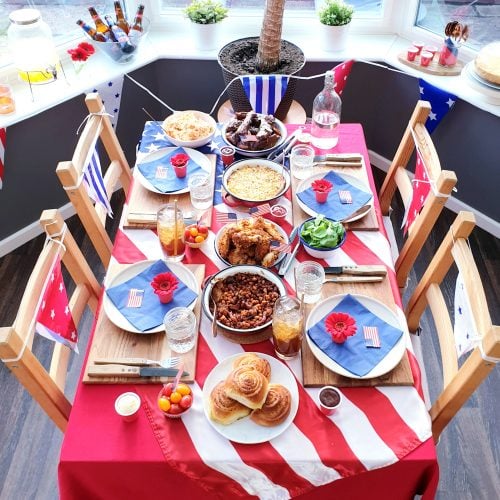 Serveware
This is the bit that I used to forget to plan for everytime! Serving spoons and plates/dishes always seem to get hunted down at the last minute. And even if you plan until you are blue in the face, you will inevitably have to run to the kitchen for something else!.
But if you use my handy printable checklist, you will have no excuse!
Quantities
I've listed the number of serving bowls that you will need on the checklist. It is essentially one bowl for everything except the Garlic Bread which can go on a plate or board and the Macaroni Cheese and Baked Beans which can be served in their baking dishes.

Whilst talking about oven-to-table serving dishes, it is best to ensure that you have sufficient heatproof pads to protect your table.
Bowls vs Plates
I am preaching bowls over plates/platters for logistical reasons. As I'm suggesting that all of the dishes are served help-yourself style on the dining table, bowls simply take up less room!
When I talk about "serving bowls" please don't feel compelled to only use something that says "serving bowl" on the label. Whilst there are some beautiful options, realistically, you can serve food in any bowl!

I often use my favourite enamelware or even just the pasta or cereal bowls from my everyday crockery set. Small pie dishes can pull double duty as can any other type of vessel that you might have hanging around.
Consider the Extras
I do normally always suggest decanting any sauces etc into small bowls etc as it looks much nicer when serving a meal. And whilst I do mostly still do this, for an Americana feast, throwing a bottle of ketchup, bbq sauce, yellow mustard and/or hot sauce onto the table actually feels quite appropriate.

As it happens, in this case I found some cute red shot glasses which fit the theme perfectly and became perfect vessels for table sauces. I stumbled across these in the party section of Asda.
It is best to spend some time when you are setting out the table to also put any serving utensils out. There is nothing worse then running round last minute looking for a big spoon.
Drinkware
What drinking vessels you need will obviously depend on what drinks you are choosing to serve.
I've provided a whole range of suggestions in my dedicated Drinks for Americana Feasts post along with loads of drink suggestions.
Use the handy space on the downloadable checklist to make a note of everything that you might need. Don't forget water glasses and something put water in on the table like a pitcher or carafe.
Napkins for The Big Americana Feast
I'm going to assume that like 98% of the rest of the population that you're going to go with paper and not linen. I can't be doing with the laundry. Also, I think linen napkins are kind of gross!
I generally stock up on napkins from Ikea although you can buy the same napkins for a premium from Amazon. Tiger and Sainsbury's also both do good ranges.

Like with most things, I generally stick with plain colours and not patterned. Folding patterns can be a real pain too.
I had some fun playing with different on-theme napkin folds but ultimately I realised that paper swans in the colours of the American flag just weren't for me!

So I've tried to keep things simple whilst still using red, white and blue napkins for my theme.
Don't be afraid to use more than one napkin with a place setting. Realistically most people will need to use more than one, especially with finger food like ribs and wings. Actually, many extras are a good idea.
Napkin Folds
I've provided some suggestions below. There is nothing that isn't clearly easy to fathom to I won't bore you with a step-by-step guide how to fold a triangle napkin.
As a note, I did try to avoid arranging the napkins in a red, white then blue formation as I didn't want to confuse the colours of Uncle Sam with the colours of the French flag.
Don't forget to leave some napkins in reserve for dessert. I usually leave a stack with the cheesecake, plates and cutlery so that I'm all ready to go.
And you will also need some available for the appetiser course. Some numpty will inevitably dip their fingers into the guacamole along with their tortilla chips. Ok, its actually more a problem with the slightly sticky bacon and cherry bites!
In the end, I decided that I actually most preferred using a single unfolded napkin as part of my placesetting!
I did of course keep some spares handy.
Table Settings for The Big Americana Feast
As usual I've kept my place settings pretty simple. In this case, I've used the main course plate as part of the set up. As the starter will be served elsewhere, they will not get sullied by being part of the setting.
Below are some of the options that I considered. It is always a good idea to have a little play around as often something that looks great in your head is awful in real life.
I've also kept things fairly simple to allow room for the main course food to be served in bowls on the dining table itself. I've done this on a fairly small table without issue. But if you are really pushed for space, you can also serve the food nearby buffet style. I do this with my Brunch Feast.
Tablecloth
Whether you even use a tablecloth or not will very much depend on your table. I've not had a good and decent dining table for years so I've gathered a few plain but nice tablecloths.
Primark Home and Asda have been my main sources along with Ikea for ones like this blue linen tablecloth.
The size will obviously depend on your table but try to look for something that sits fairly short down the sides of the table. No one want to do battle with a floor length cloth.

For a really large table, you may need two tablecloths. Its nice if they can match but obviously do what you need to do.
If you have a nicer table that doesn't need covering but you want to still provide some interest, a table runner is a nice touch. In this case, I might be tempted to go a little less plain. Using a runner over a table cloth is another option.
An oilcloth/vinyl tablecloth would be very practical especially if you don't live in the north of England and are able to plan a lovely outdoor feast.
To keep with the Americana theme, you could invest in a flag themed table runner or table cloth. I combined concepts and went with an American Flag over a red cotton tablecloth.
Placemats
Placemats are not always required. It will again depend on the aesthetic of your table or cloth. I would be even less inclined to consider them essential if dining outdoors.
Do be picky with table mats. I hate those old fashioned small rectangle ones. And I hate them even more when they're patterned.
Also do please avoid fabric placemats. I'm yet to meet one that has ever looked good after they've been washed, no matter how many hours you spend ironing and pressing them. if good ones exist, do let me know in the comments.
Table Decorations
This is where I want to give you some ideas that don't involve spending tonnes of money on something that you're only going to use once or maybe twice. If you have £200 to spend on thematic decorations, go for it!
Lights
There is no need to go full Nigella but fairy lights are great. Especially now that you can buy small battery powered strings of them for a couple of quid. Both Ikea and Primark are good sources. Amazon have plenty of options.

They can easily be strung up around the room and/or draped around the table.
I try to avoid having candles on the table when I'm serving food family style. The risk of catching a sleeve on a naked flame is just too high. Battery powered candles are a good alternative. I prefer ones that embrace what they are rather than ones that try to look like real candles.
Thematic Decorations
I already happened to have a US flag which I used as part of my table setting. Don't ask why but I knew it'd come in useful one day!
Other than lights and the flag, I kept the rest of my decorations off the main table. This was because I have a relatively small table and I wanted to serve all the food on it. Which is far more important that having flowers or non useful trinkets in my opinion.

But I did throw a few things at my coffee table where I served my appetiser course, including a string of lights and all the flag cocktail sticks.
As I've mentioned above, I also ended up using these cute red plastic shot glasses which are reminiscent of the cups used by college students in American movies.

I used them as mini vases in my place-setting, as vessels for sauces on the table and also to serve cream in with the cheesecake. They were £1 from Asda. I never once used them to drink shots.

Always keep your eyes open and think what you can re-purpose.
Flowers
Some small and simple flowers like those that I use for my Big Brunch Feast would be a nice option if you really love fresh flowers.

I didn't intend to have any flowers on my table at all but found some great red flowers at the supermarket which I ended up incorporating into my place setting.
Decorations for The Big Americana Feast
There are two obvious ways to go here. The first is a embrace the stars and stripes like I do. I keep my decorations along a red white and blue theme. The other is to go full cowboy/wild west with stetsons, hay bales, lassos and wanted posters.
It is difficult to go wrong with bunting. You can buy some cheap varieties which are easy to string up but provide an instant thematic effect. There are many varieties of flag bunting available too.
Or, if you'd rather keep things a little more subtle, I love the idea of using loads of hanging star garlands. They're excellent decorations to invest in as they'd also be useful for other occasions like Christmas.
As I don't like taking decorations too far, the only other concession to the theme that I made was to buy a small pack of cocktail sticks with USA flags on them. I scattered them around various places. Including using them to eat the Bacon Cherry Bites. It was a subtle touch but which spread the theme around nicely.
Entertainment at The Big Americana Feast
To clarify, I am not talking about going all out with clowns, magicians and a string quartet. I am merely talking about a little background music and perhaps something to keep your guests amused whilst you finish up a couple of last minute things in the kitchen.
Music
Like serving spoons, music always seem to be one of the things that I forget. And I think thats probably true for many people.
It is absolutely worth spending 10 minutes having a think about the logistics and playlist in advance. That makes one less thing to think about on the night.
Harness Technology
What I tend to do nowadays is simply shout at the corner of my room:
"Alexa – Play an Americana playlist" or "Alexa – Play an Elvis playlist"
This assumes that you have an Amazon Alexa! If you have another similar system of course that will work too.

Don't forget that you can plug and unplug smart speakers somewhere nearer where you are eating/entertaining.
There are a myriad of alternatives. A number of music apps such as Spotify are available on all sorts of devices that can be set to play a pre-set playlist wherever you want it.

A small but good quality wireless speaker can be helpful if playing music through a phone or ipad.
But whatever you use, I would heavily suggest a pre-made playlist. If you are into that sort of thing, you can of course put together your own in advance. Otherwise there are so many options out there, I am sure you can find something more than suitable on whatever platform you use.
Do think about this in advance. No one needs a mouthful of food with silence in the background while the host loses their mind scrolling through the sky planner or screaming at Alexa! And do please try to avoid anything with adverts.
What Genre Music?
Ever heard of the Great American Songbook? I don't think you'll struggle to think of something on theme! Here are some of my favourite Amazon playlists. Let me know if you think of any more that I should add!
Blues for Cooking
Acoustic Blues
Chilled Out Country
Feel Good Classic Country
Classic Crooners
Open Road
Cooking Slow Jams
Frank Sinatra & More
Best of Elvis Presley
Eagles & More
The Rock & Roll Hall of Fame
And the of course there are the really obvious ones:
Americana
Weekend Alt Country and Americana
Every platform will have similar options and there are also various online stations to listen too as well as individual compilation albums.
Oh and did I mention that good old Michael Buble is from Canada? That's in North America and is therefore absolutely on theme. I say this because I firmly believe "If in doubt, Buble"
Games
I sometimes like to set my guests some kind of sociable task or competition to keep everyone occupied whilst I'm in the kitchen serving up or quickly finishing up a dish.
Or leave your guests with some themed photo props and set a funniest selfie competition. You could share the photos on social media with a specific hashtag (don't forget to tag me at @feastgloriousfeast too) or share them within a private whatsapp group!
For something a little more structured, have some easy and quick games on hand like The Yes! No! Game, Pass The Pigs Party or classic Yahtzee. As long as the games don't go on too long, don't take too long to set up or learn and can accommodate the number of potential players, fun will be had!
You could alternatively go straight for the drinking games and keep things truly in the Americana camp by playing beer pong. The classic college game is easiest played by buying a kit and adding your own booze! Or you can buy cups, ping pong balls and google the instructions.
Preparing for The Big Americana Feast
I hate rushing around on the day to have all the food ready from scratch. Even if I have time to do it all, by the time I want to hang out with my friends and enjoy the meal, I'm thoroughly shattered.
So I am a huge fan of preparing everything that I possibly can in advance. I suggest that this feast is mostly prepared a day in advance. I have written the free downloadable checklist on this assumption.
There are a number of the recipes that can be prepared before that. The BBQ Ribs can be boiled, marinated and then frozen. Likewise the Southern Chicken Wings, Garlic Rolls and Bacon Cherry Bites can be partbaked and frozen. The Macaroni Cheese and Baked Beans can also be prepared and then frozen.
However the Guacamole and Coleslaw will both be grateful if you don't prepare them more than a day in advance. Any salad is also best prepared on the day.
Preparation Schedule
I have provided a comprehensive preparation day schedule in my printable checklist which you can download for free. It really is incredibly helpful!
The whole preparation time took me 4 to 5 hours. I did get ahead of the game and start marinating my chicken wings a bit earlier in the day but I actually didn't need to.
How long you allow yourself will depend on your confidence levels. I have made all of these recipes before and I know that I own all of the required equipment. If you have to stop and think a little bit more or improvise some of the methods, it may take you a little longer.
Preparation Tips
Do read through all of the recipes before you start.
Make sure to set a timer every time you put something in the oven. I have told you when to put things in but you need to keep track of when each thing needs to come out.
Try to do as much cleaning up as you go. Some pieces of equipment will need to be reused like the mini chopper bowl and measuring spoons.
Storing the Food
To make everything as easy as possible to simply finish cooking in just half an hour before serving, I would recommend that everything is stored in what they will be cooked or served in overnight.
For example, I put my bbq sauce coated Pork Ribs into the lined baking tray that they will eventually bake in.
The Baked Beans are put in their oven-to-table dish and the Guacamole is split between a couple of serving bowls. Everything can then go in the fridge ready to be pulled out and served/cooked.
This also seriously saves on washing up but does assume that you have sufficient fridge room to do this. Fridge space is always something to bear in mind when planning your Feast.
Do make sure that everything is cool before putting it into the fridge. As as note, the garlic rolls don't need to be chilled.
Other Preparations and Table Setting
Apart from preparing the food in advance, the single best thing you can do to keep stress free is to set the table, get the crockery ready and have the decorations set up well in advance.
No last-minute faffing = No last-minute stress.
To make sure that you don't miss anything, make sure to download my Free Comprehensive Checklist. I've provided you with a reminder of everything you should make sure to have done the day before and on the day.
The checklist includes everything from getting the music ready, making sure all of the crockery is in the right place to setting the table itself and having the kitchen all ready to go. Plus checking your guests are all still planning on coming. People really are a nightmare!
On the Day Preparation Timeline
You now have all of the food cooked and its the day of the feast. Because you have been super organised, there isn't that much to do at this point. But you do still have some things to do!!!
Unlike with my Big Brunch Feast where I've suggested setting the table etc the day before the feast, with this one I've suggested doing it on the day.
This is largely because I am assuming that it it more likely you would host this feast in the evening. However. If you are going for a lunch party, I would suggest that you do try to get ahead of the game. Do those bits the day before.
I have provided yet another checklist to help you through the day in my Free Printable Checklist! Don't miss out on the download, it makes everything so simple!
Catering for Allergies at A Big Americana Feast
Each of my recipes includes details of whether they are gluten-free, egg-free, dairy-free and/or nut-free. Each recipe also gives suggestions for how to adapt them for these dietary requirements if needed.
If you have one or more people coming to your feast that have dietary requirements, often the easiest (and the nicest) thing to do is to make all of the dishes suitable for them. If this isn't possible, making as many of the dishes suitable as possible is great.
Anyone with allergies will be super grateful for your effort but I would always recommend talking about the menu with them directly.
There may be things to consider that you haven't thought of and you could equally waste time making unnecessary changes. There is no point in making gluten-free chicken wings if that gluten-free person hates wings!
And also don't be offended if anyone wants to bring their own food. I would much rather that someone came to my feast and enjoyed themselves worry-free rather than giving us both anxiety about allergy-friendly food.
Please note that this recipe may contain other allergens not referred to above and any variations suggested have not been tested unless otherwise stated. For more information regarding any dietary information provided on this website, please refer to my Nutritional Disclaimer.
How to Download the Big Americana Feast Preparation Checklist
Complete the form below to receive a copy of my free and comprehensive Big Americana Feast Preparation Checklist. I'll send the download link to your email inbox!
The checklist includes worksheets to help you plan your guest list, the final menu, and everything you need to serve the feast. It also includes timelines and checklists for preparing the food in advance, preparing the table, and hosting on the day. Plus it includes a bonus shopping list!
Still Have Questions?
Simple! Just contact me and I will do my best to help as quickly as I am able. Head over to my Contact Me page, any of my social media channels or post a comment at the bottom of this page and I'll see what I can do.
Pin The Big Americana Feast For Later
Hit one of the share buttons to save this page to your Pinterest boards so you can come back and find it at anytime!
Keep Up to Date
Make sure you SUBSCRIBE to my newsletter and avoid missing out on any of my newest and bonus content. Don't worry, I promise not to spam you or bombard you too often. Plus you'll receive a copy of my FREE 7 Day International Meal Plan!

Also please don't forget to follow me over on my social media channels over at Facebook, Twitter, Instagram and Pinterest. I love to interact with my followers and I'd love you to share my content with your friends too.