My guide to hosting a Big Asian Feast is more than comprehensive! With a menu inspired by China, Japan and Korea, the food is already a hit! I've also included advice about drinks to serve, a prep-ahead timeline, decorations and entertainment. Its my ultimate stress free feast!
This post may contain affiliate links. Please refer to my Disclosures Page for more details.
This whole guide is designed to help you plan every detail of your Asian inspired Feast. As I started writing these feast guides, I realised that what you also really need is a comprehensive checklist to print and have handy whilst you're prepping.
So I started creating them! This checklist and timeline even includes space for your planning and shopping list. You are welcome!
Why an Asian Feast?
Asian food is always my go-to. I love everything from traditional Chinese dim sum to old school stir-frys. I also really can't resist any pork belly dish, especially when it's smothered in Korean flavours.
So creating this feast was easy. I love to share food and some of my favourite dishes really lend themselves to my feasting style. This feast is therefore all about sharing dishes.
You Say Asian…What Exactly Do You Mean?
I will take this opportunity to point out that I am aware that "Asian" is a very broad word to use. For the purposes of this and the other "Asian" inspired feasts that I've created, I am primarily referring to the cuisines of Japan, China, Vietnam, Malaysia, Indonesia, Thailand and Korea.
I do hope to create more recipes and feasts based on Western Asian cuisines in the future. Let me know if I should make this a priority!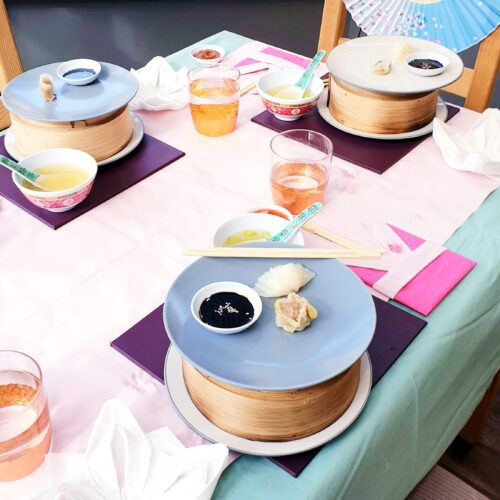 What Time For An Asian Feast?
This is mostly the kind of feast that I'd host in the evening. But if you wanted to emulate a Chinese Dim Sum meal, then Sunday lunchtime is the prime time.
I've suggested that you serve nibbles on arrival then have three sit down courses. I like my Feasts to be quite relaxed for both me as the host and my friends who are eating. So I tend to start quite early.
For an evening feast, 7pm would therefore be my target time to sit down and start eating the dumpling starters. I would probably ask people to arrive from around 6pm and ask they they don't arrive any later than 6.30pm.
Late is not fashionable, it is rude when people are bothering to cook for you. Tell any tardy people an earlier time if needs be!
Recipes for The Big Asian Feast
Remember that this collection of recipes that I've provided is just a guide. Feel free to mix and match as you wish. But it is worth bearing in mind that the rest of this post assumes that you are using this exact set of recipes. So do be prepared to be flexible with everything from tableware to cooking equipment.
Nibbles
My Salt & Chilli Edamame Beans are inspired by the tasty morsels served by Wagamamas. But with my version, there is no popping beans out of pods or wasting precious seasoning on the inedible bits! Did I mention they're ready in under 10 minutes?
These chilli beans are perfect to serve with drinks whilst people are arriving and socialising. You might want to go easy on the chilli if you have some more sensitive people coming. You could even make 2 batches, one with and one without chilli.
I also like to serve some prawn crackers. Sometimes I pop them myself but for ease I usually just grab a bag from my local Chinese takeaway or the supermarket. You could alternatively serve crackers with any of the other courses. Maybe not dessert!
Starters
How hearty this starter course is will depend on how many dumplings you serve to each person. You may decide to keep it quite light and just serve one of each type per person or 2-3 of each for those with larger appetites.
Alternatively, you may prefer to serve more of just one or two dumplings rather than a selection as I've suggested.
Or serve an even greater variety! Other dumpling options are my Fun Guo pork dumplings and my Tofu Siu Mai.
---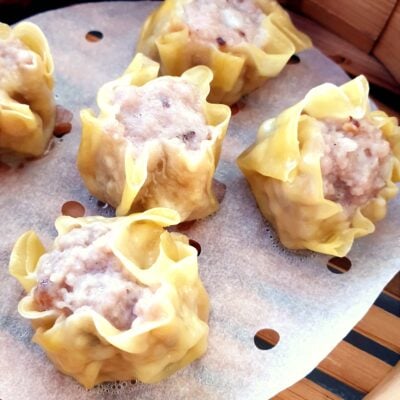 Sui Mai (shumai) is a type of Chinese steamed dumpling that is ever popular as part of a dim sum feast. Minced pork and prawn are wrapped in a ready made wonton wrapper and simply steamed. They are fun and easy to make in a large batch to stash extras in the freezer for later.
---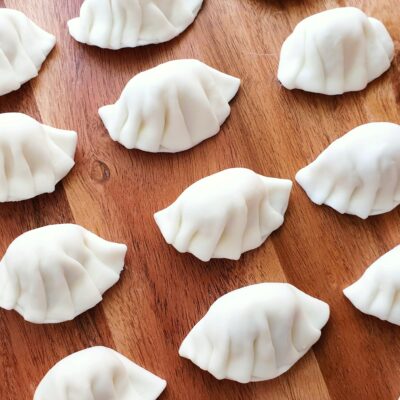 Har Gow (ha gau or har gau) are the white skinned prawn dumplings that are my personal highlight on any dim sum platter. They are surprisingly easy, fun to make and much cheaper than buying them ready prepared.
---
These Tofu Crystal Dumplings are my vegan version of the classic steamed Har Gow dumplings which I love. They're folded slightly differently to mark them apart but the highly flavoured tofu filling is easily on par with the original prawn filling.
---
A Dumpling Dipping Sauce is essential when making and eating Chinese dumplings like siu mai, har gow and fun gwor. This dipping sauce really is the ultimate in simplicity with just 2 ingredients. And it takes less than a minute to make!
---
There are a couple of options for how to serve the dumplings. You can plate up a certain number of dumplings for each person or serve them on platters.
The one thing to bear in mind is that they are best kept warm. Because of this, I like to serve the dumplings in their bamboo steamer baskets.
But annoyingly I don't have a lid for every basket. So instead I put my plate over the top as a makeshift lid. When I want more dumplings, I just lift my plate and grab more. Genius!
The soup is really optional. Or it could be served with the main course instead if you prefer.
For ease you could omit the tofu although if you are making tofu dumplings and tofu stir fry, you may wish to utilise any leftovers.
---
My Miso Soup with Ginger & Tofu is my go-to side for almost any of my favourite Chinese and Japanese inspired dishes. Its light but filling, tasty but subtle and includes a little extra hit of tofu-based protein. Best of all, its ready in less than 10 minutes.
---
I always serve my soup individually in small bowls. It is simply less messy that way.
Main Course
I have designed the main course to be served family style with the dishes plated up and served on the table. Your guests can simply themselves.
My Korean Belly Pork is one of my most popular recipes and one of my absolute favourites. The perfectly glazed and soft Pork Belly is not too spicy but has a little warmth, sweetness and bags of umami. I know that this Korean Bossam Pork dish will be your instant favourite too.
The belly pork forms the centrepiece of the Feast. It can be prepped ahead of time and simply reheated before serving.
---
Sweet Chilli Salmon is my go to fish dish for a quick weeknight meal or gussied up with sides and extras as part of an Asian inspired feast. I serve my sticky salmon with sticky rice & steamed greens for a full meal with pungent flavours. Best of all, its really quite quick to make and rather impressive to boot.
To reduce cooking time on the day of the feast, I sear the salmon in advance. But then instead of continuing to pan fry it, I leave it on a baking sheet and pop it in the oven to warm and finish cooking.
As I cook less fillets than there are guests, I serve the salmon flaked in a bowl with some of the sauce.
---
This Crispy Tofu Teriyaki stir fry combines fried tofu chunks with sweet veg and a deeply sticky savoury sauce packed with umami. It's a vegan recipe that's enough to satisfy a carnivore and a perfect addition to an Asian style feast or served simply with rice for an easy weeknight dinner.
The stir-fry can again be prepared in advance. To keep the tofu as crispy as possible, I only add it to the dish when it is reheated for serving.
---
Sesame Tenderstem Broccoli is a brilliant side dish that can be thrown together in minutes with very few ingredients. Tenderstem (or broccolini) is one of my go-to greens and I love coming up with new ways to serve it!
---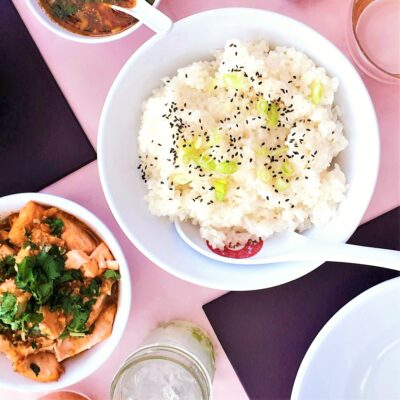 I always thought that I'd never master the secret of How to Cook Sticky Rice but then I found the easiest ever method that works every single time. With no need for a rice cooker or any specialist equipment, this easy step by step guide shows you how to make glutinous rice in just 25 minutes.
The rice is so easy to make that it can be prepped in advance and then simply put on the heat to cook just as you dish up the starter course.
Dessert
Dessert is a traditional dim sum cake which is traditionally served alongside the other savoury dishes. But for the purposes of this Feast, I think that serving it as a dessert is most appropriate.
---
This Chinese Steamed Cake is my version of a classic dim sum dish. There are no unusual ingredients or techniques (except the steaming bit!), just great flavour and a lovely and moist muscovado perfumed cake.
The cake can be warmed before serving or put on to cook as the main course is served. It can be served with cream, ice cream or even custard.
---
Serving Sizes
I come from a world where we regularly use the phrase "never knowingly under-catered". Obviously in this day and age, we don't want to be creating excessive food waste either.
But people rarely complain if you send them home with leftovers. Waste tends to not be much of an issue in my circle! Don't forget that each of recipe gives suggestions for how to use up leftovers and/or how to freeze them for later.
The following table is therefore my suggested serving of each recipe for various party sizes. I've aimed to provide abundance but without too much excess.
Some of these recipes are simply not worth making in very small quantities. The dumplings in particular are something that I never make in batches of less then 30 each. I might even make 60 of my absolute faves at a time. They freeze so well.
It is possible to make just 15 of each if you prefer. The Tofu Crystal Dumplings and Har Gow share the same dumpling dough which does make this easier to do.
The Korean Belly Pork generously serves 4 per the main recipe. I would certainly make more but almost never make less! There are lots of options to use up the leftovers like in my Korean Pork Ramen plus it freezes great.
Lastly the Steamed Chinese Cake serves 8. Whilst you could make a smaller quantity I'm sure any leftovers would be used soon enough!
If you actively want more leftovers of any dish then do up the quantities!
An Alternative Asian Feast Menu
The only thing "alternative" about this Feast menu is that it isn't this main Feast menu! But I wanted to give you another menu collection to use if you prefer and here it is!
This collection includes Japanese sushi including Crab Uramaki Rolls and Miso Scallop Onigiri. Plus Ramen with Korean Belly Pork and Malaysian Chicken Satay. All that is followed by a cooling Mango Coconut Ice Cream inspired by Thailand.
A Vegetarian Asian Feast Menu (+ Vegan Option)
This vegetarian collection is a celebration of tofu!
Dishes include two types of Chinese steamed dumplings with tofu and the Steamed Brown Sugar Cake from this collection. There is also Miso Soup and a Teriyaki Tofu Stir Fry from Japan. Finished off with crunchy Vietnamese Summer Rolls with a Satay Dipping Sauce from Malaysia, this menu will even satisfy the meat eaters!
To make the menu suitable for vegans, I would suggest that you serve only the one Tofu Crystal Dumpling as the Tofu Siu Mai is not suitable. The cake is also not suitable so I would recommend serving my Mango Coconut Ice Cream instead as it is totally dairy free!
Everyday Asian Feasts
I know that no everybody wants to host a multi course Feast. Sometimes you want to keep things a little simpler sp I've put together some Everyday Asian Feast collections which are perfect to serve, 1, 2, 3 or even 4+ people.
Let me know if you can think of any more combinations of my Asian inspired recipes that I should add.
A good Sushi Platter is a feast in itself!
This platter combines my Crab Uramaki Rolls, Salmon Maki Rolls, King Prawn Nigiri and Fried Miso Scallop Balls with Miso Soup to make a surprisingly easy and filling feast. A generous helping of Chilli Edamame Beans rounds out the meal.
This Everyday Feast is a pared down version of this Big Feast! I keep it a little simpler by simply combining my Korean Belly Pork with Sticky Rice and and Tenderstem Broccoli.
This Everyday Feast is another version of a simple rice bowl. This time I've replaced the belly pork with Sweet Chilli Chicken and added a side of Miso Soup for a little something extra!
Mix It Up
Don't let my suggestions here limit you. Why not mix it up with some of my other Asian inspired recipes or even create a whole collection/menu from scratch.
Drinks at The Big Asian Feast
Just like with the food, the key to serving drinks is to set things up so that guests can help themselves as much as possible. You should have less waste and everyone gets exactly what they want whilst relieving you of some running around.
The first thing that I suggest you do is hop over to my dedicated Asian inspired Drinks post which features a ton of ideas.
Have a look at what strikes you fancy. You can choose to serve as many or as few different drinks as you like. I would suggest making sure that you include at least one soft drink in your plan.
I've also saved loads more ideas over on my dedicated Pinterest board. Have a look and let me know if you think I've missed anything. Don't forget to follow all of my boards while you're there!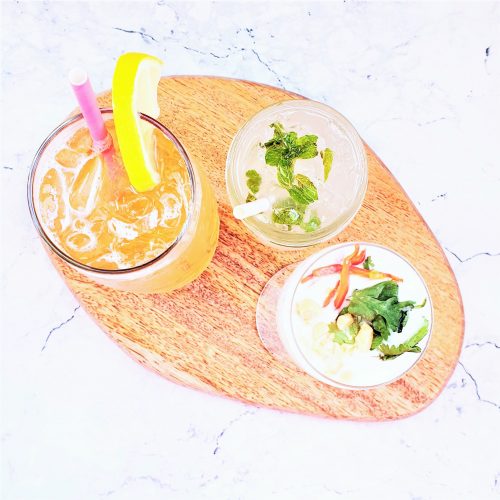 My Drinks Menu
I chose to serve 3 drinks at the Feast for four that provided the photographs for this post. Plus there was hot green tea at the end of the meal with dessert. And then I snuck in a little cheeky Korean Soju too!
Drinks on Arrival
I just could not resist trying a cocktail called Thai Peanut Colada from a site called thegooddrink.com. Unfortunately the site is no longer live. I switched out the gin for rum to make it more akin to an actual pina colada. Also, because I hate gin. This is a great example of being flexible and adapting recipes to suit your tastes. Don't be scared.
The satay rum was made in advance (using my homemade Satay Sauce) and the whole drink was mixed earlier in the day of the Feast. When it came to serving, the colada was simply poured over ice and topped with the various garnishes. More of the mixed drink and garnish was kept in reserve for easy top ups.
For my soft drink option, I made a jug of Vietnamese Limeade. I stuck to the recipe this time and left the jug available with some glasses for guests to help themselves. I also made sure that water was available. (The recipe is now also unavailable, sorry!)
Drinks with Food
As well as having more cocktail, limeade and water available, I served this Sake Shandy. It was a great way to have a longer drink but with a little extra kick of Japanese flavour.
Asahi beer is the most readily available oriental larger available in the UK but realistically you can use any light-ish flavoured lager. I came across some imported Chang beer from Thailand in the world food aisle so thats what I used.
Obviously some people might prefer to just drink the beer, in which case don't deny!
Drinks with Dessert
I did consider serving another cocktail with the dessert course but I decided that it would be less work not too. I did however made sure that all the other drinks continued to be available and served hot green tea instead.
And then at the last minute I decided to also serve a bottle of Korean Soju. My bottle was mandarin flavour and perfect to just drink neat like the Koreans do!
Like with dipping sauces, sometimes just keeping it simple is a good idea. My favourite green tea is this Twinings with Orange and Lotus Flower. Perfectly on theme, it is available in all the supermarkets too.
Equipment needed for the Big Asian Feast
A comprehensive list of the equipment used to make each of my recipes is included in the main recipe card on each post. Click on any recipe to see an example.

There are no hard and fast rules so many items can be sensibly substituted to achieve the same results. Each post also includes my thoughts on any alternatives that you could use and details of any specialist equipment if needed.
Steamer
You need to make sure that you have some way of steaming the dumplings and cake. I am a huge fan of bamboo steamers and I have a small range in various sizes. Do make sure to line the base of each basket with perforated liners.
I even use the baskets to serve the dumplings in and they pull double duty to cook the Steamed Chinese Cake for dessert.
There are alternatives to steamer baskets. A traditional steamer pan like the kind that often comes with a set of good saucepans will do the trick. But beware as these often only come with one layer. You may struggle to fit all the dumplings in if you have more than a couple of guests.
The next option which is great for larger quantities is to buy an electric steamer. They come with multiple tiers and can be plugged in anywhere.
Saucepans/Frying Pans/Woks
You will need to make sure that you have enough pans to cook/reheat all of the dishes before serving. You will need to consider something for each of the following:
Edemame Beans
A pan to steam the Dumplings/Cake
Miso Soup
Pork Belly Sauce
Sweet Chilli Sauce
Tofu Teriyaki Stir Fry
Sesame Tenderstem Broccoli
Sticky Rice
I have a couple of very small enamel saucepans which are perfect to reheat the sauces.
I use my regular saucepan set to heat the Edemame Beans, Miso Soup and cook the Sticky Rice. And my wok to heat the Teriyaki Tofu Stir Fry.
Alternatively to save hob space, the sauces can be reheated in the microwave. The Edemame Beans can also be cooked in the microwave.
The Sesame Broccoli is cooked and heated in a small frying pan.
Baking Trays
In addition to the above pans, you will also need roasting trays to cook the Korean Belly Pork and Salmon in the oven.
Table, Serve & Drinkware
You don't need to go out and buy anything special for this feast. I happen to own a whole dinner service of Chinese melamine dishes. I have to admit that I did buy more for one feast that I hosted for 8. But that was my choice, I didn't need to.
The most important thing to consider if you are catering for a bigger crowd is that you have enough of everything!
Everything I've suggested should really be taken as the minimum recommendation quantity wise. Spares are always helpful and will save you running around and washing up bits and bobs whilst trying to enjoy your own party!
My suggestions can be found in the equipment list section of my handy printable checklist that I've prepared. Don't forget to download it!
Tableware
Crockery
It is always useful to have some spares handy. I also make sure that I have set aside the crockery that I will need that does not start out as part of the table setting. One of the easiest ways to do this is to keep the stacks of plates/bowls handy in the dining area. I can also keep any extra cutlery and napkins in the same place.
I use 2 small plates and a bamboo steamer basket to serve the starter course. One small plate goes under the steamer basket (otherwise you risk water dripping all over your lovely table) and one goes on top.

The top plate acts as a lid to keep the heat in and can be eaten off. It is best to avoid a heavy top plate as it will need to be lifted with one hand by the guest while they pluck a dumpling out of the basket with their other hand!
Any larger plate or bowl is suitable for the main course. I use my large ramen bowls from my melamine set. Regular pasta bowls would be a perfectly acceptable alternative as would dinner plates.
The dessert can be served in small bowls or on a side plate. I opted to use the other size of rice bowl from my set! I have a lot of bowls!
Disposable plates are a great option, especially for a larger crowd. It really saves on the washing up but isn't exactly amazing for the environment. However there are now many more options above and beyond the old paper or polystyrene plates.

These bamboo plates are available in two round sizes and three square sizes. And there are bowls available too. I think they'd be perfect if not totally inexpensive.
Cutlery
My melamine dining set also includes a variety of soup spoons. I use the smaller spoons to serve the Miso Soup in the starter course. Regular soup spoons would work fine as would teaspoons. Use what you have!
The soup spoon can also pull double duty in helping to cup the dumplings on their way from plate to mouth. Chopsticks are the traditional way to eat the dumplings but they can drip so the spoon acts as a drip bowl.
There are a range of chopstick types to choose from. Chinese chopsticks are longer. Japanese chopsticks are shorter. Korean chopsticks are made of metal and are especially unwieldy at first. I usually use my single-use bamboo chopsticks. They are quite short and easy to handle.

I provide a fresh pair of chopsticks for the starter and main courses. And I make sure to have forks on hand for those who can't manage or can't be bothered with chopsticks. I think its half the fun so I don't include them on the table to encourage everyone to at least try.
I don't make everyone eat the cake with chopsticks. Just provide a regular spoon or fork for this course!
Serveware
This is the bit that I used to forget to plan for everytime. Serving spoons and plates/dishes always seem to get hunted down at the last minute. And even if you plan until you are blue in the face, you will inevitably have to run to the kitchen for something else!
But if you use my handy printable checklist, you will have no excuse!
You will need a number of serving bowls for the various nibbles and main courses. Bowls are easier than plates to deal with as they take up less space on the table.
Saying that, the Korean Belly Pork does benefit from a serving plate,
Don't forget that each serving dish will need a corresponding serving spoon or tongs depending on the dish.
Drinkware
What drinking vessels you need will obviously depend on what drinks you are choosing to serve. I've provided a whole range of suggestions in my dedicated Asian Inspired Drinks post along with loads of drink suggestions!
Napkins for The Big Asian Feast
My Asian feast is a great excuse to get on with some fancy and fun napkin folding!
I'm going to assume that like 98% of the rest of the population that you're going to go with paper and not linen. I can't be doing with the laundry. Also, I think they're kind of gross.
I generally stock up on napkins from Ikea although you can buy the same napkins for a premium from Amazon! Tiger, Asda and Sainsbury's also both do good ranges. Like with most things, I generally stick with plain colours and not patterned. Folding patterns can be a real pain too.
Napkin Folds
I have two go-to napkin folds for Asian Feasts. I used both of them as part of my place setting.
For more simple ideas, check out the ideas and photos that I've included in my Big Brunch Feast and Big Americana Feast posts.
Lotus Flower Fold
I am new to this lotus flower napkin and I love it! It is really very simple to make although I will not embarrass myself by trying to describe the process! This video shows the fold in real time.
My best tip re this fold is not to make it with any shade of pink or red napkin. Just trust me.
I used the folded napkins to nestle my bowls for the Dumpling Dipping Sauce. This kept the centre of the flower in check and provided a bit of a drip catcher for the sauce. I'm really quite pleased with myself about this!
Kimono Napkin Fold
This is my favourite fold of all time! It is so cute and absolutely on theme! It is also not difficult to fold. But again, here is a video which is far better than my description would be.
I generally use two colours of napkins to give an even greater effect. The chopsticks nestle perfectly in the pocket too.
I would advise leaving some more napkins lying around. At least a couple of stacks near the food in addition to the napkins which are part of the place setting, I always make sure to have extra napkins on hand at all stages of the evening.
Table Settings for The Big Asian Feast
How you set the table will depend largely on the size of your table.
In the example below, everything had to be served up in the kitchen as there wasn't enough room on the table to serve the dishes family style. But that did mean that I was able to go with a larger place setting which included everything needed for each course.
Tablecloth
Whether you even use a tablecloth or not will very much depend on your table. I've not had a good and decent dining table for years so I've gathered a few plain but nice tablecloths.
Primark Home and Asda have been my main sources along with Ikea for ones like this blue linen tablecloth.
The size will obviously depend on your table but try to look for something that sits fairly short down the sides of the table. No one want to do battle with a floor length cloth.

For a really large table or two tables put together, you may need two tablecloths. Its nice if they can match but obviously do what you need to do.
If you have a nicer table that doesn't need covering but you want to still provide some interest, a table runner is a nice touch. In this case, I might be tempted to go a little less plain. Using a runner over a table cloth is another option.
An oilcloth/vinyl tablecloth would be very practical especially if you don't live in the north of England and are able to plan a lovely outdoor meal.
Placemats
Placemats are not always required. It will again depend on the aesthetic of your table or cloth. I would be even less inclined to consider them essential if dining outdoors.
Do be picky with table mats. I hate those old fashioned small rectangle ones. And I hate them even more when they're patterned.

I do however love using wooden boards, slates or my favourite round felt mats. I also have an everyday set of square mats which were inexpensive from Asda.
Also please do avoid fabric placemats. I'm yet to meet one that has ever looked good after they've been washed, no matter how many hours you spend ironing and pressing them. if good ones exist, do let me know!
Table Decorations
This is where I want to give you some ideas that don't involve spending £300 from your artisan florist in the Hamptons a la Ina Garten or stringing up £700 of fairly lights a la Nigella.
For the feast that I photographed for this post, I decided to aim for a vague oriental blossom theme. I looked what decorations were available online and in shops and put together my colour scheme etc from there.

I have previously gone down more of a Chinese New Year theme with red and gold colours. There are lots of options so have a browse on Pinterest and see what you fancy!
As with any Feast where I am serving the food on the table family-style, I try to keep decorations on the table itself quite minimal. This time I went for a two tone table cloth to provide some interest and to tie in with the other decorations.

The remainder of the table decorations were all part of my place setting.
I always avoid candles on a table where people are serving themselves. The risk of a sleeve catching on a flame is just too high.
Flowers are something else that I tend to keep to a minimum on the table itself. Both for space reasons and because I am a klutz!
Decorations for The Big Asian Feast
It is important to point out that you do not need to decorate anything. You can serve your food on plain plates, on a plain table in a plain room. And that is just fine. The food and the people are the main highlights of feasting. But sometimes its fun to go a little all out!
I did spend a little bit of money to buy some lovely pastel coloured decorations for my dining room from Amazon. This included hanging lantern decorations, cherry blossom garlands and a set of Chinese fans.

Whilst I usually try to use what I have, on this occasion I wanted to make things a little more special. I also bought napkins and paper tablecloths in complementary colours. These were only a couple of pounds however.
My Chinese serveware set acts as a decoration in its own right. Between that and the couple of pieces I bought, there was more than enough to set the theme!
Entertainment at The Big Asian Feast
To clarify, I am not talking about getting in a magician or setting up a bouncy castle. Actually from personal experience, I can highly recommend providing adult-only bouncy castles at a party. Such fun but do keep medics on standby!
Music
I usually suggest going for an on-theme playlist like with my Americana Inspired Feast. But I can't in all honesty recommend subjecting guests to traditional Chinese music or even K-Pop. Gangnam Style is in the past. And it really should ideally stay there.
So my best recommendation is to go with the music you love. But keep it a little chilled until the after party.
Harness Music Technology
I'm a big fan of getting technology to help with this!
"Alexa – Play a dinner party playlist" or "Alexa – Play a Chilled playlist"
This assumes that you have an Amazon Alexa! If you have another similar system of course that will work too.

Don't forget that you can unplug and plug any smart speaker back in somewhere nearer where you are eating/entertaining.

Alexa streams music from Amazon Music. There is a good library available for free but you can also pay extra for the unlimited package. You can free trial which might be helpful if you have specific musical tastes!
There are a myriad of alternatives. A number of music apps such as Spotify are available on all sorts of devices that can be set to play a pre-set playlist wherever you want it.

A small but good quality wireless speaker can be helpful if playing music through a phone or ipad.
Playlists
But whatever you use, I would heavily suggest a pre-made playlist. If you are into that sort of thing, you can of course put together your own in advance.

As I've been writing this I'm thinking of thematic playlist that you could put together. How about these as a starting point…
China Girl by David Bowie
Hong Kong by Gorillaz
9 Million Bicycles (in Beijing) by Katie Melua
Korea by Deftones
Big in Japan by Alphaville
China by Tori Amos
Holiday in Cambodia by Dead Kennedys
Lost in Japan by Sean Mendes
The Great Wall of China by Billy Joel
Turning Japanese – The Vapors
I think you get the picture!
Otherwise there are so many options out there, I am sure you can find something more than suitable on whatever platform you use.
Do think about this in advance. No one needs a mouthful of food with silence in the background and a host losing their mind scrolling through the sky planner or screaming at Alexa! And do try to avoid anything with adverts.
Games
I sometimes like to set my guests some kind of sociable task or competition to keep everyone occupied whilst I'm in the kitchen serving up or quickly finishing up a dish.
The Origami Game
This is honestly one of the best ideas I've ever had as a Feast host! The concept is very simple and is a brilliant, fun and very on-theme way to keep your guests busy. Just look at the concentration on my friends' faces!
This is how it works.
Give each of the guests a certain number of sheets. 4 or 6 each maybe (The less sheets you give, the harder it becomes).
Tell your guests that they have a set number of minutes to come up with the best origami shape/animal that they can. Or tell them they have "until the first or main course is ready".
Allow everyone to use their phones to help find folds to try otherwise it is too difficult.
You can judge a winner after the main or dessert course. (You may or may not want to have a prize available).
Other Games
You could alternatively choose to do something very simple and homemade like The Celebrity Name Game which I describe in my Big Brunch Feast post.
Or start a simple game that only requires a pack of cards like Chase the Ace. I actually love to play that game with a giant pack of cards for extra fun!
Preparing for The Big Asian Feast
As with all of my Big Feasts, I recommend doing the bulk of the preparations in advance where possible.
Preparation Schedule
I have provided a comprehensive preparation day schedule in my printable checklist which you can download for free. It really is incredibly helpful!
I have split the checklist into several sections to help you get ahead.
Advance Food Preparation Checklist
This section is further split into two main sections. First up are dishes that can be prepared months in advance (spoiler alert! Thats the dumplings!).
And then there are the items that can be prepared well in advance or just prepared the day before the Feast.
Day Before the Feast Checklist
This checklist includes all the other things that you can get ahead with. Setting and decorating the table, preparing the music and getting serving bowls ready etc.
On the Day Checklist
This includes everything you need to do on the day to get ready for the feast in the evening. The trick is to do as much earlier in the day so you can.
On the Night Checklist
This includes a comprehensive step by step guide to getting everything cooked, hot and served in the right order without looking like a headless chicken.
There are a lot of dishes to serve in this feast but by following this list, it is still a no stress affair.
Preparation Tips
Do read through all of the recipes before you start.
Make sure to set a timer every time you put something in the oven/on the hob. I have told you when to put things in the oven and on the heat but you need to keep track of when each thing needs to come out.
Try to do as much cleaning up as you go.
Other Preparations and Table Setting
Apart from preparing the food in advance, the single best thing you can do to keep stress free on Feast day is to set the table, get the crockery ready and have the decorations set up the day/evening before.
No last-minute faffing = No last-minute stress.
To make sure that you don't miss anything, make sure to download my Free Comprehensive Checklist. I've provided you with a reminder of everything you should make sure to have done the day before and on the day.
The checklist everything from getting the music ready, making sure all of the crockery is in the right place to setting the table itself and having the kitchen all ready to go.
Catering for Allergies at A Big Asian Feast
Each of my recipes includes details of whether they are gluten-free, egg-free, dairy-free and/or nut-free. Each recipe also gives suggestions for how to adapt them for these dietary requirements if needed.
If you have one or more people coming to your feast that have dietary requirements, often the easiest (and the nicest) thing to do is to make all of the dishes suitable for them. If this isn't possible, making as many of the dishes suitable as possible is great.
Anyone with allergies will be super grateful for your effort but I would always recommend talking about the menu with them directly.
There may be things to consider that you haven't thought of and you could equally waste time making unnecessary changes. There is no point in making gluten-free cake if the gluten-free person doesn't like cake. (Bad example, who doesn't like cake?!).
And also don't be offended if anyone wants to bring their own food. I would much rather that someone came to my Feast and enjoyed themselves worry-free rather than giving us both anxiety about allergy-friendly food.
Please note that this recipe may contain other allergens not referred to above and any variations suggested have not been tested unless otherwise stated. For more information regarding any dietary information provided on this website, please refer to my Nutritional Disclaimer.
How to Download the Big Asian Feast Preparation Checklist
Complete the form below to receive a link to my free and comprehensive Big Asian Feast Preparation Checklist right into your email inbox!
The checklist includes worksheets to help you plan your guest list, the final menu, and everything you need to serve the Feast. It also includes timelines and checklists for preparing the food in advance, preparing the table and hosting on the day. Plus it includes a bonus shopping list!
Still Have Questions?
Simple! Just contact me and I will do my best to help as quickly as I am able. Head over to my Contact Me page, any of my social media channels or post a comment at the bottom of this page and I'll see what I can do.
Pin The Big Asian Feast For Later
Hit one of the share buttons to save this page to your Pinterest boards so you can come back and find it at anytime!
Keep Up to Date
Make sure you SUBSCRIBE to my newsletter and avoid missing out on any of my newest and bonus content. Don't worry, I promise not to spam you or bombard you too often. Plus you'll receive a copy of my FREE 7 Day International Meal Plan!

Also please don't forget to follow me over on my social media channels over at Facebook, Twitter, Instagram and Pinterest. I love to interact with my followers and I'd love you to share my content with your friends too.