Oven Fried Chicken Thighs are an easy to make at home version of the southern fried classic. Using boneless chicken thighs makes them as great with a salad as in a burger and the chilli sauce in the buttermilk marinade gives them the perfect amount of heat!
This post may contain affiliate links. Please refer to my Disclosures Page for more details.
I am such a fan of my Southern Baked Chicken Wings recipe that I apply the same marinade and coating to pretty much anything I can get my hands on. Nothing is safe.
I get so much great feedback about that recipe and it is ever popular. So I decided to make adapting it to be a boneless recipe super easy.
Chicken thighs are easily the cut of chicken that I go to most often. Sometimes I make it extra easy on myself. I pick up preboned and skinned chicken thigh fillets. Sometimes I go the slightly cheaper route and buy whole thighs then take the bone out myself. Either way, chicken thighs provide maximum flavour. Plus they are super juicy so they're much more forgiving to cook than chicken breasts.
Since discovering the deliciousness of Hot Honey Butter Sauce, I now cannot stop making all sorts of versions of this recipe. Simply so I have an excuse to make and eat that sauce. It is soooooo good!
How to Serve Oven Fried Chicken Thighs
I already mentioned you're going to want honey butter chilli sauce right? Ok, cool.
Because these thighs are boneless, they are fab to use in a multitude of ways. I eat them both hot and cold although I do prefer them served hot.
These thighs can top a salad, be used as a burger, become part of brunch along with waffles and maple syrup, stuffed in a wrap or just eaten as they are.
It does depend how you are serving the thighs as to how many you serve in a portion. I am likely to want at least 2 for a main meal unless there is a significant amount of other elements to the dish. In a wrap or regular size burger, just one would be fine. I'm greedy so I'm still going with 2!
This will depend somewhat on the size of your chicken thighs however. Not all chickens are created equal so you will need to make a judgement call.
Make Southern Baked Chicken Thighs into a Feast
I truly believe that you can make any dish into a proper feast! Whether thats a feast for one after work on a Tuesday, a casual feast for four on a Friday evening or a feast for 12 for a special occasion!
You could very easily switch out the wings for thighs in my Big Americana Feast Collection. The rest of the feast includes southern classics like Guacamole, BBQ Pork Ribs, super cheesy Mac'n'Cheese, creamy Coleslaw and Boston Baked Beans.
To make it even better, there are Garlic Bread Rolls on the side and my Peanut Brownie Cheesecake for dessert. An absolute feast indeed!
I also love to serve these breaded chicken thighs with coriander spiked rice, Mexican Street Corn and my favourite Peach Salsa. My Hot Honey Butter Sauce is an absolute must too.
Don't forget to head over to the Big Americana Feast post for all of my tips and tricks to help you host a fun and stress-free feast. Plus remember to check out my other feast collections and all my Americana inspired recipes.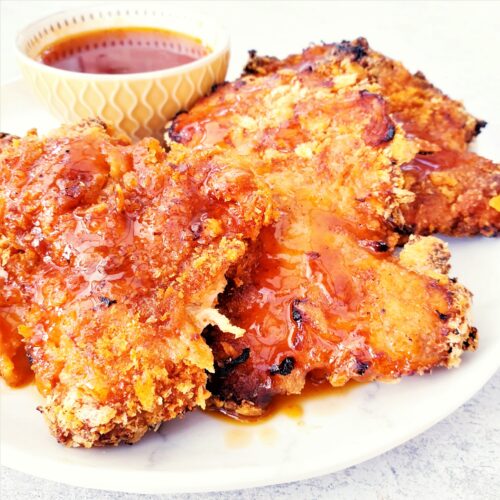 Ingredients for Panko Chicken Thighs
Chicken
I use boneless and skinless chicken thigh fillets in this recipe. I find that thighs have better flavour and stand up better to oven frying than breast. Chicken breast is great but can dry out before the coating is nicely golden and crispy.
You can buy the boneless fillets or buy bone in thighs and prepare them yourself. I find a decent pair of scissors is a much more effective way to do this than trying to wrangle a knife. If you do do this, make sure to throw all the bones in a pot and make some stock.
You can make this recipe with the bone-in or the skin-on or both. It is worth bearing in mind that the cooking time will be longer for bone-in. I would also lower the oven heat a little. You will have to keep checking that it is cooked through.
If you keep the skin on, it won't crisp. You will end up with very tasty but slightly soggier outer. Just think about the skin on KFC chicken pieces. It will be similar to that.
Buttermilk
Buttermilk is the "waste" from making butter out of cream. The acid in the buttermilk helps to tenderise the chicken and keep it lovely and moist during cooking.
I often make my own butter and am forever looking for ways to use up the buttermilk. If you don't make your own (you should!), buttermilk is readily available to buy in the shops.
You could alternatively make your own buttermilk using the method in my Chilli and Oregano Soda Bread recipe using milk and lemon juice or vinegar.
I also often substitute crème fraiche if I don't have any buttermilk available. I'll even use plain yoghurt if I'm really low on supplies.
Hot Sauce
I have left this ingredient purposefully vague as there are so many hot sauce varieties on the market. You could use anything from a piri-piri sauce to sriracha to tobasco. Just note that the hotter the hot sauce, the hotter your chicken will be.
If you only have a super hot sauce but want milder thighs, just reduce the amount of hot sauce in the recipe.
Panko
Panko are large Japanese breadcrumbs that are super light. They are always worth keeping in the house. If you don't have any panko, I would use any other dried breadcrumbs but I wouldn't use fresh as they may not result in a crispy enough coating.
Be Flexible
I use exactly the same marinade, coating and cooking method to make my Southern Chicken Wings, so if you are looking to make something more suitable for a buffet, as canapes or you just want wings, go check out that recipe.
You can use chicken breast if you really prefer. I would recommend butterflying the breast so that it is the same thickness throughout and it will cook without drying out.
And you can use exactly the same recipe but fry the chicken rather than bake it in the oven. Deep frying in a neutral flavoured vegetable oil is best but you can also shallow fry. Still don't be stingy with the oil. Using a airfryer is another excellent option.
You can also vary or increase the flavourings in the marinade and coating. Amping up the chilli flavour further is my most common variation. Either by adding Tabasco or similar to the marinade. Or by adding dried chilli flakes to the coating.
Make it Vegetarian or Vegan
Just like I suggested with my original wings recipe, you could apply the marinade and coating to any meat substitute like seitan or tempeh. You could even try quorn if you aren't needing to make it vegan. Tofu would also work for both diets.
For vegans, the buttermilk will also need to be substituted for an alternative. A plant based milk and lemon juice to curdle it would work. A dairy free yoghut would also be a good option.
Make it Allergy Friendly
This recipe is free from egg and nuts.
Gluten Free: To make the recipe gluten free, the panko breadcrumbs and flour will both need to be substituted. You can now buy or make gluten free breadcrumbs so use these instead of the panko. A gluten free flour can be substituted for the plain flour or cornflour could be used.
Dairy Free: Substitute the buttermilk for a mixture of plant based milk and lemon juice. Coconut would work especially well in this scenario.
Please note that this recipe may contain other allergens not referred to above and any variations suggested have not been tested unless otherwise stated. For more information regarding any dietary information provided on this website, please refer to my Nutritional Disclaimer.
Equipment Notes for Oven Fried Chicken Thighs
A decent pair of scissors are my go-to implement for dealing with most raw chicken, especially when it comes to de-boning thighs or trimming up a whole chicken.
If you don't have a grill tray with rack you could fashion one with a baking tray and a cooling rack. You do need to make sure that your cooling rack doesn't have any plastic bits which might melt!
The rack element allows the air to circulate fully around the chicken which reduces soggy bottoms. This is one time that I really am not into a soggy bottom.
You can alternatively just use a baking tray but you will need to keep carefully turning the thighs to keep them crispy all round.
A comprehensive list of the equipment used to make this recipe is included in the main recipe card below. Click on any item to see an example. There are no hard and fast rules so many items can be sensibly substituted to achieve the same results.
Get Ahead
The chicken can be marinated up to 24 hours in advance. The seasoned flour mix can be made up and stored for weeks in an airtight container. If this is something that you intend to make regularly, it may be worth making up a large jar and then using it as and when.
The chicken thighs can be frozen in their marinade. Do ensure that they are thoroughly defrosted before draining the buttermilk and coating/cooking.
It is possible to marinade and coat the chicken and then freeze them. You will need sufficient room in your freezer to very carefully freeze them on trays. Put them into a freezer bag or container once totally frozen. There is a huge risk of the coating slipping off with any more rough treatment than that.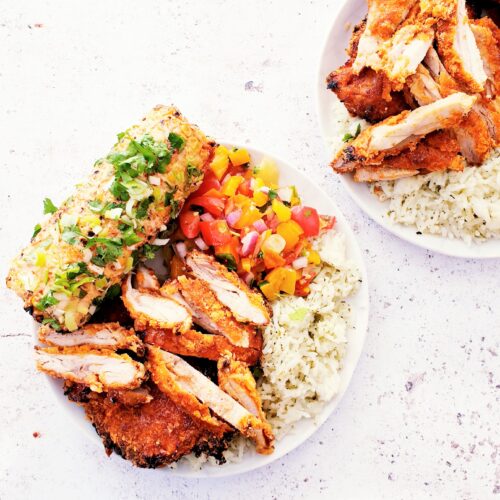 Leftover Oven Fried Chicken
Any leftover thighs can be reheated in the oven, or microwave although the microwave won't keep them crispy. They are also quite delightful cold out of the fridge. This is how most of my leftovers are dealt with!
The cooked thighs can be frozen. They will again need to be fully defrosted before reheating.
Southern "Fried" Chicken Tips
When you are coating the thighs in the breadcrumbs, you can apply the "dry hand, wet hand" method to stop you getting into a right mess. Don't touch the uncoated wings with one hand (your chosen dry hand) otherwise your wet hand will just end up coated in a thicker layer of breading than the thighs!
Don't forget to let me know in the comments if you try making this recipe – I want to know what you think and if you made any substitutions, how did it turn out?
Still Have Questions?
Simple! Just contact me and I will do my best to help as quickly as I am able. Head over to my Contact Me page, any of my social media channels or post a comment at the bottom of this page and I'll see what I can do.
Pin Oven Fried Chicken Thighs For Later
Hit one of the share buttons to save this page to your Pinterest boards so you can come back and find it at anytime!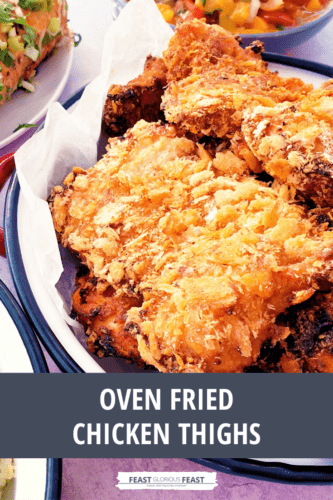 ---
More Chicken Recipes
Keep Up to Date
Make sure you SUBSCRIBE to my newsletter and avoid missing out on any of my newest and bonus content. Don't worry, I promise not to spam you or bombard you too often. Plus you'll receive a copy of my FREE 7 Day International Meal Plan!

Also please don't forget to follow me over on my social media channels over at Facebook, Twitter, Instagram and Pinterest. I love to interact with my followers and I'd love you to share my content with your friends too.
The Recipe
Oven Fried Chicken Thighs
---
Oven Fried Chicken Thighs are an easy to make at home version of the southern fried classic. Using boneless chicken thighs makes them as great with a salad as in a burger and the chilli sauce in the buttermilk marinade gives them the perfect amount of heat!
Ingredients
1

kg

Chicken Thigh Fillets

300

ml

Buttermilk

1

tbsp

Sea Salt Flakes

2

tbsp

Hot Sauce

100

g

Panko Breadcrumbs

100

g

Plain Flour (All Purpose)

3

tbsp

Paprika

1

tbsp

Ground Black Pepper

2

tbsp

Garlic Salt

Oil Spray
Instructions
Preheat the oven to 200c or equivalent.

Using sharp scissors, trim

1kg Chicken Thigh Fillets

of any skin or rogue pieces of bone or cartilage (If required).

Add the thigh fillets to a large sandwich bag or snug fitting container.

Add

300ml Buttermilk

,

1 tbsp Sea Salt Flakes

and

2 tbsp Hot Sauce

to the chicken.

Seal the bag and mush the marinade around until the chicken is totally coated. Or use your hands to mix the marinade with the chicken in the container. Leave in the fridge for at least 4 hours.

When ready to cook, preheat the oven to 200c or equivalent.

Line a tray with a rack with foil and greaseproof paper. Line OVER the grid not under it. The air needs to circulate under the chicken but it doesn't want to stick to the rack.

Liberally spray with tray with Oil Spray and pop the tray into the oven whilst you coat the thighs.

Mix together

100g Panko

,

100g Plain Flour

,

3 tbsp Paprika

,

1 tbsp Ground Black Pepper

and

2 tbsp Garlic Salt

in a shallow bowl.

Remove the marinated chicken piece by piece. Leave excess marinade behind but don't actively scrape any off. You need this for the flavour and so the panko mix sticks.

Dip each thigh in the panko/flour mixture and set each aside whilst repeating until all are coated.

Take the now hot tray out of the oven and lay the thighs carefully on the tray. Spray the tops of the thighs with a little more Oil Spray.

Put the thighs in the oven for

25 minutes

.

Take the chicken out and turn them over then pop back in the oven for a further

20 minutes

.

Serve hot.
Nutrition (Approx)
Serving:
1
portion
|
Calories:
803
kcal
|
Carbohydrates:
45
g
|
Protein:
50
g
|
Fat:
46
g
|
Saturated Fat:
13
g
|
Cholesterol:
253
mg
|
Sodium:
5863
mg
|
Potassium:
838
mg
|
Fiber:
4
g
|
Sugar:
6
g
|
Vitamin A:
2905
IU
|
Vitamin C:
5
mg
|
Calcium:
174
mg
|
Iron:
5
mg
Download my FREE 7 day international meal plan!
Simply subscribe to the Feast Glorious Feast newsletter and I'll send you the link.