A Light & Easy Creamy Coleslaw is a staple of any cooks repertoire and everyone seems to have their own classic recipe. This is mine. Its light, sweet and crunchy without being claggy or feeling like a "healthier" version of something better.
This post may contain affiliate links. Please refer to my Disclosures Page for more details.
I think that coleslaw has a bit of a bad rep. Its either a bit naff and 70's or the moment that you call it 'slaw, it become teeth itchingly hipster. But lets reclaim it. Because if we're all honest, it is a damn tasty side and very versatile.
I am not the world's biggest fan of full fat mayonaise. Perhaps one day when I master a recipe to make my own, I will change my mind. But until then, I find the shop bought stuff (including the big brands) overly rich and cloying. And so I very rarely cook with it. I keep the lightest variety that I can buy in the fridge.
Despite using a lighter mayo, I still like to cut my coleslaw dressing with light creme fraiche. This provides a bit of a tang (much like why Americans often use buttermilk) but also helps with the lighter taste.
How to Serve Easy Creamy Coleslaw
However I'm going to consume my coleslaw, I like to try and make sure that it is at roughly room temperature. So do try to take it out of the fridge a good half an hour before serving. Too cold and the flavours of the coleslaw become muted.
There are many ways in which to eat coleslaw. One of my preferred classics is simply in a white bread sandwich with ham. My Ginger Ham would be perfect for this. Ham and coleslaw with a jacket potato is also a favourite of mine.
It makes a great boost to a simple green salad for a light lunch with a slice of my Puff Pastry Quiche or Bacon Mozzarella Pastries.
And then coleslaw makes a great side dish to any number of American classic finger foods like my Baked Wings or Sticky BBQ Ribs.
Make Light Creamy Coleslaw into a Feast
I truly believe that you can make any dish into a proper feast! Whether thats a feast for one after work on a Tuesday, a casual feast for four on a Friday evening or a feast for 12 for a special occasion!
I've included this recipe in my Big Americana Feast Collection. And it makes an appearance in one of my smaller feasts too.
The rest of the big feast includes southern classics like Guacamole, Southern Baked Chicken Wings, super cheesy Mac'n'Cheese, creamy Coleslaw and Boston Baked Beans. To make it even better, there are BBQ Pork Ribs and Garlic Bread Rolls on the side and my Peanut Brownie Cheesecake for dessert. An absolute feast indeed!
For my Everyday Americana Feast, I pair my coleslaw with Mexican Dry-Rub Ribs and my Garlic Roasted Sweet Potatoes.
Don't forget to head over to the Big Americana Feast post for all of my tips and tricks to help you host a fun and stress-free feast. Plus remember to check out my other feast collections and all my Americana inspired recipes.
Ingredients for Easy Creamy Coleslaw
Cabbage
I generally use a white cabbage or a tight formed green cabbage like sweetheart. This provides sufficient crunch which persists even after the dressing is added. Savoy would be an ok option but not my first choice.
Red cabbage can be used but it makes the coleslaw a different beast. If that is what you fancy, the go for it!
Onion
Again, white is my preference here. I love red onions but actually the acrid bitterness of white onion is what makes coleslaw taste like coleslaw in my opinion. Feel free to use red onion but again the outcome will be different.
---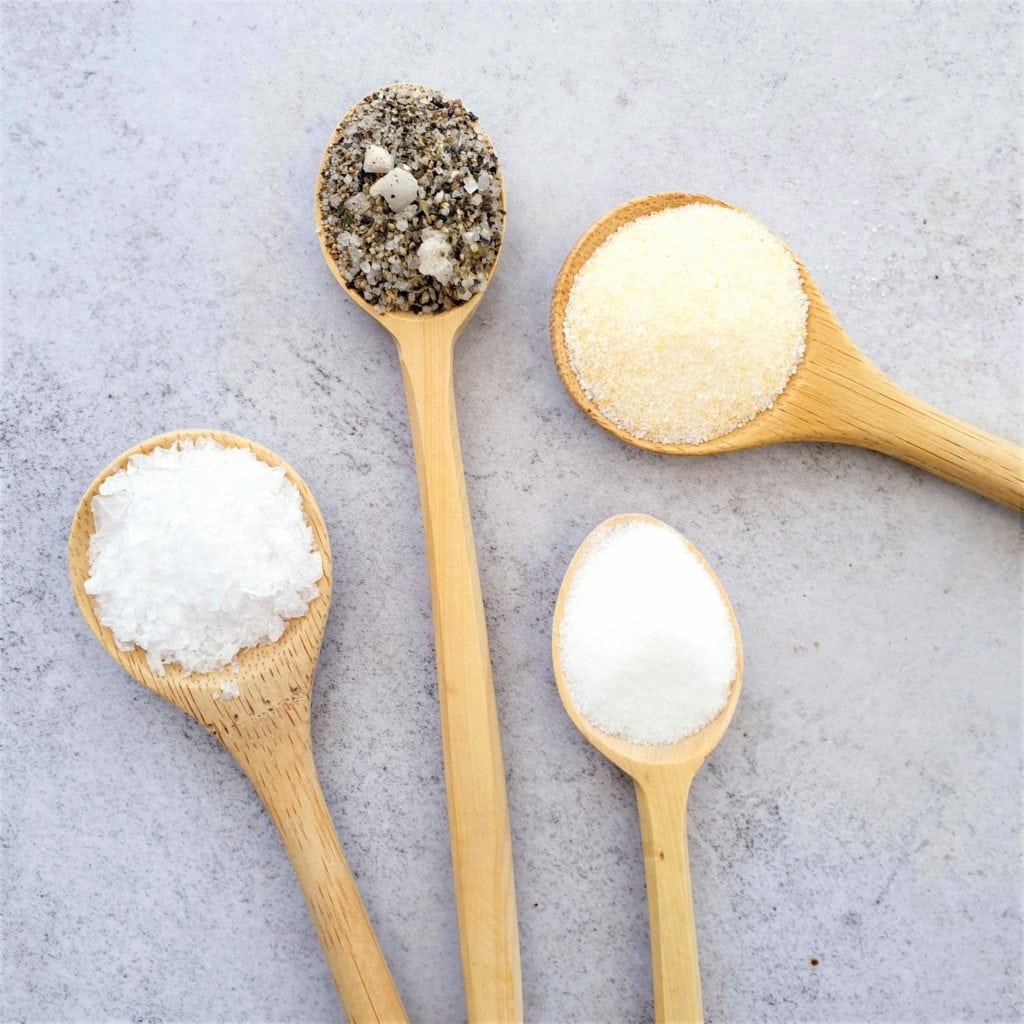 For the lowdown on using salt to properly season and enhance the flavour of your food, check out my Ultimate Guide on How to Use Salt.

There is guidance about which salt to use when, salt alternatives, using salt when baking and even what to do if you add too much salt!
---
Apple
This is my secret ingredient to providing sweetness to the coleslaw without having to add to much sugar. (I say that but actually this is the Anderson Family secret addition).
I use just a regular eating apple with the skin on. The sweeter, the better. This is not the time for using up cooking apples.
Be Flexible
There are a million options to pimp or mix up your coleslaw. You could add in traditional craziness like raisins or cheese. You can use red onion and red cabbage or add sliced pepper or even bacon pieces.
But this is a time that I like to keep it simple. I like my coleslaw to provide a a cool and creamy accompaniment to whatever else I'm eating.
Whether that's spicy Mexican Ribs or leftover Butter Roast Chicken, I don't generally want my coleslaw to be the dominant flavour. And so this is one of those recipes that I don't generally vary too much. Why mess with perfection?!
Make it Vegetarian or Vegan
My Light Creamy Coleslaw is suitable for vegetarians.
To make the recipe suitable for vegans, you can use one of the myriad of vegan mayonnaise alternatives that are now readily available. If you think they are too heavy on their own, you can cut it with one of the dairy free yoghurt or creme fraiche alternatives that are also now available.
Make it Allergy Friendly
This recipe is free from nuts, egg and gluten.
Dairy Free: To make a dairy free coleslaw, simply follow the suggestions that I have provided for the vegan version above.
Please note that this recipe may contain other allergens not referred to above and any variations suggested have not been tested unless otherwise stated. For more information regarding any dietary information provided on this website, please refer to my Nutritional Disclaimer.
Equipment Notes for Creamy Crème Fraîche Coleslaw
I've written this recipe to make a relatively small quantity of coleslaw. As such, I have written the recipe to be made by hand with the carrot, onion and apple all grated using the coarse side of a box grater. The cabbage is then shredded using a sharp knife.
And this is just fine for a small quantity but double, triple or even quadruple the quantity as I have many times in the past and hand preparation will become hard work quite quickly.
In this case I usually employ my food processor. My Kenwood version comes with a metal blade which has a coarse grater on one side and a slicer on the other. I use the slicer for shredding the cabbage.
I use my trusty lemon reamer to get the maximum juice from my fresh lemons. I'll then strain the juice through a small tea strainer to remove any flesh and pips.
A comprehensive list of the equipment used to make this recipe is included in the main recipe card below. Click on any item to see an example. There are no hard and fast rules so many items can be sensibly substituted to achieve the same results.
Get Ahead
Coleslaw is perfect to be made up to 24 hours in advance and stored in the fridge until needed.
I would not tend to try to get too much more ahead than that as I find that the vegetables start to ferment and turn the coleslaw vinegary.
Leftover Light Creamy Coleslaw
There are many ways to use up leftover coleslaw, Check out my numerous serving suggestions above! Keep it in the fridge for a couple of days and it will get eaten, I promise!
This is one of the few items that I do not recommend popping in the freezer. It will freeze and thaw but all crunch will be lost and I don't think I'd really want to eat soggy coleslaw!
Easy Creamy Coleslaw with Crème Fraîche Tips
Do try to remove as much moisture as possible from the grated onion, carrot and apple. Too much liquid left will leave you with a watery dressing.
Leaving the finished coleslaw to sit for a little while before eating will benefit the flavours.
Don't forget to let me know in the comments if you try making this recipe – I want to know what you think and if you made any substitutions, how did it turn out?
Still Have Questions?
Simple! Just contact me and I will do my best to help as quickly as I am able. Head over to my Contact Me page, any of my social media channels or post a comment at the bottom of this page and I'll see what I can do.
Pin Easy Creamy Coleslaw with Crème Fraîche For Later
Hit one of the share buttons to save this page to your Pinterest boards so you can come back and find it at anytime!
Keep Up to Date
Make sure you SUBSCRIBE to my newsletter and avoid missing out on any of my newest and bonus content. Don't worry, I promise not to spam you or bombard you too often. Plus you'll receive a copy of my FREE 7 Day International Meal Plan!

Also please don't forget to follow me over on my social media channels over at Facebook, Twitter, Instagram and Pinterest. I love to interact with my followers and I'd love you to share my content with your friends too.
More Simple Side Dishes
The Recipe
Easy Creamy Coleslaw with Crème Fraîche
---
A Light & Easy Creamy Coleslaw is a staple of any cooks repertoire and everyone seems to have their own classic recipe. This is mine. Its light, sweet and crunchy without being claggy or feeling like a "healthier" version of something better.
Ingredients
150

g

Carrots

100

g

White Onions

1

Apple

2

tbsp

Lemon Juice

150

g

Cabbage

-

white or green

100

g

Light Mayonnaise

150

g

Light Crème Fraiche

1

tbsp

Sugar

1

tsp

Sea Salt Flakes

1

tsp

Paprika
Instructions
Use a coarse grater to grate 150g Carrot, 100g White Onion and 1 Apple.

Squeeze out as much of the water from the grated veg as possible. I use kitchen roll or a J cloth but be careful that it doesn't split. Set aside in a medium mixing bowl. Stir in 2 tbsp Lemon Juice.

Finely shred 150g Cabbage and add to the bowl.

Also add 100g Light Mayonnaise, 150g Light Crème Fraiche, 1 tbsp Sugar, 1 tsp Sea Salt Flakes and 1 tsp Paprika.

Stir everything together until fully combined.

Check the seasoning and add any additional sugar, salt or lemon juice as you desire.

You can serve the coleslaw immediately, but it is better if you can let it sit in the fridge for a while first as this gives the flavours a chance to meld together and develop.
Nutrition (Approx)
Calories:
185
kcal
|
Carbohydrates:
23
g
|
Protein:
3
g
|
Fat:
10
g
|
Saturated Fat:
3
g
|
Cholesterol:
17
mg
|
Sodium:
829
mg
|
Potassium:
362
mg
|
Fiber:
4
g
|
Sugar:
13
g
|
Vitamin A:
6750
IU
|
Vitamin C:
23.1
mg
|
Calcium:
89
mg
|
Iron:
0.5
mg
Download my FREE 7 day international meal plan!
Simply subscribe to the Feast Glorious Feast newsletter and I'll send you the link.