My Ginger Beer Boiled Ham with a Southern Comfort glaze is inspired by a Nigella Lawson recipe with added booze. The ginger beer permeates the ham to give a great twist on a classic party centrepiece. And I am rarely allowed to attend a party unless I bring a ham. True story.
This post may contain affiliate links. Please refer to my Disclosures Page for more details.
I first made this glazed ham for a Band of Bakers event a couple of years ago. Admittedly it's on the fringe of 'baking' but I enjoy tenuous almost as much as I enjoy my carnivore tendencies.
It's a well know fact that the only thing better than meat is meat coated in booze so this went down pretty well. (Almost as well as the box of chicken nuggets I took to the chocolate event!)
Ginger is one of my favourite flavourings. It is so versatile. It complements fruit in my Peach and Ginger Crumble, packs a sweet punch in my Chewy Ginger Cookies & Fiery Ginger Loaf Cake and even adds an extra element of flavour in my Prawn Sushi. In this ham dish, the ginger provides a little heat, a little flavour and a little stickiness.
For more ginger based recipes, check out my 8 Things to Do with Ginger collection of sweet and savoury recipes.
I remade this glazed ginger ham as a centrepiece for my baking themed thirtieth birthday party along with my Cheesy Pull-Apart Garlic Bread. Unlike with the bread, I did make two batches and initially thought I'd massively over-catered. But as I had to start carving the second joint within within 5 minutes of declaring the buffet open, it was probably perfectly judged!
Make Ginger Ham into a Feast
I truly believe that you can make any dish into a proper feast! Whether thats a feast for one after work on a Tuesday, a casual feast for four on a Friday evening or a feast for 12 for a special occasion!
I've included this boozy ham recipe in my Alternative Americana Feast. The menu makes a star of the ham as a brilliant centrepiece.
Other sides include my Classic Caesar Salad, Green Bean Casserole and Sweet Potato Pancakes. Not to mention my Chocolate Lime Pie for dessert and a side of my super luscious Cheesy Garlic Bread.
Don't forget to head over to the Big Americana Feast post for all of my tips and tricks to help you host a fun and stress-free feast. Plus remember to check out my other feast collections and all my Americana inspired recipes.
For a more British affair, I would serve Roast Potatoes and either some simple vegetables like carrots and cabbage or quick and easy side salad and Coleslaw.
And of course you shouldn't forget that this is a brilliant Christmas Ham recipe.
---
Don't miss my comprehensive collection of ideas for classic Christmas sides. I've included simple basic recipes and ways to level up each dish.
There is everything from roast potatoes, numerous stuffing ideas and red cabbage dishes to cranberry sauces and even a vegan gravy option.
---
Ingredients for Ginger Beer Boiled Ham
The Meat
First of all you need to select a good joint. Fat is the key here, you need a good layer to take the glaze, it keeps the whole thing moist (sorry) and assists in making the cooking liquor good and gelatinous.
It doesn't matter if your joint is skin-on or skin-off but again the skin will help with the jelly.
Is it a Ham or a Gammon?
I'll be honest, I use these terms interchangeably! Firstly you should note that Ham and Gammon are both cured pork products. Without the curing, we'd just be talking about pork.
There is actually quite a simple difference. "Gammon" is the raw product and "Ham" is the cooked product. Ah ha! I have therefore called this recipe "Ginger Ham" and listed "Gammon Joint" in the ingredients.
So is Bacon the Same as Gammon?
Kindof but not technically! You can make Bacon out of any cut of pork by curing it. But only the hind leg is called the gammon. Technically.
However, any cut of cured pork designed for boiling is now often referred to as gammon. Equally I used to buy gammon steaks from my local butchers which was a loin cut and should probably have been called bacon.
You could say that all gammon is bacon but not all bacon is gammon….crikey. There are more blurred lines than a Robin Thicke lawsuit.
Which Cut of Gammon is Best?
This is always going to be a combination of personal preference and availability.
Whole Gammon: This is the bulk of the hind leg. It can weigh up to 9kg including the bone. Unless you have an industrial kitchen, I would recommend choosing a smaller, boneless cut.
Boneless cuts are the most common and readily available in the UK. Whilst I do agree and appreciate that meat cooked on the bone is generally tastier and preferable, the difficulty of carving a bone in ham is disproportionate. And I used to professionally carve bone-in ham for a living on a deli-counter!
Corner Gammon: This is my preferred cut with a nice layer of fat and a fairly regular shape which makes for easy carving. This is also what I have used in the recipe photos for this post.
Middle Gammon: This is the next piece of meat along the leg and is also a nice and neat cut for carving. This cut would also be perfect for this recipe.
Knuckle End/Hock: A hock is the very end of the leg, just before the hoof and is generally cooked on the bone. These joints are fairly small and quite sinewy. I wouldn't recommend using a hock for this recipe. Save it for a pea and ham soup instead!
The Best of the Rest
Horseshoe Gammon: These are slices of gammon which are generally fried or grilled and eaten. Also very common in pubs with chips and fried eggs or pineapple. This isn't a cut suitable for a ham joint recipe like this but are rather delicious in their own right!
Formed Gammon: You know that cheap but perfectly round and evenly coloured joint of gammon in the supermarket fridge? Leave it. Just walk away Renee. These are joints which are processed and reformed to make uniform slabs of "meat". Ew.
To Smoke or Not to Smoke?
That is indeed the question. And whilst it is somewhat a matter of personal preference, my preference would always be "unsmoked".
When boiling or roasting a gammon without additional flavours such as ginger beer or Southern Comfort, a smoked joint may well provide some welcome additional flavour. But in the context of this recipe, I think it is a flavour too far. I therefore always stick to an unsmoked gammon joint.
Ginger Beer
Please try to find a variety that still includes sugar! The last time I tried to buy some, all of the supermarket varieties were sugar free. Old Jamaica may well be the last bastion a sugary ginger.
The recipe will still work with a sugar free variety but the "stickiness" factor is somewhat lessened.
SoCo is a whiskey based liquor with flavours of peach and orange. It is one of my favourite spirits and I love to cook with it! (I'm pretty partial to drinking it too!).
If you don't want to buy a bottle just for this recipe (do consider a miniature first), you could reasonably substitute it with any bourbon, whiskey or orange liqueur.
If you don't want to include alcohol, use orange juice instead.
Be Flexible
One of Nigella's original recipes was Ham in Coca-Cola. Maybe you could try ham in Cherryade or ham in Vimto. Hey now there's an idea!
You also don't actually need to glaze the ham if you don't want to. You can get a lovely boiled ham just by using the ginger beer and ginger paste.
Or take things the other way. Boil the ham simply in water but still use the glaze. The creates slightly less sweet meat.
Make it Vegetarian or Vegan
I think we're on a losing one here. Sorry!
You could however try to make a "Watermelon Ham". Good luck!
Make it Allergy Friendly
Great news in that this Ginger Beer Boiled Ham recipe is naturally gluten, dairy, nut and egg free.
Please note that this recipe may contain other allergens not referred to above and any variations suggested have not been tested unless otherwise stated. For more information regarding any dietary information provided on this website, please refer to my Nutritional Disclaimer.
Equipment Notes for Ginger Boiled Ham
A decent sized stockpot is almost essential for boiling a whole ham. The fit doesn't want to be too snug at this point but also not so massive that you need gallons of ginger beer to fill it.
I either use a disposable foil pan in a pie dish or a very well lined small roasting tin. Essentially you are going to create a heinous sticky mess so unless you want to spend an hour scrubbing out a pan, heed my warning!
Whichever dish you choose, make it quite a snug fit to minimise wasting the glaze.
A comprehensive list of the equipment used to make this recipe is included in the main recipe card below. Click on any item to see an example. There are no hard and fast rules so many items can be sensibly substituted to achieve the same results.
Get Ahead
There are a couple of great ways that you can use to get ahead making this Glazed Ginger Ham. I do in fact recommend making it the day before serving as the glaze has a tendency to slip off if carved straight away. I still do this regularly though!
The whole thing will keep just great in the fridge for a few days. Once chilled fully, wrap it in clingfilm and just serve as normal once you are ready.
If you prefer you can do the boiling portion of the recipe and glaze it a few days later.
You can also make the ham to either of the above stages and then freeze it whole. Make sure the ham is thoroughly defrosted before carving!
Leftover Ginger Beer Boiled Ham
There are so many things to do with lefover ham. My family preference is just to leave it in the fridge. By day two, the whole thing has been eaten in dribs and drabs!
Don't miss my Leftover Roast Dinner Pizza which is the perfect way to use up all manner of leftovers from any Sunday roast or Christmas dinner.
You could also use the ham in my Ham and Cheese Breakfast Casserole, add it to my Puff Pastry Pie with Chicken, Ham & Mushroom or reheat slices to serve simply with some Poached Eggs. It will also replace the gammon in my Puff Pastry Bacon & Egg Pie.
And can you really think of anything better than a simple sandwich of homemade chutney and leftover sliced ham? I can't.

Any leftovers can also be frozen, either in chunks or slices as you prefer.
Ginger Ham with Southern Comfort Glaze Tips
Gammon can come like mine did, trussed up to the nines. My whole gammon was covered in a full net. I snipped most of it off leaving two strips. There is no need to keep quite that much string on. Once it's cooked half the ham will come off the joint with the string. Not to mention the fat and skin – gah!
Do make sure to check the ginger beer level every now and again. Top it up if required.
Do not leave the vicinity of the oven and do set an alarm when glazing the ham. It can catch and burn so easily!
The finished ham can be served hot or cold with the sauce. My favourite accompaniment is Macaroni Cheese and some salad.
I am so pleased that I have some leftovers in the fridge as I am writing this because quite frankly, I am drooling!
Don't forget to let me know in the comments if you try making this recipe – I want to know what you think and if you made any substitutions, how did it turn out?
Still Have Questions?
Simple! Just contact me and I will do my best to help as quickly as I am able. Head over to my Contact Me page, any of my social media channels or post a comment at the bottom of this page and I'll see what I can do.
Pin Ginger Beer Boiled Ham with Boozy Glaze For Later
Hit one of the share buttons to save this page to your Pinterest boards so you can come back and find it at anytime!
---
Keep Up to Date
Make sure you SUBSCRIBE to my newsletter and avoid missing out on any of my newest and bonus content. Don't worry, I promise not to spam you or bombard you too often. Plus you'll receive a copy of my FREE 7 Day International Meal Plan!

Also please don't forget to follow me over on my social media channels over at Facebook, Twitter, Instagram and Pinterest. I love to interact with my followers and I'd love you to share my content with your friends too.
More Ginger Recipes
More Meaty Main Meals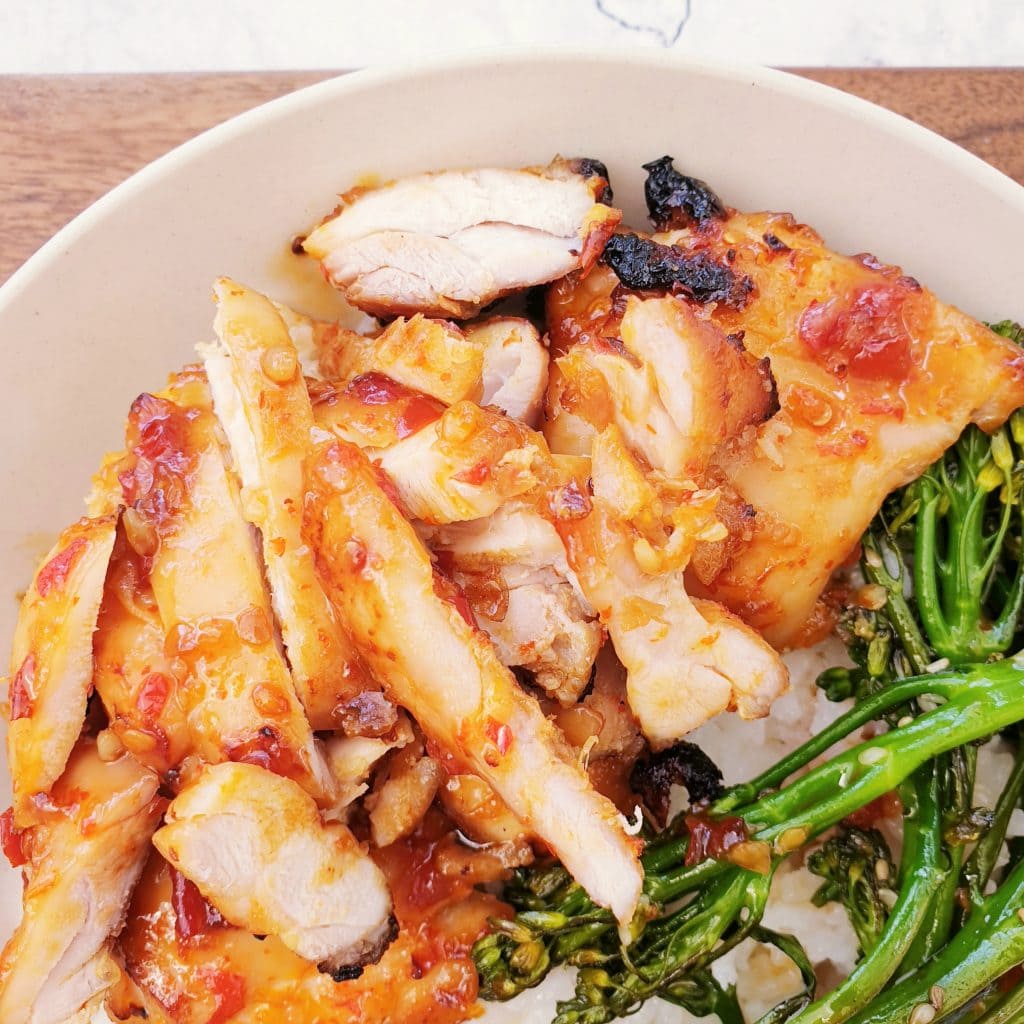 The Recipe
Ginger Ham with Southern Comfort Glaze
---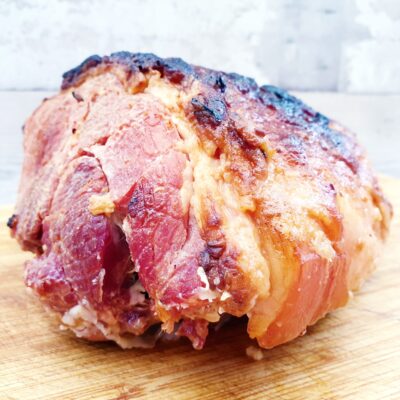 My Ginger Beer Boiled Ham with a Southern Comfort glaze is inspired by a Nigella Lawson recipe with added booze. The ginger beer permeates the ham to give a great twist on a classic party centrepiece. And I am rarely allowed to attend a party unless I bring a ham. True story.
Ingredients
The Ginger Ham:
2.5

kg

Unsmoked Gammon Joint

2

White Onions

1

litre

Fiery Ginger Beer

-

not sugar free

1

tbsp

Ginger Paste
The Southern Comfort Glaze:
2

tbsp

Mustard Powder

2

tbsp

Runny Honey

1

tbsp

Sea Salt Flakes

3

tbsp

Dark Brown Muscovado Sugar

3

tbsp

Southern Comfort
Instructions
Boil The Ham
Place a

2.5kg Unsmoked Gammon Joint

into a large pan.

Quarter

2 White Onions

with the skin on and tuck the pieces down the side of the ham.

Add

1 litre Fiery Ginger Beer

to the pan or until the joint is covered. Top up with water if required to cover the ham. Stir in

1 tbsp Ginger Paste

.

Put the pan onto a medium heat. Cover with a lid and leave for about

2 hours.

Check the level of the liquid every now and again and top up with more ginger beer or water if required.

Remove the cooked ham from the liquor and leave to drain on some kitchen towel. Allow to ham to cool slightly.

Leave the cooking liquor to boil away on the hob.

Meanwhile prepare a pan to glaze the ham. Take a pan only a little larger than the size of the gammon joint. Fully line it with at least 2 layers of foil. Or use a disposable foil pan.
Glaze the Ham
Preheat the oven to 250c or equivalent.

Mix

2 tbsp Mustard Powder

,

2 tbsp Runny Honey

,

1 tbsp Sea Salt Flakes

,

3 tbsp Dark Brown Muscovado Sugar

and

3 tbsp Southern Comfort

in a small bowl.

Remove any skin (but not the fat) from the ham and add it back to the cooking liquor. Continue to boil the liquor down. You want to end up with about

200ml

.

Add the ham to the lined pan and score the ham fat in a diamond pattern using a sharp knife.

Spoon the glaze all over the ham.

When the oven is at full temperature, put the ham in for 5 minutes.

Remove the ham from the oven and baste the glaze that has melted off back over the ham.

Repeat this process…

…several times…

….until most of the glaze is baked onto the ham itself and it has turned golden.

Leave the ham loosely covered to cool and then ideally put in the fridge overnight. It will be much easier to carve the next day.

Meanwhile, once the cooking liquor has reduced, strain it to remove the onion and ham fat and leave to cool.

Once it has been in the fridge a while, the layer of fat can be skimmed off.

The sauce can be reheated and served with the ham.
Nutrition (Approx)
Calories:
298
kcal
|
Carbohydrates:
8
g
|
Protein:
41
g
|
Fat:
9
g
|
Saturated Fat:
3
g
|
Cholesterol:
93
mg
|
Sodium:
3227
mg
|
Potassium:
716
mg
|
Fiber:
0
g
|
Sugar:
6
g
|
Vitamin C:
68.7
mg
|
Calcium:
18
mg
|
Iron:
2.3
mg
Download my FREE 7 day international meal plan!
Simply subscribe to the Feast Glorious Feast newsletter and I'll send you the link.