This tender and flaky American Pie Pastry is an easy twist on a classic rough puff. Made easily by hand and packed full of butter with no shortening, the chilling time is easily sped up in the freezer – no stress. The only question is: what kind of pie are you going to make first?!
This post may contain affiliate links. Please refer to my Disclosures Page for more details.
Here in the UK we are all generally familiar with shortcrust, puff pastry and a few outlier pastries like filo (phyllo). But I've always been intrigued by American pies and their homemade pastry cases packed with huge chunks of butter.
Sweet pies like apple, cherry and pumpkin are the pinnacle of down home American baking. So to continue my obsession with all things Americana, I did a tonne of research and tried making "pie crust" for myself.
I discovered two major things. Firstly American style Pie Crust is basically a rough puff pastry. Secondly when I've heard the best pastry described as "flaky and tender" they weren't lying – it is delicious.
What is American Style Pie Crust?
As I've mentioned, I'd consider it to be a rough puff style pastry. By this I mean it has some of the qualities of a traditional puff pastry. Here layers of butter are trapped between layers of dough. As the pastry cooks, the butter lets off steam which tries to escape and the result is lots of thin layers of crispy pastry.
Rough puff is simply a quick and dirty way of achieving similar results. But instead of layering the butter, it is mixed into the dough in larger chunks. And whilst there is some folding of the dough to create layers, this isn't usually done to the same extent. It is a perfect halfway house of time and result.
Another common feature of American style pie pastry is that it often contains vegetable shortening as an ingredient (Crisco in the US, Trex in the UK). I'm not a fan of using shortening in any of my cooking and I much prefer the flavour of butter. So for this recipe, I've taken an all butter route.
What is the Secret to great Pie Crust?
I have a few top tips. Most of these standard tips which apply to almost any classic pastry.
Keep everything cold. Very cold. From the butter to the water, everything wants to be cold.

There is a reason that there are steps for chilling in this recipe – please don't skip them. What you can do is speed up the process by using the freezer rather than the fridge. But set an alarm, if you leave it too long, you have a wait on your hands.
Don't overwork the dough. There is no kneading, no heavy mixing and no unnecessary working of the dough in this recipe.

Overworking helps the gluten in the flour to develop. This is great if you are making bread but with pastry it just makes it tough.
Use real butter. Margarine does not have the required hardness to deal with the rolling and layering. If you need to use a dairy free or vegan version, make sure to use a properly hard solid substitute.
How to use American Pie Dough?
If your recipe doesn't call for the pastry to be baked from raw, you can follow my instructions to make Small Tart Cases or for the family sized version; Blind Baked American Pie Crust. The quantity of dough in this recipe will make at least 24 small cases or 2 large 9″ tart shells.
I will be building a collection of recipes specifically designed to use this pie crust dough. In the meantime, you can substitute it for the puff pastry in any of these recipes.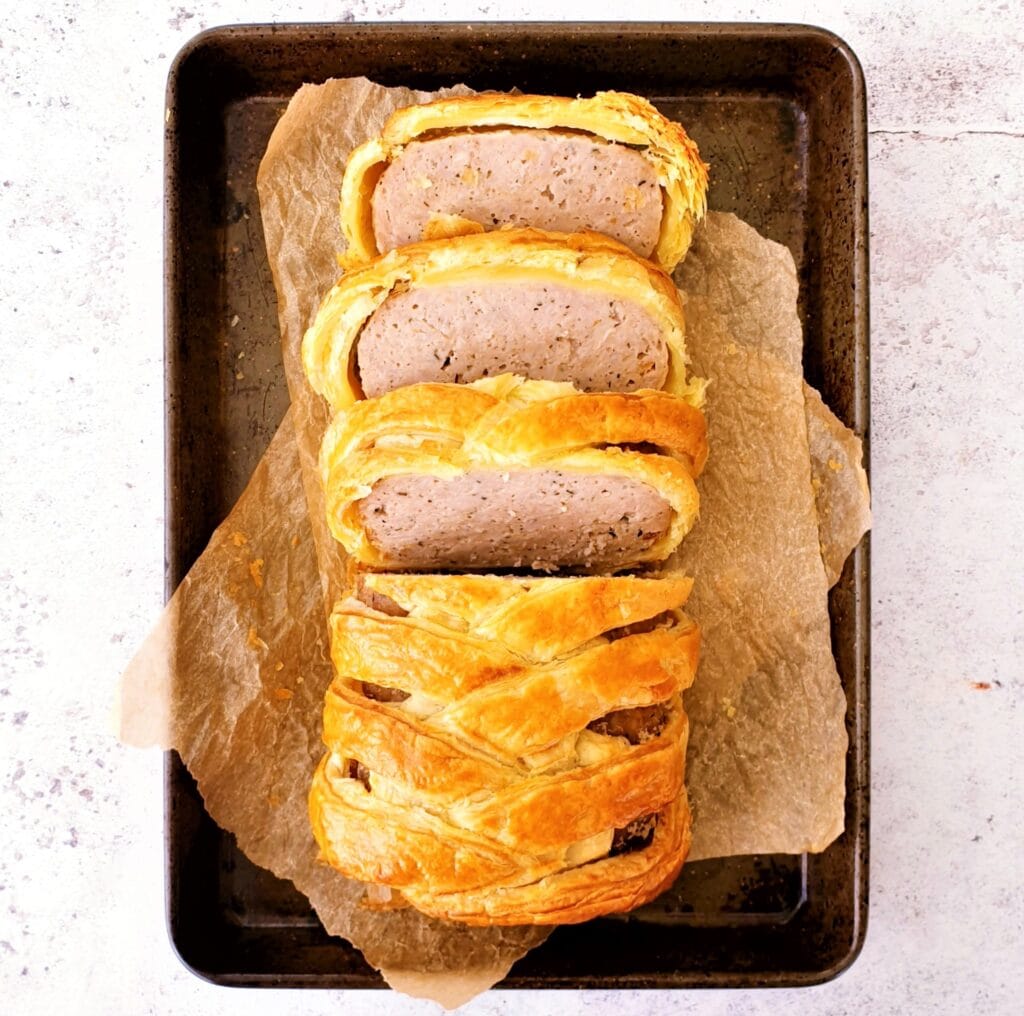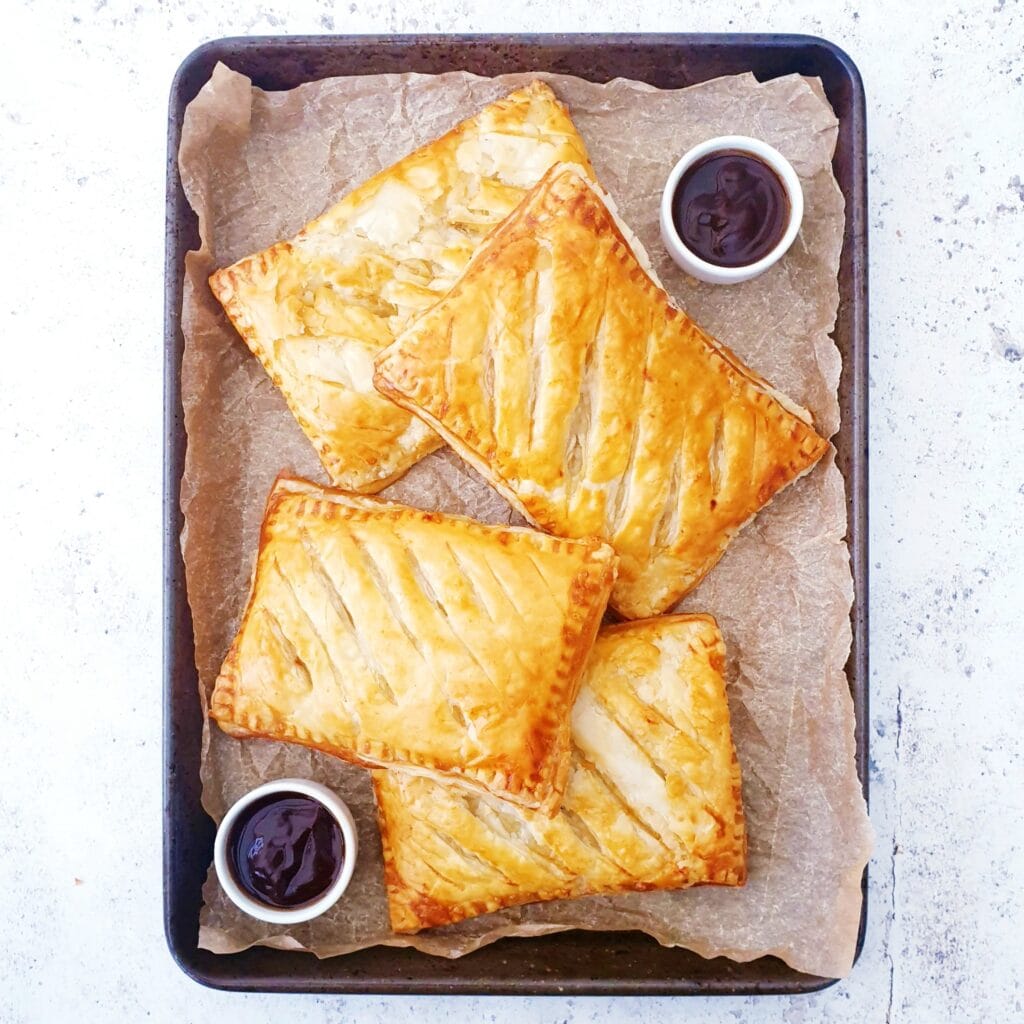 Still Have Questions?
Simple! Just contact me and I will do my best to help as quickly as I am able. Head over to my Contact Me page, any of my social media channels or post a comment at the bottom of this page and I'll see what I can do.
Pin American Pie Pastry (Buttery Rough Puff) For Later
Hit one of the share buttons to save this page to your Pinterest boards so you can come back and find it at anytime!
---
Keep Up to Date
Make sure you SUBSCRIBE to my newsletter and avoid missing out on any of my newest and bonus content. Don't worry, I promise not to spam you or bombard you too often. Plus you'll receive a copy of my FREE 7 Day International Meal Plan!

Also please don't forget to follow me over on my social media channels over at Facebook, Twitter, Instagram and Pinterest. I love to interact with my followers and I'd love you to share my content with your friends too.
The Recipe
American Pie Pastry Recipe (Buttery Rough Puff)
---
This tender and flaky American Pie Pastry is an easy twist on a classic rough puff. Made easily by hand and packed full of butter with no shortening, the chilling time is easily sped up in the freezer – no stress. The only question is: what kind of pie are you going to make first?!
Ingredients
340

g

Salted Butter -

fridge cold

500

g

Plain Flour (All Purpose)

-

plus extra for dusting

2

tbsp

Sugar

-

optional for sweet pies

150

ml

Water

-

ice cold
Instructions
Weigh out

200g Salted Butter

and cut into 1cm (½") cubes. Place into the freezer to get extra cold.

Measure out

500g Plain Flour

into a large mixing bowl. Add

2 tbsp Sugar

if you are making dough for a sweet pie. Add

140g Salted Butter

cut into slightly smaller cubes.

Use the tips of your fingers to rub the flour into the butter until it resembles breadcrumbs. Just like you would when making scones.

Now add the extra cold butter cubes from the freezer.

Very briefly use your hands again to start to rub the second batch of butter into the flour. But really you only want to squidge the cubes a little and toss them in the flour. You want lots of big chunks of butter to remain – they just need to be coated in the flour.

Add ⅔ of

150ml Ice Cold Water

and use your hands, a dough whisk or a spatula to start mixing the water in. Be gentle and try not to work the dough too much.

Add more of the water until you can squeeze a handful of the mix into a dough.

Use both hands to squeeze all the mix to form a ball of dough. Wrap the dough ball in clingfilm and put it in the fridge for an hour or the freezer for 20 minutes.

Roll out the dough into a rough thick rectangle. Keep turning and flipping the dough, adding more flour if needed. The dough will be difficult to roll at first. Just keep persevering and don't push down too hard with he rolling pin.

Use a knife to cut the dough into quarters.

Stack the 4 quarters of dough one on top of each other.

Roll the dough back out into a rectangle. Then repeat the cutting, stacking and rolling once more. If the dough still feels good and cold, you can do this a third time. If it is getting warm, you can either rechill and do another fold or leave it here.

If you have made the full batch, cut the dough into two pieces and wrap each into clingfilm. If you have halved the recipe, just wrap the whole dough ball. Put in the fridge for a minimum of an hour before using the pastry (or in the freezer for 20 minutes but no more).
Nutrition (Approx)
Serving:
100
g
|
Calories:
479
kcal
|
Carbohydrates:
90
g
|
Protein:
12
g
|
Fat:
7
g
|
Saturated Fat:
4
g
|
Polyunsaturated Fat:
1
g
|
Monounsaturated Fat:
2
g
|
Trans Fat:
1
g
|
Cholesterol:
16
mg
|
Sodium:
58
mg
|
Potassium:
121
mg
|
Fiber:
3
g
|
Sugar:
6
g
|
Vitamin A:
189
IU
|
Calcium:
20
mg
|
Iron:
5
mg
Download my FREE 7 day international meal plan!
Simply subscribe to the Feast Glorious Feast newsletter and I'll send you the link.