My easy Popcorn Snack Mix involves no baking and is super versatile using what you can find in your store cupboard. Popcorn, cornflakes, chocolate chips, salted nuts and marshmallows are all drizzled with melted chocolate. Its a delicious snack for kids and adults alike.
This post may contain affiliate links. Please refer to my Disclosures Page for more details.
I've had a bit of a love hate relationship with popcorn over the years. It squeaks. And I'm not sure food should squeak. It is one of several reasons that I don't like halloumi. The taste is the other reason. I do however quite like the taste of popcorn so that wins out!
Its often one of these snacks I just never think to have. But recently I've started popping my own corn and creating my own flavourings and snack mixes. This mix including lots of store cupboard favourites is not only mega versatile but its bloody moreish too!
How to Make Popcorn Snack Mix – Step By Step Video
I have made loads of suggestions further down this post of other things you can mix with the popcorn before drizzling it with chocolate like Jackson Pollock and leaving it to set.
It will store in a airtight container for ages so you can make up a big batch for your Netflix viewing pleasure.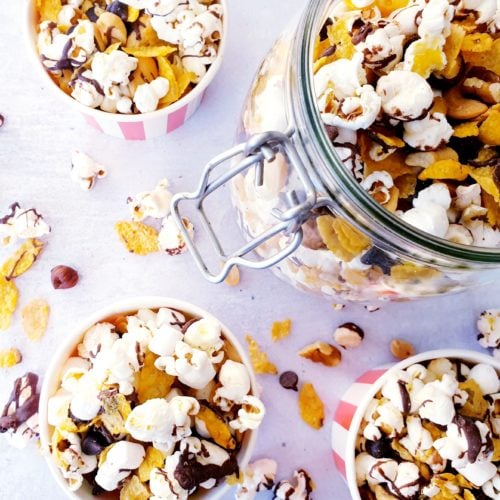 How to Serve Popcorn Snack Mix
In a big bowl in front of the TV. You don't need to warm it, you don't need to prep it. Nothing. Just grab your container, empty it into something you can grab a whole fistful at a time from and dig in.
Make Popcorn into a Feast
I truly believe that you can make any dish into a proper feast! Whether thats a feast for one after work on a Tuesday, a casual feast for four on a Friday evening or a feast for 12 for a special occasion!
A good popcorn mix is ideal as a cheeky sweet canape. Or as nibbles before a meal or a feast. My other favourite canapes include my Salt & Chilli Edamame Beans for a vegan option or my Cherry Bacon Bites for the meat eaters.
And of course one of my other favourite canapes are sushi like my King Prawn Nigiri and Crab Uramaki. For another sweet snack, Peanut Butter & Jelly Pizza Pockets are a great option.
The other option is to plonk down a big bowl of popcorn on the table after dessert or even for dessert. I first learnt this trick in an Ethiopian restaurant in Stockwell. A huge bowl of popcorn arrived on the table with the end of meal coffee ceremony. We were stuffed and yet that popcorn disappeared before the coffee was even made!
Don't forget to head over to my Feast Collection pages to find all of my tips and tricks to help you host a fun and stress-free feast. Plus remember to check out my recipe index to create your own awesome Feast!
Ingredients for Popcorn Snack Mix
Popcorn
I've popped the corn from the kernels so they're nice and fresh. I can usually dig out a bag of popping corn from the back of my pantry.
You could buy and add ready popped salty or sweet popcorn. Or even the butter caramel popcorn that used to be my favourite at the cinema!
Cornflakes
This is the cereal that I'm most likely to have in my house. And much like with my Chocolate Cornflake Cakes, I love to find other uses for them which aren't simply drenching them with milk. They provide crunch in the mix and a hint of flavour.
You really can add whatever cereal you like. Snack mixes made with "Chex" cereal are huge in the USA. You can even buy ready baked and mixed "Chex mix". The closest alternative we have in the UK would be Shreddies although they are made from wheat rather than the rice based Chex.
I'd perhaps avoid the chocolate options like Coco Pops or Nesquik cereal or anything too small like Rice Crispies. If you like whole grains then bran flakes would be good and if you like your treats a bit sweeter, Frosties are a great option.
Mini Marshmallow
These, like pretty much all the ingredients are basically optional. But as I haven't really included any other particularly sweet ingredients, they do provide that hit of sugar that makes this popcorn mix a treat.
If you only have big ones, use a pair of scissors to chop them into smaller pieces otherwise you'll dwarf the other ingredients.
Chocolate Chips
Small dark chocolate chips were what I had in my cupboard when putting this together. I usually keep them on hand in case I want to make my Whole Orange Choc Chip Muffins.
Again you can sub these for whatever you prefer or have on hand. You can go for white choc, dark or milk and they don't need to be chips. You can throw in chocolate buttons or just chop up a chocolate bar into chunky pieces.
Salted Nuts
All the best sweet treats have a salty element. You could go with something like salted pretzels but I can't say no to a salted peanut mixed with chocolate at the best of times. I sometimes keep it classy with a mix of nuts like hazelnuts, pistachios, walnuts, cashews and peanuts. And sometimes I just use one or two.
You can use whatever you like or whatever you have on hand. I would try to avoid any which already have heavy seasoning or flavour like dry roasted nuts.
---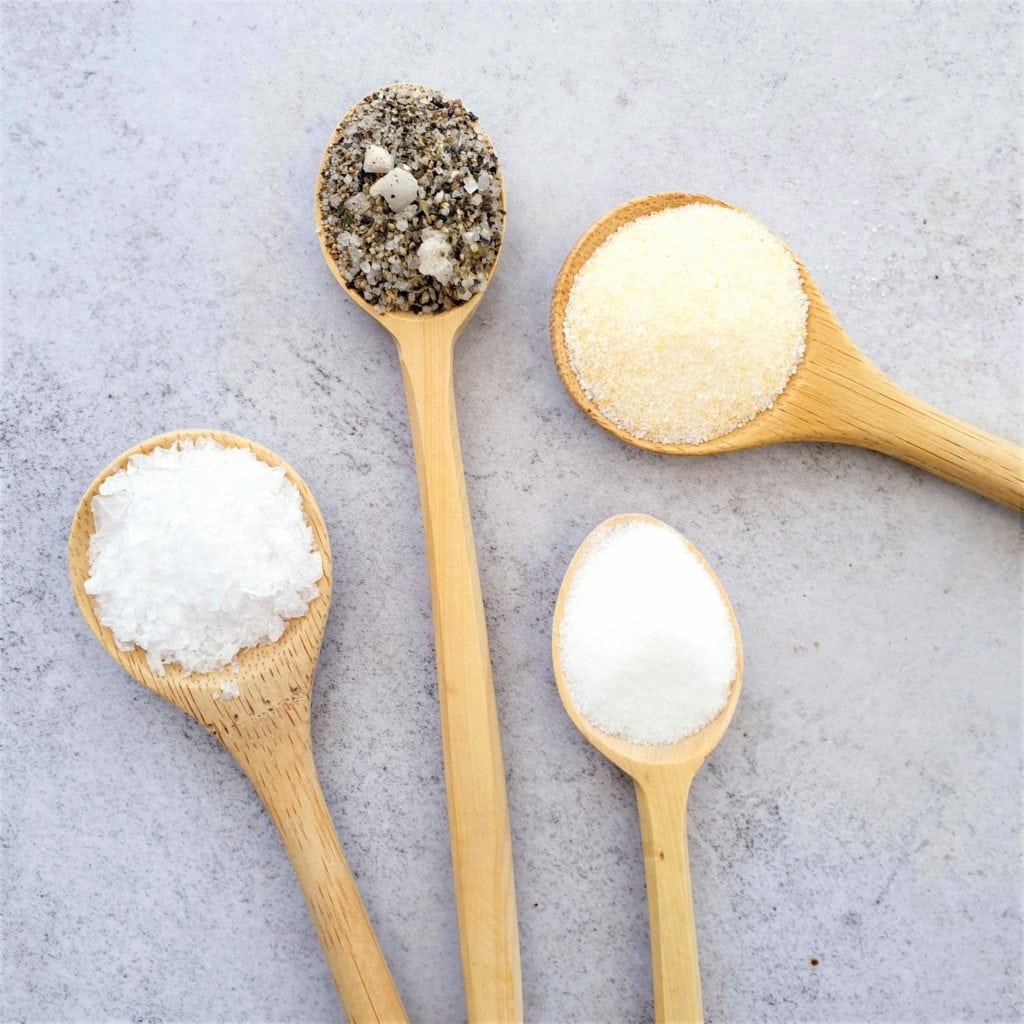 For the lowdown on using salt to properly season and enhance the flavour of your food, check out my Ultimate Guide on How to Use Salt.

There is guidance about which salt to use when, salt alternatives, using salt when baking and even what to do if you add too much salt!
---
Chocolate
Again just like with my Chocolate Cornflake Cakes and the base of my Chocolate Peanut Cheesecake, a mix of dark and milk chocolates often hits my spot. So I melted a mix together to drizzle over my popcorn mix.
You can use one type of chocolate over another depending on what you prefer. White chocolate is another good option.
Be Flexible
Take the basic premise of the snack mix and be as flexible as you like. Mix together whatever snacks you like and cover them with drizzled chocolate. Try to make sure you include something crunchy, something sweet and something salty. You will struggle to go wrong.
Make it Vegetarian or Vegan
Being such a flexible recipe, it is easy to adapt the snack mix to be either vegetarian or vegan.
To make it vegetarian you simply need to make sure that the marshmallows you choose are vegetarian.
To make it vegan, you need to choose a vegan chocolate, vegan marshmallow alternative and ensure that the cereal you choose is suitable for vegans. Kellogg's Cornflakes are not suitable as they contain Vitamin D derived from animal sources (accurate as of April 2020).
Make it Allergy Friendly
Again as the recipe is super flexible, you can easily create a mix to suit any allergen requirements.
Gluten Free: Use a gluten free cereal.
Nut Free: Don't include nuts! Use another salty snack like pretzels instead.
Dairy Free: Choose dairy free chocolates and ensure that the cereal doesn't contain any added dairy.
Egg Free: Look for vegan marshmallows that are not made with egg whites like regular marshmallows.
Please note that this recipe may contain other allergens not referred to above and any variations suggested have not been tested unless otherwise stated. For more information regarding any dietary information provided on this website, please refer to my Nutritional Disclaimer.
Equipment Notes for Popcorn Snack Mix
You need very little in the way of equipment. If you are popping your own corn, you will need to use a large saucepan with a lid. (Or a microwave if you have bought a microwaveable packet of corn).
You will also need something to melt chocolate in. I use a small bowl in the microwave. You could use a small saucepan on the hob if you need to.
And then you will want something that you can spread the ingredients out on to drizzle with chocolate. I used my largest baking tray. You could also use a large bowl and mix everything around a couple of times as you're drizzling the chocolate.
A comprehensive list of the equipment used to make this recipe is included in the main recipe card below. Click on any item to see an example. There are no hard and fast rules so many items can be sensibly substituted to achieve the same results.
Get Ahead
You can make up this snack mix well in advance and store it in an airtight container. There is no need to store in the fridge or freezer. In fact that would make the whole thing soggy, not improve it!
Leftover Popcorn Snack Mix
Just keep eating them!
Popcorn Snack Mix Tips
If you are making your own popcorn, don't walk away from the pan. It will catch and burn easily.
And make sure your saucepan is massive. The amount that those tiny kernels can grow to is crazy. Work in a few batches if you need too. Each batch only takes a couple of minutes.
Go crazy with the melted chocolate drizzle. Or be sparing. It really is down to your own personal taste.
Don't forget to let me know in the comments if you try making this recipe – I want to know what you think and if you made any substitutions, how did it turn out?
Still Have Questions?
Simple! Just contact me and I will do my best to help as quickly as I am able. Head over to my Contact Me page, any of my social media channels or post a comment at the bottom of this page and I'll see what I can do.
Pin Popcorn Snack Mix For Later
Hit one of the share buttons to save this page to your Pinterest boards so you can come back and find it at anytime!
---
Keep Up to Date
Make sure you SUBSCRIBE to my newsletter and avoid missing out on any of my newest and bonus content. Don't worry, I promise not to spam you or bombard you too often. Plus you'll receive a copy of my FREE 7 Day International Meal Plan!

Also please don't forget to follow me over on my social media channels over at Facebook, Twitter, Instagram and Pinterest. I love to interact with my followers and I'd love you to share my content with your friends too.
---
More Chocolate Recipes
---
The Recipe
Popcorn Snack Mix (No-Bake Recipe)
---
My easy Popcorn Snack Mix involves no baking and is super versatile using what you can find in your store cupboard. Popcorn, cornflakes, chocolate chips, salted nuts and marshmallows are all drizzled with melted chocolate. Its a delicious snack for kids and adults alike.
Ingredients
2

tsp

Vegetable Oil

50

g

Corn Kernels (Popping Corn)

75

g

Salted Nuts

25

g

Mini Marshmallows

30

g

Cornflakes

50

g

Dark Chocolate Chips (Bittersweet)

50

g

Dark Chocolate (Bittersweet)

50

g

Milk Chocolate
Instructions
Add

2 tsp Vegetable Oil

and

50g Corn Kernels

to a large saucepan. Put on a medium heat shaking the pan occasionally until the popping stops. Tip the popcorn out onto a large tray.

Chop

75g Salted Nuts

. Keep some chunky, chop some a little smaller. It depends on what nuts you are using as to how much you want to chop. Don't got too small. Add the nuts to the popcorn.

Also add

25g Mini Marshmallows

,

30g Corn Flakes

and

50g Dark Chocolate Chips

.

Mix everything together well and spread out on the tray.

Break up

50g Dark Chocolate

and

50g Milk Chocolate

into a small bowl or saucepan.

Melt in the microwave or on the hob and stir well.

Drizzle the melted chocolate over the snack mix.

Leave to cool then use your hands to break up any bigger pieces where the chocolate has stuck ingredients together. You can leave some clumps for variety.

Store in an airtight container or eat!
Nutrition (Approx)
Calories:
283
kcal
|
Carbohydrates:
29
g
|
Protein:
7
g
|
Fat:
17
g
|
Saturated Fat:
8
g
|
Cholesterol:
1
mg
|
Sodium:
106
mg
|
Potassium:
265
mg
|
Fiber:
4
g
|
Sugar:
12
g
|
Vitamin A:
89
IU
|
Vitamin C:
1
mg
|
Calcium:
46
mg
|
Iron:
3
mg
Download my FREE 7 day international meal plan!
Simply subscribe to the Feast Glorious Feast newsletter and I'll send you the link.