American Biscuits are a Southern US classic. They're effectively savoury buttermilk scones that are flaky rather than crumbly & make an excellent side or breakfast. Ideally served warm and smothered with butter, I can't stop eating them!
This post may contain affiliate links. Please refer to my Disclosures Page for more details.
The phrase "biscuits and gravy" is met with very different responses in the UK and US! In the UK you will get a mixture of blank faces, horror and disgust.
Visions of digestive biscuits with beef gravy aren't that appealing. But in the US, especially in the Southern states, they're going to ask you what time breakfast is!
This is because American Biscuits aren't anything like UK biscuits. Cookies are what American't call UK biscuits. And not just the chewy soft ones. All of them.
Which leaves the word "biscuit" free and clear for other uses. And they choose to use it to mean buttery, flaky savoury scones. Or 'savory' scones as they'll spell it! Not to be confused with British Cheese Scones either – they are indeed savoury but they're still not biscuits!
American Biscuits have a few uses, mostly revolving around breakfast, hence why they are also known as Breakfast Biscuits.
They can be used for a breakfast sandwich, a bit like how we might use an english muffin. McDonalds even replace their McMuffins with Biscuit sandwiches in many of their Southern US restaurants. Or serve both.
How to Make American Buttermilk Biscuits – Step By Step Video
So What About "Biscuits and Gravy"?!
Then there is the aforementioned 'biscuits and gravy'. At this point you'll not be surprised to know that the gravy is not like British gravy either!
Sausage Gravy is made with actual sausage and milk. It's very tasty but not photogenic! But lets concentrate on the Buttermilk Biscuits for the time being.
Breakfast Biscuits are similar to scones but without the sugar. The other difference is that they're more buttery and are made in layers. So they're flaky rather than crumbly.
I make them in a similar (but much quicker) way as puff pastry. The dough is rolled out, folded and rolled again. The folds are repeated twice more and then the biscuits are cut.
Because Biscuits are a quick bread, just like Soda Bread, they don't use any yeast and they're ready in under 25 minutes.
How to Serve Breakfast Biscuits
Ideally you should serve biscuits with lashings of butter. Lashings. I actually mostly eat them just like this.
They're best warm. If they're not fresh out of the oven I just give them 30 seconds in the microwave. You can also make little sandwiches out of them. I like ham and melty cheese.
For extra decadence, I sometimes melt on some homemade Garlic Butter. Although I have to admit I don't tend to so this for breakfast!
And then you can top them with Sausage Gravy or a vegetarian option like Creamed Mushrooms. I always thought that the soft texture of the Biscuits wouldn't work with the soft texture of the gravy but actually it is rather delicious.
I do sometimes add bacon to my mushrooms for an extra flavour. And I often add a poached or fried egg.
Biscuits are also served as a side. Just like a bread/dinner roll. They are especially common with Southern Fried Chicken and other sides like Macaroni Cheese and Green Bean Casserole. Or even going back to breakfast with Steak and Eggs!
Make Breakfast Biscuits into a Feast
I truly believe that you can make any dish into a proper feast! Whether thats a feast for one after work on a Tuesday, a casual feast for four on a Friday evening or a feast for 12 for a special occasion!
Breakfast Biscuits are incredible as an additional side to any of my Americana Feasts. You could switch out the Garlic Rolls in my Big Americana Feast or Vegetarian Feast or serve them as an extra.
They would also make an excellent side for any of my Everyday Americana Feasts like my Ribs, Slaw & Sweet Potato Feast or Glazed Ham & Mac'n'Cheese Feast.
And then of course Breakfast Biscuits are ideal as part of a Brunch Feast. Try adding them to my Big Prep-Ahead Brunch Feast or Vegetarian Brunch Feast instead of or alongside the Bagels. Make sure to smother them in the Homemade Butter!
My Bagel, Avocado & Egg Feast could also become a Biscuit, Avocado & Egg Feast!
Adding either Sausage Gravy or Creamed Mushrooms will also make for heck of a Brunch Feast. Also add egg and/or bacon to make it extra special. It wouldn't be un-American to drizzle over some maple syrup too!
Don't forget to head over to my Feast Collection pages to find all of my tips and tricks to help you host a fun and stress-free feast. Plus remember to check out my recipe index to create your own awesome Feast!
Ingredients for Breakfast Biscuits
Flour
I use plain (all-purpose) flour and baking power in this recipe. You could technically use self-raising flour and only a little extra baking powder. But don't. You get much more control from adding your own raising agent.
There is no need to sieve the flour but it won't hurt if you want to.
Butter
I always use salted butter. When I can I make my own (so easy!). If you only have unsalted butter, it is fine to use but you may wish to add a little extra in the way of sea salt flakes.
Buttermilk
Buttermilk is what you get when you make butter out of cream. Take the butter out and you are left with the buttermilk. I also use buttermilk to marinade my Southern Chicken Wings. If you don't have homemade buttermilk, you can buy it in any supermarket right next to the cream.
But it is worth noting that bought and homemade buttermilk do have different consistencies. I don't know why but the stuff you buy is much thicker. As I think you are more likely to buy it than make it, I have written the recipe based on the thicker commercial buttermilk.
Because it is thicker, you need more to achieve the correct consistency of the dough. So if you use homemade buttermilk, expect to use up to half less. Either way, make sure to add it a little at a time.
If you don't have buttermilk, you can alternatively use plain yoghurt or milk with a little lemon juice mixed in. I explain this method more in my recipe for Chilli & Oregano Soda Bread.
Be Flexible
There are not actually many ways that I tend to vary this recipe other than in respect of the size and shape.
Sometimes I make the Biscuits square, sometimes round and sometimes I roll the dough into a round and then cut it like a pizza for wedge shaped Biscuits. I also sometime make mini Breakfast Biscuits or even really rather large ones.
You could of course flavour the biscuits if you wish. Something simple like mustard powder and fresh chives would appeal to me most. You could also add chilli flakes to heat things up. You could go to the next level and add cheese or even pieces of cooked bacon. Slathering them with garlic butter would be pretty epic.
There are many recipes for sweet and fruit flavoured biscuits out there. But I think I'd rather just make a scone!
Make it Vegetarian or Vegan
Buttermilk Biscuits are vegetarian!
To make them vegan is easy, you just need to make a couple of swaps. The butter can be replaced with a dairy-free baking block. Something hard is ideal for the dough but you could use a softer, more flavoursome spread for melting and brushing on after baking.
The buttermilk can be replaced by your favourite dairy substitute milk. Add lemon juice to the milk to simulate the acidity of buttermilk. Easy peasy.
Make it Allergy Friendly
My Breakfast Biscuits are naturally nut and egg free.
Gluten Free: Its very easy to make these gluten free. Simply substitute the plain flour for a good gluten free flour. You don't want a lot of gluten in the Biscuits so the texture shouldn't be overly affected. Also check that your baking power is suitable for gluten free diets.
Dairy Free: Simply follow the instructions that I've given above to make the recipe suitable for vegans.
Please note that this recipe may contain other allergens not referred to above and any variations suggested have not been tested unless otherwise stated. For more information regarding any dietary information provided on this website, please refer to my Nutritional Disclaimer.
Equipment Notes for Breakfast Biscuits
There is nothing terribly specialist needed to make these Biscuits. You will need the usual suspects for weighing and measuring like scales, spoons and a liquid measure.
Something to mix the dough in and something to mix it with would be helpful but actually you could make it on a clean surface with your hands if you wanted!
A rolling pin would be helpful as would a sharp knife or some cookie cutters. A sharp edge on the biscuits will give you a better rise.
The Biscuits need to bake on something. You could use anything from a cast iron skillet (quite traditional) to an enamel tin, ceramic dish or regular baking tray.
And then there are a couple of items which you don't need but which will make things easier. A flour shaker is one. Simple but it does make sprinkling flour for kneading and rolling that bit more even and under control.
The other is a silicone pastry brush. You could spoon the butter over the top of the Biscuits but the pastry brush does make things a little more refined. Plus it has a million uses!
A comprehensive list of the equipment used to make this recipe is included in the main recipe card below. Click on any item to see an example. There are no hard and fast rules so many items can be sensibly substituted to achieve the same results.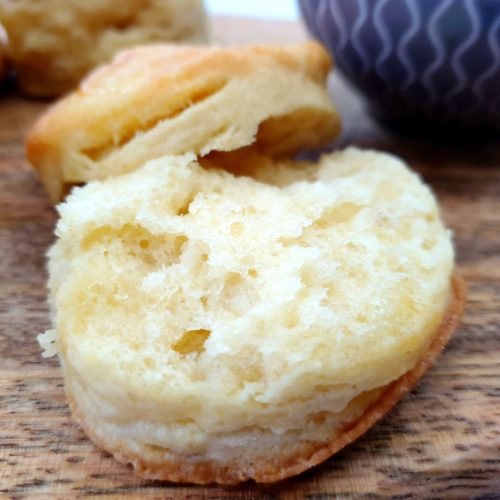 Get Ahead
Once you make the dough and cut out the Biscuits you can either bake them straight away or freeze them. I wouldn't keep them in the fridge as the baking powder will sit and continue to react with the buttermilk. Frozen biscuits can simply be baked from frozen – they will just need a little longer cooking time.
American Biscuits can also be cooked and then kept for a few days or frozen. They are better the fresher they are but they are fine to keep for a couple of days, especially if you warm them through before eating.
Leftover Breakfast Biscuits
Any leftovers can be eaten over the next few days or simply frozen to eat at a later date.
Stale biscuits could also be blitzed up and used like breadcrumbs, fried to make croutons for a salad or even used in a bread and butter type pudding.
Breakfast Biscuits Tips
Your butter does need to be cold. If it is an especially warm day, you can freeze then grate the butter into the flour. It then only really needs to be stirred in rather than rubbed.
The butter does not need to be rubbed in all that well. Some lumps won't hurt, just like with the grating method.
I make sure to bake any offcuts of dough. They won't be quite as fluffy as the actual Biscuits but it still tastes great and waste is very very bad!
Whilst the dough does need a bit of a knead to make it come together, try not to overwork it. Be gentle and stop as soon as it comes together. Overworking it will make the baked Biscuits tough.
You can cut the dough rectangle into 3 pieces and stack them rather than folding to make the layers. Stick to 3 layers at a time, maybe 4 at a push. I tried more and it didn't work out well!
The cuts around the edge of each biscuit want to be sharp. So use a sharp knife or cutter rather than a blunt glass. Also avoid twisting a cutter. Sharp straight edges allow the biscuits to rise high and even.
I do sometimes cut a Biscuit in half to check if is cooked all the way through. It can be easy to end up with a doughy interior, especially if you like your baked goods on the lighter side of brown like me.
Don't forget to let me know in the comments if you try making this recipe – I want to know what you think and if you made any substitutions, how did it turn out?
Still Have Questions?
Simple! Just contact me and I will do my best to help as quickly as I am able. Head over to my Contact Me page, any of my social media channels or post a comment at the bottom of this page and I'll see what I can do.
Pin Breakfast Biscuits For Later
Hit one of the share buttons to save this page to your Pinterest boards so you can come back and find it at anytime!
Keep Up to Date
Make sure you SUBSCRIBE to my newsletter and avoid missing out on any of my newest and bonus content. Don't worry, I promise not to spam you or bombard you too often. Plus you'll receive a copy of my FREE 7 Day International Meal Plan!

Also please don't forget to follow me over on my social media channels over at Facebook, Twitter, Instagram and Pinterest. I love to interact with my followers and I'd love you to share my content with your friends too.
---
More Bread Based Recipes
---
The Recipe
Breakfast Biscuits (Savoury American Scones)
---
American Biscuits are a Southern US classic. They're effectively savoury buttermilk scones that are flaky rather than crumbly & make an excellent side or breakfast. Ideally served warm and smothered with butter, I can't stop eating them!
Ingredients
225

g

Plain Flour

-

plus extra for rolling & kneading

1

tbsp

Baking Powder

0.5

tsp

Sea Salt Flakes

100

g

Salted Butter -

cold

250

ml

Buttermilk -

less if thinner and homemade
Instructions
Preheat the oven to 230c or equivalent.

Measure

225g Plain Flour

into a medium mixing bowl. Add

1 tbsp Baking Powder

and

0.5 tsp Sea Salt Flakes

directly to the flour.

Weigh out

75g Salted Butter

and use a sharp knife to cut it into small cubes. Add the cubes to the flour.

Use the tips of your fingers to rub the butter into the flour until it has the texture of coarse breadcrumbs. You do not need to rub in as well as if you were making British Scones. Some small lumps are fine.

Slowly add

250ml Buttermilk

to the flour mix a little at a time. Keep stirring until a soft dough forms. It will be soft and a little sticky. You may not need to add all the Buttermilk. You will need to add much less if it is homemade and on the thin side.

Dust a clean flat surface with flour and empty the dough onto the surface.

Knead the dough until it comes together and is much smoother. Don't be too rough with it however or you will create tough biscuits.

Roll the dough into a rectangle about 2cm thick. Dust with more flour as needed.

Fold one third of the dough on top of the rest of the rectangle.

Fold the remaining uncovered third on top of the last fold.

Roll the dough back out into a rectangle of the same size. Repeat the folding and cutting twice more until you have 9 layers in total.

Finally roll the dough back out to a depth of roughly 2 cm.

Use a sharp knife to cut the dough into squares. Trim the edges if you wish.

Or use a cookie cutter to make rounds.

Use a little of the remaining

15g Salted Butter

to grease your preferred baking tin.

Move the biscuits to the greased tin. They can be placed quite close together.

Brush the tops of the biscuits with any leftover buttermilk if available.

Bake for

12 minutes

or until golden brown.

Remove from the oven and melt the remaining butter in the microwave or in a small pan.

Brush the tops of the biscuits with the melted butter whilst still hot.

Serve while still warm.
Nutrition (Approx)
Calories:
189
kcal
|
Carbohydrates:
21
g
|
Protein:
4
g
|
Fat:
10
g
|
Saturated Fat:
6
g
|
Cholesterol:
27
mg
|
Sodium:
239
mg
|
Potassium:
199
mg
|
Fiber:
1
g
|
Sugar:
1
g
|
Vitamin A:
324
IU
|
Calcium:
96
mg
|
Iron:
1
mg
Download my FREE 7 day international meal plan!
Simply subscribe to the Feast Glorious Feast newsletter and I'll send you the link.