My Easy Boston Baked Beans are a whole world away from our everyday baked beans. These beans are rich, sticky and deeply savoury. They're a classic American side which is perfect with BBQ. But do try them on toast!
This post may contain affiliate links. Please refer to my Disclosures Page for more details.
Boston Baked Beans are another American classic that have mostly flown under the radar in the UK. See also Buttermilk Biscuits, Green Bean Casserole and Monkey Bread! But we really should be more open to this much tastier variation of the humble baked bean.
I've called this recipe "easy" because it is really a cheats version which can be thrown together in 45 minutes.
A real authentic Boston Baked Bean recipe would use dried beans that are first soaked and then cooked for anything up to 16 hours. I do not have the wherewithal to plan my life that far in advance! And my version is so full of flavour, I can't comprehend it being any tastier.
By the way, do you know that beans count towards you 5 a day? You can only count one portion of beans or lentils a day but that's good enough for me!
How to Serve Easy Boston Baked Beans
Boston Baked Beans have a few uses. As a larger portion size prepared as per my recipe, they can be served but like normal baked beans. On toast would be classic. They're going to really jazz up a plate of sausage egg and chips too!
The classic way of serving would be as a side dish to BBQ foods with other sides like cornbread or Roasted Garlic Mushrooms. I sometimes serve is as a main course with some Pigs in Blankets or Sausage Rolls. I think American's would call this "Beans n Franks". But posher!
As a side dish, I would generally look to serve the beans in a bowl family style. They're a help yourself kind of dish!
Make Easy Boston Baked Beans into a Feast
I truly believe that you can make any dish into a proper feast! Whether thats a feast for one after work on a Tuesday, a casual feast for four on a Friday evening or a feast for 12 for a special occasion!
I've included this recipe in my Big Americana Feast Collection.
The rest of the feast includes southern classics like Guacamole, Southern Baked Chicken Wings, super cheesy Mac'n'Cheese, creamy Coleslaw and Boston Baked Beans. To make it even better, there are Garlic Bread Rolls on the side and my Peanut Brownie Cheesecake for dessert. An absolute feast indeed!
For a smaller meal I might serve my Oven Fried Chicken Thighs with Hot Honey Butter Garlic Sauce and Roasted Mushrooms with Garlic Butter and a green salad.
Don't forget to head over to the Big Americana Feast post for all of my tips and tricks to help you host a fun and stress-free feast. Plus remember to check out my other feast collections and all my Americana inspired recipes.
Ingredients for Easy Boston Baked Beans
Bacon
The traditional ingredient in these baked beans is salt pork. But realistically I think that smoked bacon makes for a much more easy to source and perfectly acceptable alternative.
I used pre-cut lardons as they are chunkier than chopping up slices of streaky bacon but that would be a perfectly good alternative too.
Paprika
Smoked Paprika is quite essential to the overall flavour of the dish as 'smoky' is the primary flavour profile of the dish. What doesn't matter is if you use the sweet or the hot (picante) variety. Choose your poison.
Look for the little rectangular red tins in the supermarket. Prepare for battle getting the lid off the first time! (It is worth persevering).
Tomato Ketchup
I know, I know. But as with my Sweet and Sour Chicken recipe, it just has to happen.
Beans
Haricot Beans are also know as Navy beans in the US and Australia. They fed them to their naval troops. You can see what happened. They are the same beans that are used in good ol' British beans and they're easy to buy in tins and cheap to boot.
You could use another bean like cannellini, butter beans or white kidney beans. Buy then tinned and therefore ready cooked and you can follow the same recipe without amendment.
You can of course use dried beans. I would suggest cooking them in accordance with the packet instructions and then using them in the recipe as normal.
Be Flexible
There aren't too many ingredients that you could change in this recipe without altering the final product considerably. The various seasoning all provide one element of a relatively complex flavour.
Saying this, leaving out one of the flavourings like the mustard or ketchup will still result in a decent dish, just slightly different.
The best change to make is to pimp it up. I like the idea of adding fresh herbs like thyme or oregano. Garlic would up the flavour profile too.
I also fancy the idea of adding lightly fried sausages to the beans before they are baked in the oven. This would transform a side dish into a fully rounded main meal stew.
Make it Vegetarian or Vegan
The smoked bacon is the only ingredient that makes this dish unsuitable for vegetarians or vegans. So simply leave it out.
You will lose a little of the smokiness in doing this. To counteract, you could increase the quantity of smoked paprika in the dish or add a dash of liquid smoke flavouring.
Make it Allergy Friendly
This recipe is free from eggs, dairy, gluten and nuts.
Do double check the ingredients of the mustard powder as this can sometimes contain gluten. The same is true for the tomato ketchup.
Please note that this recipe may contain other allergens not referred to above and any variations suggested have not been tested unless otherwise stated. For more information regarding any dietary information provided on this website, please refer to my Nutritional Disclaimer.
Equipment Notes for Easy Boston Baked Beans
If you don't own a Kettle …. seriously, buy one. In the meantime, you can add cold rather than boiling water to the beans, you will just have to spend (unnecessary) extra time waiting for them to come back up to the boil.
You can use whichever variety of small baking dish you prefer. This is another occasion when I used one of my favourite red enamel dishes.
A comprehensive list of the equipment used to make this recipe is included in the main recipe card below. Click on any item to see an example. There are no hard and fast rules so many items can be sensibly substituted to achieve the same results.
Get Ahead
These Boston Baked Beans can be made up to a couple of days in advance and stored covered in the fridge. The flavour will actually improve and deepen as it sits, much like a curry will.
The dish can also be prepared and cooked in full and then frozen. I like to do this in portions so I can just grab a single serving out of the freezer and microwave it from frozen. Super convenient.
If however, you want the dish to be prepared in advance but served fresh and bubbling from the oven, you can cook the onions, add the flavours and beans then leave that to sit until you are ready to cook. When ready, stir through the water and pop in the oven as normal.
---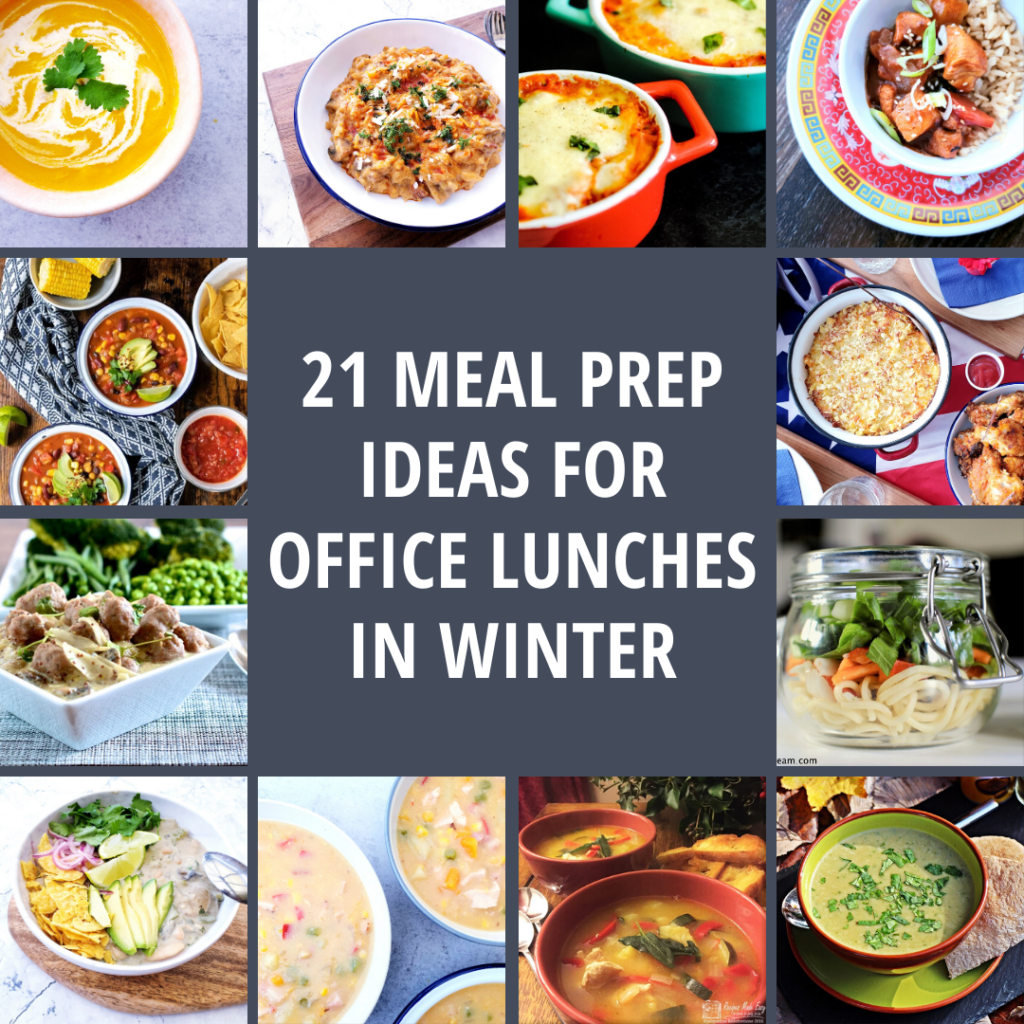 I've included this recipe in my roundup of hot recipes which are ideal to meal prep and then reheat at the office for lunch.
The collection also includes ideas from other top food bloggers as well as advice about how to store, transport and reheat the meals.
---
Leftover Easy Boston Baked Beans
Leftovers can sit in the fridge covered for a few days or be frozen as suggested above. They're good for a cheeky beans on toast or contributing to one of your five-a-day as a side to another meal.
Easy Boston Baked Beans Tips
The portion size that I've stated in the recipe provides for a main portions. For side portions, use half the quantity stated.
Make sure that you fry the onions gently. Any burnt bits will pollute the flavour of the beans. You want smoky, not bitter and burnt!
Don't forget to let me know in the comments if you try making this recipe – I want to know what you think and if you made any substitutions, how did it turn out?
Still Have Questions?
Simple! Just contact me and I will do my best to help as quickly as I am able. Head over to my Contact Me page, any of my social media channels or post a comment at the bottom of this page and I'll see what I can do.
Pin Easy Boston Baked Beans For Later
Hit one of the share buttons to save this page to your Pinterest boards so you can come back and find it at anytime!
Keep Up to Date
Make sure you SUBSCRIBE to my newsletter and avoid missing out on any of my newest and bonus content. Don't worry, I promise not to spam you or bombard you too often. Plus you'll receive a copy of my FREE 7 Day International Meal Plan!

Also please don't forget to follow me over on my social media channels over at Facebook, Twitter, Instagram and Pinterest. I love to interact with my followers and I'd love you to share my content with your friends too.
More Bacon Recipes
More Simple Side Dishes
The Recipe
Easy Boston Baked Beans
---
My Easy Boston Baked Beans are a whole world away from our everyday baked beans. These beans are rich, sticky and deeply savoury. They're a classic American side which is perfect with BBQ. But do try them on toast!
Ingredients
100

g

Onion

150

g

Smoked Bacon Lardons

300

g

Canned Haricot Beans (Navy Beans)

1

tbsp

English Mustard Powder

1

tbsp

Smoked Paprika

1

tbsp

Black Treacle

2

tbsp

Tomato Ketchup

2

tbsp

Light Brown Sugar

2

tsp

Sea Salt Flakes

150

ml

Water
Instructions
Peel and cut 100g Onion into small chunks. Add to a medium saucepan with 150g Smoked Bacon Lardons.

Fry on a medium heat until the onions have started to soften and the bacon lardons have a little colour – about 5 minutes.

Pop a kettle on to boil while the onions are softening and preheat the oven to 220c or equivalent.

Also open 300g Tinned Haricot Beans and rinse them in a sieve with cold water. Set the beans aside.

Add 1 tbsp English Mustard Powder, 1 tbsp Smoked Paprika, 1 tbsp Black Treacle, 2 tbsp Tomato Ketchup, 2 tbsp Light Brown Sugar and 2 tsp Sea Salt Flakes to the pan.

Stir to combine then add 150ml Boiling Water and the rinsed beans.

Tip the beans into an ovenproof dish and pop in the oven.

Give the beans a stir after 15 minutes.

Check the beans after a further 15 minutes. Once the liquid has mostly reduced and the beans are covered in a thick sauce, take them out the oven. You may need to pop them back in for 5 to 10 minutes depending on your oven.

Serve hot.
Nutrition (Approx)
Calories:
624
kcal
|
Carbohydrates:
62
g
|
Protein:
23
g
|
Fat:
32
g
|
Saturated Fat:
10
g
|
Cholesterol:
50
mg
|
Sodium:
3660
mg
|
Potassium:
963
mg
|
Fiber:
10
g
|
Sugar:
25
g
|
Vitamin A:
1840
IU
|
Vitamin C:
5.4
mg
|
Calcium:
159
mg
|
Iron:
5.7
mg
Download my FREE 7 day international meal plan!
Simply subscribe to the Feast Glorious Feast newsletter and I'll send you the link.