My Dry Rub Ribs with Mexican Seasoning provide absolute maximum taste with embarrassingly minimal effort. Simply add the seasoning to the ribs, pop them in the oven and leave them until cooked. The taste pay-off despite such ease is phenomenal!
This post may contain affiliate links. Please refer to my Disclosures Page for more details.
There are numerous ways to cook ribs and this is certainly one of the easiest. Smothered in flavour and then popped in the oven for 90 minutes, the same method can also be used for a full rack.
Spare ribs are, despite their name, very meaty. Often surprisingly so! To make the most of their flavour, I've combined a classic dish with some of my favourite Mexican inspired flavours.
Whilst these oven baked ribs might not be covered in sauces, don't be fooled into thinking they are dry. I promise that they're beautifully moist with a great texture.
How to Serve Mexican Dry Rub Ribs
Hot and in a big pile with a lot of napkins. And a spare bowl for the bones.
As these ribs are equally as great served cold as they are warm, they are also perfect served as part of a buffet, picnic or even a cheeky addition to a lunch box.
Make Mexican Dry Rub Ribs into a Feast
I truly believe that you can make any dish into a proper feast! Whether thats a feast for one after work on a Tuesday, a casual feast for four on a Friday evening or a feast for 12 for a special occasion!
I've included this recipe in my Everyday Americana Feast. The ribs are paired with my super creamy and light Coleslaw and my Garlic Roasted Sweet Potatoes. Simple and perfect, even for a busy weeknight.
They would also be perfect paired with my Honey Maple Wings and for another mini Americana Feast.
Don't forget to head over to the Big Americana Feast post for all of my tips and tricks to help you host a fun and stress-free feast. Plus remember to check out my other feast collections and all my Americana inspired recipes.
Ingredients for Mexican Dry Rub Ribs
Ribs
Individual cut spare ribs are my preferred cut of rib for this recipe because of the increased surface area and generosity of meat to bone ratio. Baby back ribs would however work with this recipe but I would be more inclined to cook them as a full rack rather than individually.
St Louis cut ribs are actually my all time favourite rib cut. Unfortunately they're harder to get hold of here in the UK. St Louis ribs would need a longer cooking time but otherwise the method remains unchanged.
The Mexican seasoning can also be used on other cuts of pork like a whole shoulder joint or pork chops. Belly Pork would be a brilliant carrier too.
Oregano
I have specified dried oregano in the recipe but fresh will also work. Double the quantity if using fresh.
Paprika
I use a sweet paprika in this recipe so that the flavour does not become too overwhelming. If you prefer a stronger and smokier flavour, smoked paprika could be used.
Be Flexible
The main variables in this recipe are the ribs and the seasoning. I've suggested a number of alternative pork cuts that could be used above but the seasoning could also be applied to other meats.
Chicken wings or thighs would be my first choice quickly followed by steak. A rib-eye will always be my first choice but in this case, a skirt steak would be perfect.
You could alternatively change the seasoning. If you don't wish to make your own, there are hundreds of dry spice rubs available in the shops. Just substitute all of the dry ingredients but still add the vegetable oil.
Make it Vegetarian or Vegan
I am yet to establish a truly great vegetarian or vegan alternative to pork ribs but the Mexican dry rub can certainly be used on other products like portabello mushrooms, aubergine or cauliflower.
A really firm tofu will also absorb the flavour well, especially if left to marinate overnight. Obviously all of these alternative will require a more suitable cooking time than the one given here for the ribs.
Make it Allergy Friendly
My Mexican Ribs are free from nuts, gluten, egg and dairy.
Please note that this recipe may contain other allergens not referred to above and any variations suggested have not been tested unless otherwise stated. For more information regarding any dietary information provided on this website, please refer to my Nutritional Disclaimer.
Equipment Notes for Mexican Dry Rub Ribs
Whichever roasting tin or baking tray you decide to use, make sure to line it well as ribs have a tendency to stick.
Silicone tongs are perfect for turning and picking up hot ribs. The silicone won't scratch the roasting tin and they will provide much more grip than trying to scoop up the ribs on a fish slice or spatula.
A comprehensive list of the equipment used to make this recipe is included in the main recipe card below. Click on any item to see an example. There are no hard and fast rules so many items can be sensibly substituted to achieve the same results.
Get Ahead
This is a brilliant recipe to make ahead of time. To get truly ahead of time, the whole recipe can be completed, the finished product frozen and then thawed/reheated when required. Actually, it is a great recipe for batch making and stashing.
The next way to get ahead is to make the seasoning rub in a large batch and keep that on standby. Sprinkle onto the ribs, bake and eat whenever you want them.
To maximise the flavour , the dry rub can be added to the ribs and left in the fridge for up to 24 hours before cooking. The ribs can also be frozen at this point and then thawed/baked at a later date.
Leftover Mexican Dry Rub Ribs
I love to make a large batch of these ribs to freeze them. Any leftovers can also be frozen or eaten over the next few days. They are great to eat hot or cold.
If you prefer, you can take the meat off the bones and then use the meat in another way. The meat would be perfect served with my Guacamole and salad in a warm tortilla or just served in a soft sandwich with some coleslaw.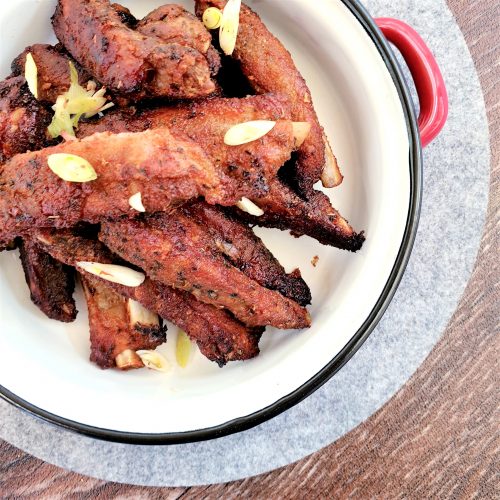 Mexican Dry Rub Ribs Tips
The ribs don't really need any attendance during the cooking time but if your oven has hot spots or tends to cook unevenly, it may be worth rotating the tin mid-way through cooking.
Do leave the ribs to cool for a few moments before digging it – they will be extremely hot to the touch, regardless of how tempting they are.
Don't forget to let me know in the comments if you try making this recipe – I want to know what you think and if you made any substitutions, how did it turn out?
Still Have Questions?
Simple! Just contact me and I will do my best to help as quickly as I am able. Head over to my Contact Me page, any of my social media channels or post a comment at the bottom of this page and I'll see what I can do.
Pin Dry Rub Ribs with Mexican Seasoning For Later
Hit one of the share buttons to save this page to your Pinterest boards so you can come back and find it at anytime!
Keep Up to Date
Make sure you SUBSCRIBE to my newsletter and avoid missing out on any of my newest and bonus content. Don't worry, I promise not to spam you or bombard you too often. Plus you'll receive a copy of my FREE 7 Day International Meal Plan!

Also please don't forget to follow me over on my social media channels over at Facebook, Twitter, Instagram and Pinterest. I love to interact with my followers and I'd love you to share my content with your friends too.
More Meaty Main Meals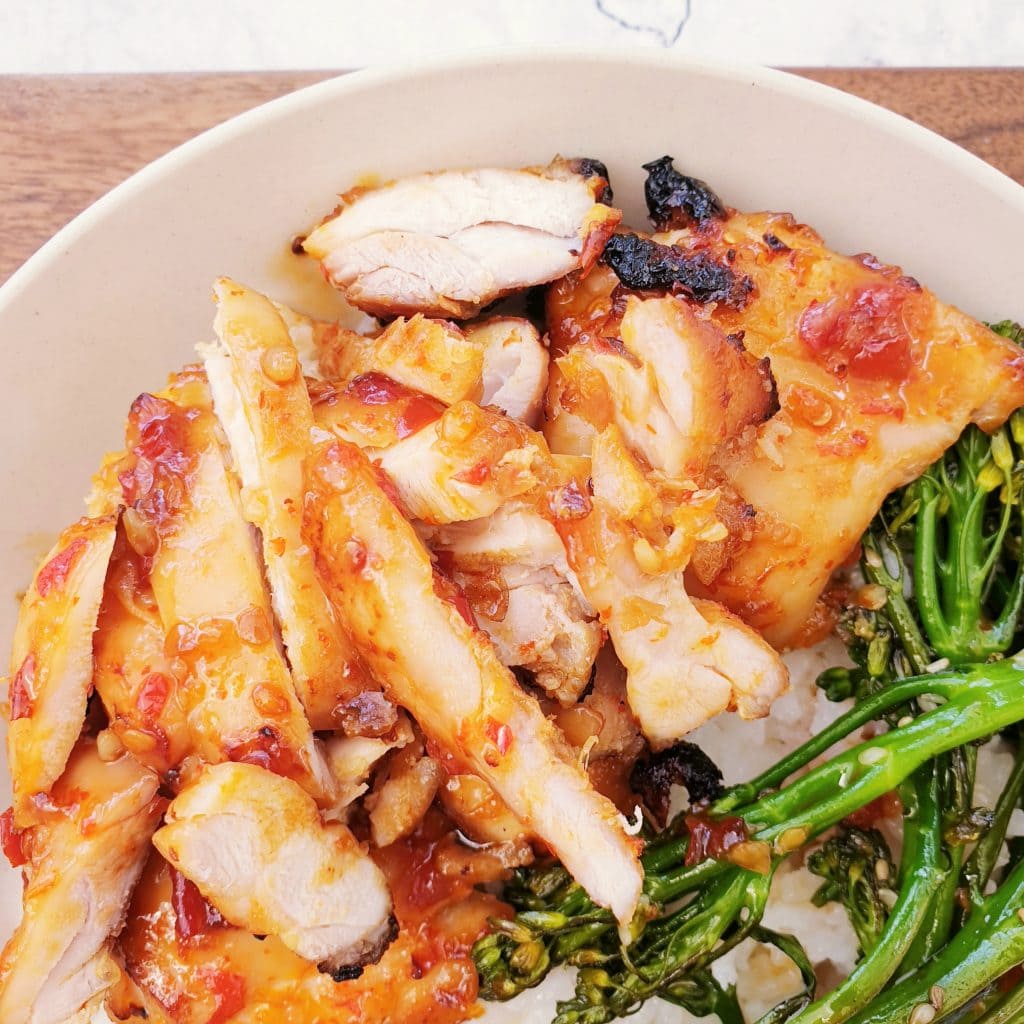 The Recipe
Dry Rub Ribs with Mexican Seasoning Recipe
---
Dry Rub Ribs with Mexican Seasoning provides absolute maximum taste with embarrassingly minimal effort. Simply add the seasoning to the ribs, pop them in the oven and leave them until cooked. The taste pay-off despite such ease is phenomenal!
Ingredients
900

g

Pork Spare Ribs

2

tbsp

Vegetable Oil

1

tbsp

Garlic Salt

1

tbsp

Paprika

1

tsp

Cumin

2

tsp

Dried Oregano

2

tsp

Sugar

2

Spring Onions (Scallions)

-

optional garnish
Instructions
Turn the oven on to 160c or equivalent.

Line a large roasting tin with 2 layers of foil.

Add 900g Pork Spare Ribs to a shallow mixing bowl.

Sprinkle 2 tbsp Vegetable Oil, 1 tbsp Garlic Salt, 1 tbsp Paprika, 1 tsp Cumin, 2 tsp Dried Oregano and 2 tsp Sugar over the ribs.

Use your hands to massage the seasonings right into the ribs.

Tip the ribs into the lined roasting tray.

Roast in the oven for 60 minutes.

Prepare the garnish (optional) by topping, tailing and peeling 2 Spring Onions before finely slicing them on an angle.

Leave the ribs to cool and rest in the tin for 5 minutes then garnish and serve warm.
Nutrition (Approx)
Calories:
1399
kcal
|
Carbohydrates:
8
g
|
Protein:
71
g
|
Fat:
120
g
|
Saturated Fat:
45
g
|
Cholesterol:
360
mg
|
Sodium:
3859
mg
|
Potassium:
1218
mg
|
Fiber:
2
g
|
Sugar:
5
g
|
Vitamin A:
1794
IU
|
Vitamin C:
2
mg
|
Calcium:
109
mg
|
Iron:
6
mg
Download my FREE 7 day international meal plan!
Simply subscribe to the Feast Glorious Feast newsletter and I'll send you the link.