Holy Guacamole! Did you know that you can own a house and enjoy avocado on a regular basis? I'm living proof folks! Guacamole is a family favourite around these parts and this is my recipe for a fully loaded but nearly smooth guacamole. So tasty!
This post may contain affiliate links. Please refer to my Disclosures Page for more details.
I make this guacamole constantly. but then I do love Mexican Food in general. And lets face it, there isn't much Mexican food that isn't complimented by a bit of guac!
I tend to err towards a guacamole with lots of additions. I love to add tomato, onion, garlic, lime and coriander but I know that some purists would consider this too much. "Lime and salt only" would likely be their cry.
And that's fine but I've had friends who have travelled in Mexico who assure me that whilst Guacamole is served with almost every meal, it is different almost everywhere you go. One place even reportedly added sweetcorn kernels. I'm not sure about that! But I feel just fine about my very tasty Guacamole recipe.
Texture is another thing to consider with Guacamole. My recipe uses a small blender/mixer to blitz up the flavourings into a quite small pieces before adding the guacamole until it is smooth.
I know that many people prefer a more chunky sauce and in that case, you can either add everything to the blender in one go and merely pulse it a little or just use a big knife and a chopping board to hack everything into large pieces before adding to a bowl and stirring in the lime juice. (Don't hack the lime!)
Make Guacamole into a Feast
I truly believe that you can make any dish into a proper feast! Whether thats a feast for one after work on a Tuesday, a casual feast for four on a Friday evening or a feast for 12 for a special occasion!
I've included my Guacamole in my Big Americana Feast Collection and the Vegetarian Collection. I serve them with drinks before the main Feast in both menus. Usually with a big ol' bowl of tortilla chips.
The rest of the Big Feast includes southern classics like sticky BBQ Ribs, Southern Baked Chicken Wings, super cheesy Mac'n'Cheese, creamy Coleslaw and Boston Baked Beans. To make it even better, there are Garlic Bread Rolls and BBQ Pork Ribs too. An absolute feast indeed!
The star of the Vegetarian Feast is my White Bean Chili with all the toppings including my Garlic Roasted Sweet Potatoes. My Cheesy Garlic Rolls make another appearance along with a little something different for dessert.
Don't forget to head over to the Big Americana Feast post for all of my tips and tricks to help you host a fun and stress-free feast. Plus remember to check out my other feast collections and all my Americana inspired recipes.

You can find more of my favourite recipes using garlic in my collection of The Best Garlic Recipes.
Ingredients for Guacamole
Avocado
There are two types of avocado and I prefer the darker and wrinklier hass avocados. The smoother green skinned variety just never seem to have quite as much flavour or as creamier texture as the hass. But if that is all you can get, then you will still make awesome guacamole.
Catching an avocado at exactly the right level of ripeness is a life skill. Unfortunately it is one that seems to rely purely on luck, chance and the kindness of the universe that day. You want to look for an avocado with just a little bit of give when you squeeze it. Too much give and it has likely already turned. Too hard and you will struggle to cut and mash it.
I don't trust the phrase "ripe and ready" when being sold avocados. I do trust my squeeze test and gut instinct! I therefore always tend to err on the side of caution and try to buy avocados a good few days before I need them. I leave them to ripen at room temp and once they're about perfect, pop them in the fridge.
A quick note about the frozen avocado halves you can buy now. They're abhorrent – don't do it!
Red Onion
I prefer the sweetness of red onion over white but if I didn't have any red, then I would absolutely use whatever I had lying around. Shallots and spring onions are also options in a pinch.
Lime Juice
The lime juice gives the Guacamole a tang but also helps to stop the avocado going grey. Fresh lime will always be preferable but I do keep a bottle in my pantry for emergency use.
Tomato
I use cherry tomatoes because whilst I don't mind a little of the juicy bit getting into my Guacamole, I don't want a deluge like I would get by using salad tomatoes. You can get round this by just slicing the flesh off a bigger tomato and discarding the soggy innards.
---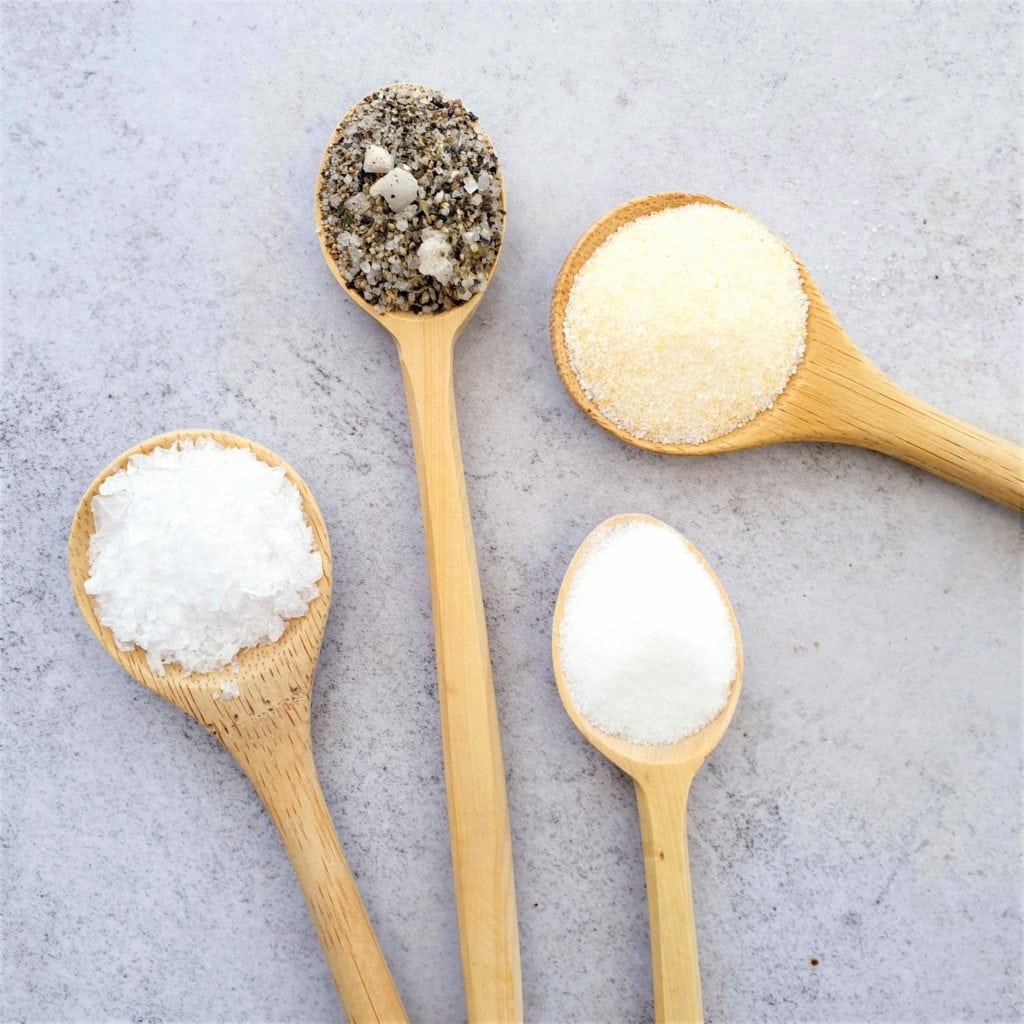 For the lowdown on using salt to properly season and enhance the flavour of your food, check out my Ultimate Guide on How to Use Salt.

There is guidance about which salt to use when, salt alternatives, using salt when baking and even what to do if you add too much salt!
---
Coriander
I love coriander. But I know that some people hate it. Did you know that they've done tests and some people are simply genetically predisposed to hate the taste of coriander? Poor sods.
I do use coriander a lot so I tend to buy the big bunches from the supermarket and then keep it in a glass of water in the door of my fridge. I cover the leaves with an upturned sandwich bag and change the water every week or so. Coriander (and other herbs like parsley) will keep for weeks like this and I just use scissors to snip a chunk off whenever I need it.
Be Flexible
I've touched on various ways throughout this post of how you can be flexible with this recipe. From using different onions to bigger tomatoes, to leaving out the coriander altogether or making the sauce chunkier rather than smoother. You really can adapt this recipe to your personal preference.
You might have noticed that there is no chilli in my avocado recipe. I do sometimes add some fresh red chilli or dried chilli flakes but on the whole I prefer a non spicy guac. Your choice though!
I do agree in one way with the purists however. It isn't Guacamole without lime and salt. You've gotta add the lime and salt otherwise you're just making avo mush!!
Make it Vegetarian or Vegan
Its party time for veggies and vegans! This recipe contains no animal products of any kind and so is suitable for both veggies and vegans. Wahey!
Of course there is the "are avocados vegan?" debate. There is some discussion whether the use of shipped-in bees to help pollinate the fruit on large avocado farms in California goes against vegan principles.
The article I've linked too concludes that by applying vegan principles alongside practical realities, that Vegans should continue to eat avocados but try to avoid produce from those mass farming methods where practicable. Goodo!
Make it Allergy Friendly
It's also pretty good news on the allergy front. My Guacamole recipe contains no dairy, egg, gluten or nuts.
Please note that this recipe may contain other allergens not referred to above and any variations suggested have not been tested unless otherwise stated. For more information regarding any dietary information provided on this website, please refer to my Nutritional Disclaimer.
Equipment Notes for Guacamole
I've specified that a small knife is best for opening up the avocado as I find that a larger knife is just a little too unwieldy and I'm more prone to slipping. I've written a whole guide re how to prepare an Avocado to help avoid injury.
I wouldn't be without my Kenwood Mini Chopper. They're surprisingly cheap and handily versatile. I hate washing up my big food processor when only making small quantities of something like this guacamole or hummus.
But mostly the blades on a larger machine just don't do a good enough job for small quantities. I don't want to waste a drop of my precious avocado! The better alternative is to use a fork to mash everything together after chopping it all as small as you possibly can.
I find that the most effective way to extract the maximum juice from my limes is to use a sharp and pointy lemon reamer. Maximum juice, minimum washing up.
A comprehensive list of the equipment used to make this recipe is included in the main recipe card below. Click on any item to see an example. There are no hard and fast rules so many items can be sensibly substituted to achieve the same results.
Get Ahead
I make my guacamole up to a day ahead of when I want to use it. But there are some things that you need to do to make sure that it doesn't go a nasty shade of grey!
Firstly make sure that you have added the juice of at least one lime. The lime juice is your number one weapon against discolouration. Your number one enemy is oxygen. So make sure to store your guacamole in something that is airtight.
If your container isn't very full, it might be worth adding a layer of cling film directly onto the top of the guacamole as double bubble oxygenation prevention.
There are some schools of thought that suggest leaving the avocado stone in the finished product will help keep the guacamole. You can try it by all means but I think this is basically hokum!
Leftover Guacamole
Grab a bag of tortillas and eat that bad boy up. Add a dollop to some simply cooked white fish or salmon and salad. Add a spreading to a chicken and red pepper sandwich.
But don't try to freeze it. Much as I am a massive fan of throwing leftovers in the freezer, this just doesn't work well with avocados. See also buying frozen avocados above.
Guacamole Tips
If your avocado is a little over-ripe, just cut out any brown bits and use what is left.
If your avocado is a little under-ripe, trying giving it a little blast in the microwave to soften it up.
Did you know that "Guacamole" translates as "Avocado Sauce". So I'd recommend that you don't tend to say "Guacamole Sauce" or Spanish speakers will just laugh at you! See also "Curry Sauce" and "ATM Machine"!!
Don't forget to let me know in the comments if you try making this recipe – I want to know what you think and if you made any substitutions, how did it turn out?
Still Have Questions?
Simple! Just contact me and I will do my best to help as quickly as I am able. Head over to my Contact Me page, any of my social media channels or post a comment at the bottom of this page and I'll see what I can do.
Pin Guacamole For Later
Hit one of the share buttons to save this page to your Pinterest boards so you can come back and find it at anytime!
Keep Up to Date
Make sure you SUBSCRIBE to my newsletter and avoid missing out on any of my newest and bonus content. Don't worry, I promise not to spam you or bombard you too often. Plus you'll receive a copy of my FREE 7 Day International Meal Plan!

Also please don't forget to follow me over on my social media channels over at Facebook, Twitter, Instagram and Pinterest. I love to interact with my followers and I'd love you to share my content with your friends too.
More Vegan Side Dishes
---
More Garlic Recipes
For more great recipes featuring garlic, check out my post featuring the Best Garlic Recipes from top food bloggers and this site.

You'll find everything from soups, breads, dips, salads, pastas, seafood dishes, vegetable sides and meaty meals.
---
The Recipe
Guacamole
---
Holy Guacamole! Did you know that you can own a house and enjoy avocado on a regular basis? I'm living proof folks! Guacamole is a family favourite around these parts this is my recipe for a fully loaded but nearly smooth guacamole. So tasty!
Ingredients
75

g

Cherry Tomatoes

30

g

Red Onion

5

g

Fresh Coriander (Cilantro)

1

tbsp

Garlic Paste

1

tbsp

Sea Salt Flakes

1

Avocado

1

Limes
Instructions
Halve

75g Cherry Tomato

and add to your blender/mixer.

Roughly chop

30g Red Onion

and

5g Coriander

and also add to the bowl, along with

1 tbsp Garlic Paste

and

1 tbsp Sea Salt Flakes

.

Blitz until all of the ingredients until they are broken down into equally small pieces. You don't need to go as far as making a paste unless you want VERY smooth guac.

Scoop out the flesh of

1 Avocado

and add to the bowl. Squeeze in the juice of

1 Lime

.

Blitz again until the guacamole has the texture you desire.
Nutrition (Approx)
Calories:
100
kcal
|
Carbohydrates:
9
g
|
Protein:
1
g
|
Fat:
7
g
|
Saturated Fat:
1
g
|
Cholesterol:
0
mg
|
Sodium:
1753
mg
|
Potassium:
383
mg
|
Fiber:
4
g
|
Sugar:
1
g
|
Vitamin A:
240
IU
|
Vitamin C:
23
mg
|
Calcium:
34
mg
|
Iron:
1.1
mg
Download my FREE 7 day international meal plan!
Simply subscribe to the Feast Glorious Feast newsletter and I'll send you the link.