My Bacon & Cherry Bites are the perfect canape for almost any occasion. I know they sound weird. And I know that your guests will give you the side eye before trying them but trust me, you'll wish you made double because everyone loves them. Even the strongest sceptics. Including me!
This post may contain affiliate links. Please refer to my Disclosures Page for more details.
Now I appreciate that this is an odd post but trust me….this works! Smoky fatty bacon and sticky candied cherries make for the most delicious sweet and savoury combination.
A little morsel that you just can't help but have another one. And another. And probably another. Moreish really doesn't quite cover them.
I mentioned before that people will be sceptical about these Bacon and Cherry Nibbles working. "Ew! Really?" Is the most common reaction. And then I make them try some. And then I have to go and buy another tub of cherries because magically they're all gone.
And then I get a call a week later to say that they made a batch themselves then spent 20 minutes convincing everyone to try them. And so the cycle continues!
Oh did I mention that you make these with two ingredients? I think you can probably guess what they are! But there is nothing complicated involved in assembling the bites. They're great to make ahead of time and reheat. Or you can assemble, set aside and pop in the oven before serving. Perfect canape fodder.
Inspiration and Credit
I was myself a victim of "no really, you have to try them" courtesy of Sarah Kier, a former WI member and baking buddy. Thanks Sarah!
I should have know, bacon wrapped anything is great. Just look at my classic Pigs in Blankets!
Ingredients for Bacon & Cherry Bites
Glace Cherries
I am talking about the violently red sugar laden ones in a tub from the baking aisle. I don't think I'd want to go fancy and use fresh cherries here. The lip numbing sweetness of glace cherries makes these one bite morsels what they are.
Maraschino cherries are the kind that come in a jar and are used in cocktails. These are cherries before they are candied to become glace cherries. I also wouldn't use them for the same reason.
I have recently noticed that you can now buy Glace Morello Cherries. I haven't tried them yet but I bet that they would make an ace alternative.
Bacon
There are effectively 4 main types of bacon in the UK. Back bacon and streaky bacon with each being available smoked and unsmoked. I am largely an unsmoked back bacon kind of girl but…. smoked streaky is my preference here.
You could use unsmoked streaky and I have many times in the past but finally after years of forgetting which type I prefer, I have narrowed it down to smoked! So this is what I recommend but you can swap out for your preferred bacon.
Make it Vegetarian or Vegan
There are many types of vegetarian and vegan bacon substitutes out there nowadays and some of them look pretty good.
You could substitute the streaky bacon with you favourite type but do try to make sure that you use a smoked variety and that there is a decent fat content. No one wants a dry canape. If needs be, it may be worth brushing each "rasher" with a little olive oil before rolling.
Make it Allergy Friendly
Unless you are allergic to cherries or bacon, you should be good to go. There is certainly no dairy, egg, gluten, or nuts involved.
If you are substituting the bacon for a vegan or vegetarian variety, do check the ingredients carefully if you have any allergen issues.
Please note that this recipe may contain other allergens not referred to above and any variations suggested have not been tested unless otherwise stated. For more information regarding any dietary information provided on this website, please refer to my Nutritional Disclaimer.
Equipment Notes for Bacon & Cherry Bites
You can use whatever baking tin or dish you prefer. But whatever you choose, make sure to line the tin with parchment or even foil to avoid a massive clean up job. The cherries contain a lot of sugar which will leak and caramelise.
A comprehensive list of the equipment used to make this recipe is included in the main recipe card below. Click on any item to see an example. There are no hard and fast rules so many items can be sensibly substituted to achieve the same results.
Get Ahead
One of the reasons that these Bacon and Cherry Bites make such a fantastic canape or treat with drinks is that they can be made up to a couple of days ahead of time. They're then reheated with a quick blast in the oven just before serving.
Rather than cooking them in full (it is a risky strategy unless you have A LOT of self control!) you can construct them and leave in the tin ready to bake covered in the fridge. I wouldn't do this more than 24 hours in advance. Simply cook them a little while before you wish to serve.
Leftover Bacon & Cherry Bites
I don't think I've ever had leftovers. I made a batch of 30 to take the photos for this blog post. And I'd eaten them all on my own by the end of the day. Whilst I don't recommend this as a strategy (I'm still on a sugar high the next day), leftovers are unlikely to be a problem.
If for some crazy reason, you do have some cherry nibbles leftover, you can keep them for a couple of days in the fridge or pop them in the freezer and defrost/reheat at a later date. They won't be as good as the fresh ones but they aren't bad either.
Bacon & Cherry Bite Tips
I make my bacon thinner to make it go further. I do this by using the flat of a large knife to squish and stretch the rasher onto a chopping board.
You can secure each morsel with a cocktail stick but I find putting them end side down in the tin is sufficient.
Warning! The cherries will be hotter than a thousand suns when they come out of the oven. And they will burn off the lining of your mouth, even if the bacon feels reasonable to the touch. JUST WAIT!
Don't forget to let me know in the comments if you try making this recipe – I want to know what you think and if you made any substitutions, how did it turn out?
Still Have Questions?
Simple! Just contact me and I will do my best to help as quickly as I am able. Head over to my Contact Me page, any of my social media channels or post a comment at the bottom of this page and I'll see what I can do.
Pin Bacon & Cherry Bites For Later
Hit one of the share buttons to save this page to your Pinterest boards so you can come back and find it at anytime!
Keep Up to Date
Make sure you SUBSCRIBE to my newsletter and avoid missing out on any of my newest and bonus content. Don't worry, I promise not to spam you or bombard you too often. Plus you'll receive a copy of my FREE 7 Day International Meal Plan!

Also please don't forget to follow me over on my social media channels over at Facebook, Twitter, Instagram and Pinterest. I love to interact with my followers and I'd love you to share my content with your friends too.
More Bacon Recipes
The Recipe
Bacon & Cherry Bites Recipe
---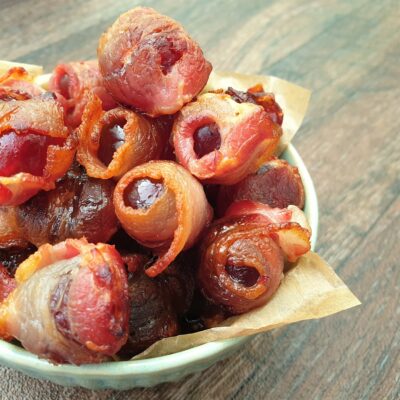 My Bacon & Cherry Bites are the perfect canape for almost any occasion. And I know they sound weird and I know that your guests will give you the side eye before trying them but trust me, you'll wish you made double because everyone loves them, even the strongest sceptics. Including me!
Ingredients
200

g

Glace Cherries

250

g

Smoked Streaky Bacon
Instructions
Preheat the oven to 180c or equivalent. Line a tin with greaseproof paper or foil.

Have a quick count of a

200g Glace Cherries

. There should be roughly

30

. You will need one third as many bacon rashers. So for 30 cherries, you will need 10 rashers. This will be roughly

250g Smoked Streaky Bacon

.

Take a rasher of bacon onto a chopping board and flatten and stretch the rasher. Using the flat of your knife, start from the middle of the rasher and push down whilst dragging the knife to the end of the rasher. Repeat towards the other end. Your rasher should now be thinner than before and a little longer/wider.

Cut the rasher into 3 even-ish sized pieces.

Place 1 Glace Cherry at the end of the rasher piece.

Roll each cherry in the bacon.

Place in the lined tin ready for baking. I like to place them fat side up so it goes crispy.

Repeat until all of the bacon/cherries have been used up.

Pop in the oven and keep an eye on them. They'll take about 25 to 30 minutes and I usually carefully turn them over after about

15 minutes

.

Warning! The cherries will be hotter than a thousand suns at this point!

Leave to cool slightly then serve.
Notes
Warning! The cherries will be hotter than a thousand suns when they come out of the oven. And they will burn off the lining of your mouth, even if the bacon feels reasonable to the touch. JUST WAIT!
Nutrition (Approx)
Calories:
55
kcal
|
Carbohydrates:
5
g
|
Protein:
1
g
|
Fat:
3
g
|
Saturated Fat:
1
g
|
Cholesterol:
5
mg
|
Sodium:
55
mg
|
Potassium:
16
mg
|
Fiber:
0
g
|
Sugar:
3
g
|
Vitamin A:
5
IU
|
Calcium:
0
mg
|
Iron:
0
mg
Download my FREE 7 day international meal plan!
Simply subscribe to the Feast Glorious Feast newsletter and I'll send you the link.