My Creamed Mushrooms with Oregano are fabulous for a slightly decadent breakfast. They're incredible served on any breakfast bread. For a recipe that takes less than 10 minutes and only a few ingredients, the taste is disproportionately amazing!
This post may contain affiliate links. Please refer to my Disclosures Page for more details.
This recipe isn't something I make terribly often. Its a bit of a treat. A tonne of butter and a hefty amount of thick double cream does make my creamy mushrooms a rather decadent start to the day. But sometimes needs must and a treat should be had.
Saying this, in writing this recipe, I have calculated its nutritional values. And at 336kcal per portion, its not quite as luxurious as I assumed! So I think I'm going to eat it more often after all. And I want to because quite frankly my dear, its bloody delicious. Weirdly delicious actually. Somehow the taste is much more than the sum of its parts.
I'm sharing this recipe for a couple of reasons. First and foremost is the delicious thing obviously! But it is also an excellent vegetarian alternative to my Sausage Gravy as something to serve with my flaky Breakfast Biscuits. And whist I do often serve it with some bacon and possibly an egg, I do quite happily eat these mushrooms as a veggie breakfast. Its rare. But it does happen!
How to Serve Creamy Mushrooms
As previously mentioned, the first and best way that I serve the mushrooms is right on top of my Breakfast Biscuits. I do sometimes add bacon, sausages or eggs but not always.
I also serve them on any other breads but I'm especially fond of my Chilli & Oregano Soda Bread. With oregano in both recipes, the bread and mushrooms really complement each other and the extra kick of chilli ramps up the flavour another notch.
Just like my Sausage Gravy, this recipe can also easily be adapted into a pasta or gnocchi sauce or even stirred into or used to top a plain risotto. And my personal favourite is to use is as a pizza topping. I use the enriched bread dough from my Cheesy Garlic Rolls, spread the creamed mushrooms over the base (no tomato) and top with mozzarella cheese and garlic. Scrummy!
Whatever you choose to serve them with, just make sure that they're piping hot. This is not a dish to leave hanging around.
How to Make Creamed Mushrooms – Step By Step Video
Make Creamed Mushrooms into a Feast
I truly believe that you can make any dish into a proper feast! Whether thats a feast for one after work on a Tuesday, a casual feast for four on a Friday evening or a feast for 12 for a special occasion!
These creamed mushrooms are ideal as part of a Brunch Feast. Combine with the traditional Breakfast Biscuits and a poached or fried egg for maximum taste. You could also add a side of bacon or even leftover ham to make a bigger Brunch Feast.
Don't forget to head over to my Feast Collection pages to find all of my tips and tricks to help you host a fun and stress-free feast. Plus remember to check out my recipe index to create your own awesome Feast!
Ingredients for Creamed Mushrooms
Mushrooms
I used regular closed cup mushrooms. You could also use chestnut mushrooms, button mushrooms (I'd halve or quarter them) or even large portabello mushrooms. You could of course go for a mix or use a selection of wild mushrooms.
The important points to note are that you should never wash mushrooms in water. They soak it up. Just brush off any dirt and be done with it. Cut off the end of the stem if it is still covered with dirt.
---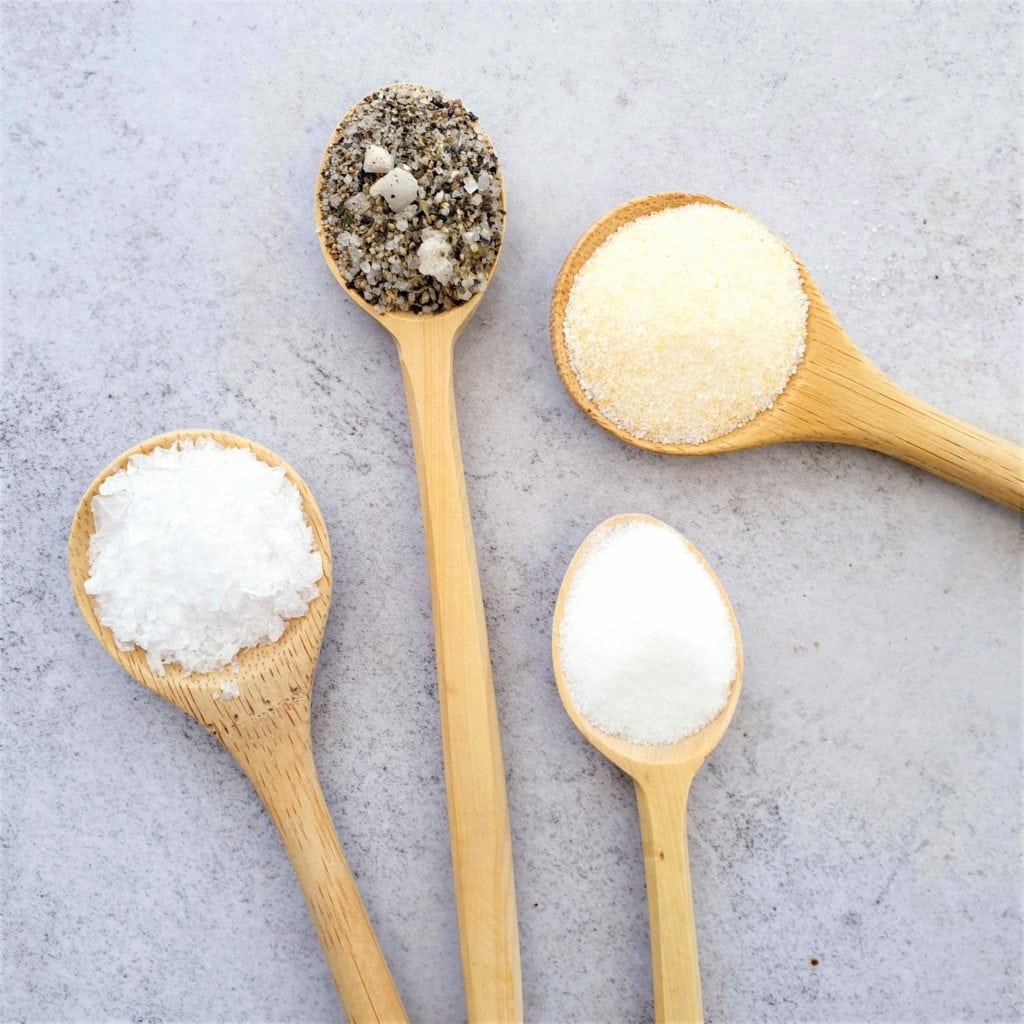 For the lowdown on using salt to properly season and enhance the flavour of your food, check out my Ultimate Guide on How to Use Salt.

There is guidance about which salt to use when, salt alternatives, using salt when baking and even what to do if you add too much salt!
---
Oregano
Whilst it is nice to use fresh herbs much of the time, dried herbs have their time and place. Oregano is probably the dried herb that I use the most. It goes in everything from my Mexican Dry Rub Ribs to my Chilli and Oregano Soda Bread. Dried oregano doesn't need long cooking like some other dried herbs like thyme or rosemary. It isn't dry and bitty when you cook with it.
Saying that, if you have fresh oregano, use that at roughly the same ratio. Chop it fine and throw it in. I find oregano to be one the easiest herbs to grow along with its very close cousin marjoram. Marjoram would work equally well in this recipe.
Double Cream
Rich and decadent! The US equivalent is called "heavy cream". Don't worry that it looks like a lot of cream when you first pour it in. It reduces down incredibly quickly. You could use single cream but the finished dish will be a little looser. Oh and elmlea is not cream. Avoid avoid avoid!
Be Flexible
You can make a lighter version of this recipe by cooking the mushrooms in a few squirts of spray oil or even just less butter! You can then use a cream alternative such as a light creme fraiche. The overall taste of the dish will be slightly tangier but it will still be delicious.
Other flavourings can be used instead of the oregano or in addition. Thyme is a lovely flavour to add but I would look to use fresh leaves rather than dried. I also sometimes add a few flakes of dried chilli whilst the mushrooms are cooking. If I'm not in breakfast mode, I'll add some garlic salt or fresh garlic once the mushrooms are nearly cooked.
To use this creamed mushrooms recipe as a base for more of a lunch or main meal, you could first lightly fry some finely chopped onions or shallots before adding the mushrooms to the pan. A little wine before the cream and stir through some baby spinach leaves at the end. Ooh and cheese. You can definitely add cheese!
Make it Vegetarian or Vegan
This recipe for Creamed Mushrooms with Oregano is suitable for vegetarians without modification.
To make it suitable for vegans, you can use dairy-free alternatives to both the butter and the cream. The butter can even be substituted for olive or veg oil. If you don't wish to sub the cream, you could consider making Roasted Garlic Mushrooms instead where only the butter needs to be substituted.
Make it Allergy Friendly
This recipe is naturally gluten, nut and egg free.
Dairy Free: To make the recipe dairy free, substitute the butter for olive or veg oil and use a dairy-free cream alternative instead of the double cream. Bingo!
Please note that this recipe may contain other allergens not referred to above and any variations suggested have not been tested unless otherwise stated. For more information regarding any dietary information provided on this website, please refer to my Nutritional Disclaimer.
Equipment Notes for Creamed Mushrooms
I don't use any terribly specialist items of equipment here. The main requirements are a frying pan as well some kind of spatula. A sharp knife is needed to slice the mushrooms.
I actually mostly eyeball the recipe as I'm cooking it so I tend to make very little washing up! The herbs and cream can just be sploshed in rather than measured, especially if you have made the measured recipe once or twice before to get a feel for the quantities.
A comprehensive list of the equipment used to make this recipe is included in the main recipe card below. Click on any item to see an example. There are no hard and fast rules so many items can be sensibly substituted to achieve the same results.
Get Ahead
You can make these creamed mushrooms ahead of time but its better if you make it fresh. If you are going to make it ahead, you will likely find that you want to add some water, milk or more cream to the dish before serving up.
The cream goes rather thick and stodgy on cooling. This is why I recommend serving it up as soon as possible after cooking.
Leftover Creamy Mushrooms with Oregano
Leftovers suffer the same fate as the creamy mushrooms made ahead of time. Stodginess. I really would try to only make as much as will be eaten. If you do have any left, you can throw them into any manner of creamier dish like pasta, gnocchi and risottos.
Creamed Mushrooms Tips
Serve as soon as possible.
If the cream does go too thick for your liking, simply add a little more water, cream or milk to slacken the dish.
I keep the pan I'm using on the small side. I find that the mushrooms get the right level of steaming and drying and don't dry out. The cream is also less likely to spread and burn if there is less surface area to contend with.
Don't forget to let me know in the comments if you try making this recipe – I want to know what you think and if you made any substitutions, how did it turn out?
Step-by-Step Creamed Mushrooms Video
Still Have Questions?
Simple! Just contact me and I will do my best to help as quickly as I am able. Head over to my Contact Me page, any of my social media channels or post a comment at the bottom of this page and I'll see what I can do.
Pin Creamed Mushrooms with Oregano For Later
Hit one of the share buttons to save this page to your Pinterest boards so you can come back and find it at anytime!
Keep Up to Date
Make sure you SUBSCRIBE to my newsletter and avoid missing out on any of my newest and bonus content. Don't worry, I promise not to spam you or bombard you too often. Plus you'll receive a copy of my FREE 7 Day International Meal Plan!

Also please don't forget to follow me over on my social media channels over at Facebook, Twitter, Instagram and Pinterest. I love to interact with my followers and I'd love you to share my content with your friends too.
More Veggie Recipes
The Recipe
Creamed Mushrooms with Oregano
---
My Creamed Mushrooms with Oregano are fabulous for a slightly decadent breakfast. They're incredible served on any breakfast bread. For a recipe that takes less than 10 minutes and only a few ingredients, the taste is disproportionately amazing!
Ingredients
125

g

Mushrooms

1

tbsp

Salted Butter

½

tsp

Sea Salt Flakes

¼

tsp

Dried Oregano

60

ml

Double Cream (Heavy Cream)
Instructions
Melt

1 tbsp Salted Butter

in a small frying pan over a high heat.

Add the sliced mushrooms to the pan along with

½ tsp Sea Salt Flakes

.

Stir over a high heat until the mushrooms are golden brown and soft.

Add

3 tbsp Water

and

¼ tsp Dried Oregano

. Cook for a further 30 seconds.

Add

60 ml Double Cream

and allow to come to a gentle simmer.

Taste and add more salt if needed. Serve immediately.
Step by Step Video
Nutrition (Approx)
Serving:
1
portion
|
Calories:
336
kcal
|
Carbohydrates:
6
g
|
Protein:
5
g
|
Fat:
34
g
|
Saturated Fat:
21
g
|
Cholesterol:
112
mg
|
Sodium:
1292
mg
|
Potassium:
443
mg
|
Fiber:
1
g
|
Sugar:
3
g
|
Vitamin A:
1232
IU
|
Vitamin C:
3
mg
|
Calcium:
39
mg
|
Iron:
1
mg
Download my FREE 7 day international meal plan!
Simply subscribe to the Feast Glorious Feast newsletter and I'll send you the link.