Garlic Roasted Sweet Potatoes are one of my favourite side dishes. They go with almost everything from fish to pork chops and even make a great addition to salads, tacos and soups. Talk about versatile! As a bonus my recipe includes my top tip for avoiding that burnt horrible garlic taste.
This post may contain affiliate links. Please refer to my Disclosures Page for more details.
Much as it makes me a huge disappointment to my father, I have to be honest with you about my true feelings. I'm just not the biggest fan of regular potatoes. I know, I know, shocker right! But it's true.
Given the choice, I will often choose sweet potatoes over regular. That doesn't mean that I don't love a good old fashioned Roast Potato though, I'm not a heathen!
And so these simple roasted sweet potato cubes are my regular go to side. They really are super versatile and they complement almost all cuisines from Spanish to American BBQ, classic British roasts and even brunch. I will even sometimes us them as an extra topping in Asian inspired dishes.
I prefer to roast my sweet potatoes lower and slower. You can cook them on a higher temperature for a shorter time and this is fine if time is an issue. But I think that the slower cook allows the sweet potatoes to get lovely and soft all the way though and the natural sweetness is enhanced even more.
My Top Tip for Avoiding Burnt Garlic
We've all experienced that acrid bitter taste of fresh garlic that has just caught and burnt. As a result, I'm very reluctant to use fresh garlic in dishes like this where tiny pieces of garlic are exposed to high temperatures for a long time.
To get around the issue, I use the chronically underrated Garlic Salt. Found in the spice aisle, garlic salt is exactly what it sounds like. Ground garlic mixed with salt. I'm a big fan and I throw a little on everything, whether thats some char-grilled asparagus or a rib-eye steak.
How to Serve Garlic Roasted Sweet Potatoes
As well as acting as a side almost anywhere where you would use regular potatoes, I also like to make a large bowl of them and eat them dipped in garlic mayonnaise. Nothing else, just a big ass bowl of rosted sweet potatoes and mayo. Lush.
To serve the potatoes as an impressive standalone dish, I like to garnish them with some sour cream, finely chopped spring onion and a little fresh red chilli. Instantly impressive!
Ingredients for Garlic Roasted Sweet Potatoes
Sweet Potatoes
When I talk about sweet potatoes, I'm talking about the dark skinned, orange fleshed, quite sweet kind that we widely get in the UK.
There are numerous other types available around the world including ones with white and purple flesh. I can't see that this recipe wouldn't work with other varieties but you may need to keep an eye on the cooking times.
Garlic Salt
I've talked above about how using garlic salt is my top tip to avoiding a burnt garlic taste on the roasted sweet potatoes. If you would rather make your own garlic salt, simply mix 1 part garlic powder with 3 parts fine sea salt.
You can find more of my favourite recipes using garlic in my collection of The Best Garlic Recipes.
---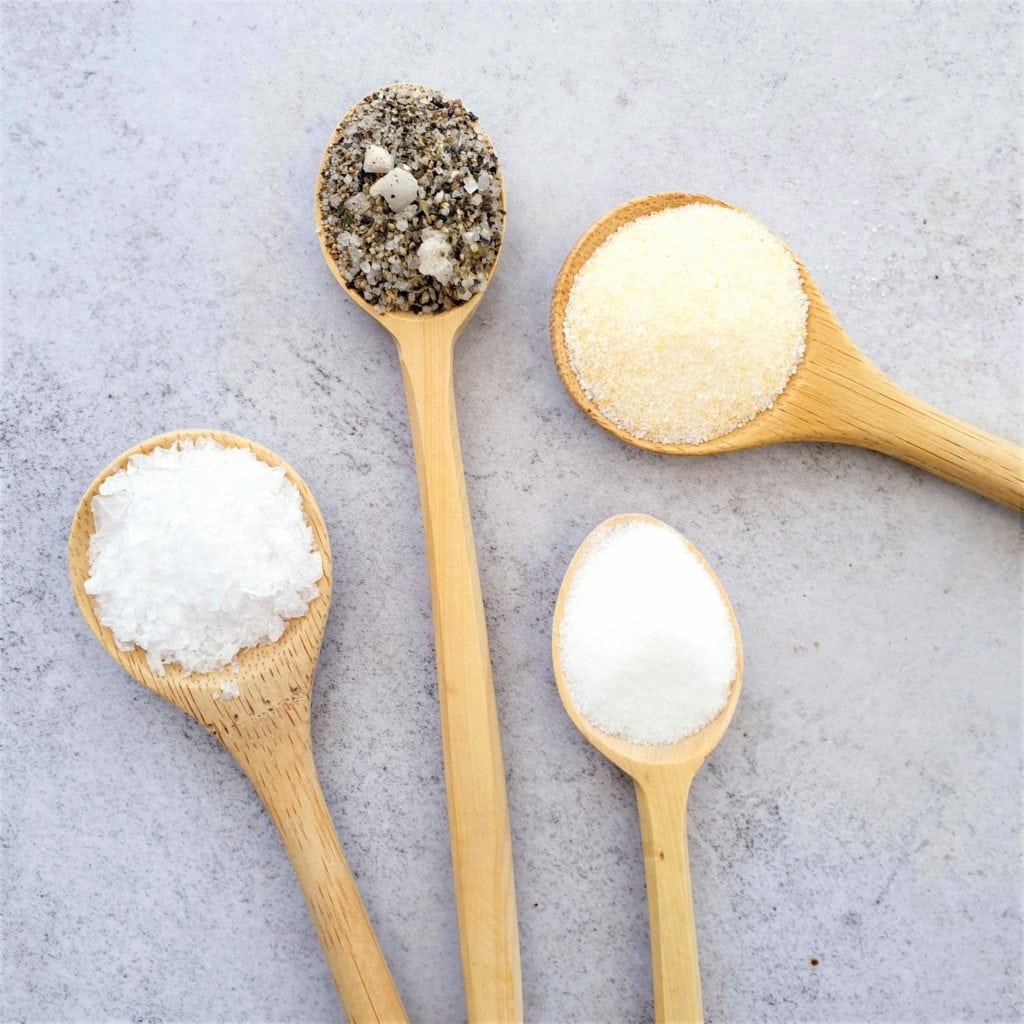 For the lowdown on using salt to properly season and enhance the flavour of your food, check out my Ultimate Guide on How to Use Salt.

There is guidance about which salt to use when, salt alternatives, using salt when baking and even what to do if you add too much salt!
---
Be Flexible
There isn't an awful lot of flexibility to be had with recipes with just four ingredients! What you can do is add extra ingredients like chilli powder or a cumin/coriander mix.
The size of the potatoes can also be varied but do bear in mind that sweet potato shrinks considerably when cooking. Whilst you think you have cut really large sized chunks, you will likely still end with little bite size morsels!
The last way that I vary this method is by making them in the Actifry. You can reduce the amount of olive oil in the recipe and I find that you get a really lovely and even cook on the potatoes. I do tend to take the paddle out of mine halfway through cooking or else they start to break up into tiny pieces!
Make it Vegetarian or Vegan
This recipe is suitable for both vegetarians and vegans without any substitutions being required.
Make it Allergy Friendly
My Garlic Roasted Sweet Potatoes are free from gluten. dairy, egg and nuts.
Please note that this recipe may contain other allergens not referred to above and any variations suggested have not been tested unless otherwise stated. For more information regarding any dietary information provided on this website, please refer to my Nutritional Disclaimer.
Equipment Notes for Garlic Roasted Sweet Potatoes
My trusty speed peeler is my go to way of peeling the sweet potatoes. The skins are quite tough and need a decent peeler or it can be hard work. Be careful not to slip.
I do also love to make these potatoes in my Tefal Actifry. But that is not required. I just love to roast in my airfryer!
A comprehensive list of the equipment used to make this recipe is included in the main recipe card below. Click on any item to see an example. There are no hard and fast rules so many items can be sensibly substituted to achieve the same results.
Get Ahead
My Roasted Sweet Potatoes can be roasted until nearly cooked ahead of time (up to a few days or longer if frozen) and then finished off and reheated in the oven.
Leftover Garlic Roasted Sweet Potatoes
There are as many uses for leftover sweet potatoes as their are fresh! Add leftovers to a salad, a soup or just eat them straight out of the fridge.
Don't miss my Leftover Roast Dinner Pizza which is the perfect way to use up all manner of leftovers from any Sunday roast or Christmas dinner.
Leftovers can be frozen and reheated. Either in the microwave, oven or even fried in a pan for extra crispiness.
Garlic Roasted Sweet Potatoes Tips
Make sure the potato cubes have a good amount of space between them on the tray. If you overcrowd the baking tray, they have a tendency to steam rather than roast.
Ovens have a habit of not cooking evenly, even if you just bought a new one (annoying!). I do like to keep an eye on anything that I'm roasting and turn the tray a couple of times during the cooking process if needed.
Don't forget to let me know in the comments if you try making this recipe – I want to know what you think and if you made any substitutions, how did it turn out?
Still Have Questions?
Simple! Just contact me and I will do my best to help as quickly as I am able. Head over to my Contact Me page, any of my social media channels or post a comment at the bottom of this page and I'll see what I can do.
Pin Garlic Roasted Sweet Potatoes For Later
Hit one of the share buttons to save this page to your Pinterest boards so you can come back and find it at anytime!
Keep Up to Date
Make sure you SUBSCRIBE to my newsletter and avoid missing out on any of my newest and bonus content. Don't worry, I promise not to spam you or bombard you too often. Plus you'll receive a copy of my FREE 7 Day International Meal Plan!

Also please don't forget to follow me over on my social media channels over at Facebook, Twitter, Instagram and Pinterest. I love to interact with my followers and I'd love you to share my content with your friends too.
More Garlic Recipes
For more great recipes featuring garlic, check out my post featuring the Best Garlic Recipes from top food bloggers and this site.

You'll find everything from soups, breads, dips, salads, pastas, seafood dishes, vegetable sides and meaty meals.
The Recipe
Garlic Roasted Sweet Potatoes Recipe
---
Garlic Roasted Sweet Potatoes are one of my favourite side dishes. They go with almost everything from fish to pork chops and even make a great addition to salads, tacos and soups. Talk about versatile! As a bonus my recipe includes my top tip for avoiding that burnt horrible garlic taste.
Ingredients
500

g

Sweet Potato

-

Raw weight

2

tbsp

Olive Oil

0.5

tbsp

Sea Salt Flakes

1

tbsp

Garlic Salt
Instructions
Preheat the oven to 200c or equivalent.

Peel

500g Sweet Potato

and chop into generous 1 inch cubes.

Add the cubes to a mixing bowl with

1 tbsp Olive Oil

,

0.5 tbsp Sea Salt Flakes

&

0.5 tbsp Garlic Salt

. Toss the cubes to coat them in the seasonings.

Line a baking tray big enough to allow the potato chunks to have plenty of space when spread out in a single layer.

Spread the coated sweet potato cubes over the lined tray and pop into the oven for 40 minutes.

Take the tray out of the oven and turn the cubes over. Drizzle on a further

1 tbsp Olive Oil

and

0.5 tbsp Garlic Salt

. Shake the cubes around in the extra coating until well covered.

Return them to the oven and roast for a further

20 minutes

.

The potatoes are ready when they're super soft all the way through and a lovey golden brown on the outside.

Serve hot.
Nutrition (Approx)
Calories:
338
kcal
|
Carbohydrates:
50
g
|
Protein:
3
g
|
Fat:
14
g
|
Saturated Fat:
1
g
|
Cholesterol:
0
mg
|
Sodium:
5370
mg
|
Potassium:
842
mg
|
Fiber:
7
g
|
Sugar:
10
g
|
Vitamin A:
35470
IU
|
Vitamin C:
6
mg
|
Calcium:
75
mg
|
Iron:
1.5
mg
Download my FREE 7 day international meal plan!
Simply subscribe to the Feast Glorious Feast newsletter and I'll send you the link.