BBQ Pork Ribs are one of my favourite sticky, sweet and smoky treats. Individual spare ribs are first boiled and then baked in the oven to produce soft and tender glazed morsels. They're perfect for nearly any occasion.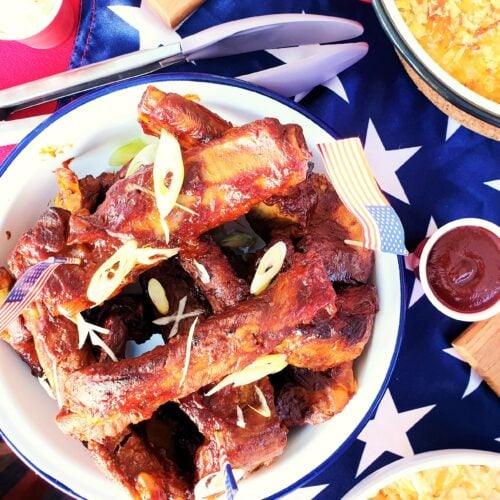 This post may contain affiliate links. Please refer to my Disclosures Page for more details.
I know that this recipe might feel a little long winded as it is a two stage process. First the ribs are boiled, then they are coated in a sauce and then baked in the oven. But it is so worth it!
Just like with my Korean Belly Pork recipe, boiling the meat in a flavoured broth allows flavours to permeate right into the meat. Whilst making it soft and tender in less time than if you'd baked it in the oven.
But boiled ribs don't look terribly appetising (despite this I always have to sample a couple at this stage!) and so the oven glazing with the sauce provides both great looks and great additional flavour.
If you are looking for a ribs recipe that requires only one stage of cooking, have a look at my Dry Rub Mexican Ribs recipe.
If you're thinking that you would rather cook your ribs on the actual BBQ rather than in the oven, follow the steps until the ribs are coated in the sauce. Then glaze them over the coals. I sometimes add half of the sauce first, let that start to caramelise then baste the ribs with the rest of the sauce to glaze the next layer. They're slippery little gits so be careful not to lose them through the grill bars!
How to Serve Oven Baked BBQ Pork Ribs
With a whole heap of napkins! And if you're really posh, a finger bowl of water wouldn't go amiss! Another bowl to throw the bones in is also usually a good idea.
Ingredients for BBQ Pork Ribs
Ribs
Individual cut spare ribs are my preferred cut of rib for this recipe because of the increased surface area and generosity of meat to bone ratio. Baby back ribs would however work with this recipe but I would be more inclined to cook them as a full rack rather than individually.
St Louis cut ribs are actually my all time favourite rib cut but harder to get hold of here in the UK. St Louis ribs would need a longer cooking time but otherwise the method remains unchanged.
The boiling and glazing method can also be used on other cuts of pork like a whole shoulder joint or pork chops. Belly Pork would be a brilliant carrier too, just like with my Korean Belly Pork.
BBQ Sauce
I wanted to keep this recipe super simple by using a ready prepared BBQ sauce. You can use whichever is your favourite, or even a homemade version. Go spicy, go smoky, go fruity, whatever floats your boat. Personally i tend towards quite a classic smoky number.
Be Flexible
As I've suggested that you use your preferred BBQ sauce, this makes the recipe instantly flexible. There are hundreds of sauce options available or you could make your own.
I've suggested a number of alternative pork cuts that could be used above but the method and sauce could also be applied to other meats. Chicken wings or thighs would be my first choice. Beef or lamb ribs also really benefit from the boiling process.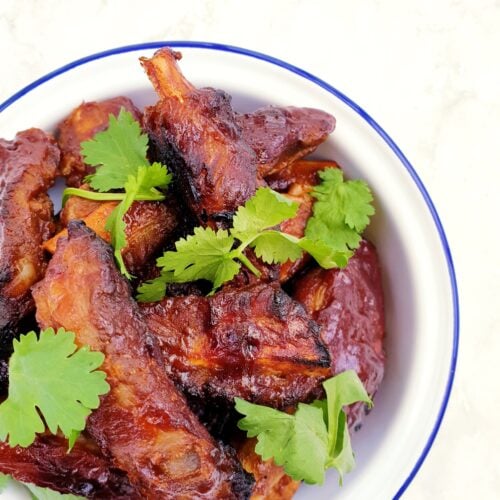 Make it Vegetarian or Vegan
I am struggling to suggest a really great alternative here. Of course there are various meat substitutes like quorn and seitan available which you could bake and glaze with bbq sauce but I would not recommend employing the boiling method.
Substituting cauliflower would be a good option and I would recommend boiling it. But florets will need 10 minutes in the water, not an hour.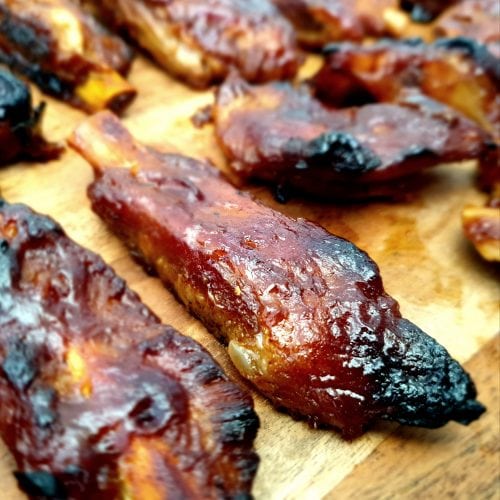 Make it Allergy Friendly
This recipe is nut, gluten, dairy and egg free. But please do note that list is dependent on the BBQ sauce being used not containing any of these ingredients.
Please note that this recipe may contain other allergens not referred to above and any variations suggested have not been tested unless otherwise stated. For more information regarding any dietary information provided on this website, please refer to my Nutritional Disclaimer.
Equipment Notes for BBQ Pork Ribs
You can of course not use a kettle and simply boil the water directly in the saucepan but this will add unnecessary extra cooking time.
Make sure to line your baking tray well. The BBQ sauce will stick like hell and be a git to wash off otherwise. Non-stick surfaces are a fallacy when it come to sugary sauces.
A pair of silicone tongs will make picking up the ribs super easy. I use my pair (actually, pairs) constantly.
A comprehensive list of the equipment used to make this recipe is included in the main recipe card below. Click on any item to see an example. There are no hard and fast rules so many items can be sensibly substituted to achieve the same results.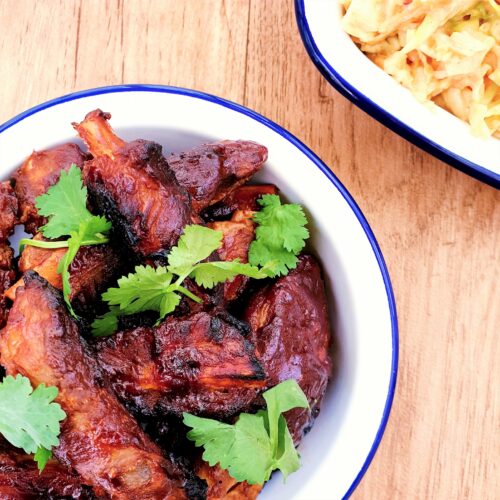 Get Ahead
There are several great ways that you can get ahead with this recipe. Firstly you can boil the ribs and then freeze them. Douse them in sauce and glaze from frozen. You will want to reduce the temp slightly and leave them in the oven for longer – until they are piping hot all the way through.
Or you can add the sauce to the boiled ribs then freeze them. Same cooking instructions then apply. Or leave them to thaw and cook as normal.
The third freezing option is to cook the ribs in full, including the glaze and then freeze them. I would tend to freeze them laid out on a tray and them move them to a bag once fully frozen. This will ensure that they don't freeze together in a big clump. Once defrosted, they are good to eat cold or reheated in the oven or microwave.
Or if you aren't looking for a longer term option, You can boil the ribs up to 2 days in advance before glazing them just before serving. Or the finished ribs will also keep for a couple of days before being reheated and served.
Leftover Sticky BBQ Pork Ribs
Any leftovers can be popped in the fridge for a couple of days or frozen until a later time.
Leftovers are great in a lunchbox etc. Just make sure to include napkins and maybe some wet wipes!
Another alternative is to take the meat off the bones and add this to a salad or top fries for a cheeky dirty fries dish.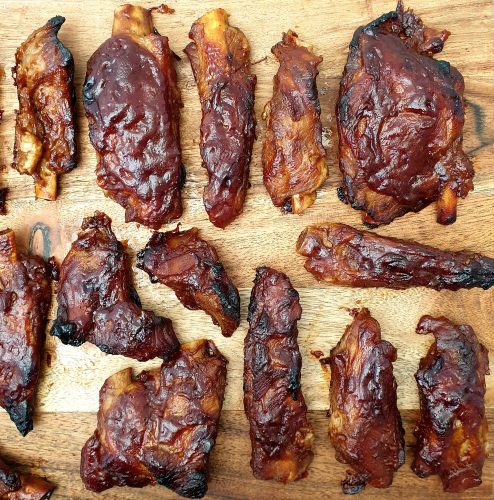 BBQ Pork Ribs Tips
Use tongs when handling the boiled ribs. They will be very hot and mixing the sauce in with your hands will not end well.
Do make sure to line your baking tray well. Bits of the sauce will caramelise on the bottom and it will be a pain in the butt to remove.
Don't forget to let me know in the comments if you try making this recipe – I want to know what you think and if you made any substitutions, how did it turn out?
Still Have Questions?
Simple! Just contact me and I will do my best to help as quickly as I am able. Head over to my Contact Me page, any of my social media channels or post a comment at the bottom of this page and I'll see what I can do.
Pin BBQ Pork Ribs For Later
Hit one of the share buttons to save this page to your Pinterest boards so you can come back and find it at anytime!
Keep Up to Date
Make sure you SUBSCRIBE to my newsletter and avoid missing out on any of my newest and bonus content. Don't worry, I promise not to spam you or bombard you too often. Plus you'll receive a copy of my FREE 7 Day International Meal Plan!

Also please don't forget to follow me over on my social media channels over at Facebook, Twitter, Instagram and Pinterest. I love to interact with my followers and I'd love you to share my content with your friends too.
More Pork Recipes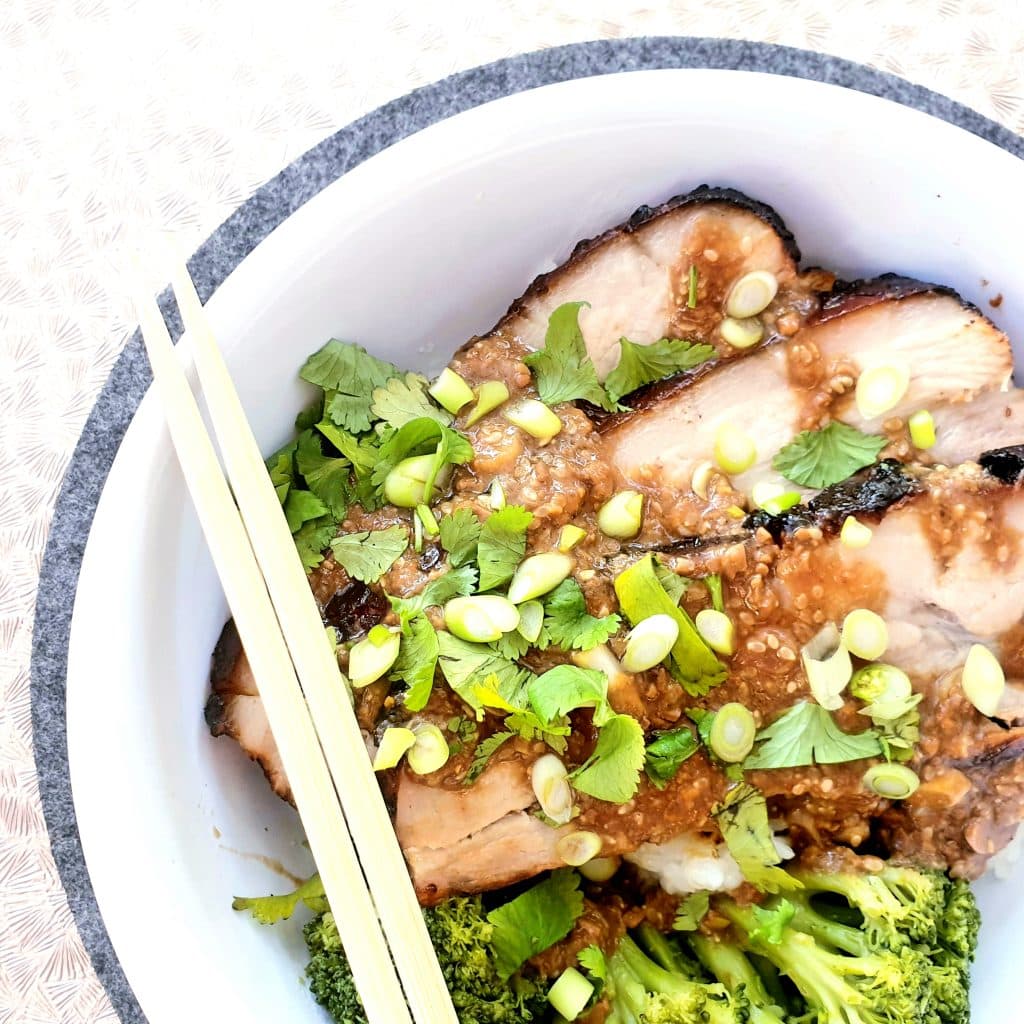 The Recipe
BBQ Pork Ribs Recipe – Boiled & Baked
---
BBQ Pork Ribs are one of my favourite sticky, sweet and smoky treats. Individual spare ribs are first boiled and then baked in the oven to produce soft and tender glazed morsels. They're perfect for nearly any occasion.
Ingredients
900

g

Pork Spare Ribs

1

tbsp

Garlic Paste

2

tbsp

Sea Salt Flakes

250

ml

BBQ Sauce

Fresh Coriander (Cilantro)

-

optional garnish
Instructions
Boil a kettle.

Prepare 900g Pork Spare Ribs by making sure that they are cut individually and any loose pieces of bone are removed.

Add the ribs to a large saucepan along with 1 tbsp Garlic Paste and 2 tbsp Sea Salt Flakes.

Cover the ribs with the now boiled water. Cook the ribs at a gentle boil for 1 hour. Make sure to keep an eye on the pan. If the water level goes to below the ribs, just top it up with a little more water.

Turn the oven on to 200c or equivalent.

Line a large roasting tray with baking parchment or foil.

Drain the water from the ribs and coat them in 250ml BBQ Sauce. Add to the lined tray.

Bake the coated ribs for 30 minutes.

Leave the ribs to cool for a few minutes before garnishing with Fresh Coriander (optional) and serving.
Nutrition (Approx)
Calories:
736
kcal
|
Carbohydrates:
27
g
|
Protein:
36
g
|
Fat:
53
g
|
Saturated Fat:
17
g
|
Cholesterol:
180
mg
|
Sodium:
4313
mg
|
Potassium:
705
mg
|
Fiber:
1
g
|
Sugar:
21
g
|
Vitamin A:
140
IU
|
Vitamin C:
1.6
mg
|
Calcium:
61
mg
|
Iron:
2.5
mg
Download my FREE 7 day international meal plan!
Simply subscribe to the Feast Glorious Feast newsletter and I'll send you the link.