Peach Salsa is a fresh and light side dish or sauce packed with tomatoes, peppers and coriander. Canned peaches add a fruity sweetness to this twist on a classic Mexican pico de gallo or salsa fresca. It's ideal for summery barbecues and my favourite way to bring some colour and life to winter!
This post may contain affiliate links. Please refer to my Disclosures Page for more details.
I've been making this salsa regularly for years. It takes moment to whip up and it brightens whatever I serve it with. Sometimes that's just with a simple piece of fish and other times a topping for tacos. And more often than not a simple not to vegetables with a quick fried pork chop.
I prefer it to a traditional side salad and it has been a fab way to use up lots of my homegrown tomatoes.
I'm a bit obsessed with tinned peaches in general so I always have some cans in my pantry. I also use them for a quick Fruit Crumble and an easy Compote or Fruit Curd for pancakes or ice cream. Very versatile and they add a brilliant hit of sweetness to the salsa.
How to Serve Peach Salsa
I've mentioned a few ways above such as on the side of grilled meats/fish or as part of a taco or fajita type dish.
But whatever you are going to serve it with, my preference is to serve it at room temperature. You can store it in the fridge but serving it properly cold cold dulls the flavours. Which is a shame because it tastes delicious.
At the other end of the scale, I have used it to stuff fish and chicken before baking so it was ultimately served hot or warm and this was delicious too. But I wouldn't tend to purposefully heat it as a side dish.
The other thing to take into account is that the longer the salsa sits, the more juices will be released. So whilst I would tend to dish it up and let it sit in a bowl to be spooned onto my plate, I wouldn't let it sit around on my plate for too long.
Make Fresh Peach Salsa into a Feast
I truly believe that you can make any dish into a proper feast! Whether thats a feast for one after work on a Tuesday, a casual feast for four on a Friday evening or a feast for 12 for a special occasion!
I love to serve peach salsa with with my Griddled Steak and Griddled Courgettes. If I want to add a little more Mexican flavour to my meal then I'll also serve some Mexican Street Corn.
Another fab combo is to make my Oven Fried Chicken Thighs or Wings along with my favourite Hot Honey Butter Sauce, a big pile of tortilla chips and coriander spiked rice.
Or its a brilliant was to jazz up your Roast Chicken or Beef leftovers. You could even serve up leftover Roasties too.
Don't forget to head over to my Feast Collection pages to find all of my tips and tricks to help you host a fun and stress-free feast. Plus remember to check out my recipe index to create your own awesome Feast!
Ingredients for Peach Salsa
Peaches
I always use tinned (or canned) peaches in this recipe. I buy the ones in juice rather than syrup so they're not too sweet. It doesn't really matter if you buy then whole, halved, sliced or in bits as they're going to be chopped small anyway.
You can sub fresh peaches if you have some nice ripe ones. Peel them, remove the stones and chop them in exactly the same way. But act with caution if they're not lovely and soft, no one wants a chunk of rock hard peach with their dinner.
Tomatoes
Conversely this is not the time to use canned tomatoes. You want to look for ripe, good quality tomatoes. The kind that taste of something. Not the basics kind from the supermarket. I find that cherry tomatoes generally have the best flesh to pip/juice ratio and I'll always buy on the vine if possible.
Onion
Red onion is my preference as the slight sweetness is great for the overall flavour and the colour really is a feast for the eyes.
If you don't have red (which are really purple), the next best thing to use instead are shallots or spring onions (green onions/scallion). That's because they have a less harsh flavour than yellow/white onions. As a "last resort" these will do and be perfectly delicious, I would just recommend using a little less.
Herbs
To me fresh coriander is often my herb of choice. Especially when dealing with Mexican or Asian inspired dishes. And it much be fresh. Dried coriander leaf is pretty revolting and won't provide the right taste or texture.
If you are one of the people for whom fresh coriander tastes like soap (poor you!) or you're cooking for someone with the problem (poor them), you can use fresh parsley instead.
Be Flexible
I have provided quantities for each of the ingredients in the recipe below. But I never usually weigh or measure anything when making it. Please use the recipe for guidance the first time you make it. After than I'm sure you'll be able to create it in similar proportions using what you have available.
I'm always flexible with what colour peppers and tomatoes I use. You could also mix up the fruit. Both pineapple and apricot both work really well and provide the same sweet and fruity kick as peaches.
I haven't added chilli in this recipe but if you wanted you could add finely chopped fresh chillies or stir in some hot sauce or tobacco for kick. Lime juice is actually more traditional than the lemon juice that I've decided I prefer so feel free to use that or mix it up with another citrus juice.
Make it Vegetarian or Vegan
This fresh salsa recipe is naturally vegetarian and vegan.
Make it Allergy Friendly
This recipe is free from egg, dairy, gluten and nuts.
Please note that this recipe may contain other allergens not referred to above and any variations suggested have not been tested unless otherwise stated. For more information regarding any dietary information provided on this website, please refer to my Nutritional Disclaimer.
Equipment Notes for Peach Pico de Gallo
You need very little to make this salsa. A good sharp knife and a chopping board are as usual your best friends in the kitchen.
If you are juicing fresh lemons, I like to use a handy reamer with a good sharp point. A small sieve makes straining out the pips nice and easy.
A comprehensive list of the equipment used to make this recipe is included in the main recipe card below. Click on any item to see an example. There are no hard and fast rules so many items can be sensibly substituted to achieve the same results.
Get Ahead
This salsa is best prepared no more than a couple of hours in advance. It is perfectly possible to make it up to 24 hours or so in advance provided it is kept in the fridge. If I am doing this, I prefer to add the coriander just before serving rather than letting it sit.
Unfortunately this is not a dish that will be at its best for much longer and it does not freeze well either.
Leftover Peach Salsa
Leftovers will again last around 24 hours in the fridge but this will depend how far advance that you made it.
If I have a larger quantity than I'm going to want to eat in the very near future, I'll consider using as a stuffing or warming it in some way. You may wish to drain off a little of the released juices before doing so.
Canned Peach Salsa Tips
Think about making everything roughly the same size when you're chopping. If you prefer things a little chunkier, then make everything a little bigger. But if you prefer a finer salsa then you can chop smaller.
If you find that red onion can be a little harsh, chop the onions and then leave them to sit in the lemon juice and salt for 5 minutes before adding them to the rest of the ingredients. This will take the edge off a little.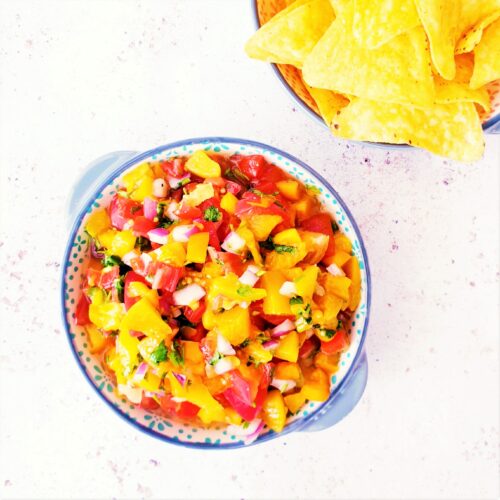 Don't forget to let me know in the comments if you try making this recipe – I want to know what you think and if you made any substitutions, how did it turn out?
Still Have Questions?
Simple! Just contact me and I will do my best to help as quickly as I am able. Head over to my Contact Me page, any of my social media channels or post a comment at the bottom of this page and I'll see what I can do.
Pin Peach Salsa For Later
Hit one of the share buttons to save this page to your Pinterest boards so you can come back and find it at anytime!
---
Keep Up to Date
Make sure you SUBSCRIBE to my newsletter and avoid missing out on any of my newest and bonus content. Don't worry, I promise not to spam you or bombard you too often. Plus you'll receive a copy of my FREE 7 Day International Meal Plan!

Also please don't forget to follow me over on my social media channels over at Facebook, Twitter, Instagram and Pinterest. I love to interact with my followers and I'd love you to share my content with your friends too.
More Vegan Side Dishes
The Recipe
Peach Salsa (with Canned Peaches)
---
Peach Salsa is a fresh and light side dish or sauce packed with tomatoes, peppers and coriander. Canned peaches add a fruity sweetness to this twist on a classic Mexican pico de gallo or salsa fresca. It's ideal for summery barbecues and my favourite way to bring some colour and life to winter!
Ingredients
50

g

Red Onion

200

g

Canned Peach Slices in Juice

-

including some juice

75

g

Red Bell Pepper

200

g

Cherry Tomatoes

10

g

Fresh Coriander (Cilantro)

1

tsp

Garlic Paste

2

tsp

Sea Salt Flakes

1

tsp

Lemon Juice
Instructions
Use a sharp knife to cut

50g Red Onion

into very fine dice. Add to a small mixing bowl.

Cut

75g Bell Pepper

and

200g Cherry Tomatoes

into similar size chunks to the peaches. Also add these to the mixing bowl.

Cut

200g Tinned Peaches

into small chucks – roughly the size of a pea. Add to the onion.

Finely chop

10g Fresh Coriander

including the stalks.

Add to the bowl along with

1 tsp Garlic Paste

,

2 tsp Sea Salt Flakes

and

1 tsp Lemon Juice

.

Mix everything together and allow it to sit for at least 5 minutes before serving to allow the flavours to develop.
Nutrition (Approx)
Serving:
1
side
|
Calories:
42
kcal
|
Carbohydrates:
10
g
|
Protein:
1
g
|
Fat:
1
g
|
Saturated Fat:
1
g
|
Sodium:
1171
mg
|
Potassium:
275
mg
|
Fiber:
2
g
|
Sugar:
7
g
|
Vitamin A:
1163
IU
|
Vitamin C:
41
mg
|
Calcium:
11
mg
|
Iron:
1
mg
Download my FREE 7 day international meal plan!
Simply subscribe to the Feast Glorious Feast newsletter and I'll send you the link.