Southern Baked Chicken Wings are a spicy and crunchy American classic. My version is baked, not fried which makes them perfect for hands off cooking. A buttermilk marinade makes sure that my wings are tender and soft on the inside too. As a bonus, they're shockingly easy to make!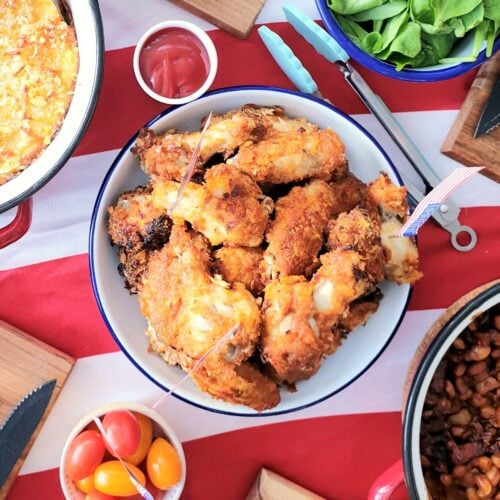 This post may contain affiliate links. Please refer to my Disclosures Page for more details.
Chicken wings might well be one of my favourite foods of all time. There is something about the sweet and sticky meat that just speaks to me. And to be honest, I love food that you can just pick up and eat.
Formality is really not my thing. My Honey Maple Wings are one of my other favourite wing recipes. Also excellent eaten in a big pile with your hands.
Developing the Recipe
My all time favourite wings are the kind that you buy as a side from cheap pizza places or fish and chip shops. The kind that look all innocent and crispy but then slowly burn your face off. I'll eat the whole portion but boy do I bitch and moan about it. KFC hot wings are a pretty similar deal.
What I realised is that it isn't the coating on those wings that is terribly spicy, but the chicken meat itself. And that has to be the result of marinating them in chilli before coating. So when I was developing this recipe (in part an attempt to find uses for the buttermilk leftover from making a batch of Homemade Butter), I added hot sauce to the salty buttermilk marinade. Bingo!
Much research followed to work out how best to coat the wings. Just a flour mixture or maybe a batter? After some experimenting and further research (boy was that tough – not!), I hit on the perfect mixture of panko breadcrumbs, flour and seasonings.
There is no need to use the flour/egg/coating method of recipes like my Scotch Eggs as the buttermilk marinade provides more than enough "glue" for the coating. This also makes it lovely and light.
I love this recipe so much that I treat almost all chicken in exactly the same way. Don't miss my boneless Chicken Thigh version with Hot Honey Butter Sauce.
Cooking the Southern "Fried" Chicken Wings
The last thing to consider was how to cook the wings. Obviously they are usually deep fried but I like to eat these Southern "Fried" wings more often than I like to eat deep fried foods. So I learnt how to bake them in a way that retained all of the crunch and moistness that I expect from a deep fried wing.
The trick is to cook them on a rack so that the hot air from the oven can circulate underneath the wings. This prevents them from getting overly soggy. I used my grill pan for this but any baking tray with a lined rack would work.
I still use a bit of oil in the cooking process but by using a spray oil, you can coat every part of the wing with oil, but only a very fine mist. This helps with the crunch but reduces the oil saturation. Winner winner baked chicken wing dinner!
How to Serve Southern Chicken Wings
In a big pile with lots of napkins.
Or if you want to jazz them up to look like you just paid £7.50 for them at a hipster food market, try drizzling them in mayo, bbq sauce, mustard, garlic sauce and/or ketchup and garnishing with finely sliced spring onion.
Or you can drizzle over or toss them in my new favourite sauce which is Hot Honey Butter Sauce. It is soooo good!
Make Southern Chicken Wings into a Feast
I truly believe that you can make any dish into a proper feast! Whether thats a feast for one after work on a Tuesday, a casual feast for four on a Friday evening or a feast for 12 for a special occasion!
I've included these baked wings in my Big Americana Feast Collection. I just had to!
The rest of the feast includes southern classics like Guacamole, BBQ Pork Ribs, super cheesy Mac'n'Cheese, creamy Coleslaw and Boston Baked Beans. To make it even better, there are Garlic Bread Rolls on the side and my Peanut Brownie Cheesecake for dessert. An absolute feast indeed!
Don't forget to head over to the Big Americana Feast post for all of my tips and tricks to help you host a fun and stress-free feast. Plus remember to check out my other feast collections and all my Americana inspired recipes.
Ingredients for Southern Chicken Wings
Chicken
There are three parts to a chicken wing. The 'drumette' (looks like a mini drumstick), the 'wingette' (2 thin bones connected at each end) and the 'wing tip' (no meat, kind of gross). I am only interested in the first two of these. The wing tip would ideally not be attached when bought and certainly shouldn't be served.
I do like to separate the drumette from the wingette. I think that this helps the wings to cook evenly and it certainly makes them easier to eat. You can leave them attached however, it is entirely up to you.
---
More Chicken Recipes
---
Buttermilk
Buttermilk is the "waste" from making butter out of cream. The acid in the buttermilk helps to tenderise the chicken and keep it lovely and moist during cooking.
I generally make my own butter and am forever looking for ways to use up the buttermilk. If you don't make you own (you should!), buttermilk is readily available to buy in the shops.
You could alternatively make your own buttermilk using the method in my Chilli and Oregano Soda Bread recipe using milk and lemon juice or vinegar.
Hot Sauce
I have left this ingredient purposefully vague as there are so many hot sauce varieties on the market. You could use anything from a piri-piri sauce to sriracha to tobasco. Just note that the hotter the hot sauce, the hotter your wings will be.
If you only have a super hot sauce but want milder wings, just reduce the amount of hot sauce in the recipe.
Panko
Panko are large Japanese breadcrumbs that are super light. They are always worth keeping in the house. If you don't have any panko, I would use any other dried breadcrumbs but I wouldn't use fresh as they may not result in a crispy enough coating.
Be Flexible
You can use this method on cuts of chicken other than wings. Chicken thigh fillets would be great although chicken breast may not provide quite enough fat for a truly moist treat. (You could fry the coated breast though).
Speaking of deep frying, if you prefer to fry the wings, you can do (180c) or alternatively, you could cook them in an air fryer (don't use the paddle).
The spices in the coating could be varied depending on what you prefer and what you have in the cupboard. Just be sure to make sure there is far more spice on there than you think you might need. The amount of coating on each wing is relatively small so you really do need a good hit of flavour for it to come through in the final dish.
Make it Vegetarian
The chicken will have to go. But you could use a meat substitute product like quorn or seitan instead. I would use relatively small pieces and not marinate it for too long in the buttermilk/hot sauce.
Make it Vegan
The chicken will definitly have to go as per the above. The buttermilk will also have to be substituted. Try using a plant based milk and lemon juice as a substitute.
Make it Allergy Friendly
There are no egg or nut containing ingredients in this recipe.
Gluten Free: You can now buy or make gluten free breadcrumbs so use these instead of the panko. A gluten free flour can be substituted for the plain flour or cornflour could be used.
Dairy Free: Substitute the buttermilk for a mixture of plant based milk and lemon juice. Coconut would work especially well in this scenario.
Please note that this recipe may contain other allergens not referred to above and any variations suggested have not been tested unless otherwise stated. For more information regarding any dietary information provided on this website, please refer to my Nutritional Disclaimer.
Equipment Notes for Southern Chicken Wings
A decent pair of scissors are my go-to implement for dealing with most raw chicken, especially when it comes to jointing wings or trimming up a whole chicken.
If you don't have a rack, you can cook the wings straight on an oven tray. I would look to turn them more regularly that the recipe states.
If you don't have a grill tray with rack you could fashion one with a baking tray and a cooling rack. You do need to make sure that your cooling rack doesn't have any plastic bits which might melt!
The rack element allows the air to circulate fully around the wings which reduces soggy bottoms. This is one time that I really am not into a soggy bottom.
You can alternatively just use a baking tray but you will need to keep carefully turning the wings to keep them crispy all round.
A comprehensive list of the equipment used to make this recipe is included in the main recipe card below. Click on any item to see an example. There are no hard and fast rules so many items can be sensibly substituted to achieve the same results.
Get Ahead
The wings can be marinated up to 24 hours in advance. The seasoned flour mix can be made up and stored for weeks in an airtight container. If this is something that you intend to make regularly, it may be worth making up a large jar and then using it as and when.
The chicken wings can be frozen in their marinade. Ensure that they are thoroughly defrosted before draining the buttermilk and coating/cooking.
It is possible to marinade and coat the wings and then freeze them. You will need sufficient room in your freezer to very carefully freeze them on trays. Put them into a freezer bag or container once totally frozen. There is a huge risk of the coating slipping off with anymore rough treatment than that.
Leftover Southern Chicken Wings
Any leftover wings can be reheated in the oven, or microwave although the microwave won't keep them crispy (I quite like that!). They are also quite delightful cold.
The cooked wings can be frozen. They will again need to be fully defrosted before reheating.
Southern Chicken Wings Tips
Don't massage the sandwich bags with the marinade with too much energy or you will risk splitting them. If you only have thin bags, use a lidded container instead.
Don't forget to let me know in the comments if you try making this recipe – I want to know what you think and if you made any substitutions, how did it turn out?
Still Have Questions?
Simple! Just contact me and I will do my best to help as quickly as I am able. Head over to my Contact Me page, any of my social media channels or post a comment at the bottom of this page and I'll see what I can do.
Pin Southern Chicken Wings For Later
Hit one of the share buttons to save this page to your Pinterest boards so you can come back and find it at anytime!
Keep Up to Date
Make sure you SUBSCRIBE to my newsletter and avoid missing out on any of my newest and bonus content. Don't worry, I promise not to spam you or bombard you too often. Plus you'll receive a copy of my FREE 7 Day International Meal Plan!

Also please don't forget to follow me over on my social media channels over at Facebook, Twitter, Instagram and Pinterest. I love to interact with my followers and I'd love you to share my content with your friends too.
More Meaty Main Meals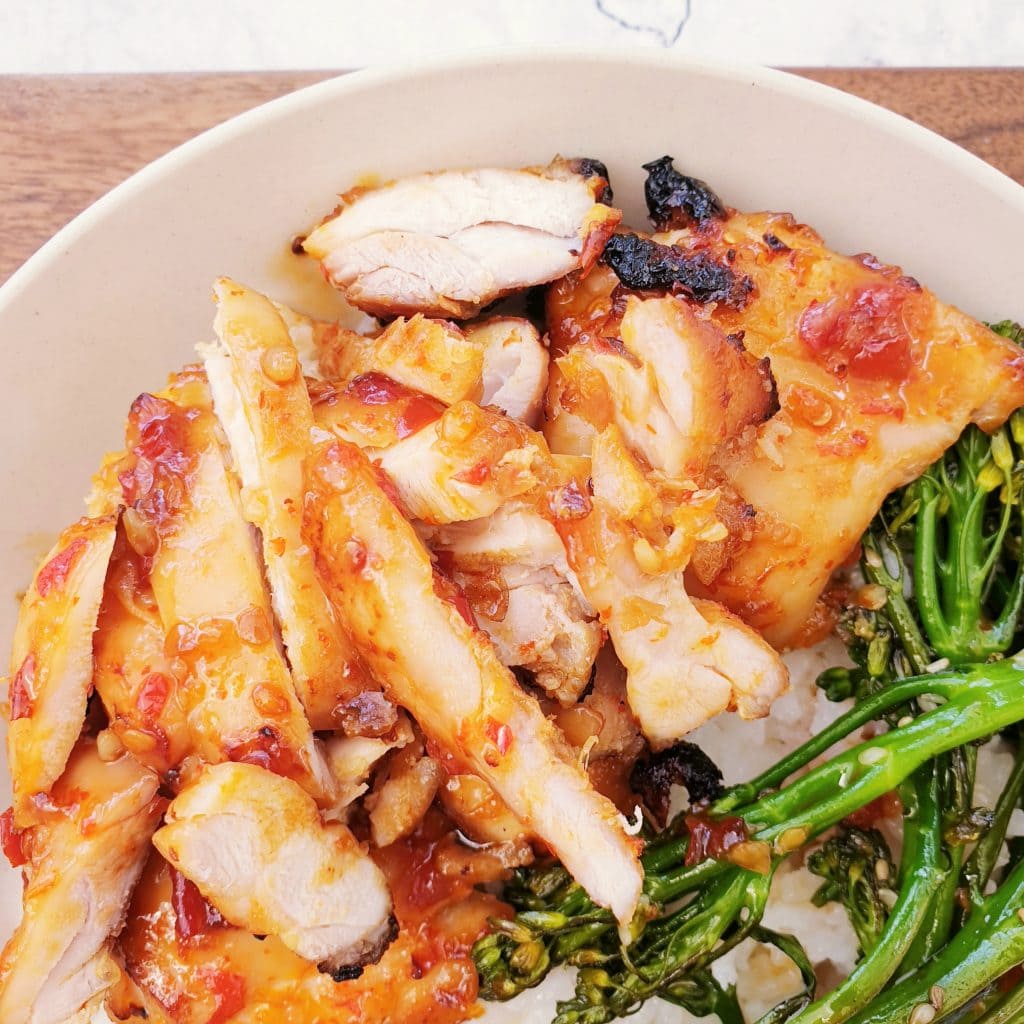 More Chicken Recipes
The Recipe
Southern Baked Chicken Wings
---
Southern Baked Chicken Wings are a spicy and crunchy American classic. My version is baked, not fried which makes them perfect for hands off cooking. A buttermilk marinade makes sure that my wings are tender and soft on the inside too. As a bonus, they're shockingly easy to make!
Ingredients
1

kg

Chicken Wings

-

no wing tips

300

ml

Buttermilk

1

tbsp

Sea Salt Flakes

2

tbsp

Hot Sauce

60

g

Panko Breadcrumbs

50

g

Plain Flour (All Purpose)

2

tbsp

Paprika

1

tsp

Ground Black Pepper

1

tbsp

Garlic Salt

Oil Spray
Instructions
Using sharp scissors, cut

1kg Chicken Wings

down the joint to create individual wings. (If required)

Add the cut wings to a large sandwich bag.

Add

300ml Buttermilk

,

1 tbsp Sea Salt Flakes

and

2 tbsp Hot Sauce

to the chicken wings bag. Seal the bag and mush the marinade around until the wings are totally coated. Leave in the fridge for at least 4 hours.

When ready to cook, preheat the oven to 200c or equivalent.

Line a grill tray with a rack with greaseproof paper. Line OVER the rack not under it. The air needs to circulate under the chicken but it doesn't want to stick to the rack.

Liberally spray with tray with Oil Spray and pop the tray into the oven whilst you coat the wings.

Mix together

60g Panko

,

50g Plain Flour

,

2 tbsp Paprika

,

1 tsp Ground Black Pepper

and

1 tbsp Garlic Salt

in a shallow dish.

Drain most of the liquid from the bag of chicken wings.

Dip each chicken wing in the panko/flour mixture.

Turn in the dry mix until each wing is fully coated.

Repeat until all the wings are fully coated.

Take the now hot tray out of the oven and lay the wings carefully on the tray. Spray the tops of the wings with a little more Oil Spray.

Put the wings in the oven for

30 minutes

.

Take the wings out and turn then over then pop back in the oven for a further

15 minutes

.

Serve hot.
Nutrition (Approx)
Calories:
463
kcal
|
Carbohydrates:
26
g
|
Protein:
31
g
|
Fat:
25
g
|
Saturated Fat:
8
g
|
Cholesterol:
112
mg
|
Sodium:
3950
mg
|
Potassium:
442
mg
|
Fiber:
2
g
|
Sugar:
5
g
|
Vitamin A:
1997
IU
|
Vitamin C:
6
mg
|
Calcium:
138
mg
|
Iron:
3
mg
Download my FREE 7 day international meal plan!
Simply subscribe to the Feast Glorious Feast newsletter and I'll send you the link.