This is my comprehensive guide to creating a fabulous, stress free Brunch Feast for a crowd. Nearly everything can be prepped ahead of time so there is no last minute stress involved! I've included advice on everything from the recipes to the table settings and entertainment. And I've even created a comprehensive printable checklist for you to download!
This post may contain affiliate links. Please refer to my Disclosures Page for more details.
This whole guide is designed to help you plan every detail of your Brunch Feast. As I was writing it, I realised that what you also really need is a comprehensive checklist to print and have handy whilst you're prepping.
So I made you one. It even includes space for your planning and shopping list. You are welcome!
Why Brunch?
I think that Brunch parties are hugely underrated in the UK. We go out for brunch or we make some pancakes late on a Sunday morning. But we rarely invite people round. I want to change this.
What I don't want to be doing, and what I don't want to suggest you do, is to get up at the crack of dawn to start cooking. No-one wants that. And so almost everything in this Brunch Feast can be prepared in advance. At least the day before.
What Time For A Brunch Feast?
11am feels like the perfect time to start a brunch party. Much later and it becomes lunch. Much earlier and no one will want to come.
I don't think you need to start doing anything much before 9.30am/10am providing you've followed all of my get ahead suggestions.
Saying this, Brunch at 3pm? Why the hell not. Masochistic early riser? Want to host a shindig at 8am? Go for it.
Brunch is really a weekend thing. It's quite specifically a Sunday thing for me really. But brunch foods are genuinely my favourite foods. So if you want to go totally bonkers and host a brunch feast at 7.30pm on a Wednesday night, I have your back! And can I come?
Recipes for The Big Brunch Feast
The Prep-Ahead Brunch Feast
Remember that this collection of recipes that I've provided is just a guide. Feel free to mix and match as you wish. But it is worth bearing in mind that the rest of this post assumes that you are using this exact set of recipes. So prepare to be flexible with everything from tableware to cooking equipment if you go off piste.
Click the link below to be taken to the Big Brunch Feast Recipe Collection page.
Brunch isn't a time for serving dishes in courses. I like to serve everything buffet style. And so I haven't split the recipes into sections for this Feast.
Homemade Bagels are in a different league to the usual dry supermarket offerings. They're also a doddle to make and include some fun boiling!
---
Homemade Butter is a revelation and I just can't stop telling people how awesome it is. Or how ridiculously easy it is to make. It even works out cheaper than buying similar butter and takes 10 minutes tops. You have to try this!
You don't have to make your own butter of course but boy oh boy will folks be impressed if you do. It is totally worth doing too.
---
Bagels and butter on their own are of course fabulous. But if you want to add some extras, I would recommend adding some (or all if you fancy) of the following items to your shopping list and serve them alongside on platters.
Smoked Salmon and/or Prosciutto
Cream Cheese
Jam. Or make you own. Try one of these recipes from Fab Food 4 All.
Nutella. Its not just for kids people.
Peanut or another nut butter
Avocado. You could use my recipe to make Smashed Avocado.
Anything else that you fancy schmearing on a bagel.
---
This Lighter Ham and Cheese Breakfast 'Casserole' is an (egg) crackingly ooey-gooey-cheesy-meaty way to start the day. By using reduced fat and lighter ingredients I've created a prep-ahead breakfast that's a tasty, protein filled way to keep you full right up until lunch.
---
My Baked Banana Oatmeal with Maple & Pecan is not only a great way to use up ripe bananas but makes for a fabulous prep ahead breakfast.
---
My Peach Compote with Ginger & Bourbon recipe combines three of my favourite flavours into a super simple sauce which is incredibly versatile. Perfect whether served with pancakes, a simple sponge or just added to vanilla ice cream. Best of all, it only takes about 10 minutes to make.
I like to serve both my fruit compote and baked oatmeal with yoghurt. You could either buy individual pots of yoghurt or serve a larger bowl for everyone to dig in. A plain or greek yoghurt would be key here.
---
My Whole Orange Choc Chip Muffins use whole boiled oranges in place of fat to provide body and flavour in these unusual but incredibly easy muffins. Ground almonds and no flour ensure that they are lovely and light despite being naturally gluten free. I love them for a cheeky breakfast!
I feel like you must have something sweet at a brunch. This isn't merely breakfast after all. My Choc Orange muffins contain enough fruit that I feel pretty ok about serving them!
I would also be tempted to offer up some other sweeter pastries, especially if catering for a larger crowd. The following would all be great options, especially if you can buy mini versions of them:
Croissants
Pain au Chocolate
Cinnamon Buns
Maple Pecan Plaits
Danishes
I also understand that some people like to eat fruit for brunch. Not my thing but it is probably nice to offer a bowl of fruit too! Saying this, I did decide to use a satsuma as part of my table setting for these photos.
Serving Sizes
I come from a world where we regularly use the phrase "never knowingly under-catered". Obviously in this day and age, we don't want to be creating excessive food waste either.
But people rarely complain if you send them home with leftovers. Waste tends to not be much of an issue in my circle. Don't forget that each of my recipes give suggestions for how to use up leftovers and/or how to freeze them for later.
The following table is therefore my suggested serving of each recipe for various party sizes. It aims to provide abundance but without too much excess.
Some recipes multiply by certain quantities more easily than others. Butter is best made in batches of roughly 250g. Bagels are most easily made in batches of 8 or 4.
The muffins are best made in multiples of 9. Each 9 muffins require 1 whole orange. No one really wants to have to boil a whole orange and only use part of it!
If you actively want leftovers then do up the quantities. I especially love to make extra bagels for the freezer.
An Alternative Big Brunch Feast Menu
I have put together an alternative selection of recipes for if you are a little more confident and up for some last minute cooking. There are still lots of things that you can do to get ahead, just check my guidance on each of the recipes.
I would be inclined to serve this collection as two courses with the savoury items as the first course and the pancakes with compote as the second.
A Vegetarian Big Brunch Feast Menu
I know that this is a rather meat centric website but I do try to provide vegetarian and vegan alternatives where possible!
This vegetarian collection of recipes includes only vegetarian dishes, most of which can be made vegan. Check each recipe for my recommendations.
Everyday Brunch Feasts
Brunch feasts don't have to be a huge thing with invited people. Every time I have Brunch, I like to make it into a mini feast. Even if its just me that I'm feeding!
I've put together some Everyday Brunch feast collections which are perfect to serve, 1, 2, 3 or even 4+ people. Let me know if you can think of any more combinations of my brunch recipes that I should add!
Bagel, Avocado & Eggs. Sounds rather hipster but homemade Sesame Bagels topped with Smushed Avocado and Poached Eggs might just be the ultimate everyday brunch.
This pancake and compote collection is brunch or breakfast taken to the next level. But with minimal effort. Small Scotch Pancakes pair perfectly with a punchy Peach and Ginger Compote.
Sweet Potato Pancakes, Avocado and bacon are a match made in heaven. The savoury veg packed pancakes pair perfectly with creamy avocado and salty bacon. Its an Everyday Brunch fit for a king!
Mix It Up
Don't let my suggestions here limit you. Why not mix it up with some of my other brunch recipes or even create a whole collection/menu from scratch.
Drinks at The Big Brunch Feast
Just like with the food, the key to serving drinks is to set things up so that guests can help themselves as much as possible. You should have less waste and everyone gets exactly what they want whilst relieving you of some running around.
Tea & Coffee
I don't think you can host a breakfast or brunch feast without offering tea and coffee. Whilst these drinks have to be last minute in a sense. Getting everything you can ready ahead of time will really help.
I would suggest setting up a nice tray with the following:
A jug of milk. (A cute milk bottle is nice to use)
A bowl of sugar (with white sugar, no one wants brown sugar in their tea).
Enough mugs for everyone and a couple of spares.
More than enough tea spoons.
A large cafetiere ready filled with ground coffee.
A large teapot with the bags already in.
Hot water can simply be added once people have arrived. Your guests can then serve themselves.
Alternatively, if you have a pod coffee machine, that could be plugged in somewhere convenient and if you don't have a teapot, a bowl of teabags and a kettle is ideal.
Other Drinks
I had so many great suggestions for other drinks to serve at a Brunch Feast that I went and created a whole other post.
I've provided a whole range of suggestions in my dedicated Brunch drinks post along with loads of drink suggestions!
There are other hot drinks, cold drinks, alcoholic drinks and various combinations of those options to choose from. Please I give you some suggestions re how to serve them.
Equipment needed for the Big Brunch Feast
A comprehensive list of the equipment used to make each of my recipes is included in the main recipe card on each post. Click on any recipe to see an example.

There are no hard and fast rules so many items can be sensibly substituted to achieve the same results. Each post also includes my thoughts on any alternatives that you could use and details of any specialist equipment if needed.
None of the recipes in this Brunch Feast require anything too specialist in the way of equipment but there are a few items which will make your life easier.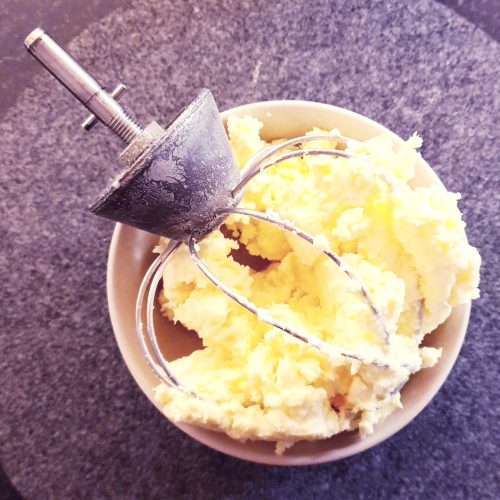 Stand Mixer
Don't panic if you don't have one! I certainly didn't for many years. If you're not quite ready to invest in a full on mixer, getting an electric hand mixer with dough hook attachments is a cheap alternative and will help you both make the bagel dough and whisk the cream to make butter.
Baking/Pie Dishes
I would recommend baking each of the recipes in something that will allow you to cook them in the oven but will also allow you to store and serve the dishes. I favour ceramic pie dishes and baking dishes for this as they look the most pretty for serving. They can be covered in cling film or foil for storage.
Another option would be to use something like these lidded Pyrex dishes. They're perfect for baking, storing and serving, albeit a little bit of a plainer option for serving. I have several of these in various sizes so they are also perfect for storing and serving the Peach compote, Butter and any other items like yoghurt.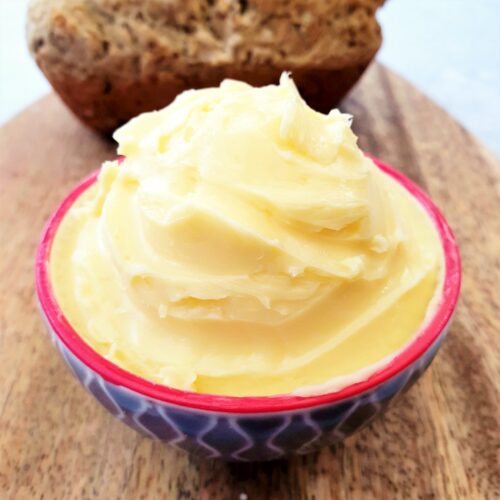 Table, Serve & Drinkware
It is highly unlikely that you need to go out and buy anything new here. Save your money to spend on good ingredients. Saying that, if you are catering for a bigger crowd that usual, you willl want to ensure that you have enough of everything.
Everything I've suggested should really be taken as the minimum recommendation quantity wise. Spares are always helpful and save you running around and washing up bits and bobs whilst trying to enjoy your own party.
My suggestions can be found in the equipment list section of my handy printable checklist that I've prepared. Don't forget to download it!
Tableware
Crockery
My main dinnerware set is from Sainsbury's home range which I love. I buy a lot of kitchen stuff from there along with Ikea. And I try to always buy very simple and plain dishes as I don't really like patterns detracting from the food.
Disposable plates are a great option, especially for a larger crowd. It really saves on the washing up but isn't exactly amazing for the environment. However there are now many more options above and beyond the old paper or polystyrene plates.
Some spares are always handy. Someone will inevitably go rogue and fill a big plate with a small muffin or pile a bowl up with bagels. It is inevitable so just embrace the chaos
One of the tricks to avoiding such chaos is to present all of the dishes next to a stack of their obvious crockery. So you stack the large plates between the bagels and savoury casserole and the bowls next to the compote and yoghurt etc.
This will all depend on the space that you have available of course but we can all dream about the ideal scenario!
Cutlery
I kept my "entertaining cutlery" out of the way and in a box when I lived in a shared house. No way was that going into general use. Even with my extra diligence, I'm still missing a teaspoon.

Now that I'm back in my own house, my "fancy" copper cutlery gets used everyday but I do still have an expensive canteen stashed away for really special occasions.
As with the crockery, disposable cutlery can be a great idea, especially as the guest size increases. This can be a good idea even if just used for the incidental extras and a full set of proper cutlery is provided for the actual eating.
Serveware
This is the bit that I used to forget to plan for everytime. Serving spoons and plates/dishes always seem to get hunted down at the last minute.
And even if you plan until you are blue in the face, you will inevitably have to run to the kitchen for something else. But if you use my handy printable checklist, you will have no excuse!
I leave a large serrated knife with the bagels as its nicer to let everyone cut their own. Plus you don't end up with a bunch of uneaten but cut bagels.
One way to cut down on the number of knives used is to provide a designated butter knife. But if you just provide normal cutlery it will go walkies guaranteed. So I recommend an actual butter knife. Or a set of butter knives would be ideal.
It is best to provide a tea spoon or a knife for every jar of jam, peanut butter, nutella and pot of cream cheese. Any less than one each and cross-contamination is a given. No one wants that.
If you have chosen to serve any meats or extras for the bagels, it is nice to set these things out on a platter. My favourites are usually nice wooden boards or slates depending on the space available.
If you are planning on having jams and other spreads available for the bagels, it is a nice touch to decant the various options into small bowls rather than just dumping a bunch of disparate jars and bottles onto the table.
Drinkware
What drinking vessels you need will obviously depend on what drinks you are choosing to serve. I've provided a whole range of suggestions in my dedicated Drinks for Brunch post along with loads of drink suggestions.
Napkins for The Big Brunch Feast
I don't think a Brunch Feast is the time to go all out with fancy napkins. Its easy to keep it simple but still very effective.
I'm going to assume that like 98% of the rest of the population that you're going to go with paper and not linen. I can't be doing with the laundry. Also, I think they're kind of gross.
I generally stock up on napkins from Ikea although you can buy the same napkins for a premium from Amazon. Tiger, Asda and Sainsbury's also all do good ranges. Like with most things, I generally stick with plain colours and not patterned. Folding patterns can be a real pain too.
Napkin Folds
The first is a very simple half fold with the cutlery resting on top. This can be placed next to the table setting or right in the middle. It instantly looks like nice casual dining.
To take the half fold up a notch, you can make a pocket for the cutlery. This can again be placed next to the table setting or alternatively stacked as part of the buffet layout for people to help themselves.
The triangle. Another simple fold that I tend to rest on the plates with or without the cutlery. I often do this in addition to the half fold because lets be honest, one napkin is never enough.
It is nice to then place something on top of the napkin. Whether that's a flower, a place card or even a piece of fruit.
And leave some more napkins lying around. A couple of stacks near the food can never hurt.
Table Settings for The Big Brunch Feast
I've suggested that your Brunch Feast is served buffet style but if it at all possible, I would still recommend having everyone seated at one table. Balancing a plate of food on your knee perched on a footstool is fine if that is the only option, but not the ideal.
Setting the table with a full set of plates glasses and cups would however be foolish. That is unless you have the size of table that will allow you to serve all of the food etc in the middle of the table.
I would therefore suggest keeping things very simple at the table.
Tablecloth
Whether you even use a tablecloth or not will very much depend on your table. I've not had a good and decent dining table for years so I've gathered a few plain but nice tablecloths.
Primark Home and Asda have been my main sources along with Ikea for ones like this blue linen tablecloth. the size will obviously depend on your table but try to look for something that sits fairly short down the sides of the table. No one want to do battle with a floor length cloth.

The size will obviously depend on your table but try to look for something that sits fairly short down the sides of the table. No one want to do battle with a floor length cloth.

For a really large table or two tables put together, you may need two tablecloths. Its nice if they can match but obviously do what you need to do.
If you have a nicer table that doesn't need covering but you want to still provide some interest, a table runner is a nice touch. In this case, I might be tempted to go a little less plain. Using a runner over a table cloth is another option.
An oilcloth/vinyl tablecloth would be very practical especially if you don't live in the north of England and are able to plan a lovely outdoor brunch.
Placemats
Placemats are not always required. It will again depend on the aesthetic of your table or cloth. I would be even less inclined to consider them essential if dining outdoors.
Do be picky with table mats. I hate those old fashioned small rectangle ones. And I hate them even more when they're patterned.
Also do avoid fabric placemats. I'm yet to meet one that has ever looked good after they've been washed, no matter how many hours you spend ironing and pressing them. if good ones exist, so let me know!
Table Decorations
This is where I want to give you some ideas that don't involve spending £300 from your artisan florist in the Hamptons a la Ina Garten or stringing up £700 of fairly lights a la Nigella.
I do think that fresh flowers are the answer for a spring like brunch feast. And I like to pick one flower and really roll with it. The impact of using a single flower is huge.
Gypsophila or 'baby's breath' is my go-to budget option. It is so simple and very effective. And cheap. Which I think means that you can buy much more of it.
It also lasts really well which means you can arrange your flowers days before your feast and they'll still look great.
The trick to having flowers on the table is to keep them nice and low. Multiple small vases, or even jam jars along the length of the table will give great visual impact. Without stopping people from being able to see the person opposite them.
If you aren't keen on the idea of using cut flowers, some small potted spring flowers would be ideal. Try to always think in odd number – you want to have 1, 3 or 5 pots but never 2, 4 or 6. Just trust me!
Decorations for The Big Brunch Feast
I honestly don't think that you need anything other than fresh flowers.
This is most likely a day event and I don't think that candles are going to add anything. The exception is if you are eating outside in which case some citronella candles placed strategically in the vicinity might be helpful.
Entertainment at The Big Brunch Feast
To clarify, I am not talking about getting in a magician or setting up a bouncy castle. Actually from personal experience, I can highly recommend providing adult-only bouncy castles at a party. Such fun but do keep medics on standby!
Music
This is more what I'm talking about. And the easiest way to deal with this is to shout this at the corner of your room:
"Alexa – Play a smooth jazz playlist" or "Alexa – Play a Sunday morning playlist"
This does of course assume that you have an Amazon Alexa! As a ridiculous number of us got one for Christmas and we've mostly forgotten about it by now, resurrecting it to provide some background tunes is a nice thing to do.
Don't forget that you can unplug and plug a smart speaker back in somewhere nearer where you are eating/entertaining.
There are of course a myriad of alternatives. There are a number of music apps available on all sorts of devices that can be set to play a pre-set playlist wherever you want it. A small but good quality wireless speaker can be helpful if playing music through a phone or ipad.
But whatever you use, I would heavily suggest a pre-made playlist. If you are into that sort of thing, you can of course put together your own in advance. Otherwise there are so many options out there, I am sure you can find something more than suitable on whatever platform you use.
Do think about this in advance. No one needs a mouthful of bagel with silence in the background and a host losing their mind scrolling through the sky planner or screaming at Alexa! And do try to avoid anything with adverts.
What Genre Music?
So do you have to play smooth jazz or light radio 6 fodder? No. Not at all. Although that sort of thing does make for fairly inoffensive background music.
If you and your friends enjoy Sunday morning sing-a-long-a-Disney then feel free to pop that on. If you all love a bit of angsty grunge, go for it. I am personally a fan of a bit of 90s or classic country.
And if you're really stuck, there is always Michael Buble to fall back on. Even people that say they don't like Buble, love a bit of Buble with their brunch.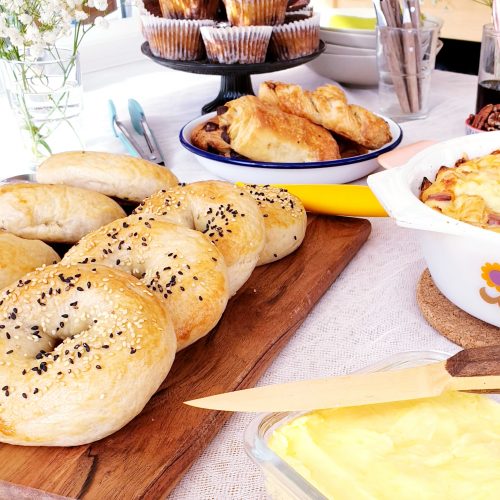 Games
I sometimes like to set my guests some kind of sociable task or competition to keep everyone occupied whilst I'm in the kitchen serving up or quickly finishing up a dish.
But I don't think that brunch is the time for this. Party games are much funnier when drinking. And no one has ever thought that 11am is a good time to crack out Cards Against Humanity.
The Celebrity Name Game
If you really feel the need to keep some kind of entertainment on hand, the celebrity name game is a good one.
You can pre-plan this by writing the name of a celebrity on a card and leaving it face down on each place setting.
Everyone can then take it in turns to show the rest of the table the name on their card (without looking) and ask a yes/no question to the rest of the table to help them figure out.
Suggest going around the table with one or two questions at a time to keep everyone involved.
Most people already know the general gist of the game so require little explanation. Just don't choose any too obscure celebrities. Here are some ideas in case you get stuck:
The Queen
Tom Hanks
William Shakespeare
Adele
Nelson Mandela

Donald Trump
Kim Kardashian
Bill Gates
Tiger Woods
Julia Roberts
Beyonce
Kylie Minogue
David Beckham
Marilyn Monroe
Cleopatra
Preparing for The Big Brunch Feast
The benefit of this Prep-Ahead Brunch Feast menu is that it can all be prepared in advance. The only work needed on the day of the Feast is for the casserole, oatmeal and bagels to be cooked through.
You then have an option to prepare everything well in advance, i.e anything from 3 days to 3 months in advance. But you will need sufficient space in your freezer to do this.
Or alternatively, you can prepare everything 1 or 2 days beforehand and keep it in the fridge/in airtight containers.
I am assuming that you want to prepare everything in one day but you can of course split up this timeline and make different recipes on different days, as and when you have time.
Preparation Schedule
I have provided a comprehensive preparation day schedule in my printable checklist which you can download for free. It really is incredibly helpful!
I followed this checklist and all of the recipes myself and I did it in 3 hours. This included the vast majority of the washing and cleaning up and a few chances to sit down for a breather.
But I have made these recipes before. Plus I'm a pretty confident cook and I knew that I had all the right bits of kit. So it may take you a little longer. But unless you stop for an actual nap, even if you really dilly around, I don't think it will take you any more than 4 hours to complete.
Preparation Tips
Do read through all of the recipes before you start.
Make sure to set a timer every time you put something in the oven. I have told you when to put things in but you need to keep track of when each thing needs to come out.
Try to do as much cleaning up as you go. Some pieces of equipment will need to be reused like the stand mixer bowl and measuring spoons.
Storing the Food
At this point you should now have 5 dishes cooling and some butter chilling in the fridge.
Once everything is fully cooled, you can prepare it for storage.
Cover the casserole and oatmeal dishes in clingfilm and a layer of foil.
Put the part cooked bagels into a large sandwich bag.
Spoon the cooled compote into its serving dish and cover with cling film.
Put the muffins into a large bag, plastic storage container or keep them in their muffin tin and cover them with cling film and foil.
The butter can be put in a lidded container or wrapped in greaseproof paper and clingfilm.
All of the items can now be put in the freezer. Or if you are within 2 days of your Feast, the fridge. The butter only needs to go into the freezer if the Feast is more than a week away. If they are not being frozen, the bagels can be kept in the cupboard or on the side.
Remember that everything will need to be removed from the freezer about 24 hours before your Feast in order that it has time to properly defrost. Ideally in the fridge.
Other Preparations and Table Setting
Apart from preparing the food in advance, the single best thing you can do to keep stress free on feast day is to set the table, get the crockery ready and have the decorations set up the day/evening before.
No last-minute faffing = No last-minute stress.
To make sure that you don't miss anything, make sure to download my Free Comprehensive Checklist. I've provided you with a reminder of everything you should make sure to have done the day before and on the day.
The checklist everything from getting the music ready, making sure all of the crockery is in the right place to setting the table itself and having the kitchen all ready to go.
On the Day Preparation Timeline
You now have all of the food cooked, the table is set and its the morning of the Feast. Because you have been super organised, there isn't that much to do at this point. But you do still have some things to do!
I would plan to start about an hour before you have asked people to arrive and plan for the hot food to be ready about half an hour after that time.
I have provided yet another checklist to help you through the morning in my free download! Don't miss out on the download, it makes everything so simple!
Catering for Allergies at A Big Brunch Feast
Each of my recipes includes details of whether they are gluten-free, egg-free, dairy-free and/or nut-free. Each recipe also gives suggestions for how to adapt them for these dietary requirements if needed.
If you have one or more people coming to your feast that have dietary requirements, often the easiest (and the nicest) thing to do is to make all of the dishes suitable for them. If this isn't possible, making as many of the dishes suitable as possible is great.
Anyone with allergies will be super grateful for your effort but I would always recommend talking about the menu with them directly.
There may be things to consider that you haven't thought of and you could equally waste time making unnecessary changes. There is no point in making nut free banana oatmeal if that nut-free person hates banana!
And also don't be offended if anyone wants to bring their own food. I would much rather that someone came to my feast and enjoyed themselves worry-free rather than giving us both anxiety about allergy-friendly food.
Please note that this recipe may contain other allergens not referred to above and any variations suggested have not been tested unless otherwise stated. For more information regarding any dietary information provided on this website, please refer to my Nutritional Disclaimer.
How to Download the Big Brunch Feast Preparation Checklist
Complete the form below to receive a link to my free and comprehensive Big Brunch Feast Preparation Checklist right into your email inbox!
The checklist includes worksheets to help you plan your guest list, the final menu, and everything you need to serve the feast. It also includes timelines and checklists for preparing the food in advance, preparing the table and food serving area, and hosting on the day. Plus it includes a bonus shopping list!
Still Have Questions?
Simple! Just contact me and I will do my best to help as quickly as I am able. Head over to my Contact Me page, any of my social media channels or post a comment at the bottom of this page and I'll see what I can do.
Pin The Big Brunch Feast For Later
Hit one of the share buttons to save this page to your Pinterest boards so you can come back and find it at anytime!
Keep Up to Date
Make sure you SUBSCRIBE to my newsletter and avoid missing out on any of my newest and bonus content. Don't worry, I promise not to spam you or bombard you too often. Plus you'll receive a copy of my FREE 7 Day International Meal Plan!

Also please don't forget to follow me over on my social media channels over at Facebook, Twitter, Instagram and Pinterest. I love to interact with my followers and I'd love you to share my content with your friends too.