Puff Pastry Sausage Rolls are some of the most moreish foodstuffs on the planet. There is a reason Greggs Sausage Rolls are so damn popular you know! But they are super easy to make at home with great sausage meat for an even better version!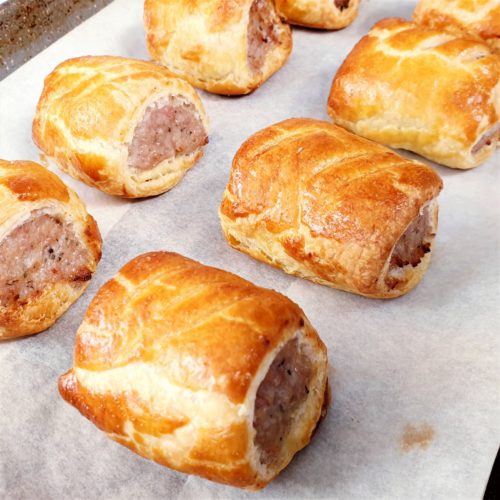 This post may contain affiliate links. Please refer to my Disclosures Page for more details.
Homemade Sausage Rolls are just amazing. I defy you not to have popped two before serving them up. Maybe more!
I first made proper puff pastry on my first course at that Denman College Cookery School. Naturally the first thing we did with them was make sausage rolls. They are a classic for a reason. I am only sad that they are not really a thing for whole nations.
Looking for a sausage roll in the US? You're gonna struggle folks. You may come across a "Pig in a Blanket" which is not a glorious chipolata wrapped in bacon as you might imagine, but a tiny hotdog wrapped in pastry. Or even sweet bread or "biscuit" dough. I know right?!
How to Make Homemade Sausage Rolls – Step By Step Video
I've written my recipe to use up one sheet of ready rolled puff pastry which uses roughly 6 thick sausages and makes 12 sausage rolls.
Alternatively you can use a half batch of my Homemade Puff Pastry recipe to make the same quantity. The recipe is easily scaled up using the adjustable portion box on my recipe below.
If you are looking to make a smaller one bite version, I have the recipe just for that – Mini Sausage Rolls. And if you're looking for a meal size version, try my family sized Sausage Plait! And if you want to go full festive, I've got you covered with my Christmas Sausage Rolls with Cranberry & Chestnut.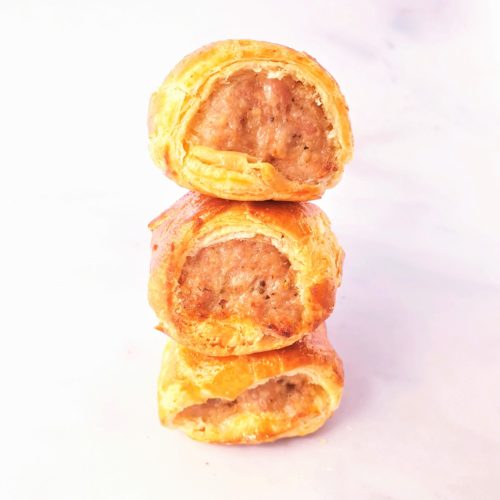 Make Puff Pastry Sausage Rolls into a Feast
I truly believe that you can make any dish into a proper feast! Whether thats a feast for one after work on a Tuesday, a casual feast for four on a Friday evening or a feast for 12 for a special occasion!
Sausage Rolls are incredibly versatile. They can be included in a Buffet or Picnic Feast along with Quiche, Scotch Eggs and Sticky Toffee Cakes. They can be served warm with beans and chips for a cheeky dinner or thrown into a lunchbox.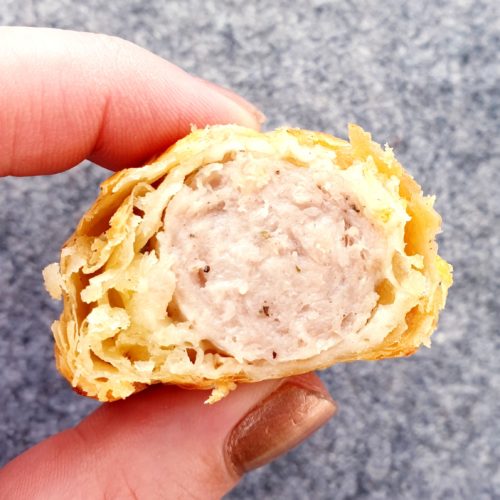 If that wasn't enough, I like to serve them as part of an Afternoon Tea Feast with dinky sandwiches and Scones! Don't forget to include more sweet treats like my Choc Chip Orange Muffins too!
Head over to my Feast Collection pages to find all of my tips and tricks to help you host a fun and stress-free feast. Plus remember to check out my recipe index to create your own awesome Feast!
More Sausage Roll Recipes
You can now find all of my sausage roll recipes in one place. Plus I've included a few extra bonus sausage based recipes too!
Ingredients for Puff Pastry Sausage Rolls
There are only really two main ingredients for sausage rolls…
Pastry
I am always going to recommend using puff pastry for a sausage roll. The texture is just right. But that doesn't mean to say that you can't use a rough puff or flaky pastry.
I am not hugely keen on using shortcrust pastry however. The texture is just not as good. But you know what? If you have some spare shortcrust to use up and some sausages/sausage meat going spare then go for it! They'll still taste great and no one wants food waste!
[Update! – Having had a little bit of a renaissance in my life, I've now decided that I am actually quite a fan of shortcrust pastry sausage rolls and I've published a dedicated recipe!]
As I mentioned above, homemade or store-bought pastry is fine for this recipe, even the ready rolled stuff. There are a number of varieties available nowadays and I'd urge you to splash out on an "all butter" puff pastry if possible.
Sausage Meat
Sausage Meat is not all created equal. Just like all sausages are not created equal. And preference is largely an individual preference.
Personally I'm not too keen on anything too peppery or too coarse. I do like a sagey Lincolnshire sausage and shhhh don't tell anyone(!) but I love a Richmond sausage. Just don't EVER look at the ingredients.
So choose your favourite sausages for your sausage rolls, take the skin off and voila, you have sausage meat! (Maybe don't use Richmond. Even I draw a line there!)
If you have any leftover sausagemeat, you can always whip up a batch of Sausage Gravy for breakfast.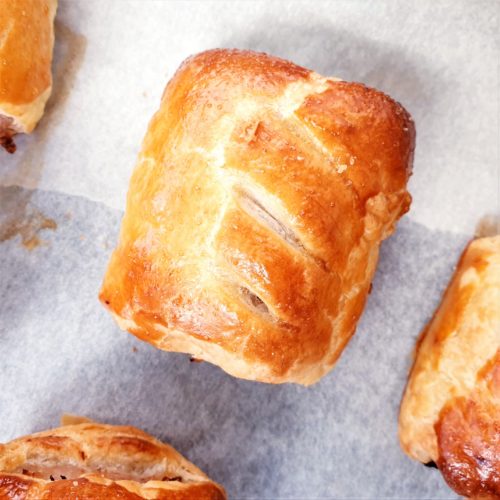 Be Flexible
There are a million ways to zhuzh up sausage meat. If you buy something quite plain you can add any herbs, spices and flavourings that you fancy. The only restriction is that you don't want to make your sausage meat too wet.
I love the combination of Chilli and Oregano that I add to my Soda Bread and I think that would be a fab flavour combo to add to sausage rolls.
I know someone that adds nearly all the condiments in the cupboard – including ketchup and mustard! Think of flavours you like and go crazy experimenting.
The second way to add flavour to the inside of the pastry is to add an extra ingredient layer between the pastry and sausage meat. I am a particular fan of adding a layer of homemade chutney to my sausage rolls.
You can also be flexible with the shape. My recipe makes 2/3 bite sausage rolls. Cut the recipe into 4 rather than 8 and end up with larger snack sized rolls or make them thicker (and cook them longer) to make 2 meal size rolls. For Mini Cocktail Sausage Rolls you can check out my companion recipe!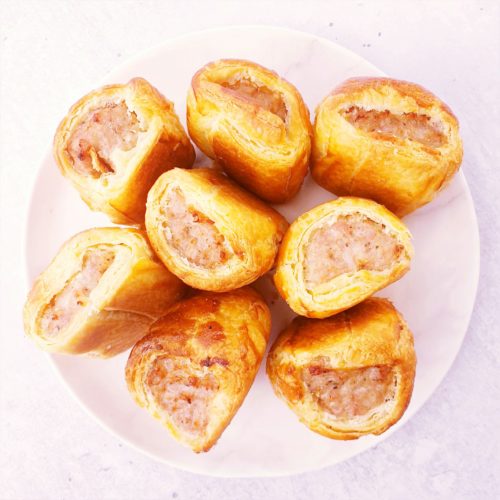 Make it Vegan or Vegetarian Sausage Rolls
Gone are the days of sad Glamorgan Sausages. There are tonnes of really good quality vegetarian and vegan sausages out there. So just substitute the meaty sausage meat for veggie or vegan sausage meat.
To make this super easy, I have created a pure vegan puff pastry version so you should check out my Vegan Sausage Roll recipe instead of trying to adapt this!
Make it Allergy Friendly
This recipe is nut free although all individual ingredients should be checked to ensure that they are also nut free.
Dairy Free: Make sure to use vegan pastry and to buy sausages that don't contain any dairy (they shouldn't anyway but we all know how companies love to add extra unnecessary ingredients!)
Egg Free: Use a milk wash rather than the egg glaze.
Gluten Free: There are a number of gluten free, ready made pastries available to buy now. Double check the freezer section if you are struggling. Also ensure that the sausages that you buy are gluten free.
The majority of major supermarkets and brands have now removed gluten from their better quality sausages as standard so this shouldn't be too much of a problem now.
Please note that this recipe may contain other allergens not referred to above and any variations suggested have not been tested unless otherwise stated. For more information regarding any dietary information provided on this website, please refer to my Nutritional Disclaimer.
Equipment Notes for Puff Pastry Sausage Rolls
I did not own a rolling pin for many many years. Instead I used a roll of clingfilm. When I was finished, I just disposed of the last layer off the roll. This was all very well and good but clingfilm tends to have a distinct lack of weight to it.
A couple of years ago, I asked for a marble rolling pin for Christmas. I have not looked back. They're not expensive but absolutely brilliant. I use the weight of the rolling pin to do the rolling rather than exerting great pressure on the pin.
A good sharp knife will help with getting nicely sliced sausage rolls without super squished ends. A good knife steel will help to keep your knives good and sharp, regardless of how much those knives cost. Sharpening isn't just the preserve of a fancy Sabatier set.
I make sure to use a good large baking tray to make sure that the sausage rolls have a good amount of space to puff up and expand without hitting the other rolls. Lining the tray with baking parchment will ensure that the rolls don't leave the bottom layer of pastry stuck to the tin!
A meat thermometer is really handy to keep around to check that the meat is cooked all the way to the middle. The centre of the rolls should reach 75c.
A comprehensive list of the equipment used to make this recipe is included in the main recipe card below. Click on any item to see an example. There are no hard and fast rules so many items can be sensibly substituted to achieve the same results.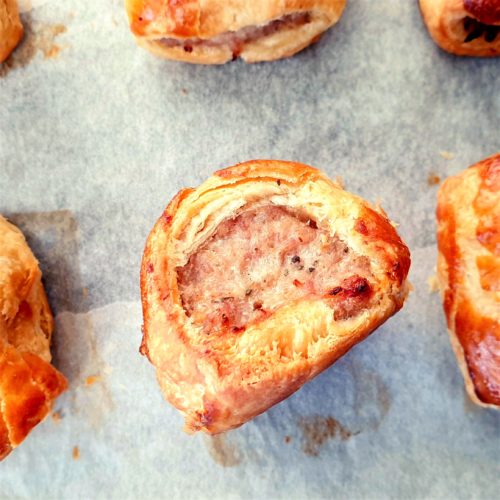 Get Ahead
You can make Puff Pastry Sausage Rolls a few days in advance and store them in the fridge without any problems. Apart from fridge pickers. I'd have to hide them or end up making another batch!
Puff pastry is a great item to keep stashed in the freezer. I usually keep some sausages in there too so a sausage roll is never too far away!
It is a great thing to make the sausage rolls all the way up to the pre-baking chilling stage. But instead of chilling them, freeze them. It is best to freeze them on trays with a little space. Once they are frozen, you can put them into a bag or box and keep them frozen in a much smaller space.
You can cook frozen sausage rolls from frozen. You will need to add circa 10 minutes to the cooking time.
Leftover Homemade Sausage Rolls
Pop them in the freezer! But be warned, the crispiness of the pastry will be lost unless they are reheated in the oven to get crispy again. I love a bit of soggy pastry so this is fine by me!
I also love to microwave my sausage rolls and then drown them in baked beans. Oh so soggy!

My Puff Pastry Sausage Rolls will otherwise last for a good few days in the fridge.
Puff Pastry Sausage Rolls Tips
Make sure that your surface is well floured before rolling out your pastry.
But make sure to brush off any excess from the pastry before rolling or your pastry won't stick. I keep my silicone pastry brush handy for this.
If you wet your hand before handling the sausage meat, this will stop it sticking to you in a sticky mass. Re-wet between dealing with each new section.
Not liking waste, I tend to bake all of my trimmings for some tasty little cooks treats straight out of the oven.
Take a little time with your egg wash. try not to get it everywhere but cover all sides of the sausage rolls. My silicone pastry brush pulls double duty for this task too.
Anyone else have a craving for sausage rolls and baked beans now? Oh, just me!
Don't forget to let me know in the comments if you try making this recipe – I want to know what you think and if you made any substitutions, how did it turn out?
Still Have Questions?
Simple! Just contact me and I will do my best to help as quickly as I am able. Head over to my Contact Me page, any of my social media channels or post a comment at the bottom of this page and I'll see what I can do.
Pin Puff Pastry Sausage Rolls For Later
Hit one of the share buttons to save this page to your Pinterest boards so you can come back and find it at anytime!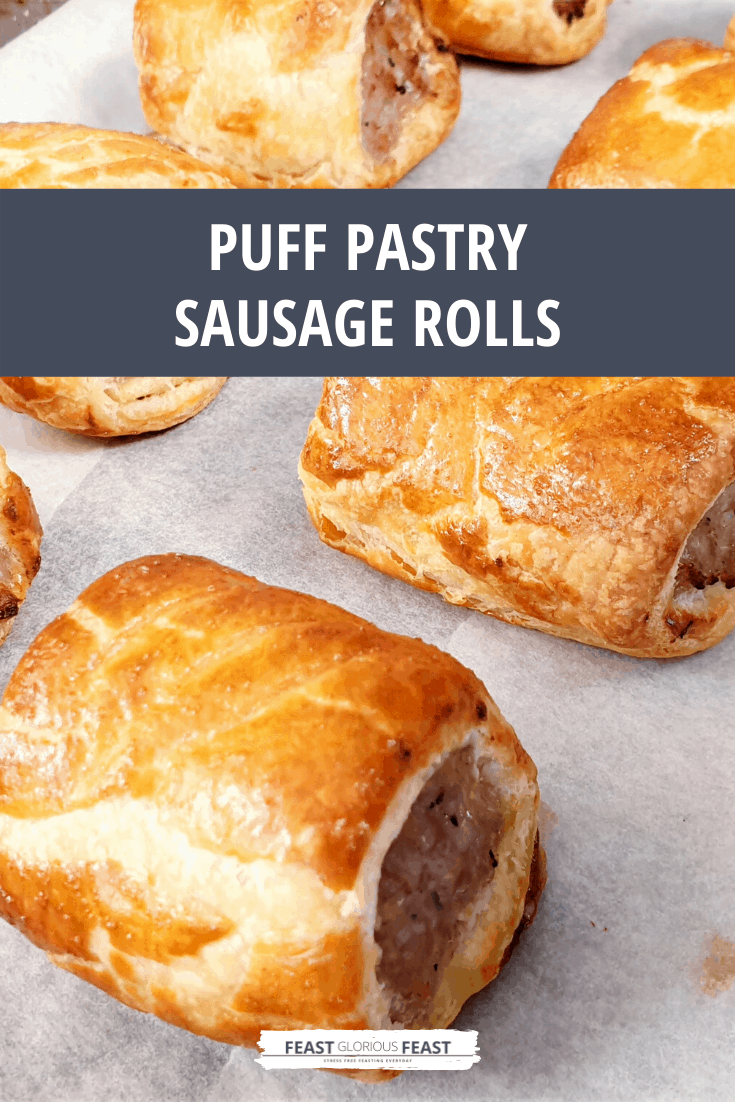 Keep Up to Date
Make sure you SUBSCRIBE to my newsletter and avoid missing out on any of my newest and bonus content. Don't worry, I promise not to spam you or bombard you too often. Plus you'll receive a copy of my FREE 7 Day International Meal Plan!

Also please don't forget to follow me over on my social media channels over at Facebook, Twitter, Instagram and Pinterest. I love to interact with my followers and I'd love you to share my content with your friends too.
---
More Puff Pastry Recipes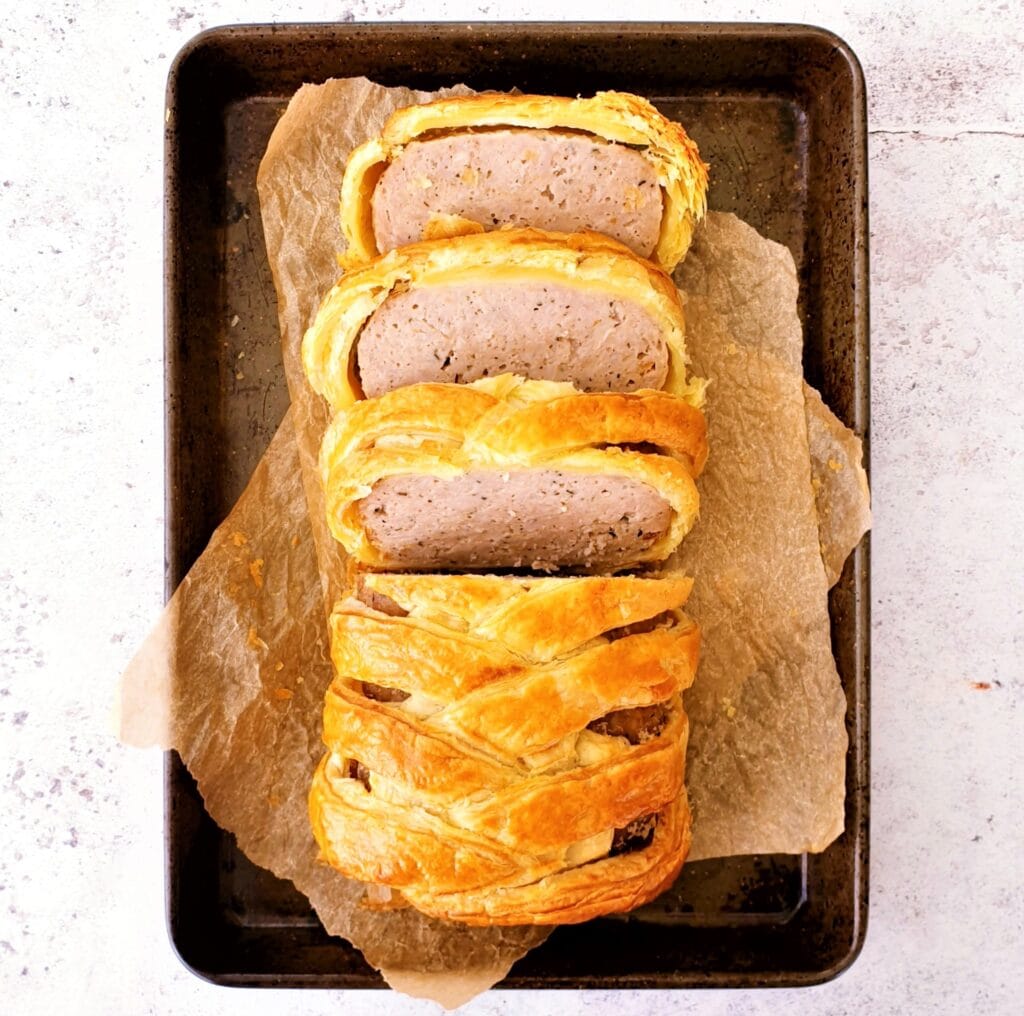 ---
---
The Recipe
Puff Pastry Sausage Rolls
---
Puff Pastry Sausage Rolls are some of the most moreish foodstuffs on the planet. There is a reason Greggs Sausage Rolls are so damn popular you know! But they are super easy to make at home with great sausage meat for an even better version!
Instructions
Preheat the oven to 200c/390f fan | 220c/430f or equivalent.

Roll

320g Puff Pastry

out on a floured surface to about 0.25 inch thickness. Or unroll a sheet of ready rolled pastry.

Cut the sheet into half lengthways with a sharp knife.

Skin enough sausages to get

450g Sausage Meat

. Or if using ready prepared sausage meat, split it into two and form each half into a long sausage.

Place the sausage meat around ⅔ of the way along each pastry strip. Make sure it reaches from end to end. You can mold the sausage meat into the right shape. Make sure to press the end of one sausage into the next if you are using skinned sausage.

Beat 1 Egg in a small bowl. Use a pastry brush to cover the large side of exposed pastry.

Start to roll the pastry around the sausage meat starting with the unwashed smaller top section. Keep the pastry nice and tight to the sausage meat.

Continue to roll until the meat is totally sealed. Wet your finger a little and gently press along with pastry seam – this will allow the pastry to meld together and reduce the likelihood of the pastry coming apart as it cooks.

Using a sharp knife make gentle diagonal slashes down the whole of each roll.

Use the same sharp knife to cut the end off of each roll to neaten it up if needed. Cut each roll into two and place the 4 rolls next to each other on the board. Use the knife to saw rather than press down or you will squash the rolls.

Wipe the knife and cut all 4 rolls into 3 equal pieces. Wipe the knife again in between each cut. Don't forget not to press to hard.

Move each roll to a lined baking tray, seam side down. Make sure the rolls each have ample room to expand.

Generously egg wash the top and sides of each sausage roll. Make sure to not wash the exposed ends or sausage meat.

Bake for

15 minutes

until light golden brown. They may need slightly longer depending on your oven. Use your eyes and judgement. If your oven does not cook evenly, turn the tray midway through cooking.

Try to let them cool a bit before serving but I think we all know they're not going to last long!
Nutrition (Approx)
Calories:
266
kcal
|
Carbohydrates:
12
g
|
Protein:
8
g
|
Fat:
20
g
|
Saturated Fat:
6
g
|
Trans Fat:
1
g
|
Cholesterol:
41
mg
|
Sodium:
310
mg
|
Potassium:
114
mg
|
Fiber:
1
g
|
Sugar:
1
g
|
Vitamin A:
48
IU
|
Vitamin C:
1
mg
|
Calcium:
8
mg
|
Iron:
1
mg
Download my FREE 7 day international meal plan!
Simply subscribe to the Feast Glorious Feast newsletter and I'll send you the link.