Is a party even a party without a pile of Mini Sausage Rolls? I don't think so! These little puff pastry cloaked sausage morsels are so moreish you'll need to make a second batch!
This post may contain affiliate links. Please refer to my Disclosures Page for more details.
One of the most popular recipes on Feast Glorious Feast is my Puff Pastry Sausage Roll post. And that is swiftly followed by my Greggs Copycat Vegan version. So I couldn't not bring you my recipe of this mini cocktail version.
I've been making and buying piles of party sausage rolls my whole life. They're actually one of my favourite things. It doesn't matter if they're hot or cold, I simply can't keep my greedy little hands off them,
The ingredients are identical – puff pasty, sausages or sausage meat and an egg to glaze them before baking. And the method is effectively the same. Roll sausage meat in pastry, glaze and bake.
The difference is that this version of the recipe will give you the perfect proportions to make 36 delightful tasty bites from each sheet of pastry.
If you're looking for the other end of the scale, check out my family size Sausage Plait recipe!
How to Serve Mini Sausage Rolls
They are as good served cold on a buffet or platter or at a picnic as they are hot and fresh out of the oven. Whether it's a birthday party, christening or Christmas party, no one has ever said no to a cheeky sausage roll.
They're also super versatile and are great for throwing in an adult or child's packed lunch. And they're equally great warmed and served with chips and beans for a fun lunch or tea. Or a cheeky after work or school snack.
Make Party Sausage Rolls into a Feast
I truly believe that you can make any dish into a proper feast! Whether thats a feast for one after work on a Tuesday, a casual feast for four on a Friday evening or a feast for 12 for a special occasion!
Sausage rolls scream old school British buffet to me! So I'm also going to make some Scotch Eggs, Creamy Coleslaw, Pigs in Blankets (you can't have enough sausage at a buffet) and some nice traditional sandwiches like ham and egg mayo!
If you're feeling fancy and want to throw in some international flavours, you could also add some Chicken Satay Skewers, bowls of Homemade Hummus and Chorizo Rose Tarts.
And you can forget making anything else at all, "Christmas Mini Sausage Rolls" are totally a thing. You make a batch and you just pop one in regularly at any given moment in December. They sit perfectly alongside Puff Pastry Mince Pies. Although in hindsight, this might actually be just me.
Don't forget to head over to my Feast Collection pages to find all of my tips and tricks to help you host a fun and stress-free feast. Plus remember to check out my recipe index to create your own awesome Feast!
Ingredients for Mini Sausage Rolls
Sausage
You can either buy ready prepared sausage meat. It is possible nowadays to get this is different varieties like Lincolnshire or Cumberland. But the most sure fire way to ensure that you're using the best quality sausage meat with a flavour that you love is to just buy sausages and take the skin off.
I will always be partial to a Lincolnshire sausage which is pork with a little sage. There is no issue with keeping to classic plain pork or going totally off piste with chorizo sausage, lamb sausage or even chicken sausage.
Pastry
I love to make my own Homemade Puff Pastry. I find it quite therapeutic and the final result is simply unbeatable. But realistically like the vast majority of people I tend to buy it ready made. In fact I generally go that step further and buy it ready rolled.
I always use puff pastry. I'm pretty obsessed with it. But if you happen to have some rough puff, flaky or shortcrust pastry handing around, you could use that. But the results won't be quite as puffy and buttery as if you use proper puff pastry.
[Update! – Having had a little bit of a renaissance in my life, I've now decided that I am actually quite a fan of shortcrust pastry sausage rolls and I've published a dedicated recipe!]
If is worth looking for the "all butter" versions of ready made puff pastry which is much more commonly available than it once was.
Be Flexible
There are lots of options for mixing up the recipe. The main way is to change up the flavour of the sausage or sausage meat used. This can be simply adding a herb or a spice. Or mixing in another ingredient like caramelised onions or mushrooms.
The next option is to add another ingredient between the pastry and sausage. You could smear a layer of spicy mustard, chutney or even something like a Korean kimchi. Or take it a step further and add a layer of bacon, salami or prosciutto.
The last main option for varying the recipe is to add something to the outside of the pastry. Sesame seeds, poppy seeds or another mixed seasoning like "everything bagel" would be great.
I most often tend to do this when I'm making several different flavours of sausage roll so I have a way of distinguishing them from each other.
Make it Vegetarian or Vegan
To make sausage rolls vegetarian is relatively simple. You just need to replace the sausage meat with a vegetarian sausage and proceed as normal.
To make them vegan requires taking a few more aspects into account. I would refer you to my Vegan Sausage Roll recipe for much more detailed information.
Make it Allergy Friendly
This recipe is free from nuts.
Gluten Free: Gluten free puff pastry can easily be bought and used as a substitute where needed. It tends to be more commonly found in the freezer section but is becoming more common the chillers. You should also ensure that the sausage is gluten free. Again this is becoming more more common and easier to find even within mainstream ranges.
Dairy Free: Most standard commercially available puff pastry is actually vegan. But the all butter kinds are obviously not. So it should not be difficult to source dairy free puff pastry.
Egg Free: Replace the egg glaze with milk or cream.
Please note that this recipe may contain other allergens not referred to above and any variations suggested have not been tested unless otherwise stated. For more information regarding any dietary information provided on this website, please refer to my Nutritional Disclaimer.
Equipment Notes for Cocktail Sausage Rolls
I love my little flour shaker. It makes evenly dusting a surface with flour easy and a little less messy than scattering it by hand. Add one to your Christmas list.
A good sharp knife will help with getting nicely sliced sausage rolls without super squished ends. A good knife steel will help to keep your knives good and sharp, regardless of how much those knives cost. Sharpening isn't just the preserve of a fancy Sabatier set.
I make sure to use a good large baking tray to make sure that the sausage rolls have a good amount of space to puff up and expand without hitting the other rolls. Use more than one tray if you need to. Lining the tray with baking parchment will ensure that the rolls don't leave the bottom layer of pastry stuck to the tin!
A meat thermometer is really handy to keep around to check that the meat is cooked all the way to the middle. The centre of the rolls should reach 75c.
A comprehensive list of the equipment used to make this recipe is included in the main recipe card below. Click on any item to see an example. There are no hard and fast rules so many items can be sensibly substituted to achieve the same results.
Get Ahead
Sausage rolls are ideal for prepping ahead of time. The best way to do this is to prepare them right up to the point that you would bake them and then freeze. It is best to freeze them individually on a tray and them move them to a bag or box once frozen solid. Otherwise they will just freeze as one big lump.
You can also prepare them earlier in the day before baking a little later to serve fresh. I wouldn't do this more than 10 to 12 hours in advance or the pastry has a tendency to discolour. Do also make sure to store them covered in a fridge.
Leftover Sausage Rolls
Leftovers never tend to hang around for very long. In my house mini sausage rolls and the like are know as "poppers". Because every time you walk past you pop on in your mouth. Or 2. Or 3.
The vast majority of the time I tend to just eat them cold but I also sometimes pop them into the microwave. I quite like the way the pastry goes soft. For a crispier reheat, I pop them into my airfryer or give them a few minutes in a hot oven.
if you need to keep them for a later date simply pop them into the freezer. They can be eaten cold once thawed or reheated as normal.
Mini Sausage Roll Tips
Make sure to use a really good sharp knife when cutting the long rolls into smaller rolls.
It is worth spending those extra few seconds to make sure that the seam on the rolls is properly sealed. You can use your finger to smudge the two pieces of pastry together.
Don't forget to let me know in the comments if you try making this recipe – I want to know what you think and if you made any substitutions, how did it turn out?
Still Have Questions?
Simple! Just contact me and I will do my best to help as quickly as I am able. Head over to my Contact Me page, any of my social media channels or post a comment at the bottom of this page and I'll see what I can do.
Pin Mini Sausage Rolls For Later
Hit one of the share buttons to save this page to your Pinterest boards so you can come back and find it at anytime!
---
Keep Up to Date
Make sure you SUBSCRIBE to my newsletter and avoid missing out on any of my newest and bonus content. Don't worry, I promise not to spam you or bombard you too often. Plus you'll receive a copy of my FREE 7 Day International Meal Plan!

Also please don't forget to follow me over on my social media channels over at Facebook, Twitter, Instagram and Pinterest. I love to interact with my followers and I'd love you to share my content with your friends too.
More Sausage Roll Recipes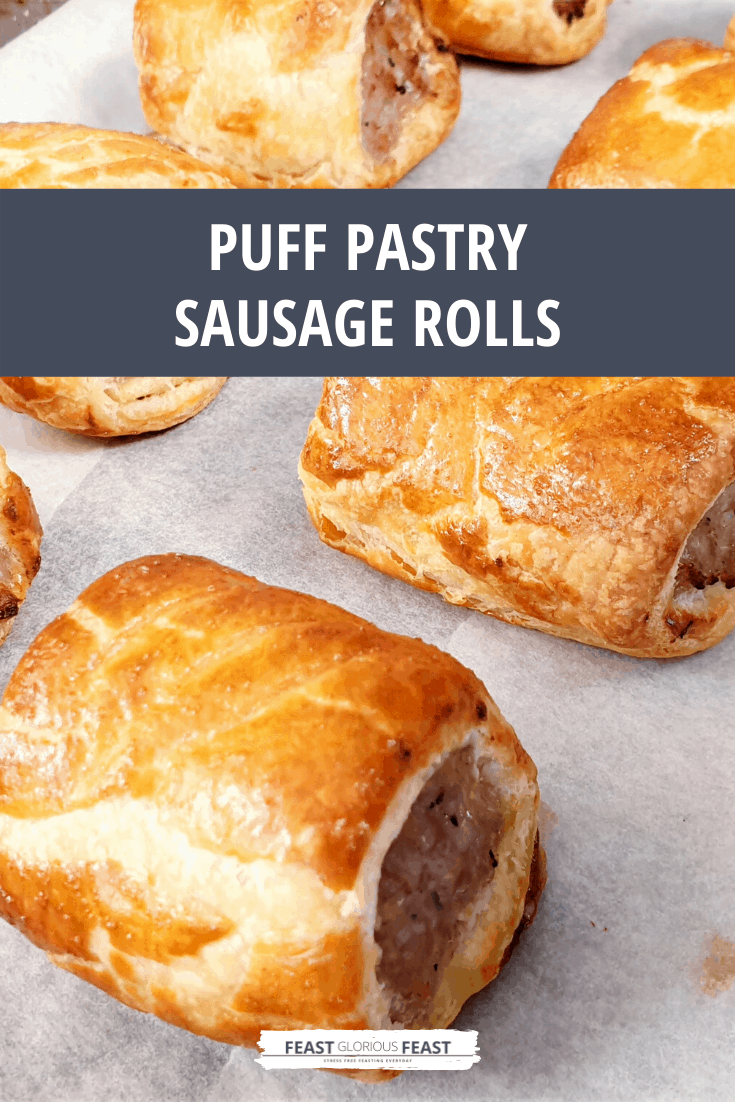 The Recipe
Mini Sausage Rolls with Puff Pastry
---
Is a party even a party without a pile of Mini Sausage Rolls? I don't think so! These little puff pastry cloaked sausage morsels are so moreish you'll need to make a second batch!
Instructions
Preheat the oven to 200c fan. Line a large oven tray with baking parchment.

Roll

375 g Puff Pastry

into a large rectangle or unroll a sheet of ready rolled puff pastry on a floured surface.

Use a sharp knife to cut the pastry sheets into 3 equal pieces. Make the shorter cut of the two or the pastry will be too thin to roll.

Remove the skins from

500 g Pork Sausage Meat

.

Divide the sausage meat evenly along the middle of each pastry strip. I did this by rolling each unskinned sausage a little thinner and squidging the ends together.

Beat

1 Egg

in a small bowl,

Use a pastry or silicone brush to egg wash all of the exposed pastry.

Roll the pastry around the sausage meat.

Make sure to fully seal the edges together so that it doesn't come apart during the cooking process.

Line up the long sausage rolls and use a sharp knife to cut them all in half.

Cut each half roll into 6 further pieces. I do this by halving each again and then cutting each smaller roll into 3.

Move the rolls onto the lined baking tray.

Use more of the beaten egg to wash the tops and sides of each sausage roll. Spend a little time doing this so that they're fully covered (not the ends with exposed sausage meat).

Bake the rolls for

20 minutes

until they are a light golden brown and the sausage meat is cooked all the way through. You can cut into one to check.
Nutrition (Approx)
Serving:
1
roll
|
Calories:
101
kcal
|
Carbohydrates:
5
g
|
Protein:
3
g
|
Fat:
8
g
|
Saturated Fat:
2
g
|
Cholesterol:
15
mg
|
Sodium:
116
mg
|
Potassium:
42
mg
|
Fiber:
1
g
|
Sugar:
1
g
|
Vitamin A:
17
IU
|
Vitamin C:
1
mg
|
Calcium:
3
mg
|
Iron:
1
mg
Download my FREE 7 day international meal plan!
Simply subscribe to the Feast Glorious Feast newsletter and I'll send you the link.