These easy Vegan Sausage Rolls only use 3 ingredients to make flaky meat free sausage rolls that could well be straight from Greggs. They're ideal to eat hot or cold, at home or on the run and they're ready to go in just 30 minutes!
This post may contain affiliate links. Please refer to my Disclosures Page for more details.
This recipe has been a while in the making. My Puff Pastry Sausage Rolls are by far one of my most popular recipes. Greggs closing during the 2020 lockdown may well have had something to do with that!
But its been on my mind that I wanted to try and create a homemade alternative to the Greggs vegan sausage roll. For a couple of reasons, curiosity being the main one.
Vegan food isn't really my thing although its been interesting as this site has evolved to discover how many of the things that I eat are naturally vegan. From Guacamole to Roasted Aubergines and even Roast Potatoes, Satay Sauce and Mango Ice Cream.
The other reason is that when I looked around, I couldn't really find any recipes to make this kind of sausage roll. Large, flaky sausage rolls with soft "meat like" sausage filling. Red lentils, strange ingredients and miso paste can only take you so far. Plus if you're trying something like Veganuary then this kind of recipe and food is much more accessible and appealing.
How to Make Vegan Sausage Rolls – Step By Step Video
There is a reason that the Greggs version is so popular with vegans, vegetarians and meat eaters alike; familiarity. So I created one that is as close as I could possibly make it. And I tell you what, they're really close, especially if you take a couple of minutes to score the lattice pattern into the pastry.
How to Serve Vegan Sausage Rolls
I like to serve them hot. Fresh out the oven will always be best but cold is fine too.
I do actually like to make them into a proper meal too. Although they are obviously just as great in a lunchbox or a picnic. You could always make smaller ones for kid's lunches etc.
For a full meal, I don't think you can really beat chips and beans. I do sometimes switch out regular potato chips/fries for my Garlic Sweet Potatoes or even a jacket/baked potato. And as I am not vegan, I'll sometimes add a fried egg or two too.
Obviously if you can find a paper bag to eat them out of whilst huddled just outside your front door, you will be able to replicate the full Greggs experience!
Make Vegan Sausage Rolls into a Feast
I truly believe that you can make any dish into a proper feast! Whether thats a feast for one after work on a Tuesday, a casual feast for four on a Friday evening or a feast for 12 for a special occasion!
Vegan Sausage Rolls are perfect for a picnic or buffet feast. To keep the whole meal vegan, you could also serve up Guacamole and tortilla chips, Tofu Summer Rolls with Satay Sauce for dipping and an easy Couscous salad. Don't forget the Hummus and flat bread too.
For some sweet treats, you could also create vegan versions of my Best Ever Scones, my Vanilla Butterfly Cakes or Chocolate Cornflake Cakes. Do remember that all of my recipes include suggestions for how to make them vegan or vegetarian suitable.
Don't forget to head over to my Feast Collection pages to find all of my tips and tricks to help you host a fun and stress-free feast. Plus remember to check out my recipe index to create your own awesome Feast!
Ingredients for Vegan Sausage Rolls
Vegan Sausages
I have simply stated "vegan sausages" in the recipe because not everyone will be able to get hold of the same brands where they are in the world.
You should look for a meat substitute sausage, not something made out of beetroot or a shedload of nuts and hard to pronounce grains. So we're generally looking at seitan, tempeh, soya or quorn based products.
Greggs use a bespoke Quorn product but it is worth noting that many commercially available Quorn products contain egg. Although they do appear to be working on removing it from their recipes.
Here in the UK, the brand that I have found most closely resembles the, lets be honest, soft and slightly mushy texture we're looking for, is the meat-free sausage from Richmond. They are made from soya and wheat and contain the right about of pepper to make then Greggs worthy.
I have no association with Richmond, I just did some testing and these are what I preferred. 8 sausages are perfect to make 4 large sausage rolls.
Puff Pastry
Surprise! Most commercially available puff pastry is vegan. Obviously you need to check the packaging carefully and avoid the all-butter kind.
I would highly recommend buying a ready rolled sheet of pastry to make this recipe. They are the perfect size and shape to simply cup into 4 without any faff.
If so inclined you could make you own Puff Pastry. My clear step by step recipe also includes suggestions for how to make it vegan.
Plant Based Milk
Choose your preferred type and brand. I used a soya milk. Be aware that the type you use will likely affect the lustre on the finished sausage rolls.
I highly recommend avoiding anything which is sweetened or highly flavoured. I would especially avoid coconut milk here.
Be Flexible
You really can take the basic premise of puff pastry and vegan sausages and create whatever shape and size sausage roll you like.
You can make very long thin sausages and then cut them into bite size pieces for picky cocktail sausage rolls or just make them half the size I've suggested here.
Or you can add in other ingredients. I am especially fond of adding a layer of red onion chutney under the sausage meat for example.
If you would prefer to veer away from the Greggs version of sausage rolls and use shortcrust pastry instead, you can easily do this. You can see from my Shortcrust Pastry Sausage Rolls recipe that all you need to dois switch the pastry type – everything else stays the same.
Make it Vegetarian or Vegan
Bingo! This recipe is suitable for veggies and vegans alike. Just make sure to check the ingredients of your pastry and sausages.
Make it Allergy Friendly
This recipe is free from egg, dairy and nuts.
Gluten Free: You can now buy sheets of ready rolled gluten free pasty which are also vegan so you would need to switch this for the gluten pastry.
You will also need to ensure that your sausages are gluten free. The Richmond sausages that I used sadly are not.
Please note that this recipe may contain other allergens not referred to above and any variations suggested have not been tested unless otherwise stated. For more information regarding any dietary information provided on this website, please refer to my Nutritional Disclaimer.
Equipment Notes for Vegan Sausage Rolls
You do not need too much in the way of equipment to make vegan puff pastry sausage rolls. A good sharp knife will help you de-skin the sausages and cut the pastry as well as create the lattice pattern.
If you have a specialist lattice cutting roller, this is an excellent time to crack it out.
Otherwise you simply need a standard baking tray and a brush to wash the pastry with the plant milk.
A comprehensive list of the equipment used to make this recipe is included in the main recipe card below. Click on any item to see an example. There are no hard and fast rules so many items can be sensibly substituted to achieve the same results.
Get Ahead
These easy sausage rolls are fabulous to make up in a large batch to freeze. Simply put them in the freezer on a tray so they aren't touching. Once they're fully frozen, move them to a container or freezer bag for more compact storage.
You can then cook them straight from frozen. You will need to add some extra time to the cooking time. You could also knock 10c/20f off the cooking temp to ensure that they cook right through to the middle without overly browning.
They can also be made up and kept in the fridge for up to 24 hours before being cooked.
Leftover Vegan Sausage Rolls
As a snack food which is fine eaten cold, I'm not really sure at what point sausage rolls become leftovers! But if you do have a surplus which you don't think will get eaten within a few days, you can pop them into the freezer. You can eat them as soon as they are thawed or warm them up first.
As for warming up leftovers, you have 2 main options. The oven will take longer but keep them crispier. The microwave will be quicker but the pastry will be soggier. I am personally a fan of soggy pastry so this is my go-to.
There is however a third option which I also often use when cooking them from frozen. That is throwing them in the actify (air fryer). You don't need to wait for the oven to pre-heat but you keep an element of crisp pastry. Just don't forget to take out the paddle or you'll end up with a pile of mush and crumbs!
Vegan Sausage Rolls Tips
You don't need to cut a lattice into the pastry. I was mostly just trying to replicate the Greggs ones. They'll taste the same without although it is quite fun to get into the rhythm of cutting and to see the final effect.
If you don't lattice cut, fold the pastry over the sausage and then make 3 large slashes in the pastry instead. This will help it rise.
Do keep making sure that the pastry isn't stuck to the surface as you're working. You don't want to cut a lovely lattice to find that its welded to the surface. You can employ some flour if needs be.
Please don't be tempted to not skin the sausages. This is doesn't give you a very nice texture to eat at all!
Don't forget to let me know in the comments if you try making this recipe – I want to know what you think and if you made any substitutions, how did it turn out?
Still Have Questions?
Simple! Just contact me and I will do my best to help as quickly as I am able. Head over to my Contact Me page, any of my social media channels or post a comment at the bottom of this page and I'll see what I can do.
Pin Vegan Sausage Rolls For Later
Hit one of the share buttons to save this page to your Pinterest boards so you can come back and find it at anytime!
---
Keep Up to Date
Make sure you SUBSCRIBE to my newsletter and avoid missing out on any of my newest and bonus content. Don't worry, I promise not to spam you or bombard you too often. Plus you'll receive a copy of my FREE 7 Day International Meal Plan!

Also please don't forget to follow me over on my social media channels over at Facebook, Twitter, Instagram and Pinterest. I love to interact with my followers and I'd love you to share my content with your friends too.
---
More Sausage Roll Recipes
You can now find all of my sausage roll recipes in one place. Plus I've included a few extra bonus sausage based recipes too!
---
The Recipe
Vegan Sausage Rolls (Greggs Copycat)
---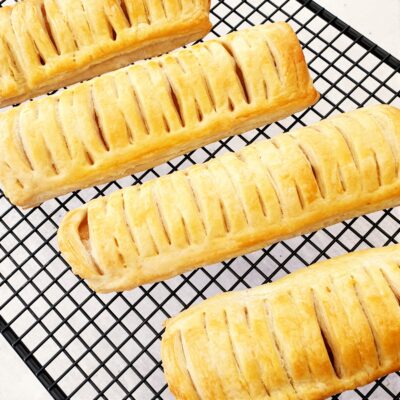 These easy Vegan Sausage Rolls only use 3 ingredients to make flaky meat free sausage rolls that could well be straight from Greggs. They're ideal to eat hot or cold, at home or on the run and they're ready to go in just 30 minutes!
Ingredients
340

g

Vegan Sausages

-

(I used meat-free Richmond)

375

g

Puff Pastry

1

tbsp

Plant Based Milk
Instructions
Preheat the oven to 200c (Fan) | 390f. Line a baking tray with parchment paper.

Take the skins off

340g Vegan Sausages

. Use a sharp knife to split the skin then simply peel it off and discard.

Form half of the sausages into one long neat sausage which is half the length of the roll of pastry. Repeat for the other half. Slice down each sausage lengthways. Set aside.

Unroll a

375g Puff Pastry

sheet onto a board. Or you can leave it on the paper it arrived on. Just make sure to unstick it then lie it back down. You shouldn't need to use any flour unless it is very sticky.

Cut the pastry in half lengthways and then across to create 4 rectangles.

Lay each of the long sausage halves onto a pastry rectangle. Make sure they are straight and towards the top edge of the pastry.

(Optional step) Take a sharp knife and cut through the exposed half of the pastry to create a lattice pattern.

(Optional step) First make slits the whole length of the exposed pastry leaving a double width gap. Then go back and add two further slits in each gap leaving a piece of pastry intact in the middle. |;|;|;|;|. Make sure to cut all the way through the pastry and don't cut through the edge.

Use a pastry brush and some of

1 tbsp Plant Based Milk

to coat all the exposed pastry.

Carefully fold the cut pastry up and over the sausage meat.

Use your finger to press along the long edges to seal the join.

(Optional step) Use a sharp knife to trim away any excess pastry from the bits which have been joined.

Move the sausage rolls to your lined tray. Make sure they have a little space to puff up.

Brush the top of the rolls with more plant milk.

Bake for

20 minutes

or until they are lovely and golden.
Nutrition (Approx)
Serving:
1
roll
|
Calories:
576
kcal
|
Carbohydrates:
56
g
|
Protein:
9
g
|
Fat:
35
g
|
Saturated Fat:
17
g
|
Sodium:
313
mg
|
Potassium:
76
mg
|
Fiber:
2
g
|
Sugar:
3
g
|
Calcium:
19
mg
|
Iron:
3
mg
Download my FREE 7 day international meal plan!
Simply subscribe to the Feast Glorious Feast newsletter and I'll send you the link.