These super cute Sticky Toffee Cupcakes are utterly delicious and devastatingly moreish! Make this quick and easy blender recipe as as mini cakes or cupcakes but don't miss the tasty as heck butterscotch toffee buttercream and sauce. Be warned, you'll want to put it on everything!
This post may contain affiliate links. Please refer to my Disclosures Page for more details.
If the pictures of these bad boy mini cakes aren't tempting enough, wait until you hear about the prestigious award they won… "Best Tasting Cake" at The Bermondsey Street Festival Bake Off 2014! See, I knew you'd be impressed.
What should impress you is the soft crumb of the cakes. It's a wet batter cake which uses bicarbonate of soda (baking soda) as the rising agent. This gives the cupcakes a really tender crumb but which will hold up to filling and topping.
It is a similar sort of batter to gingerbread and just like that traditional British cake, this sticky toffee number improves in flavour and texture over a few days. Which makes it the ideal bake ahead cake. Simply fill and top them when you want to serve.
If you are like me and aren't a fan of pieces of dried fruit in your cakes, fear not. Whilst the dates in this recipe provide both flavour and sweetness, they are soaked and then fully blended. So no one will ever know, especially picky eaters!
How to Make Sticky Toffee Cupcakes – Step By Step Video
Difficulty
What I don't want you to do is look at the ingredient list and panic. There are quite a few ingredients but many of them are duplicated in both the cake and the sauce. The method is also incredibly simple.
The bulk of the cake is made in a blender or food processor. The flour is stirred in at the end. The sauce ingredients all go into one pan and melt together. The buttercream is a simple case of beating butter and icing sugar then adding in a little of the sauce.
The assembly and decorating of the cakes is very informal. Whilst I use a piping bag to inject sauce into the middle of the cakes, there is no real finesse or piping skills required. In fact, I prescribe gung-ho drizzling of the sauce.
In summary, my Mini Sticky Toffee Cakes are really quite easy to make!
Make Sticky Toffee Cupcakes into a Feast
I truly believe that you can make any dish into a proper feast! Whether thats a feast for one after work on a Tuesday, a casual feast for four on a Friday evening or a feast for 12 for a special occasion!
Any kind of small cake is ideal for including in an Afternoon Tea Feast. Of course you also have to include Perfect Scones with jam and clotted cream. And then I love to include savouries like Sausage Rolls or Quiche Lorraine as well as little sandwiches. Other sweet treats like Russian Slice, Chocolate Muscovado Cake, Fiery Ginger Loaf Cake and Victoria Sandwich Cake round off a smorgasbord of tasty morsels.
They are also ideal for selling at a bake sale or fete. Other easily saleable items include my Cocoa Orange Date Bars, Scones and Chorizo Rose Tarts. And don't forget the super kid friendly Chocolate Cornflake Cakes!
For an alternative gooey and cakey treat, you could try my Black Forest Poke Cake.
Don't forget to head over to my Feast Collection pages to find all of my tips and tricks to help you host a fun and stress-free feast. Plus remember to check out my recipe index to create your own awesome Feast!
Ingredients for Mini Sticky Toffee Cakes
Dates
Don't buy prunes by accident like I always seem to! Do buy dried dates.
Dried are preferable to fresh for baking like this as the flavour is more concentrated. Whilst the recipe calls for water to be added, using fresh dates on top of that amount of water would result in a too wet batter.
Do check world baking aisles and the snacking fruit sections of shops before the baking aisle as the price is quite often much cheaper when not packaged specifically for baking.
I have stated in the recipe that the dates should be cut into smaller pieces before soaking. You can buy ready cut dates so skip this step if needs be.
Sugars
My Sticky Toffee Cupcakes call for three types of sugar in total.
The first is Muscovado sugar which is used in both the sauce and cake itself. Muscovado provides a rich toffee flavour and is extremely pertinent to the overall flavour of the cakes. Muscovado is often sold as "dark brown sugar".
The second is demerara which is used in the cake only. Demerara is a pale brown and course grained sugar. The flavour of the sugar does again add to the cake taste but it would not be any kind of disaster to substitute light brown or even white granulated sugar.
Lastly the icing sugar is used in the butter cream. This is sometimes called powdered or confectioner's sugar outside of the UK. There really is no substitute here. Unbleached and browner/richer in colour icing sugar is increasingly available and that would be perfect in this recipe.
Self Raising Flour
You might be tempted to think that American "Self-Rising Flour" is the same as British "Self Raising Flour" but do not be fooled. The american product contains less rising agent and includes salt.
To substitute self-raising flour in any country, simply add 1 tsp of Baking Powder to each 75g of Plain (or All-Purpose) flour.
---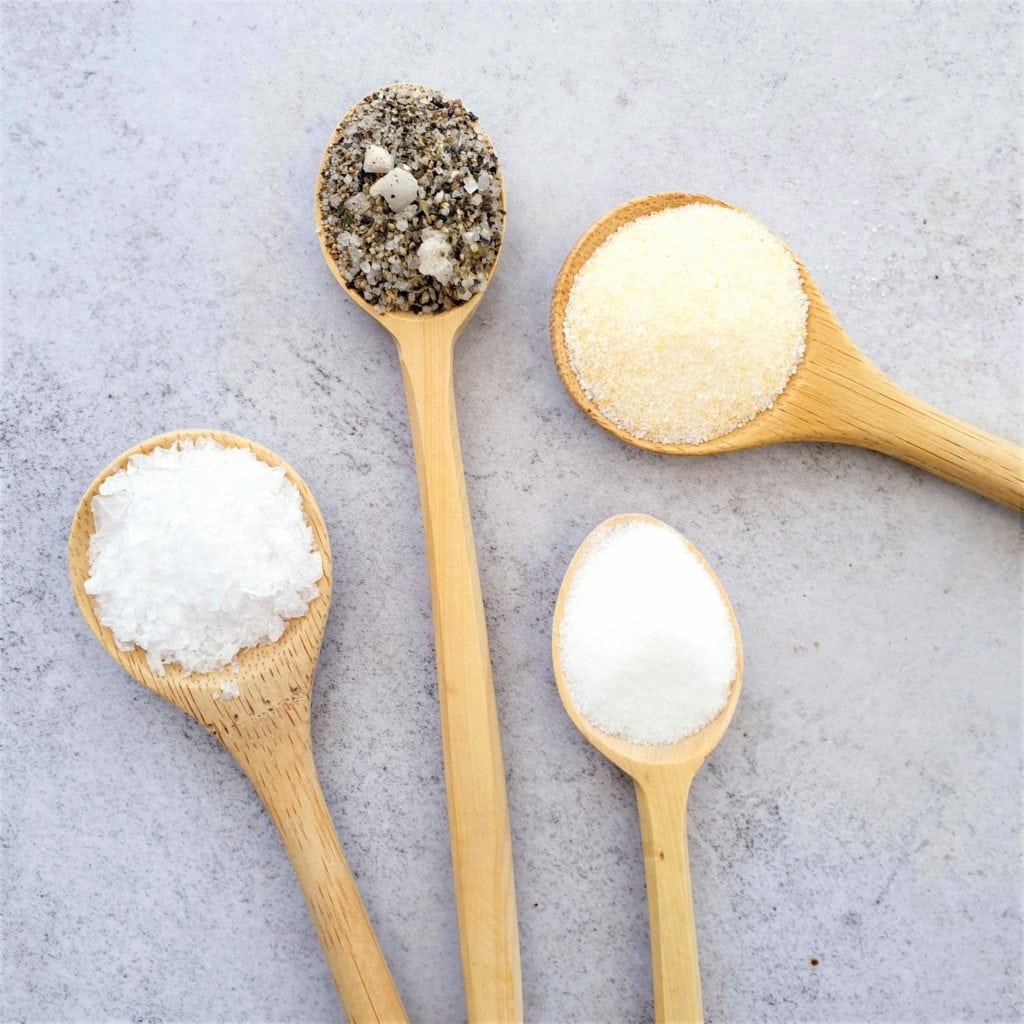 For the lowdown on using salt to properly season and enhance the flavour of your food, check out my Ultimate Guide on How to Use Salt.

There is guidance about which salt to use when, salt alternatives, using salt when baking and even what to do if you add too much salt!
---
Be Flexible
There aren't any great strides that you can really take with the recipe other than changing its form.
You can make a traybake using a brownie tin and simply drizzle over the sauce. You can take or leave making the buttercream in this instance.
Lastly you can turn this recipe into a lovely layer cake. Bake the batter in two round tins. Use the buttercream to sandwich the sponges together and drizzle the sauce over the cake. Tasty!
Make it Vegetarian
There are no meaty or fishy ingredients in my Sticky Toffee Buns so they are suitable for veggies from the get-go.
Make it Vegan
This is not a difficult recipe to veganise at all.
There are three substitutions to be made. The salted butter should be swapped for a dairy-free baking fat. A vegetable spread could be used in the cake and sauce but a hard fat will be needed for the buttercream.
The eggs should be replaced with 1 tbsp vegetable oil per each egg. Lastly the double cream should be replaced by a non-dairy alternative. Coconut cream would work excellently but it will impart an extra flavour to the final cake so you will need to decide if this is what you want. Other non-coconut cream alternatives are now easily available.
Make it Allergy Friendly
This recipe is free from nuts.
Gluten Free: Substitute the self-raising flour for a gluten free flour. If it does not contain any raising agent, add 1 tsp gluten free baking powder for every 75g of flour used.
Dairy Free: Like with the vegan version of the recipe given above, substitute the salted butter for baking fat and the double cream for a non-dairy alternative.
Egg Free: Substitute each egg in the recipe for 1 tbsp vegetable oil.
Please note that this recipe may contain other allergens not referred to above and any variations suggested have not been tested unless otherwise stated. For more information regarding any dietary information provided on this website, please refer to my Nutritional Disclaimer.
Equipment Notes for Mini Sticky Toffee Cakes
This 12 hole mini cake tin with removable bases is what I use to make mini-cakes. I admit that the whole thing is a little bit of a pain to wash up but it does produce a different result to using a muffin tin where the edges are slanted. If you don't fancy investing, a muffin tin will still produce perfectly tasty cakes.
I mostly use my compact food processor to make nearly the whole cake. I have also used the blender attachment to that processor or my stand mixer.
If you don't have a large processor, the dates can be pureed in a mini chopper or even using a stick blender. If you have no processor whatsoever, you're going to struggle but a sharp knife, a chopping board and some patience should get you there.
Equally, the buttercream can be whisked by hand but using an electric hand mixer or stand mixer will produce a much lighter result.
Investing in a set of not terribly expensive piping nozzles and both small and large disposable piping bags has given me the flexibility to create pretty fancy looking cakes with minimal skill. A blob of icing using a large bag and star nozzle is instantly effective. Using a small bag with no nozzle create a lovely controlled drizzle and makes filling the cake centres nice and easy.
Get Ahead
Whilst each element of these sticky toffee cupcakes can be prepared well ahead of time, I wouldn't recommend assembling the cakes any more than around a day before they are needed.
The cakes themselves can be made and stored in an airtight container for several days. They can also be wrapped and frozen for quite some time.
The sauce can likewise be frozen although it will need rewarming, stirring and cooling again before use.
The buttercream can also be prepared in advance or frozen but must be brought back to room temp and lightly re-whipped before using.
Leftover Butterscotch Cupcakes
These sticky toffee pudding inspired cakes can be kept for several days without issue. I would not recommend freezing them whole.
Mini Sticky Toffee Cake Tips
Don't be tempted to add the flour to the blender or food processor. Whilst I am allergic to any more washing up that is remotely required, I am more allergic to tough sponges.
Equally don't be tempted to heat the sauce to quickly. Slow and steady wins the race. And it won't burn or turn bitter.
Don't forget to let me know in the comments if you try making this recipe – I want to know what you think and if you made any substitutions, how did it turn out?
Still Have Questions?
Simple! Just contact me and I will do my best to help as quickly as I am able. Head over to my Contact Me page, any of my social media channels or post a comment at the bottom of this page and I'll see what I can do.
Pin Sticky Toffee Cupcakes For Later
Hit one of the share buttons to save this page to your Pinterest boards so you can come back and find it at anytime!
Keep Up to Date
Make sure you SUBSCRIBE to my newsletter and avoid missing out on any of my newest and bonus content. Don't worry, I promise not to spam you or bombard you too often. Plus you'll receive a copy of my FREE 7 Day International Meal Plan!

Also please don't forget to follow me over on my social media channels over at Facebook, Twitter, Instagram and Pinterest. I love to interact with my followers and I'd love you to share my content with your friends too.
More Simple Sweet Bakes
---
The Recipe
Sticky Toffee Cupcakes
---
These super cute Sticky Toffee Cupcakes are utterly delicious and devastatingly moreish! Make this quick and easy blender recipe as as mini cakes or cupcakes but don't miss the tasty as heck butterscotch toffee buttercream and sauce. Be warned, you'll want to put it on everything!
Ingredients
Sauce Ingredients:
150

ml

Double Cream (Heavy Cream)

65

g

Salted Butter

65

g

Dark Brown Muscovado Sugar

0.25

tsp

Sea Salt Flakes
Cake Ingredients:
175

g

Dried Dates

275

ml

Water

50

g

Salted Butter

1

tsp

Sea Salt Flakes

75

g

Demerara Sugar (Turbinado Sugar)

75

g

Dark Brown Muscovado Sugar

2

Egg

1

tsp

Vanilla Extract

175

g

Self Raising Flour (Self-Rising)

1

tsp

Bicarbonate of Soda (Baking Soda)
Buttercream Ingredients:
80

g

Salted Butter

160

g

Icing Sugar (Confectioner's Sugar)

¼

of the above sauce
Instructions
Make the Sauce
Add

150ml Double Cream

,

65g Salted Butter

,

65g Dark Brown Muscovado Sugar

and

0.25 tsp Sea Salt Flakes

into a small saucepan.

Heat gently and stir until everything is melted and a little thickened. This shouldn't take more than 5 minutes or so. Don't let it boil for more than a moment as it could end up tasting bitter.

Leave the sauce to cool and thicken whilst making the cakes. Pop into the fridge if it's a particularly hot day.
Make the Cakes
Preheat the oven to 180c or equivalent. Pop a kettle on to boil.

Using sharp scissors, snip

175g Dried Dates

into the jug of a blender or bowl of a food processor (not a stand mixer – you need blades here).

Cover with

275ml Boiling Water

, put the lid on and leave the dates to soak for

5 minutes

.

Meanwhile, grease a

12 hole mini cake tin

or line a

12 hole muffin tin

with paper cases.

After the dates have soaked, blitz them to a smoothish paste.

Add

50g Salted Butter

,

1 tsp Sea Salt Flakes

,

75g Demerara Sugar

,

75g Muscovado Sugar

,

2 Eggs

and

1 tsp Vanilla Extract

to the blender or processor. Blitz until smooth.

Pour the mixture into a mixing bowl and gently fold in

175g Self Raising Flour

and

1 tsp Bicarbonate of Soda

. The mixture will start to froth a bit, don't be concerned, this is the bicarb starting to work.

Fill the mini cake or muffin tins to a little below their rim. Pour the batter into a jug first if needed.

Pop into the oven for circa

20 minutes

.

A skewer will never come out truly clean because of the sticky nature of the buns but you want to make sure there is no runny mix left in the middle and they will feel good and springy to the touch.

Leave the buns on a wire rack to cool. If using a tin without liners, leave them into the tin to mostly cool then use a plastic knife to release them. Take them straight out of the tin if using liners.
Make the Buttercream
Beat

80g Salted Butter

with an electric whisk until lightly whipped.

Add

160g Icing Sugar

and beat together. Whisk for 2 to 3 minutes until the buttercream is lovely and light.

Add 1/4 of the toffee sauce a little at a time and whisk in thoroughly. Make sure the sauce is totally cool before doing this. If the mix seems a little loose (it wants to be able to hold its shape), add extra icing sugar a bit at a time.

Leave the buttercream to the side somewhere cool whilst you fill the buns.
Assemble the Cakes
Take the remainder of the sauce and fill a piping bag with a small pointy nozzle.

Prod each (now cooled) cake from the top, in the centre, with the bag nozzle. If you don't have a pointy nozzle, use a chopstick or similar to make a hole.

Squeeze about 3/4 teaspoon of sauce into the middle of each bun. Repeat until all cakes are filled.

Use a star piping nozzle and bag to pipe the buttercream evenly over the mini cakes.

If you don't want to pipe the buttercream, just spoon a good dollop (technical term alert) of the buttercream onto the top of each cake.

Drizzle the remaining sauce over the cakes in a gung-ho messy fashion. Serve.
Nutrition (Approx)
Calories:
390
kcal
|
Carbohydrates:
54
g
|
Protein:
3
g
|
Fat:
18
g
|
Saturated Fat:
11
g
|
Cholesterol:
79
mg
|
Sodium:
483
mg
|
Potassium:
156
mg
|
Fiber:
1
g
|
Sugar:
41
g
|
Vitamin A:
630
IU
|
Vitamin C:
0.1
mg
|
Calcium:
34
mg
|
Iron:
0.5
mg
Download my FREE 7 day international meal plan!
Simply subscribe to the Feast Glorious Feast newsletter and I'll send you the link.