Puff Pastry Egg & Bacon Pie is a simple quiche taken to the next level. More pastry for the win! This particular pie includes boiled eggs as well as chunky gammon pieces and the smoothest, creamiest egg filling! You have to try it!
This post may contain affiliate links. Please refer to my Disclosures Page for more details.
The first cookbook I ever bought for myself was Delia Smith's Complete Cookery Course when I was 6. I was obsessed with making "American Brownies" (the recipe doesn't work – sorry Delia) but my family preference was that I made Egg and Bacon Pie.
It is a variation on a meal that my family is pretty into. We love a boiled ham or classic quiche. And we've always loved pastry goods. I've been making Sausage Rolls (plus a mini version) and proper dinners like Chicken Ham & Mushroom Pie and Sausage Plait for as long as I can remember.
So an Egg and Bacon Pie was always in our repertoire. What Delia brought to the party was the addition of chopped boiled eggs for extra texture.
How to Make Puff Pastry Egg & Bacon Pie – Step By Step Video
Over the years I started using Puff Pastry rather than shortcrust. And then I made the soft custard filling even richer and creamier. I also started adding some mild melty cheese for the texture and taste too.
So whilst this pie recipe has both family roots and Delia's influence, it is very much my own!
How to Serve Egg & Bacon Pie
You can serve pie like you would a quiche. Hot or cold is equally as good. But my overall preference is probably hot. The filling is oosey and the cheesy will always appreciate some heat in my opinion.
I can easily eat at least 1/4 of a large pie for a main meal. I do have a pretty greedy appetite so I've suggested a pie the size of the unaltered recipe will feed 6. That would be a part of a meal with some kind of carb and some kind of veg or salad side.
Make Puff Pastry Egg & Bacon Pie into a Feast
I truly believe that you can make any dish into a proper feast! Whether thats a feast for one after work on a Tuesday, a casual feast for four on a Friday evening or a feast for 12 for a special occasion!
I'm not adverse to eating a solitary slice of pie for lunch. But for a main meal I'd create a mini feast with Garlic Roasted Sweet Potato, Pea Puree and a nice colourful salad.
Chips and beans would be another classic option. I've not tried it yet but next time I'm going to make my Boston Baked Beans as an accompaniment!
On top of that it is brilliant to take on a Picnic Feast. Think Scotch Eggs, Sausage Rolls and packed Sesame Bagels. Throw in some Creamy Coleslaw and Whole Orange Choc Chip Muffins along with a little salad and maybe some crisps for a classic spread.
Don't forget to head over to my Feast Collection pages to find all of my tips and tricks to help you host a fun and stress-free feast. Plus remember to check out my other Brunch suitable recipes.
Ingredients for Egg & Bacon Pie
Eggs
Old eggs, fresh eggs, duck eggs, hen eggs – use whatever you wish. But bear in mind that I used large sized hen's eggs. So you might want to adjust the quantities a little if using something much smaller or larger.
Gammon
I've spoken in detail about the various types of bacon/ham/gammon in my Ginger Ham recipe. Gammon is uncooked cured pork. I chose to buy a nice and juicy gammon steak which I cut into cubes for my pie.
You could also use bacon. The packs of cooking bacon that you can buy tend to have nice chunky bits in them but any would do.
And then if you don't want to use uncooked bacon/gammon, you can use ready cooked ham. This is an ideal way to use up leftovers like from a Glazed Ham. You can either chop it up and pop it into the pie as it is or give it a quick fry to gain some crispy bits and little bit of browning.
I use un-smoked gammon as that is almost always my preference. I think that it allows the egg flavour to shine too rather than being overpowering. But if you prefer smoked then go for it!
Pastry
I almost always choose to use Puff Pastry. Sometime I make my own puff pastry and sometimes I simply buy it. Usually ready rolled. I like puff pastry because I prefer the texture and more buttery flavour.
But you could easily use shortcrust pastry or flaky if you prefer. A thin pastry like filo (phyllo) would work but you would need to make sure that you built up a substantial number of layers to contain the runny filling.
The thyme shortcrust pastry from my Quiche Lorraine recipe is an especially great and quick option. You can choose to add the thyme or not as you prefer.
Cream/Milk
I used double (heavy) cream for the richest of fillings. I do use a little milk to loosen it a little. You can use whichever cream you choose. I use whipping cream in my Puff Pastry Quiche.
If you choose to use single (light) cream, you might want to consider adding an additional egg or you might find that the filling remains too runny.
Be Flexible
There are many ways to be flexible depending on what ingredients you have.

I've spoken above about varying the type of pastry, cream/milk liquid and bacon above. But you can make other additions. But I would caution to not overload the pie. Part of the joy of this eggy pie is its simplicity.
If you do want to add extra ingredients, I would mostly look towards vegetables. A layer of caramelised onions would be quite delicious for example.
The other way to vary the pie is to change the shape or size. You want to make sure that whatever dish you use is good and deep. But other than that you can go round or square, rectangle or whatever shape your dish is.
You can also make mini pies using a muffin tin. These will need cooking for less time – more like 25-30 minutes.
Make it Vegetarian or Vegan
To make the pie suitable for vegetarians, the bacon obviously has to go. There are various vegetarian alternatives to bacon available so you could sub in one of them. Or you could add in a vegetable instead. Fried mushrooms would be an excellent option.
To make the pie vegan is a significantly more difficult task. You would of course have to nix the bacon as mentioned above. You could replace it with a vegan alternative or a veg.
The good news is that most commercially available puff pastry is vegan. But do check the packet. The eggs are a much harder swap although there are at least lots of vegan cream and cheese alternatives now.
But unless you really are determined to see this recipe though to it's bitter vegan end, you could be much better looking at an already vegan quiche recipe, making a little more of the filling and adding a pastry lid. Try this Simple Tofu Quiche from The Minimalist Baker as a starting point.
If you are looking for a purely vegan puff pastry recipe which is ideal for a buffet, picnic or just a snack, have a look at my Vegan Sausage Rolls.
Make it Allergy Friendly
This recipe is free from nuts.
Gluten Free: There are many varieties of gluten free puff pastry now available. Check the freezer section. Sub the pastry and you are good to go. Make sure to use a gluten free flour when rolling it out.
Dairy Free: There are many dairy free cream substitutions. If you cannot find one that is as thick as double/heavy cream, use it to replace the milk element of the filling as well. Otherwise you will also need a plant milk alternative.
Egg Free: This is tricky, as I've suggested for the vegan option above, it might be worth considering cooking something else!
Please note that this recipe may contain other allergens not referred to above and any variations suggested have not been tested unless otherwise stated. For more information regarding any dietary information provided on this website, please refer to my Nutritional Disclaimer.
Equipment Notes for Puff Pastry Egg & Bacon Pie
I like to use a deep pie dish rather than the shallow plate type. Ceramic is my material of choice as I think that metal ones cook the pastry too quickly.
I did not own a rolling pin for many many years. Instead I used a roll of clingfilm. When I was finished, I just disposed of the last layer off the roll. This was all very well and good but clingfilm tends to have a distinct lack of weight to it.
A couple of years ago, I asked for a marble rolling pin for Christmas. I have not looked back.
---
To see more of my recommended equipment items for new bakers, have a look at my post featuring all the essential equipment you might need.

It is also perfect inspiration for gifts for a budding baker in your life!
---
I love my little flour shaker. It makes evenly dusting a surface with flour easy and a little less messy than scattering it by hand. Add one to your Christmas list. I usually use my large ceramic pie dish instead which works perfectly.
A comprehensive list of the equipment used to make this recipe is included in the main recipe card below. Click on any item to see an example. There are no hard and fast rules so many items can be sensibly substituted to achieve the same results.
Get Ahead
Puff Pastry can always be made ahead of time and frozen or you can buy it ready frozen or freeze fresh. Or fresh puff pastry will last a day or two in the fridge. The bought stuff will last much longer.
The gammon can be cooked and frozen. Actually I find it quite handy to have some small bags of cooked gammon cubes for just this sort of occasion. And the creamy egg mix can also be frozen. But honestly. Why would you? The whole thing takes two shakes of a lambs tail to throw together.
And this is one pie where I would not advise making and freezing then thawing and making. The very wet innards are going to make the pastry very soggy.
The same deal goes for making it on the day. You can easily prep all the individual elements up to a couple of days before, right down to lining the pie dish (keep the boiled eggs whole) but I would not recommend assembling the pie and adding the lid until just before you are going to bake it. I am all for a soggy bottom but not an entirely soggy pie!
Leftover Bacon & Egg Pie
Lefotvers can be reheated in the oven or the microwave. It is worth noting that the oven will set up the filling more. So if you are looking to retain a wobbly filling, the microwave is the best way to go. However, microwaved pastry will never be crispy. So sadly you much choose your poison. I would choose soggy pastry, gooey middle every time.
The other option is to slice and eat cold. Actually this is a delicious option. But I would recommend not eating it fridge cold if you can. Flavours are always dulled at lower temps so the pie is much more flavourful brought up to room temp. Not that that stops me from stealing leftovers straight out of the fridge!
Puff Pastry Egg & Bacon Pie Tips
Try not to let the pie sit around after the liquid filling goes in. You can have the lid rolled and ready to go, but fill, top and pop in the oven quickly for the best bake.
Do spend a few more minutes than I did making some pretty party shapes for the top of your pie as decoration. I had an off day and just couldn't be bothered. And then really regretted it! (Still the best tasting pie I've ever made mind!).
Be wary of fingernails. Many a time have I punctured a pastry case with my nails, especially when pressing the pastry down into the corners of my pie dish. A small piece of spare dough rolled into a ball can help you press down without making a mark.
Have a look at my Tarte Au Citron post for all my top tips for how to avoid a soggy bottom. If you really like your pastry really super crisp, you could follow the method in that post to blind bake the pastry case first.
Don't forget to let me know in the comments if you try making this recipe – I want to know what you think and if you made any substitutions, how did it turn out?
Still Have Questions?
Simple! Just contact me and I will do my best to help as quickly as I am able. Head over to my Contact Me page, any of my social media channels or post a comment at the bottom of this page and I'll see what I can do.
Pin Puff Pastry Egg & Bacon Pie For Later
Hit one of the share buttons to save this page to your Pinterest boards so you can come back and find it at anytime!
Keep Up to Date
Make sure you SUBSCRIBE to my newsletter and avoid missing out on any of my newest and bonus content. Don't worry, I promise not to spam you or bombard you too often. Plus you'll receive a copy of my FREE 7 Day International Meal Plan!

Also please don't forget to follow me over on my social media channels over at Facebook, Twitter, Instagram and Pinterest. I love to interact with my followers and I'd love you to share my content with your friends too.
More Puff Pastry Recipes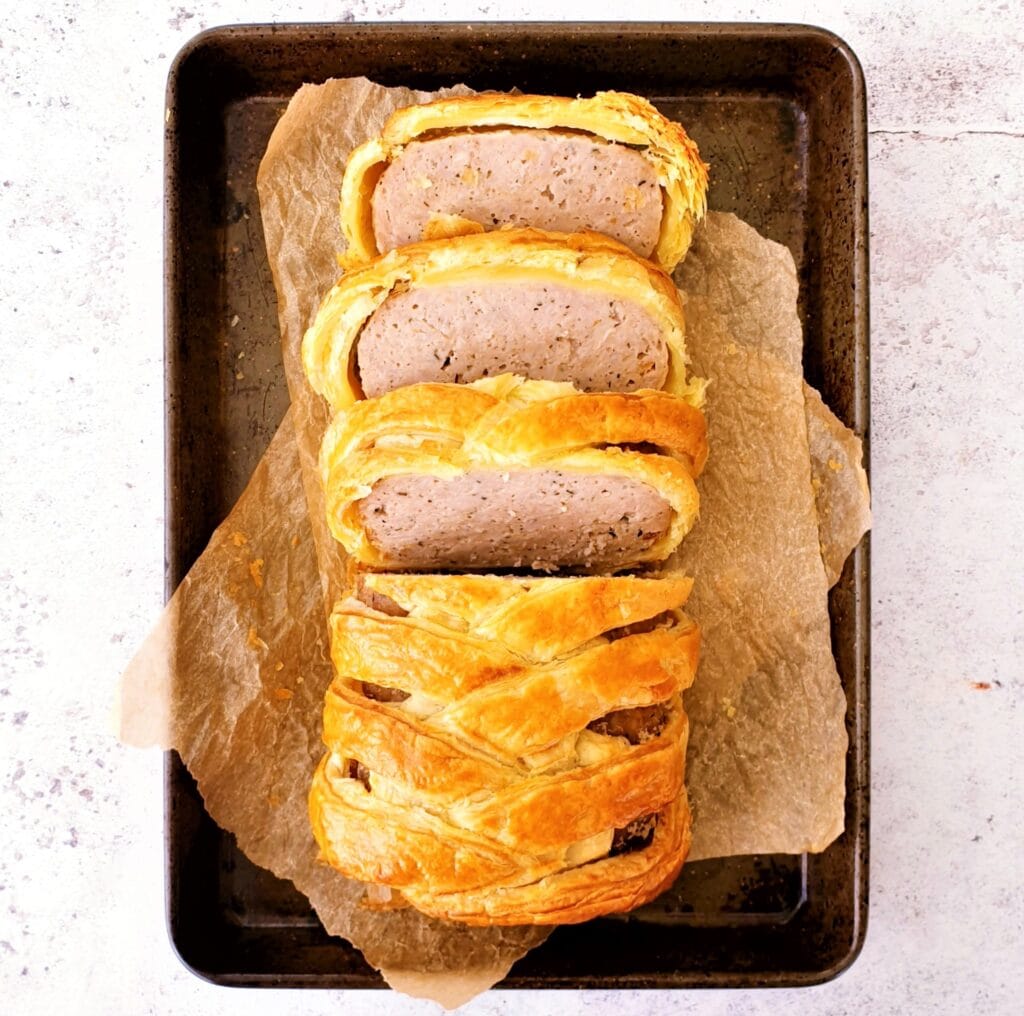 More Egg Based Recipes
The Recipe
Puff Pastry Bacon & Egg Pie
---
Puff Pastry Egg & Bacon Pie is a simple quiche taken to the next level. More pastry for the win! This particular pie includes boiled eggs as well as chunky gammon pieces and the smoothest, creamiest egg filling! You have to try it!
Ingredients
6

Egg

1

tsp

Bicarbonate of Soda (Baking Soda)

400

g

Uncooked Ham (Gammon)

400

ml

Double Cream (Heavy Cream)

100

ml

Milk

1

tbsp

Sea Salt Flakes

500

g

Puff Pastry

1

tsp

Vegetable Oil

50

g

Grated Mozzarella
Instructions
Preheat the oven to 200c or equivalent.

Pop a kettle onto boil then fill a small saucepan and add 1 tsp Bicarbonate of Soda and

3 Eggs

.

Bring to the boil and boil for

8 minutes

.

Meanwhile cut

400g Gammon

into small chunks. Remove any rind if needed.

Add to a frying pan on a medium heat and gently fry. You do not need to add any oil. Once the gammon is cooked all the way through, turn off the heat and set it aside.

Remove the now boiled eggs from the heat and run the pan under cold water. Once cool enough to handle, peel them and rinse them dry.

Cut the boiled eggs up. You can leave some a little more chunky and make some smaller for more interesting texture. Set the eggs aside.

Prepare the custard filling by cracking

3 Eggs

into a bowl.

Whisk the eggs well then add

400ml Double Cream

,

100ml Milk

and

1 tbsp Sea Salt Flakes

. Mix well again and then set aside.

Roll out

300g Puff Pastry

until it is larger than your dish. Make sure to consider the amount of pastry needed to go up the sides.

Use

1 tsp Vegetable Oil

to grease the pie dish, including the rim.

Drape the pastry sheet over the dish and gently ease it into the bottom, corners and sides.

Scatter the chopped up boiled egg over the base of the pie.

Scatter the cooked gammon over the egg.

Pour the egg/cream mixture into the pie. Leave a little bit in the bottom of the dish to wash over the pie before baking.

Scatter

50g Grated Mozzarella

over the top.

Use a pastry brush to coat the pastry on the rim of the dish with a little of the filling mix.

Roll out the remaining

200g Puff Pastry

. Drape over the top of the pie.

Use your thumb to press the layers of pastry together around the dish rim.

Use a sharp knife to trim the excess pastry.

Decorate the pie as you wish. I simply used a fork to crimp the edges and cut a slash in the middle.

Wash the top of the pie with the reserved egg/cream. Turn the oven down to 180c or equivalent and bake for

50 minutes

.

Turn out the pie if you're feeling fancy or serve hot directly from the dish.
Nutrition (Approx)
Serving:
1
slice
|
Calories:
824
kcal
|
Carbohydrates:
37
g
|
Protein:
28
g
|
Fat:
63
g
|
Saturated Fat:
27
g
|
Cholesterol:
292
mg
|
Sodium:
2343
mg
|
Potassium:
405
mg
|
Fiber:
1
g
|
Sugar:
2
g
|
Vitamin A:
1308
IU
|
Vitamin C:
22
mg
|
Calcium:
141
mg
|
Iron:
3
mg
Download my FREE 7 day international meal plan!
Simply subscribe to the Feast Glorious Feast newsletter and I'll send you the link.