I am nothing short of obsessed with this classic snack so here you'll find all of the best sausage roll recipes from Feast Glorious Feast in one easy place. Along with a few extra sausage based recipes for good measure!
Don't be shy about mixing any matching the recipes. Use the pastry type from one recipe, the size of sausage rolls from another and the filling from another. Mini Christmas Sausage Rolls made with shortcrust pasty? Why not.
The OG Sausage Roll Recipe
The one that started it all. The ever popular classic.
Puff Pastry Sausage Rolls are some of the most moreish foodstuffs on the planet. There is a reason Greggs Sausage Rolls are so damn popular you know! But they are super easy to make at home with great sausage meat for an even better version!
---
Forget the Oven – Try The Air Fryer
All your questions about Air Fryer Sausage Rolls answered in one place. How to cook, at what temperature and for how long, how to reheat and how to air fry sausage rolls from frozen. Plus a quick and simple recipe for deliciously easy sausage rolls cooked in the air fryer.
---
Change Up The Size
Is a party even a party without a pile of Mini Sausage Rolls? I don't think so! These little puff pastry cloaked sausage morsels are so moreish you'll need to make a second batch! Oven and air fryer instructions included.
This Puff Pastry Sausage Plait is a family size sausage roll which is ideal for slicing and serving as part of a main meal or including on a buffet or picnic spread. With simple step by step instructions and just 3 ingredients, this showstopper sausage plait is a breeze to make!
---
Change Up The Pastry
Shortcrust Pastry Sausage Rolls are quick to make with 3 simple ingredients in under 30 minutes. Crisp buttery pastry and juicy pork sausage meat combine to make a British classic which are great on a buffet, at a picnic, in a lunchbox or just as a tasty snack.
Sausage rolls but crunchy – what's not to love?! Tasty pork sausage meat is wrapped in multiple layers of filo (phyllo) pastry and simply baked to perfection. Filo Pastry Sausage Rolls are a fun twist on a British classic recipe and well worth trying!
---
Change Up The Filling
These super easy to make Chutney and Cheese Sausage Rolls combine the classic British flavours of cheese and pickle or chutney with the tastiest pastry snack in town. You simply can't go wrong, especially with my simple step-by-step instructions and all the tips you could ever need!
With just a few ingredients and less than half an hour, you can have a batch of these flaky and delicious Chicken Sausage Rolls ready to go. Using chicken sausages and store bought pasty isn't cheating, its working smart! Both oven and air fryer instructions included for ultimate ease.
---
Make Them Vegetarian or Vegan
These easy Cheese & Onion Rolls are almost as common on a British buffet as their sausage cousins! Using fluffy potato as a base and packed with onion and tasty cheese, they really are a delicious veggie puff pastry snack. Air fryer and oven instructions included for extra ease!
Rich and delicious Vegetarian Sausage Rolls made with buttery puff pastry and not a lentil in sight – hallelujah! There are no meat substitutes in this easy recipe either, just breadcrumbs, veggies and lots and lots of flavour.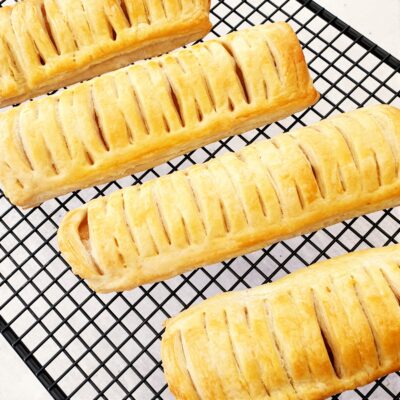 These easy Vegan Sausage Rolls only use 3 ingredients to make flaky meat free sausage rolls that could well be straight from Greggs. They're ideal to eat hot or cold, at home or on the run and they're ready to go in just 30 minutes!
---
Make Them Festive
These flavour packed Christmas Sausage Rolls are loaded with traditional pork sausage meat studded with dried cranberry & chestnut pieces. With their puff pastry jackets, this festive version of a classic Christmas party favourite cannot fail to impress. They're ready in just 30 minutes and freeze to perfection, so what are you waiting for? Go!
---
This Sausage Roll Wreath with Puff Pastry is a stunning centrepiece for any buffet, party or just because you want a pretty sausage roll ring – and why not! It takes just mere moments more to make than regular homemade sausage rolls and it's both delicious and easily adaptable to include your favourite filling.
---
More Sausage Based Treats
For the record, I am absolutely in favour of wrapping both sausagemeat stuffing and pigs in blankets in pastry. A sausage roll might be tricky with sausage gravy but it would make a cracking pie or steak bake type snack. Don't mess with a scotch egg!
This Sage & Onion Sausagemeat Stuffing is my pimped up Paxo recipe. Yes we could make it all from scratch but packet stuffing mix is easy and tasty so I make no apologies for this cheat's shortcut. Sausage meat stuffing is a must on my Christmas table and any other roast dinner for that matter!
Pigs in Blankets are an essential on many Christmas menus. But these tasty bacon wrapped chipolatas are just as great as the centrepiece of an everyday meal, as a cheeky canape or as a side to roast chicken.
Sausage Gravy is a Southern US breakfast staple with chunks of sausage meat turned into a meaty white milk sauce. Think of it as a tasty sausage bechamel! Traditionally served with buttermilk biscuits or even battered and fried steak, it is much more delicious than it looks!
Classic British Scotch Eggs can have a million variations but my favourite is this simple pork sausage recipe. With crispy breadcrumbs, juicy pork sausage and an egg with just the right amount of slightly runny yolk, they're already perfect! Homemade Scotch Eggs are next level but not at all difficult. Give these a try now!
---
So now tell me what you favourite sausage roll recipes are!
Pin The Best Sausage Roll Recipes For Later
Hit one of the share buttons to save this page to your Pinterest boards so you can come back and find it at anytime!
Keep Up to Date
Make sure you SUBSCRIBE to my newsletter and avoid missing out on any of my newest and bonus content. Don't worry, I promise not to spam you or bombard you too often. Plus you'll receive a copy of my FREE 7 Day International Meal Plan!

Also please don't forget to follow me over on my social media channels over at Facebook, Twitter, Instagram and Pinterest. I love to interact with my followers and I'd love you to share my content with your friends too.