Pigs in Blankets are an essential on many Christmas menus. But these tasty bacon wrapped chipolatas are just as great as the centrepiece of an everyday meal, as a cheeky canape or as a side to roast chicken.
This post may contain affiliate links. Please refer to my Disclosures Page for more details.
Christmas without a pig in a blanket is an untenable concept for me. And when I say that in the singular, what I actually mean is a significant number of them to be consumed over the festive period.
But just like how I refuse to pigeonhole pancakes to just be eaten on Shrove Tuesday, I also refuse to only enjoy the immense pleasures of pigs in blankets at Christmas. They're a year round treat for me and I wouldn't have it any other way!
How To Make Pigs in Blankets – Step by Step Video
What are Pigs in Blankets?
It depends on where in the world you are!
United States Pigs in Blankets
In the US, the term refers to hot dog type sausages of various sizes wrapped in a dough and baked. This can be pastry, sweet bread dough or even biscuit dough (the American kind of Biscuit, not a British cookie). They are also referred to as "franks in blanks".
United Kingdom Pigs in Blankets
In the UK, they are regular butcher's type sausages wrapped in streaky bacon which is then oven cooked. We usually use thin sausages but small cocktail sausages are sometimes used for canape or nibble sized "pigs".
Unlike our pastry wrapped Sausage Rolls, the skin casing is left on the sausage.
I am also told that in some parts of Scotland, they have been known to be called "kilted soldiers" or "kilted sausages". Which quite frankly I think is hilarious!
Australian and Kiwi Pigs in Blankets
According to Wikipedia, our antipodean friends use the terms to refer to a sausage in a piece of bread.
Pigs in Blankets in the Rest of The World
At this point I will refer you to said Wikipedia article as the list of variations is numerous. What is worth noting is that none of the other listed options involve bacon. Sad times for them!
How to Serve Pigs in Blankets
I've been known to eat them barely cooked straight out of the oven. Or hot and as part of a roast meal. Or as the hero of the meal, usually in a big Yorkshire Pudding. And even cold straight out of the fridge. So lets call them versatile shall we!
Of course they're also ideal served on a buffet or cut in half and served with a cocktail stick as a canape too. Oh, I nearly forgot one of my favourite ways – reheated and stuffed into a sandwich with other leftovers like Roast Chicken, stuffing, gravy and bread sauce.
Make Pigs in Blankets into a Feast
I truly believe that you can make any dish into a proper feast! Whether thats a feast for one after work on a Tuesday, a casual feast for four on a Friday evening or a feast for 12 for a special occasion!
The biggest feast of the year is going to be when most folks roll out the pigs in blankets. Of course I am talking about Christmas Dinner. I go with all the classics with a roast turkey dinner. Check out these recipes:
Don't forget dessert! For a twist on a classic trifle try my Sherry Trifle Cheesecake. Or for a hot option what about Chocolate Brioche Bread Pudding? Don't forget the custard!
---
Don't miss my comprehensive collection of ideas for classic Christmas sides. I've included simple basic recipes and ways to level up each dish.
There is everything from roast potatoes, numerous stuffing ideas and red cabbage dishes to cranberry sauces and even a vegan gravy option.
---
Pigs in Blankets are not just for Christmas though! I will often make dinner plate sized Yorkshire Puddings, onion gravy and my Roasted Sweet Potatoes for a very classy deconstructed version of toad in the hole!
And then the other way that I eat them is for breakfast. What better meal to eat sausage and bacon together right? So sometimes I make them as an upgrade to my Bacon and Egg Club Sandwich and other times I'll simply have them on the side of a full English.
You can also keep an anytime sandwich very simple with just some pigs in blankets and a good layer of Butter and Fresh Fig Chutney.
Don't forget to head over to my Feast Collection pages to find all of my tips and tricks to help you host a fun and stress-free feast. Plus remember to check out my recipe index to create your own awesome Feast!
Ingredients for Pigs in Blankets
Sausages
The most common sausage used for UK Pigs in Blankets is the pork chipolata sausage. These are standard pork sausages but thinner. They're usually the same length as a regular butcher sausage – about 4 inches/10 cm.
The reason that they are popular is because they cook through in about the same amount of time as the bacon takes to get just crispy. You can use a thicker sausage but you will need to cook on a slower heat for a longer time to ensure the sausage is cooked but the bacon isn't burnt.
I always try to make suggestions for my US readers where I'm using a very British product in a recipe. Having done some research, you do not appear to have a great equivalent product. US sausages tend to err on the side of frankfurter or bratwurst style sausages which are not appropriate for this recipe.
I would therefore recommend making an effort to source some British style pork sausages. It will be worth it!
Bacon
I use un-smoked, rind off, streaky bacon rashers. These rashers have good layers of fat as they're taken from the belly part of the pig. As the sausages cook, the bacon fat partially melts and bastes the sausages as well as getting nice and crisp.
You can use a smoked rashers if you prefer but it will make the overall flavour stronger and potentially overpower the sausages.
Be Flexible
I am very rarely flexible with my pigs in blankets because I love them just the way they are.
You could of course be flexible with the sausages and with the bacon but only to a certain extent. If you start to use chicken sausages then we have a chuck in a blanket situation instead of bundled up pigs. It would however be great to vary the type of pork sausage used.
The usual suspects are Lincolnshire (sagey), Cumberland (peppery), pork and apple (self explanatory) or just plain simple pork. All have their benefits and which you choose is going to be largely personal preference. They are all now more regularly available as chipolata style sausages too. I'm a Lincolnshire girl, both by birth and flavour preference.
One option that I haven't tried yet but am keen to, is to use chorizo sausages and wrap them in bacon. I think they would be mega tasty. I'd be keeping them to hero in their own meal however, I don't think they'd do well on a classic British roast. They would however be amazing with my Paprika and Sage Butter Roast Chicken.
Make it Vegetarian or Vegan
This section is always a struggle to write for a recipe which is effectively meat wrapped in more meat.
Of course you could wrap vegetarian "sausages" in vegetarian "bacon" or vegan "sausages" in vegan "bacon". But realistically neither of those options are likely to be terribly great. It might just be best to sit this one out I'm afraid.
Make it Allergy Friendly
This recipe is free from egg, dairy, gluten and nuts but, and this is an important but, you must choose sausages that are free from these allergens if required. Gluten free sausages are slowly becoming the norm rather than a rarity but you must still check.
Please note that this recipe may contain other allergens not referred to above and any variations suggested have not been tested unless otherwise stated. For more information regarding any dietary information provided on this website, please refer to my Nutritional Disclaimer.
Equipment Notes for Bacon Wrapped Sausage
You need very little to make pigs in blankets. A hygienic plastic board is helpful to give you a surface for easy sausage wrapping and a roasting tray for cooking them in.
I do try to use something with a side as there can be a fair amount of juice/fat released during cooking which will just slide right off a flat baking tray.
Silicone tongs will help you turn the sausages over and retrieve them out of the pan without them slipping all over the place!
A comprehensive list of the equipment used to make this recipe is included in the main recipe card below. Click on any item to see an example. There are no hard and fast rules so many items can be sensibly substituted to achieve the same results.
Get Ahead
I almost always make and part cook my pigs in blankets in advance when I'm cooking them as part of a large meal. I usually cook them until 3/4 of the way done, drain them and move them to a smaller dish ready for finishing/reheating and serving. This is also the point that I eat half so be careful.
You can also do the wrapping bit and then keep them in the fridge for a couple of days or freeze them to keep them longer. Do make sure that they are thoroughly defrosted before starting to cook.
Leftover Pigs in Blankets
This is only ever a thing in my house if I purposefully make 4 times more than is technically required. But I do do this on purpose because leftover roast dinner sandwiches are one my greatest joys.
Grab some fresh white bread and throw in some meat, stuffing, gravy and leftovers pigs. You can split them in half lengthwise so they don't roll out. Microwave everything until hot then pile into the bread with some cranberry or redcurrant sauce and butter.
You will also have some cooking juices to use (or not). I generally throw this into my gravy although it is worth noting that these juices and fat can be quite salty so proceed with caution.
Don't miss my Leftover Roast Dinner Pizza which is the perfect way to use up all manner of leftovers from any Sunday roast or Christmas dinner.
Pigs in Blankets Tips
I try to make sure that I cover the whole sausage with the bacon with just a little overlap. If you leave too much sausage exposed, it can cook too quickly and get dry. And if you overlap the bacon too much, it won't cook through.
Try not to eat them all before they're meant to be served.
Don't forget to let me know in the comments if you try making this recipe – I want to know what you think and if you made any substitutions, how did it turn out?
Still Have Questions?
Simple! Just contact me and I will do my best to help as quickly as I am able. Head over to my Contact Me page, any of my social media channels or post a comment at the bottom of this page and I'll see what I can do.
Pin Pigs in Blankets For Later
Hit one of the share buttons to save this page to your Pinterest boards so you can come back and find it at anytime!
---
Keep Up to Date
Make sure you SUBSCRIBE to my newsletter and avoid missing out on any of my newest and bonus content. Don't worry, I promise not to spam you or bombard you too often. Plus you'll receive a copy of my FREE 7 Day International Meal Plan!

Also please don't forget to follow me over on my social media channels over at Facebook, Twitter, Instagram and Pinterest. I love to interact with my followers and I'd love you to share my content with your friends too.
---
More Pork Recipes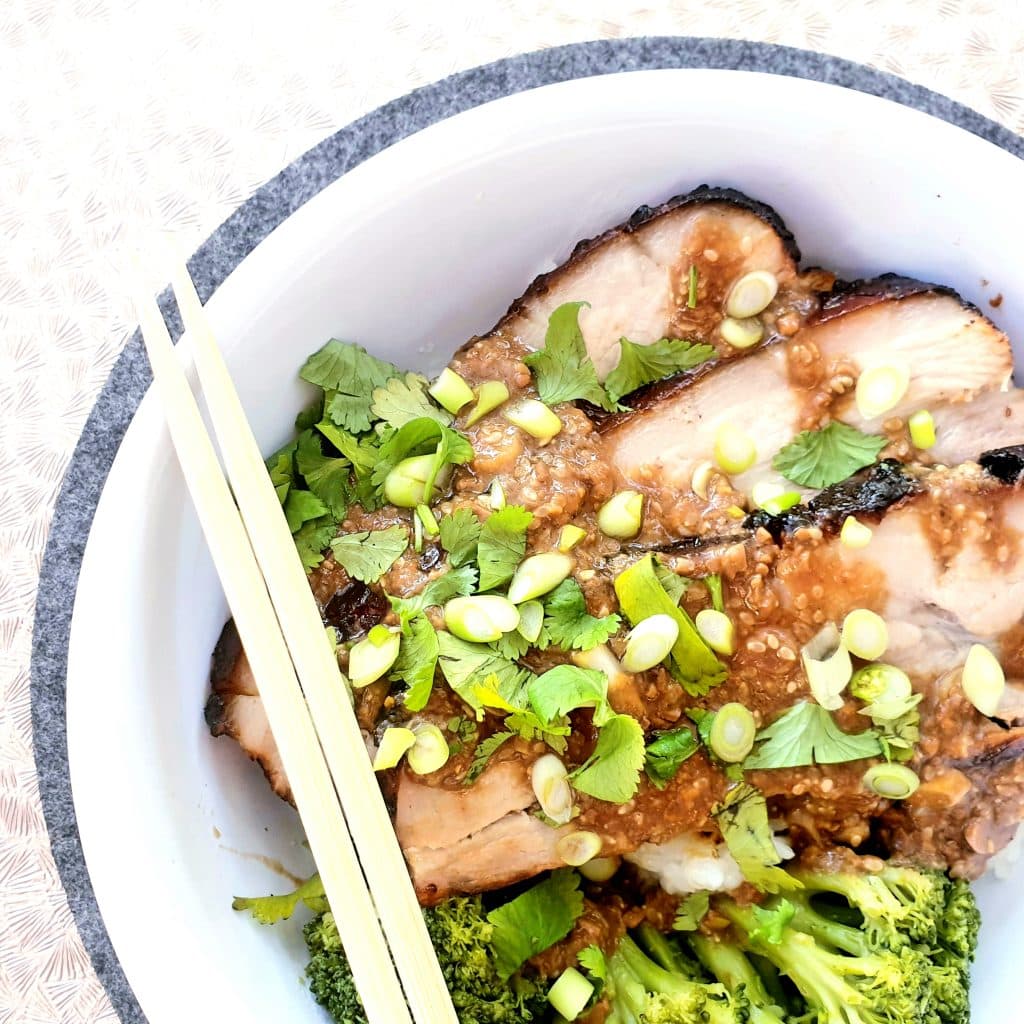 ---
The Recipe
Pigs in Blankets (UK Bacon Wrapped Sausages)
---
Pigs in Blankets are an essential on many Christmas menus. But these tasty bacon wrapped chipolatas are just as great as the centrepiece of an everyday meal, as a cheeky canape or as a side to roast chicken.
Ingredients
Vegetable Spray Oil

12

Chipolata Sausages

12

strips

Unsmoked Streaky Bacon
Instructions
Turn the oven to 200c fan | 425f.

Spray a very thin layer of oil on a medium baking tray.

Separate

12 Chipolata Sausages

with a sharp knife if they're attached at the ends.

Take one of your

12 Rashers of Unsmoked Streaky Bacon

and wrap it around one of the sausages.

Keep the bacon flat against the sausage and overlap it as you wrap.

Lay the wrapped sausage on the oiled baking tray.

Repeat with the remaining sausages and bacon rashers.

Put the tray in the oven and cook for

30 minutes

.

Tip out any juices from the pan and use tongs to turn the sausages over. Return to the oven for a further

10 minutes

.

Serve and enjoy!
Nutrition (Approx)
Serving:
3
pigs
|
Calories:
403
kcal
|
Carbohydrates:
1
g
|
Protein:
16
g
|
Fat:
37
g
|
Saturated Fat:
12
g
|
Cholesterol:
80
mg
|
Sodium:
743
mg
|
Potassium:
263
mg
|
Vitamin A:
69
IU
|
Vitamin C:
1
mg
|
Calcium:
6
mg
|
Iron:
1
mg
Download my FREE 7 day international meal plan!
Simply subscribe to the Feast Glorious Feast newsletter and I'll send you the link.