This Puff Pastry Sausage Plait is a family size sausage roll which is ideal for slicing and serving as part of a main meal or including on a buffet or picnic spread. With simple step by step instructions and just 3 ingredients, this showstopper sausage plait is a breeze to make!
This post may contain affiliate links. Please refer to my Disclosures Page for more details.
Whilst my regular Sausage Rolls are ideal for lunchboxes, and the mini version are perfect for parties and buffets, sometimes I like to truly make a meal of it.
So this family sized sausage plait is ideal for a main meal. Plus the really easy plait design makes it look super impressive despite having only 3 ingredients. And it takes less than 10 minutes to prep.
How to Serve Giant Sausage Roll
This plait is great served hot or cold but for a main meal, I'll always serve it hot. Ideally fresh out of the oven when the pastry is at its best and flakiest.
I served my vegan sausage rolls with chips and beans. This is still one of the finest ways to serve a sausage plait – I love it.
The other way involving all of about 4 minutes more effort is to throw some potatoes into the oven (or Actifry because I'm obsessed) and some green veg.
Leftovers are brilliant for breakfast with an egg or cold in a lunchbox.
Make Puff Pastry Sausage Plait into a Feast
I truly believe that you can make any dish into a proper feast! Whether thats a feast for one after work on a Tuesday, a casual feast for four on a Friday evening or a feast for 12 for a special occasion!
Sausage Plait is actually a great alternative to a joint of meat on a roast dinner. It doesn't matter if that's a pared back version with a potato and one veg or part of the full works!
For potatoes you could try:
And for veggies, give one (or more of these a go):
Plus there should always be Proper Yorkshire Puddings on the table!
Don't forget to head over to my Feast Collection pages to find all of my tips and tricks to help you host a fun and stress-free feast. Plus remember to check out my recipe index to create your own awesome Feast!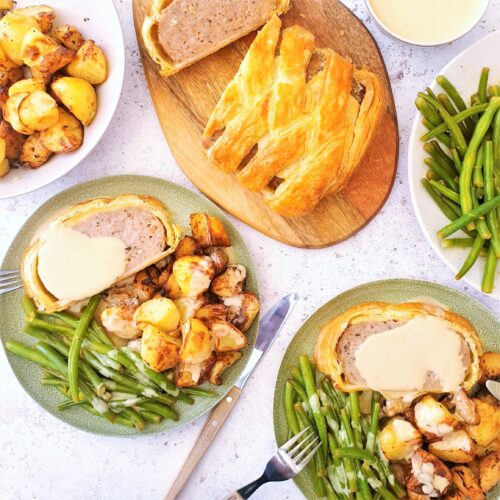 Ingredients for Easy Sausage Plait
Pastry
As always, I'm going to implore you to try making your own Homemade Puff Pastry at least once! It isn't nearly as difficult as some folk would have you believe.
But of course there is nothing wrong with using store-bought puff pastry. I still do for a good majority of the time! Do try to look for the "all-butter" version as the flavour really is better. but the regular stuff is just fine.
If you're going to buy store bought, you really may as well buy the ready rolled version. Its the ideal thickness and reduces the need for rolling.
Please avoid shortcrust pastry. It will make a for a sad and heavy plait. A rough puff or flaky pastry would be just fine however. If you are looking to use up some shortcrust pastry, I'd recommend making regular sized shortcrust pastry sausage rolls.
Sausagemeat
As with all of my sausage meat based recipes, I like to use proper sausages. I simply remove the skins and boom…sausagemeat.
The reason for this is simple – sausages tend to be much better quality than sausage meat that you can buy. Obviously if you have a great butcher or other source and you can get good sausage meat, go for it.
Unlike many sausage plait recipes, I haven't mixed the sausage meat with other ingredients. I like to keep the plait properly meaty. But I don't want it to lack flavour so I use my favourite Lincolnshire sausages which are spiked with sage.
You can choose whichever is you favourite flavour whether that's pork and apple, caramelised onion, cumberland or something totally plain.
Be Flexible
Switching up the sausage meat for another flavour/variety is the easiest way to totally change the flavour of the dish. I also sometimes add a layer of a condiment like a good homemade chutney, a fiery English mustard or ever a layer of cooked down creamy oregano mushrooms.
The other option is to start mixing other flavours/ingredients into the sausage meat itself. I'm not the world's biggest fan of this as I like to keep it super meaty but it is a good way of stretching the sausagemeat.
So you could try adding caramelised onions, mushrooms and/or other veg like courgettes/zucchini. Do just remember that if you are adding a volume of other ingredients, that you will want to reduce the amount of sausage you are using accordingly.
For a still meaty but extra flavourful option, you could add in other herbs and spices to boost the sausages flavour. Dried chilli flakes, dried or fresh herbs like thyme, rosemary, oregano or sage and mustard powder are all good options.
I'd caution against adding too much garlic – it seems to become overpowering in sausage very quickly.
As for creating the plait, it is advisable to spend the 3 minutes making the cuts and wrapping the pastry as it helps with the rise and flakiness. But if you are really pushed for time or can't be bothered, you can just wrap the sausage in the pastry. Make sure to seal the edges and cut some slits on the top.
Make it Vegetarian or Vegan
To make a vegetarian or vegan version of the sausage plait, you can substitute in any vegetarian or vegan sausage. The alternatives available now are quite decent.
Most commercially available "standard" (not "all-butter") puff pastry is actually vegan so there is no issue there. Although do please check the label carefully.
And for a vegan version you will need to replace the egg wash with a liquid egg replacer, plant based milk, or even better – plant based cream.
Make it Allergy Friendly
This sausage plait recipe is free from nuts.
Dairy Free: The chances are that if you buy regular commercial puff pastry, it will be dairy free. But it is worth checking the ingredients just in case. And you must avoid the all-butter version.
Gluten Free: It should be very simple to make a gluten free sausage plait. Ready made gluten free puff pastry is now commonly available in the shops. If you can't find any in the chiller cabinets, make sure to check the freezer section.

More and more sausages are now gluten free so it should be fairly easy to pick up gluten free sausages. Just make sure to check the label or ask your butcher. I actually find that butcher's sausages are more likely to contain gluten than those from the supermarket.
Egg Free: Instead of washing the outside of the pastry with beaten egg before baking, you can use cream or milk instead. Or a dairy free alternative.
Please note that this recipe may contain other allergens not referred to above and any variations suggested have not been tested unless otherwise stated. For more information regarding any dietary information provided on this website, please refer to my Nutritional Disclaimer.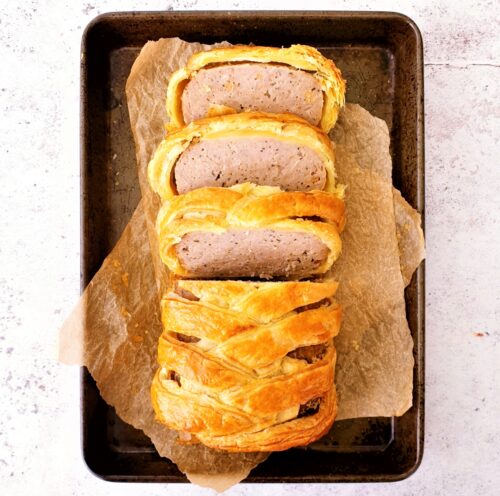 Equipment Notes for Puff Pastry Sausage Plait
The good news is that you need very little in the way of equipment to make any of my easy sausage roll recipes.
A good sharp knife will help you get nice clean cuts on the pastry and cut through the sausage skins. And you will of course need some kind of baking tray. You can even use a roasting tin in a pinch.
I also love my little silicone pastry brush. Unlike the multitude of nylon haired pastry brushes I've owned in the past, I'm yet to accidently melt this one!
A comprehensive list of the equipment used to make this recipe is included in the main recipe card below. Click on any item to see an example. There are no hard and fast rules so many items can be sensibly substituted to achieve the same results.
Get Ahead
You can make up the whole plait ready for baking up to 24 hours or so before you want to bake and serve it. Simply cover well in the fridge. It would be better to add the egg wash before baking but you can do it in advance if needed.
You can also do the same and then freeze. Whilst in theory you could bake from frozen, due to the thickness of the sausagemeat, I would highly recommend allowing it to thaw thoroughly before baking.
Again in theory you can bake and freeze the cooked sausage plait. But it will not be at its finest once thawed. If you are wanting to get ahead in this way, it would be much better to cut the cooked plait into slices and then freeze them individually. Once thawed the slices can be reheated or eaten cold.

I say in theory, because if you are going to do this, I think you'd be much better off making individual sausage rolls.
Leftover Family Size Giant Sausage Roll
As I've mentioned above, any leftovers can be frozen. But it is best to cut into individual slices before doing so.
To reheat leftovers, you can do this in the microwave but you will end up with less crisp pastry. For crisper pastry I recommend heating through in the oven on a baking tray. Lay the slices on a baking tray. The other option is to pop them in an airfryer or actifry (take out the paddle!).
A fun option for some extra texture is to give slices a blast in the microwave to heat them through and then fry them in a hot pan. This gives a nice crust to the exposed sausage meat and a different texture.
Puff Pastry Sausage Plait Tips
It doesn't matter how neat your pastry cutting and folding is. Obviously I took my time and made sure that I had an especially beautiful little parcel for these photographs. But it won't affect the overall taste or flavour.
If you are aiming for neat, you can shape your sausage meat by wrapping it in clingfilm and then moulding it to the right shape. I did this to get a neat rectangle. Just don't forget to take off the clingfilm before wrapping the pastry.
Be careful not to stretch the pastry too much as you are pulling the strands over the top. You don't want the pastry to get too thin or tear.
Don't forget to let me know in the comments if you try making this recipe – I want to know what you think and if you made any substitutions, how did it turn out?
Still Have Questions?
Simple! Just contact me and I will do my best to help as quickly as I am able. Head over to my Contact Me page, any of my social media channels or post a comment at the bottom of this page and I'll see what I can do.
More Sausage Roll Recipes
You can now find all of my sausage roll recipes in one place. Plus I've included a few extra bonus sausage based recipes too!
Pin Puff Pastry Sausage Plait For Later
Hit one of the share buttons to save this page to your Pinterest boards so you can come back and find it at anytime!
---
Keep Up to Date
Make sure you SUBSCRIBE to my newsletter and avoid missing out on any of my newest and bonus content. Don't worry, I promise not to spam you or bombard you too often. Plus you'll receive a copy of my FREE 7 Day International Meal Plan!

Also please don't forget to follow me over on my social media channels over at Facebook, Twitter, Instagram and Pinterest. I love to interact with my followers and I'd love you to share my content with your friends too.
The Recipe
Puff Pastry Sausage Plait (Giant Sausage Roll)
---
This Puff Pastry Sausage Plait is a family size sausage roll which is ideal for slicing and serving as part of a main meal or including on a buffet or picnic spread. With simple step by step instructions and just 3 ingredients, this showstopper sausage plait is a breeze to make!
Instructions
Turn the oven to 160c Fan | 170c | 340f. Line a baking tray with parchment paper or a thin layer of oil.

Roll out

375g Puff Pastry

into a roughly 35cm x 25cm rectangle. Or unroll a ready rolled sheet of puff pastry onto a board.

Skin enough sausages to get

1kg Sausage Meat

.

Form the sausage meat into a block ¾ of the width of the pastry. Try to make it as even as possible so the ends are the same thickness as the middle. This will make sure everyone gets an even slice when it is cut and it will cook more evenly.

Place the sausage meat block onto the pastry. Position it a little further towards the bottom edge than the top. Try to make sure it is pretty central.

Use a sharp knife to make slits from the top corner of the sausage block to the outside of the pastry. Cut at a slight angle. Repeat until you reach the bottom corner. I found that 6 strips was ideal. Repeat on the opposite side. Make sure to cut the same number of strips. Cut each of the top corners off.

Fold the top of the pastry up and around the top edge of the sausage meat. Repeat with the bottom edge.

Use the cut off corners to cover over the top and bottom edges for extra coverage and to reduce waste.

Start laying the strips over the top of the sausage meat. Alternate the sides and angle them down slightly. Press down the ends of each strip a little.

Move the plait onto the lined baking tray.

Beat 1 Egg in a small bowl and use a pastry brush to wash over all the pastry.

Bake the plait in the oven for

50 to 60 minutes

until golden brown and the sausage meat is cooked the whole way through. You may need to stick a metal skewer right into the middle and make sure it is hot to the touch.

Slice and serve!
Nutrition (Approx)
Calories:
862
kcal
|
Carbohydrates:
28
g
|
Protein:
31
g
|
Fat:
69
g
|
Saturated Fat:
21
g
|
Trans Fat:
1
g
|
Cholesterol:
147
mg
|
Sodium:
1226
mg
|
Potassium:
462
mg
|
Fiber:
1
g
|
Sugar:
1
g
|
Vitamin A:
165
IU
|
Vitamin C:
1
mg
|
Calcium:
25
mg
|
Iron:
4
mg
Download my FREE 7 day international meal plan!
Simply subscribe to the Feast Glorious Feast newsletter and I'll send you the link.