My Chilli and Oregano Soda Bread is ready from start to finish in just 30 minutes. With a glorious texture, this no-knead bread contains no yeast, requires no buttermilk and uses store cupboard ingredients. It's the perfect emergency loaf.
This post may contain affiliate links. Please refer to my Disclosures Page for more details.
I have developed an obsession with Soda Bread. It's fairly new but boy have I rolled with it. It started with a simple white loaf (don't add the chilli and oregano to this recipe) and progressed to granary rolls (substitute the flour for granary flour and don't add the chilli and oregano) for with cheese. The variations really are endless.

Soda Bread is the ultimate fast recipe. As the bread is risen using bicarbonate of soda and not yeast, there is no need to leave the dough to prove and no need to knead it.
There are only two stages to making the dough – curdling the milk and then mixing that into the dry ingredients. By the time that's done, the oven should be up to temp and it can go into bake.
This Chilli and Oregano Soda Bread has saved me a number of time like when I've had chowder or soup and realised that I had nothing to dunk in it. Or when I needed a hearty breakfast but had nothing to put my bacon and poached eggs on! Soda Bread to the rescue!
Ingredients for Chilli & Oregano Soda Bread
Buttermilk
Soda Bread traditionally uses buttermilk as a primary ingredient. This provides acidity which reacts with the bicarbonate of soda to make the bread rise.
Unless I've recently made a batch of my Homemade Butter, I don't often have buttermilk in the house. After some googling, I discovered that milk with added lemon juice provides the same result.
I nearly always have (skimmed) milk and a bottle of lemon juice in the house so with no special shopping required, I can whip this bread up from start to finish in half an hour at basically any time.
If you are looking for recipes which do use buttermilk, have a look at my Southern Baked Wings recipe or my Buttermilk Breakfast Biscuits!
Lemon Juice
Bottled lemon juice is just fine for this recipe. You aren't going to get any real taste benefit from using fresh lemon and you're less likely to have them on hand.
Be Flexible
You can shape the dough however you fancy. Making batch rolls are simple. There is nothing to stop you making a baguette shape or baton. Make a square loaf, make it round, make is some ugly hybrid in between!
What I do tend to do is bake my loaf within a tin. You can freeform bake it on a baking tray but I find that I like to keep my dough a little looser and I end up with a little too much spread without containment.
This Soda Bread will work with almost any flour. I particularly love making it with a granary flour. That's especially tasty with cheese. I also make it with white spelt – you'd never tell the difference if you didn't know.
Omit the chilli if you wish, omit the oregano if you wish. Add other flavours if you wish. The basic white soda bread recipe really is a blank canvas to play with. Garlic and rosemary? Thyme? Yum!
Make Vegetarian or Vegan Soda Bread
No substitutions needed, my White Soda Bread is naturally vegetarian!
Make it Allergy Friendly
This Soda Bread recipe is free from egg and nuts.
Dairy Free: To make this loaf suitable for a dairy allergy, just follow the vegan instructions above – only one simple swap is needed.
Gluten Free: To make Gluten Free Soda Bread, just swap the plain flour for a gluten free flour. There is little in the way of kneading with this recipe and "developing the gluten" isn't a necessity so Soda Bread is an excellent bread for the gluten free.
Please note that this recipe may contain other allergens not referred to above and any variations suggested have not been tested unless otherwise stated. For more information regarding any dietary information provided on this website, please refer to my Nutritional Disclaimer.
Equipment Notes for Oregano & Chilli Soda Bread
The kind of dish that you use to bake the soda bread is very flexible. I've suggested a medium baking dish but I most often use one of my enamel dishes. I use these as mixing bowls, serving bowls, plates and baking dishes. They're super versatile and you'll find them pictured all over this site!
A comprehensive list of the equipment used to make this recipe is included in the main recipe card below. Click on any item to see an example. There are no hard and fast rules so many items can be sensibly substituted to achieve the same results.
Get Ahead
This is such a quick bread, there really is no great rush to get ahead of the game. I wouldn't recommend making the dough and then freezing it before baking or leaving the dough to sit for any great length of time.
You could however bake then freeze the loaf (or individual rolls) to thaw and reheat later.
Leftover Chilli & Oregano Soda Bread
I would really recommend trying to eat this Soda Bread on the day that its baked. (Not a chore!) Soda Bread is quick to make but doesn't last terribly well. Saying this, I have toasted slices of bread for a couple of days after baking. It makes for a lovely toasting bread.
Alternatively, If you think that you may not eat the whole loaf that day, just freeze what won't be eaten as soon as possible. It will still be fresh once thawed.
You can also cube the bread, fry the cubes in a little oil and use as croutons on your favourite soup or even in my Classic Caesar Salad.
Chilli & Oregano Soda Bread Tips
I tend to make my dough only about 5 cm high. A flatter bigger loaf results in more even and quicker baking. For a taller loaf, score large cuts at least halfway into the loaf to allow heat to penetrate the middle. And leave it in the oven for a little longer.
That's all folks. My Chilli and Oregano soda bread is so simple, I really can't tell you much more! Just try it and then make it again and again and again!
Don't forget to let me know in the comments if you try making this recipe – I want to know what you think and if you made any substitutions, how did it turn out?
Still Have Questions?
Simple! Just contact me and I will do my best to help as quickly as I am able. Head over to my Contact Me page, any of my social media channels or post a comment at the bottom of this page and I'll see what I can do.
---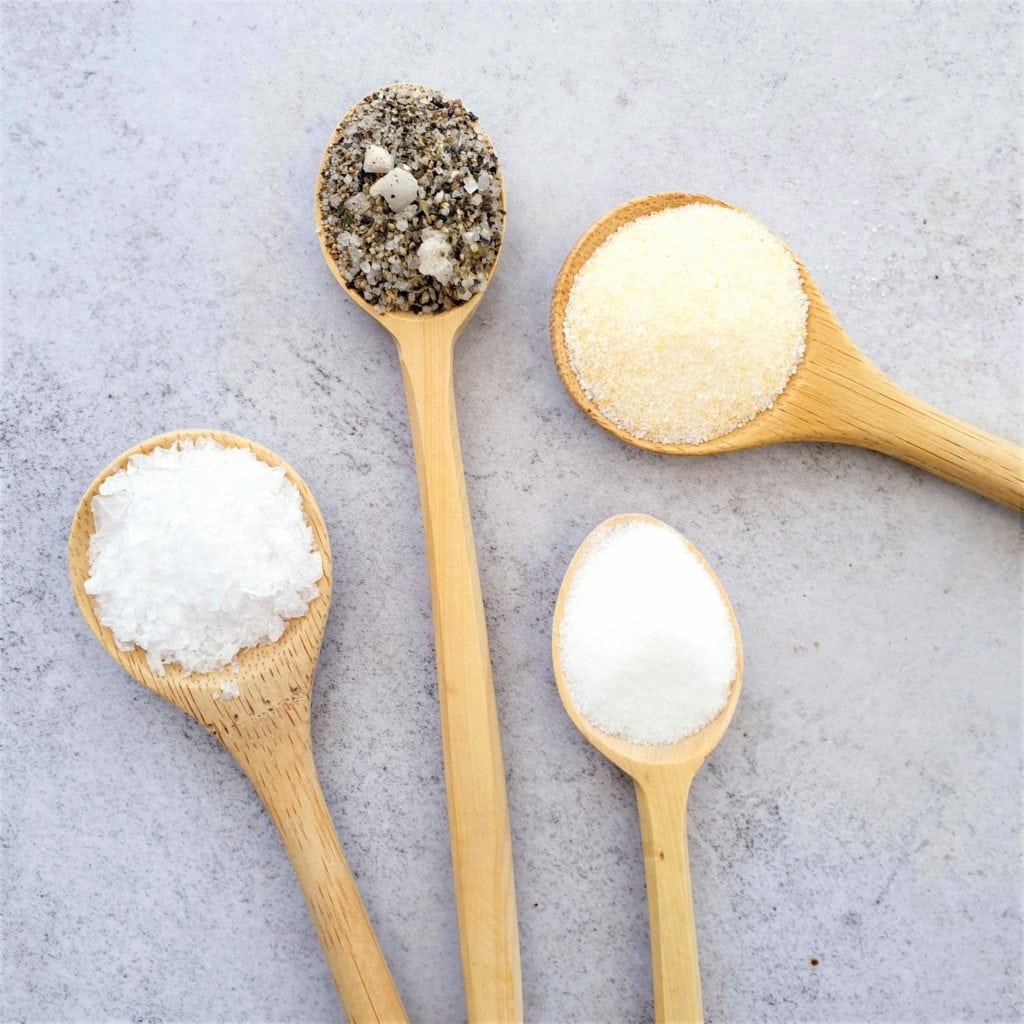 For the lowdown on using salt to properly season and enhance the flavour of your food, check out my Ultimate Guide on How to Use Salt.

There is guidance about which salt to use when, salt alternatives, using salt when baking and even what to do if you add too much salt!
---
Pin Chilli & Oregano Soda Bread For Later
Hit one of the share buttons to save this page to your Pinterest boards so you can come back and find it at anytime!
Keep Up to Date
Make sure you SUBSCRIBE to my newsletter and avoid missing out on any of my newest and bonus content. Don't worry, I promise not to spam you or bombard you too often. Plus you'll receive a copy of my FREE 7 Day International Meal Plan!

Also please don't forget to follow me over on my social media channels over at Facebook, Twitter, Instagram and Pinterest. I love to interact with my followers and I'd love you to share my content with your friends too.
The Recipe
Chilli and Oregano Soda Bread (No Buttermilk Recipe)
---
My Chilli and Oregano Soda Bread is ready from start to finish in just 30 minutes. With a glorious texture, this no-knead bread contains no yeast, requires no buttermilk and uses store cupboard ingredients. Its the perfect emergency loaf.
Ingredients
300

ml

Skimmed Milk

3

tbsp

Lemon Juice

400

g

Plain Flour (All Purpose)

1

tsp

Caster Sugar (Superfine Sugar)

1.5

tsp

Bicarbonate of Soda (Baking Soda)

1

tbsp

Sea Salt Flakes

1

tbsp

Dried Chilli Flakes

1

tbsp

Dried Oregano
Instructions
Preheat the oven to 200c or equivalent.

Measure out

300 ml Skimmed Milk

and add

3 tbsp Lemon Juice.

Leave to the side to thicken whilst measuring the dry ingredients.

Add

400g Plain Flour

,

1 tsp Caster Sugar

,

1.5 tsp Bicarbonate of Soda

,

1 tbsp Sea Salt Flakes

,

1 tbsp Dried Chilli Flakes

and

1 tbsp Dried Oregano

to a medium mixing bowl.

The milk will by now have curdled and thickened.

Add the milk mixture to the dry ingredients and stir to combine.

You should end up with a fairly sticky dough that holds together loosely.

Add more flour or milk to get to a handleable consistency.

Take a lined tin (rectangle or round) and pop in the dough.

Pat out to your preferred shape.

Bake the bread for around

20 minutes

until the crust is crispy and golden brown and the loaf feels hollow rather than heavy.

Leave to cool slightly before slicing.
Notes
Important! If you have adjusted the serving size of this recipe, the cooking time may vary. A larger loaf will take longer to cook and a smaller one will take less. If increasing the recipe, you may wish to consider making multiple smaller loaves rather than one larger one.
Nutrition (Approx)
Calories:
202
kcal
|
Carbohydrates:
41
g
|
Protein:
6
g
|
Fat:
0
g
|
Saturated Fat:
0
g
|
Cholesterol:
0
mg
|
Sodium:
1141
mg
|
Potassium:
145
mg
|
Fiber:
1
g
|
Sugar:
2
g
|
Vitamin A:
385
IU
|
Vitamin C:
2.1
mg
|
Calcium:
67
mg
|
Iron:
2.7
mg
Download my FREE 7 day international meal plan!
Simply subscribe to the Feast Glorious Feast newsletter and I'll send you the link.