Homemade Butter is a revelation and I just can't stop telling people how awesome it is. Or how ridiculously easy it is to make. It even works out cheaper than buying similar butter and takes 10 minutes tops. You have to try this!
This post may contain affiliate links. Please refer to my Disclosures Page for more details.
I just cannot believe that no one told me that butter was the easiest substance on earth to recreate. Not only is it waaaay tastier than anything I can find in the shops but I know exactly what has gone into it.
I'll let you into the ingredient secret early. To make Homemade Butter, you need………double cream and salt. Or if you aren't a fan of flavour, its literally just double cream. THAT IS IT! I'm just so mad that I've been buying butter for 32 years without knowing this.
The great news is that you also get a bonus cooking ingredient when making butter. Buttermilk. I know right. Hello pancakes and Breakfast Biscuits! Its also great to use in Soda Bread or even in cakes like this Lime Charlotte Cake from Casa Costello or Sticky Gingerbread from Charlotte's Lively Kitchen. And then its great as a marinade, like with my Southern Baked Wings.
How to Make Butter From Double Cream – Step By Step Video
The Cost Benefit
Butter freezes so there is no excuse to make several batches and freeze some for later. Homemade butter lasts at least a week in the fridge so I normally keep at least 2 in the fridge and freeze a few more. If you ever see double or whipping cream in the reduced section – grab it!
The absolute cheapest any butter I can find at the moment (Oct 2019) is £1.49 for 250g. And that's at Aldi, Asda & Tesco. The usual brands are running at nearer £2.00 for 250g.
A 600ml pot of double cream is around £2.00. Lets say each batch of my butter which makes between 240g and 290g costs £2.00 to make.
So homemade butter is around the same price as the brands but tastes way better. So far, so even. But then take into account you also have around 200ml buttermilk.
The cost of buttermilk varies quite wildly but taking the low end of an average of the major supermarket offerings, I think the buttermilk for each batch is worth about 40p.
April 2023 Update!
The cheapest full price 600ml cream is currently £2.40 from Tesco or 2 x 300ml tubs from Aldi are £2.38.
The cheapest butter is now £1.99 from various supermarkets.
This means that making homemade butter is now the slightly more expensive option. But look out for reduced/yellow sticker cream and it can still be a saving. Still more delicious however!
How Long Does it Take to Make Homemade Butter?
10 minutes. Honestly. Pinkie promise. Swear to God. 10 minutes. Start to finish. From having a tub of cream in your hand to holding a pat of ready to eat butter. 10 minutes. Unless you get distracted but frankly, thats on you.
The last two batches I made took 4 minutes of whisking time. Lets say 5 minutes to include scraping down the sides of the bowl time. 1 minute to grab the solids and drain the buttermilk into a tub. 1 minute rinsing. 2 minutes drying, salting and shaping. Done.
There are of course variables. Whipping cream tends to take slightly longer to whip. The exact temperature of your cream when starting to whisk will affect the time it takes to separate.
The speed of your whisk (I measured using setting 3 on my basic Kenwood stand mixer) will vary. Your propensity or otherwise to clear up as you go along will also affect your total making time.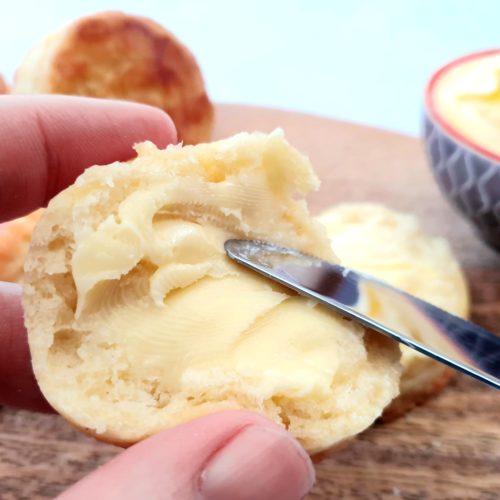 How to Use Homemade Butter?
I cannot believe that I just typed that question! Use Homemade Butter wherever you would usually use butter. There is zero difference between butter you make and butter you buy.
Try making some lovely Chilli & Oregano Soda Bread or Sesame Bagels and slather it on. Or use it to make the garlic butter in my Cheesy Garlic Rolls or Pull-Apart Bread. Or simply make Garlic Butter to use anywhere and everywhere!
Try using homemade butter to make my easy Puff Pastry for truly Homemade Pie, Savoury Turnovers or Sausage Rolls. Or how about making a quick shortcrust pastry for a Classic Quiche.
It's perfect for baking too. Maybe start by trying a Victoria Sandwich Cake, my Mini Sticky Toffee Cakes or my Chewy Ginger Cookies.
Obviously the uses are almost endless and I can't possibly list all of the options to use butter or I'll have just created an extra recipe index for this site! But do give it a go and you'll see just how easy it is to substitute shop-bought butter.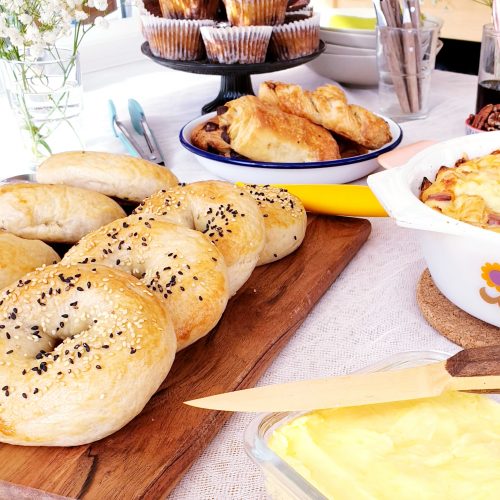 Use Homemade Butter in a Feast
I've included this recipe in both my Prep-Ahead and Vegetarian Brunch Feasts.
Both of these feasts pair the butter with my Sesame Bagels. The Prep-Ahead Feast also includes my soft Breakfast Casserole, Baked Oatmeal and Bourbon Peach Compote to make a gorgeous stress free brunch feast! There are even some Choc Orange Muffins thrown in for a little sweet treat!
My Vegetarian Brunch Feast also includes Sweet Potato Pancakes with Avocado and Roasted Cherry Tomatoes and some more of those Choc Orange Muffins!
Don't forget to head over to the Big Brunch Feast post for all of my tips and tricks to help you host a fun and stress-free feast. Plus remember to check out my other feast collections and all my brunch related recipes.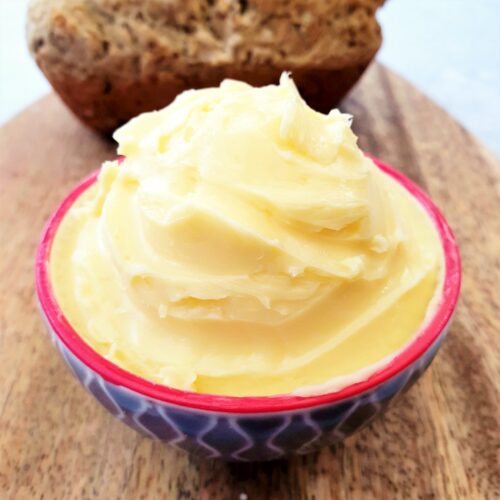 Ingredients for Homemade Butter
This is going to be a short section!
Double Cream.
I buy the 600ml tubs and make 1 batch of butter with each tub. Each batch is roughly equivalent to a regular 250g block of butter that you buy.
You can also use whipping cream but it will take a little longer to whip and separate than double. Single cream won't however work as the fat content is just not high enough.
For those not in the UK – you need to look what cream in your country has between 30% and 50% butterfat. The higher then percentage, the more butter and less buttermilk you will get. UK whipping cream is about 30% and double cream about 50%. Heavy cream in the US would be ideal.
What about using Elmlea?
Get out.
Salt
Salt is the only other ingredient to consider. I use Maldon Sea Salt Flakes for everything. That's a bit of a lie actually – I do use cheap table salt for salting pasta and boiling vegetable water. But for adding to cooking or baking – always Sea Salt Flakes.
And that is exactly what I use in my butter. A scant tablespoon for each 600ml of double cream. It provides a beautiful rich flavour but there can be a little crunch involved.
I love that and it makes me think that I'm eating fancy ass french salted butter. But if you prefer a more homogeneous texture, you could use fine sea salt instead. Use no more than half the quantity given for flakes.
---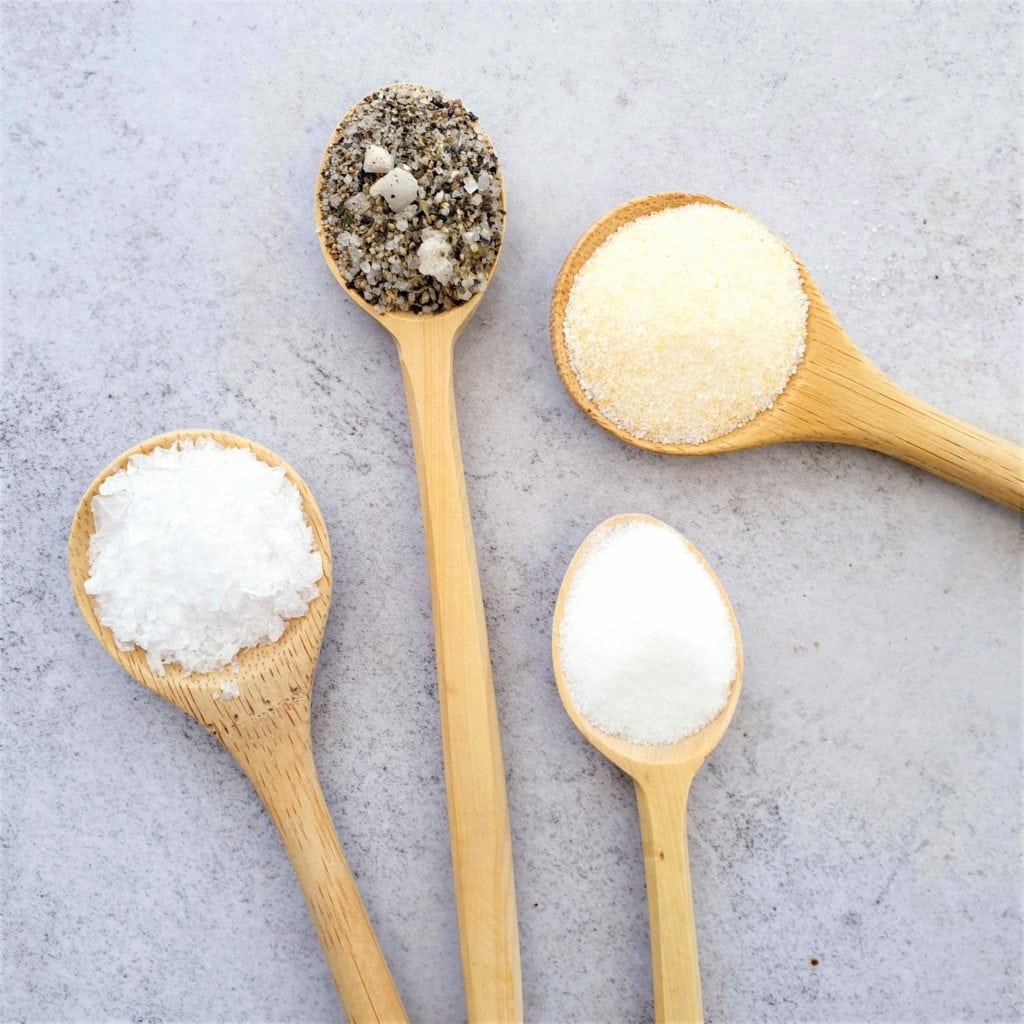 For the lowdown on using salt to properly season and enhance the flavour of your food, check out my Ultimate Guide on How to Use Salt.

There is guidance about which salt to use when, salt alternatives, using salt when baking and even what to do if you add too much salt!
---
Be Flexible
To use double or whipping cream?
To salt or not to salt?
To use salt flakes or fine salt?
To shape my butter into a square, rectangle or parallelogram?
These are your flexible options!
Make it Vegetarian or Vegan
Great news for vegetarians, not so much for vegans.
I tried to do some research to work out whether whipping the bejesus out of a tin of coconut milk will also make coconut butter but the internet has not been kind to me. I shall experiment next time I buy coconut cream so I will let you know how that goes!
For the time being, I'm afraid that this recipe is simply not vegan friendly. Sorry!
Make it Allergy Friendly
Butter is free from nuts, eggs and gluten.
Dairy Free: For the same reasons given above to the Vegans, there is no obvious way to make this recipe dairy free. Sorry.
On the upside, unless you have an allergy to salt (in which case don't add it), Homemade Butter is otherwise allergen free.
Please note that this recipe may contain other allergens not referred to above and any variations suggested have not been tested unless otherwise stated. For more information regarding any dietary information provided on this website, please refer to my Nutritional Disclaimer.
Equipment Notes for Homemade Butter
My number one preferred method for making butter is to use a stand mixer. Ideally one with a splash guard. You can see what you are doing, you won't make a mess (mostly) and it is super easy.
If you don't have a stand mixer, you can use an electric hand whisk. Just be extra careful about the buttermilk splashing over. I would use a large high sided bowl if possible.
Technically if all mechanical options aren't available, you can put the cream in a large jar. Make sure it is VERY well sealed and shake like hell. I have not tried this and don't intend to but both lore and the internet tell me that it is entirely possible.
If the jar trick works, I can't see why a regular old hand whisk wouldn't work. Or what about one of them windy hand whisks that make me think of Victorian kitchens?
And if you really love Homemade Butter and Gadgets, you can buy a special hand whisk/kilner jar combo. I think you should save your money and buy an electric hand whisk personally!
Noticed my fancy butter paddles? Total extravagance and wholly unnecessary. But gosh darn, don't they look cute! I actually did use them to shape the butter but more through sheer determination to justify my purchase than requirement!
I have an Ikea version of this small lidded glass container which I find the perfect size for pressing my butter into. I do line the glass dish with cling film first so I can easily turn it out onto a dish.
A comprehensive list of the equipment used to make this recipe is included in the main recipe card below. Click on any item to see an example. There are no hard and fast rules so many items can be sensibly substituted to achieve the same results.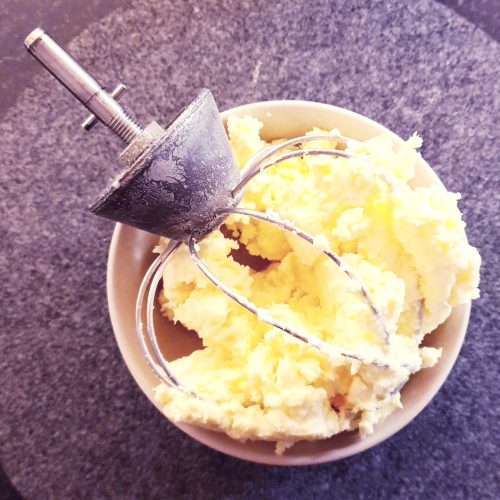 Get Ahead
All butter freezes like a dream.
I like to line my butter dish with clingfilm then pop the butter in. I press it into shape, wrap the remaining cling over the exposed butter then take it out and freeze. That way when I defrost each batch, the butter just slots right in the dish. Genius.

I regularly make several batches at once and freeze some to save long term washing up. You don't need to wash your mixing bowl between batches.
Homemade Butter Tips
When using my stand mixer, I usually use my whisk attachment. You will get exactly the same result using the 'normal' paddle attachment. But maybe give the dough hook a miss for this one!
You will know when the butter is ready. If you are staring at your mixing bowl and wondering, then it isn't ready – keep whisking. Trust me, you will know when you're there.
And you'll know for sure because of the noise and/or splash. As the fat separates from the liquid, it will clump on the whisk and bash the side of the bowl. It has a distinctive noise! As it does the bashing, it will splash said liquid!
Do be careful of the splash. It will happen and whilst you know its coming, it has an incredible way of still catching me by surprise. And it will breach the splash guard on my mixer too. A tea towel carefully placed may help – especially if you have no splash guard!
You must use cold water to rinse the butter no matter how much your hands protest! Its butter – warm water will melt it. And then you are in all kinds of trouble!
If you are struggling with warm weather, just pop the butter into the fridge to chill at any point it starts to feel too soft to handle.
Do make sure to squeeze all of the milky liquid from the butter before moving on to salting and shaping. If any of the buttermilk remains, it will turn the butter sour, much faster than nature will when properly rinsed.
So, bread and butter anyone?
Don't forget to let me know in the comments if you try making this recipe – I want to know what you think and if you made any substitutions, how did it turn out?
Still Have Questions?
Simple! Just contact me and I will do my best to help as quickly as I am able. Head over to my Contact Me page, any of my social media channels or post a comment at the bottom of this page and I'll see what I can do.
Pin Homemade Butter For Later
Hit one of the share buttons to save this page to your Pinterest boards so you can come back and find it at anytime!
Keep Up to Date
Make sure you SUBSCRIBE to my newsletter and avoid missing out on any of my newest and bonus content. Don't worry, I promise not to spam you or bombard you too often. Plus you'll receive a copy of my FREE 7 Day International Meal Plan!

Also please don't forget to follow me over on my social media channels over at Facebook, Twitter, Instagram and Pinterest. I love to interact with my followers and I'd love you to share my content with your friends too.
---
The Recipe
Homemade Butter
---
Homemade Butter is a revelation and I just can't stop telling people how awesome it is. Or how ridiculously easy it is to make. It even works out cheaper than buying similar butter and takes 10 minutes tops. You have to try this!
Ingredients
600

ml

Double Cream (Heavy Cream)

-

Or whipping cream

1

tbsp

Sea Salt Flakes

-

Optional
Instructions
Add

600ml Double Cream

to your mixing bowl

Stop the mixing and scrape down the sides of the bowl after a minute or two.

Repeat the bowl scraping exercise every minute or two.

You are ready to stop mixing when the liquid separates entirely from the .

Scrape the fat from the whisk into a small bowl or onto a board.

Fish out any remaining lumps of fat from the mixing bowl and add to the rest of the fat.

Strain the liquid buttermilk into a container to keep for later.

Add any remaining lumps of fat sieved out to the rest.

Use your hands to squeeze the bulk of any liquid out of the butter. You can add that liquid to the rest of the buttermilk.

Rinse the lump of butter under the running cold tap for a minute or two. Use both hands and continually manipulate and squeeze the butter. You will be ready to finish once the water runs off clear and not cloudy.

I like to pat off any remaining water with a paper towel for maximum dryness.

Add a scant

1 tbsp Sea Salt Flakes

to the butter and knead it in.

Some more liquid may be drawn out by the salt in which case squeeze that out and dry the butter again.

The butter is now ready to eat. Shape it however you prefer using your hands or by pressing it into a dish.

Store by wrapping in grease proof paper.
Nutrition (Approx)
Serving:
1
g
|
Calories:
8
kcal
|
Carbohydrates:
0
g
|
Protein:
0
g
|
Fat:
0
g
|
Saturated Fat:
0
g
|
Cholesterol:
3
mg
|
Sodium:
28
mg
|
Potassium:
1
mg
|
Sugar:
0
g
|
Vitamin A:
35
IU
|
Vitamin C:
0
mg
|
Calcium:
2
mg
Download my FREE 7 day international meal plan!
Simply subscribe to the Feast Glorious Feast newsletter and I'll send you the link.