This recipe for Puff Pastry Steak Bakes isn't just a Greggs steak bake copycat, it's actually much better! With soft rump steak and a rich gravy in buttery flaky pastry, you'll be making steak slices at home from now on!
This post may contain affiliate links. Please refer to my Disclosures Page for more details.
After the success and popularity of my Puff Pastry Sausage Rolls, Vegan Sausage Rolls and Bacon & Cheese Wrap recipes, I couldn't not take on the classic steak bake. And yes I am working my way through the Greggs menu. Just in a slightly different way to the last 20 years.
It doesn't matter whether you use store bought puff pastry or make your own from scratch, either way these hand held snacks will ruin you for the classic bakery kind.
Controversially, despite having lived in Cornwall for some time and even sold them, I'm not a huge fan of a Cornish pasty. I find them a little bit dry. And far too peppery. I've always been a much bigger fan of the puff pastry steak bake.
They actually couldn't be any easier to make at home. The filling simply requires steak to be fried with a little onion and beef stock and left to simmer until soft. Once cool it gets encased in two rectangles of pastry, egg washed and baked. Simple.
What is Greggs?
For anyone that isn't British, Greggs is a chain of high street bakeries that are well known for warm savoury pastries, decently priced sandwiches and cakes. I'm a particular fan of a yum-yum.
The problem with Greggs is that many of us don't have one at the end of the road, so they tend to be a car journey treat or something that you grab when doing some shopping in town. But I want steak bakes at home! And I want them hot and not squashed.
So I figured they couldn't be that difficult to make at home. It proved harder than I expected to get the recipe just right. But for you dear reader, I battled through the testing and sampling. It's a hard life.
Steak bakes tend to be less saucy than I remembered and the beef is soft and melty. It took me a little while to get the cut of meat and amount of gravy just right. I wanted to end up with a recipe with no faff and without a crazy long cooking time. And by jove I cracked it. Eventually.
How to Serve Steak Bakes
Now I'm sure like many people, most of my experiences of eating a Greggs steak bake have involved walking down a high street or sitting in a car. Likewise, these homemade steak bakes are ideal for packing and eating on the go.
They make an ideal handheld snack for picnics, car journeys, and even school lunches. They are absolutely delicious eaten cold but they will always be at their most glorious warm, straight out of the oven.
Steak bakes, like any small individual pie would actually make a great dinner served with potatoes and vegetables or even chips and beans. But we best know them as a snack and I mostly devour them warm as a cheeky snack or light lunch on their own.
To make some extra gravy to serve hot with the bakes, you can simply add extra stock to the filling while it is cooking. After 40 minutes, strain most of the excess liquid out into a separate pan. Continue to cook the filing for that additional 5 minutes. Meanwhile heat the stock and thicken it with a cornflour slurry. You may need to adjust the seasoning.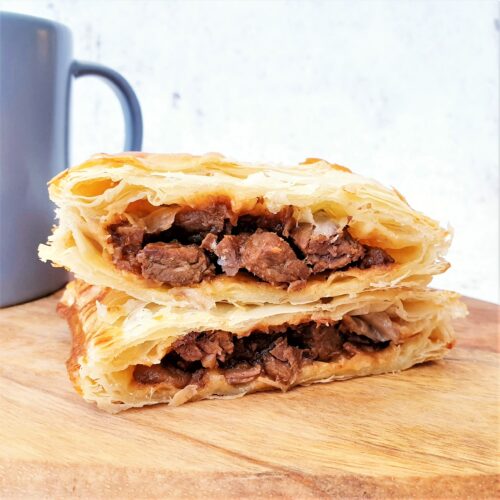 Make Steak Slices into a Feast
I truly believe that you can make any dish into a proper feast! Whether thats a feast for one after work on a Tuesday, a casual feast for four on a Friday evening or a feast for 12 for a special occasion!
I mentioned that the humble steak bake is just as good served for dinner as part of a main meal as a snack. Any of these recipes would make perfect accompaniments:
Don't forget to head over to my Feast Collection pages to find all of my tips and tricks to help you host a fun and stress-free feast. Plus remember to check out my recipe index to create your own awesome Feast!
Ingredients for Puff Pastry Steak Bakes
Steak
I did a fair amount of testing of different cuts of beef to work out which one would make a steak bake most like Greggs. And the conclusion I came to was rump steak. Rump is a lovely flavourful cut that can stand to be slow cooked until soft and yielding. But importantly, it doesn't take forever to get there.
Please do note that rump steak in the US is a totally different cut to that in the UK. There is no direct equivalent because of the way that cows are butchered in different ways. I would suggest asking your butcher what would be the best cut which could be slow cooked in around 45 minutes until tender.
Onion
The onion is a small player in the recipe but please do not overlook it. The onion provides savoury richness and texture too. A classic steak bake does not have noticeable chunks of onion in it. So by grating or chopping the onion very finely, it becomes one with the sauce.
You can use any onion variety but I would avoid spring/salad onions as these have a slightly distinctive flavour. I also wouldn't use shallot as they really are a little too mild to pack enough punch.
Stock
I have always preferred to use a liquid stock concentrate and boiling water to make my stocks. Unfortunately Knorr have stopped making my favourite type. So I experimented using a beef stockpot instead. I was pleasantly surprised.
The flavour was lovely and strong but the recipe does use less water per stockpot than the packet instructions. For this recipe the stock used needs to be good, strong and rich.
So you can use any stock you like, including homemade but you must make sure that it is really deep and rich. You can boil it for a while and reduce it down if needs be. Please avoid "low sodium" type stocks – I've discussed more about the use of salt in cooking here.
Pastry
It doesn't matter whether you use Homemade Puff Pastry or store bought. The important thing is to roll the pastry into a neat rectangle. That way you can create the neat smaller rectangles to make the pastries.
If I buy store bought puff pastry, I generally use the ready rolled variety because it is already the ideal shape and thickness. Simply unroll it or unfold it and go.
If you want, you could use shortcrust or flaky pastry instead of puff pastry. However the finished slice will be much less light and well, puffy. Puff pastry really is the ideal if you can possibly find some.
Be Flexible
You can take the concept of a puff pastry slice and create any filling. You could use a creamy chicken filling just like with my Chicken, Ham & Mushroom Pie, something simple like cheese and baked beans, or even make it fancy with Mozzarella and Asparagus.
Or, if you want to just jazz up the simple steak filling, you could add chunkier onions, mushrooms and/or extra flavourings like herbs, mustard or even horseradish.
The important thing to remember is that the filling is only going to have roughly 20 minutes to cook. So unless you are using something like cheese and beans, you will likely need to precook your filling.
You can also make these in different shapes. A square can be folded opposite corner to opposite corner to make a samosa type shape. Rounds can be cut out to make round pies although I'm not a fan of the wasted pastry this would create.
Make it Vegetarian or Vegan
Just like Greggs who started selling a vegan steak bake, you could also adapt this recipe to be vegan or vegetarian using a suitable meat alternative.
You would want to look for something that shreds in a similar way to beef so I would suggest considering something like jackfruit rather than something like tempeh pieces.
To achieve the rich broth you could use a Marmite stock and perhaps more onions then the steak recipe.
In good news, most commercially bought puff pastry tends to be accidentally vegan (except the all butter type) but it is worth checking the label each time.
Make it Allergy Friendly
This homemade steak bake recipe is free from dairy and nuts.
Dairy Free: Saying this, this recipe is only dairy free if the pastry you are using doesn't contain any dairy. So it is best to check the packaging.
Gluten Free: Gluten free puff pastry is now readily available. If you can't find any in the chiller section, check the freezers. You should also check that the stock you ae using is free from gluten.
Egg Free: If you're unable to use eggs, simply use milk or even cream in place of the egg wash. If you can't use dairy, a plant based milk will work just as well.
Please note that this recipe may contain other allergens not referred to above and any variations suggested have not been tested unless otherwise stated. For more information regarding any dietary information provided on this website, please refer to my Nutritional Disclaimer.
Equipment Notes for Steak Pastries
There is no specialist equipment required to make this recipe other than some general kitchen basics. As always, a good sharp knife is essential in the kitchen.
You can cook the beef in any frying pan or saucepan. I used my trusty cast iron skillet as I find the heavy base perfect for simmering the beef without it catching.
You will also need the regular baking tray or sheet pan.
A comprehensive list of the equipment used to make this recipe is included in the main recipe card below. Click on any item to see an example. There are no hard and fast rules so many items can be sensibly substituted to achieve the same results.
Get Ahead
You can make the steak bake filling up to a couple of days in advance. Simply store it in an airtight container in the fridge. If this is something you're going to make regularly, you could even make a larger batch of the filling and freeze it in portions to use later.
You can also completely make the steak bakes and keep them in the fridge for up to 24 hours before baking. Or, freeze them individually ready to be baked straight from frozen when you need them.
To bake from frozen knock 10c off the cooking temperature and be prepared to cook them for at least an extra 10 minutes. Make sure the filling is piping hot. Alternatively you can thaw them and cook as usual.
Leftover Steak Bakes
Any leftover steak bakes can either be eaten cold, warmed in the microwave or warmed in the oven. I actually use my Actifry for warming this kind of thing. All of the crispy with none of the oven preheating time. Just make sure that if you reheat them, the filling is piping hot before you serve.
You can also freeze the cooked slices, but if there is a chance that this might happen, it would be better to freeze them before baking and then cook from frozen once you want to serve them.
Puff Pastry Steak Bakes Tips
Just like with my Sweet Pizza Pocket recipe, you must be careful eating the steak bakes straight out of the oven. The filling will be super hot and you could potentially burn yourself even if the pastry feels OK to the touch.
It is worth making sure that your cut rectangles of pastry are nice and neat. If they are random shapes, you will struggle to pair them together and seal the edges properly.
There is room to add more filling to each of these bakes. You could risk up to double the amount of filling in the recipe. But you will need to be very careful once filling and sealing them to make sure the filling doesn't burst out.
You really do need to make sure that the filling is cool before you start piling it onto the pastry. The pastry needs to be kept as cold as possible generally and a warm filling will simply make the pastry too warm. Which will affect the layers and rise.
Please don't be alarmed if you taste the filling and feel it is a little on the salty side. Once it is baked in the pastry, the overall seasoning will be perfect.
Don't forget to let me know in the comments if you try making this recipe – I want to know what you think and if you made any substitutions, how did it turn out?
Still Have Questions?
Simple! Just contact me and I will do my best to help as quickly as I am able. Head over to my Contact Me page, any of my social media channels or post a comment at the bottom of this page and I'll see what I can do.
Pin Puff Pastry Steak Bakes For Later
Hit one of the share buttons to save this page to your Pinterest boards so you can come back and find it at anytime!
---
Keep Up to Date
Make sure you SUBSCRIBE to my newsletter and avoid missing out on any of my newest and bonus content. Don't worry, I promise not to spam you or bombard you too often. Plus you'll receive a copy of my FREE 7 Day International Meal Plan!

Also please don't forget to follow me over on my social media channels over at Facebook, Twitter, Instagram and Pinterest. I love to interact with my followers and I'd love you to share my content with your friends too.
More Puff Pastry Recipes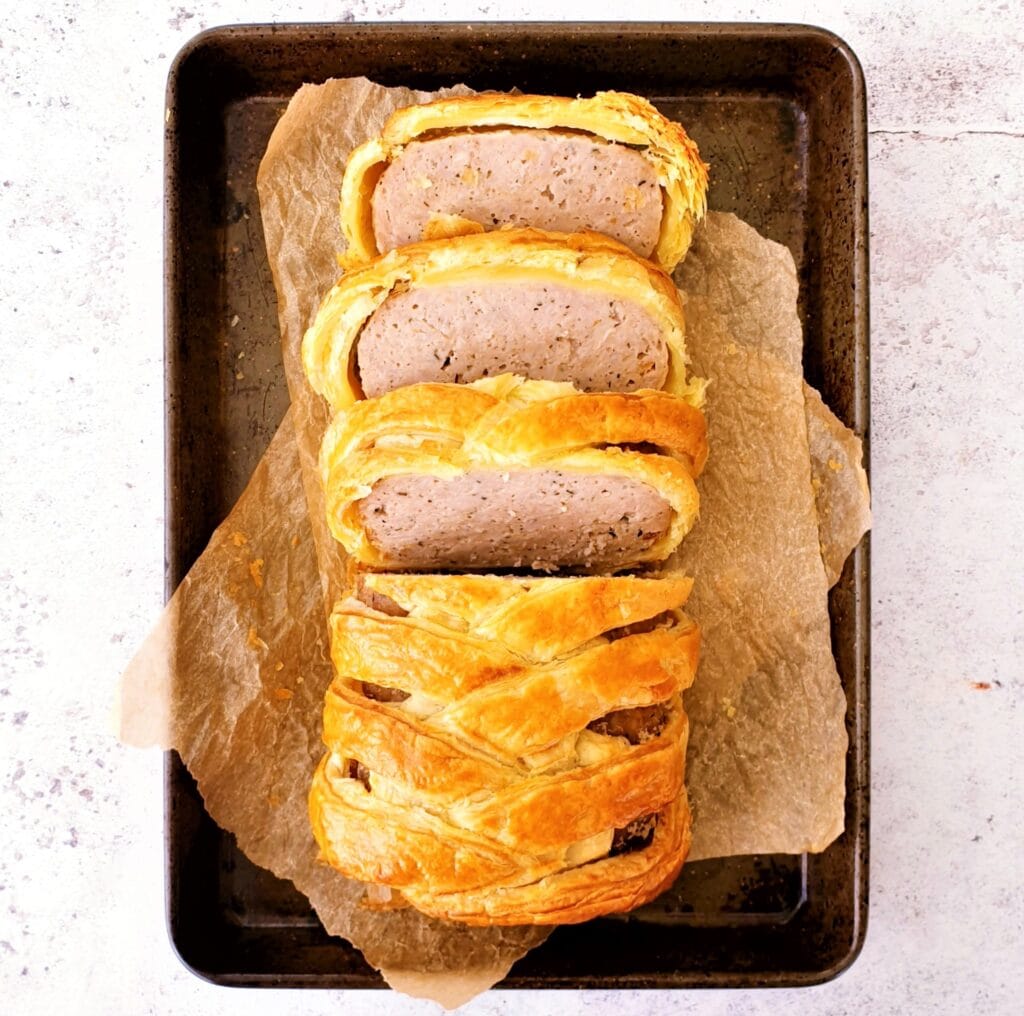 The Recipe
Puff Pastry Steak Bake
---
This recipe for Puff Pastry Steak Bakes isn't just a Greggs steak bake copycat, it's actually much better! With soft rump steak and a rich gravy in buttery flaky pastry, you'll be making steak slices at home from now on!
Ingredients
450

g

Rump Steak

75

g

Onion

1

tbsp

Vegetable Oil

300

ml

Water

25

g

Beef Stock Pot

375

g

Puff Pastry

1

Egg
Instructions
Make the Filling
Prepare

450g Rump Steak

by drying it thoroughly and cutting into rough 1cm cubes. It doesn't matter if some pieces are a little larger and some a little smaller as this will add to the overall texture.

Peel and prepare roughly

75g Onion

by either grating or very finely dicing. A small food processor is helpful.

Heat

1 tbsp Vegetable Oil

in a medium frying pan or skillet over a high heat. Add the diced rump steak.

Fry over the high heat and keep stirring until the steak is browned on all sides.

Add the grated or finely diced onions and continue to fry for another minute or so.

Measure out and add

300ml Boiling Water

to the pan along with a

25g Beef Stock Pot

.

Give everything a stir and bring to the boil. Then turn the heat to the lowest possible option and cover the pan with a lid. Use foil if you need to. Allow to simmer gently for around

45 minutes

.

The beef should be tender and have just a little liquid left. If you need to add a little more water or simmer for a little longer then do so.

Transfer the cooked beef to a plate or bowl and allow it to cool thoroughly.
Assemble the Pastries
Preheat the oven to 200c fan | 210c | 410 f

Roll out

375g Puff Pastry

into a roughly 35cm x 25cm rectangle (for 4 slices. You may need to roll in batches if you have increased the quantity). Or unroll a ready rolled sheet of puff pastry onto a board.

Cut the pastry into

8

equal rectangles. Once lengthways and three more cuts downwards for each 35x25cm rectangle.

Line a medium baking tray with baking parchment or silicone mat. Carefully move half of the pastry rectangles onto the tray.

Spoon ¼ of the cooled beef mixture into the middle of each piece of pastry.

Beat 1 Egg in a small bowl and use a pastry brush to brush the exposed edges of each piece of pastry.

Cover each with the remaining pieces of pastry and use your fingers to mush the edges of the pastry together.

Use a fork to properly seal the edges of the pastry.

Use the tip of a sharp knife to make diagonal slashes in the pastry. Be careful not to cut all the way through.

Use more of the whisked egg to wash all over the top of the slices.

Bake in the oven for around

20 to 25 minutes

or until the pastry is golden brown. You can use a spatula to carefully check the underneath of one to be sure.

And serve!
Nutrition (Approx)
Serving:
1
slice
|
Calories:
731
kcal
|
Carbohydrates:
45
g
|
Protein:
34
g
|
Fat:
46
g
|
Saturated Fat:
14
g
|
Trans Fat:
1
g
|
Cholesterol:
110
mg
|
Sodium:
1818
mg
|
Potassium:
510
mg
|
Fiber:
2
g
|
Sugar:
2
g
|
Vitamin A:
61
IU
|
Vitamin C:
1
mg
|
Calcium:
57
mg
|
Iron:
5
mg
Download my FREE 7 day international meal plan!
Simply subscribe to the Feast Glorious Feast newsletter and I'll send you the link.
I've shared this recipe with the Cook Blog Share Community which is hosted this week by Kacie at therarewelshbit.com.