Puff Pastry Asparagus Wraps are a avegetarian version of the classic bacon & mozzarella variety. The asparagus is tender and sweet while the cheeses provide tang and gooeyness against the crisp and flaky pastry. Be warned, make these and you'll be eating cheesy asparagus pastries for breakfast lunch and dinner!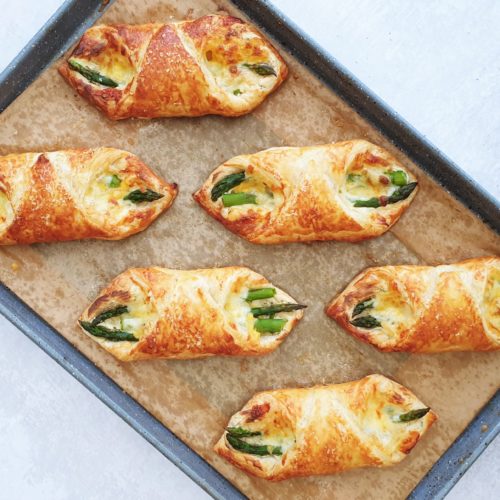 This post may contain affiliate links. Please refer to my Disclosures Page for more details.
I'm trying to make more vegetarian pastries! I am such a bacon fiend that I usually just can't help myself from throwing some in. But I think I've finally cracked the ultimate vegetarian pastry. Mind you lets face it, there isn't much that you can't wrap in cheese and pastry to make it delicious!
I'm a huge fan of asparagus and go big on eating it every year when its in season. In this UK this is roughly May to June. My Asparagus, Prosciutto and Poached Eggs dish is one of my go-to brunches or light meals. But I am a bit of a failure for being terribly inventive with it.
And then I baked it in cheese and puff pastry and it might just be my new favourite. I will let you into a little secret. I do sometimes top it with some prosciutto! Less vegetarian but quite terrific.
How to Make Puff Pastry Asparagus Wraps – Step By Step Video
One of the best things about these kinds of pastries is that they're ready to go in about 30 minutes. I often keep a box of ready rolled puff pastry in the fridge. And quite often have a batch of my own Homemade Puff Pastry either to hand or in the freezer.
The oven is up to temp by the time the pastries go in to bake for 15 minutes. You can see from the photos that this is ample time to make them beautifully golden brown and crispy even underneath. The asparagus gets a quick 5 minute blanch and the rest is a simple assembly job.
It's a very versatile concept too. I've made loads of suggestions in this post about how you can vary the recipe so feel free to experiment once you've got confident with the basic concept.
How to Serve Puff Pastry Asparagus Wraps
The only real question here is whether to eat them hot or cold. Hot would always be my preference. And fresh out of the oven is going to give you the absolute best combination of melty cheese and crisp flaky pastry.
Warming them back through in the oven is the second best option. Saying this, I tend to head to my Actifry as a first call as there is no preheating time involved. Just make sure you take out the paddle first! And then just popping them back in the microwave is nice and easy. You will get a soggier pastry, but I quite like that.
Otherwise they are perfectly acceptable to serve cold!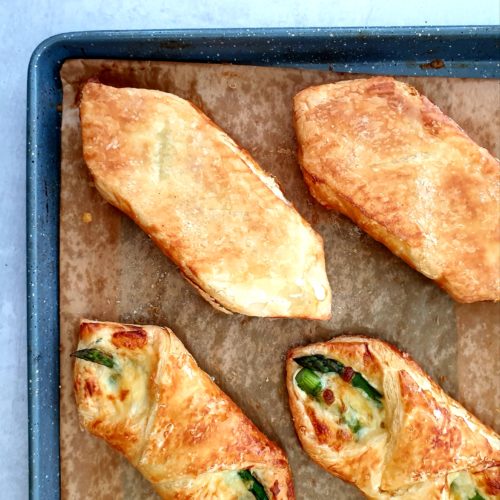 Make Asparagus Wraps into a Feast
I truly believe that you can make any dish into a proper feast! Whether thats a feast for one after work on a Tuesday, a casual feast for four on a Friday evening or a feast for 12 for a special occasion!
There are many options and different ways of serving these asparagus pastries. They start out the day as ideal as a quick grab and go breakfast or even as part of a larger brunch feast.
Then they're fab for a quick snack on the run or in a lunchbox.
And then you can even have them for dinner. Try putting together an everyday feast with my Garlic Roasted Sweet Potatoes and Boston Baked Beans (make them veggie if you need to).
Don't forget to head over to my Feast Collection pages to find all of my tips and tricks to help you host a fun and stress-free feast. Plus remember to check out my recipe index to create your own awesome Feast!
Ingredients for Puff Pastry Asparagus Wraps
Asparagus
I've stated in the recipe that you need 3 spears of asparagus for each pastry. But the eagle eyed amongst you will note that some of mine only have 2!
Asparagus is usually sold in bunches and mine happened to only have 15 spears. So I made it work. I just made sure that I put my fattest spears in pairs and used the thinner spears in threes. To make them as even as possible. You could also just as easily use more and stuff them in!
I do always try to buy local asparagus in season. But it isn't always possible. So I do also buy imported asparagus year around, just not as often. No one is giving you the side eye for eating an imported banana or orange so there is nothing wrong with treating yourself to out of season asparagus too. Just try to buy local and often when it is available.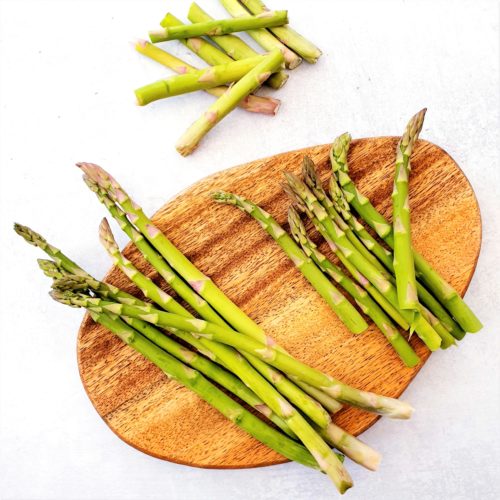 Puff Pastry
Puff is the king of pastry. I keep batches of my Homemade Puff in the freezer, some in blocks and some rolled into sheets. But I do just as often buy it, usually ready rolled for ultimate ease.
Homemade is fabulous but there is no shame in going to the shop either. Whatever variety I use, I use a sharp knife to cut it to make sure that the edges have their full opportunity to rise. If the edge layers are sealed together, they'll cook without rising and this can become quite stodgy.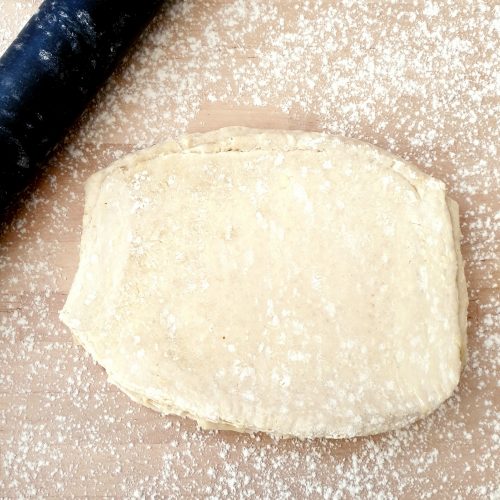 Grated Cheese
I've stated "grated cheese" in the recipe to be purposefully vague. You can use whichever cheese you prefer, whether that is a tasty mature cheddar, something continental like gouda or stringy mozzarella.
I used a mixture of coloured cheddar, mature cheddar and mozzarella. These were the odd ends of the bags of grated that I had in the fridge. And it worked out perfectly. A little stringy and very tasty!
Cream Cheese
I've used garlic and herb cream cheese. Actually I used the light version. This gives the pastry both a bit of extra moistness and a lovely background flavour without being too overpowering.
You could use a regular cream cheese instead or one of the other fancy flavourings you can get nowadays. Black pepper would be a good option. (Or use plain cheese and grind over a load of black pepper!)
Be Flexible
I know I say this a lot in my recipes but there are so many options! Lets start with what you could switch the asparagus for. Grilled baby leeks? Roasted red peppers? Roasted shallots? Griddled aubergine? These are all excellent ideas if I say so myself.

Whats about the cheese. I've already largely said use whatever you want. I was told by Hannah over at Crunch & Cream that brie would be her top choice. I'm still largely a mozzarella girl.

And then you can add in extras. For me that means prosciutto! You can either wrap the asparagus in prosciutto or just lay it on top of the cream cheese before carrying on as normal. Obviously this does make them not suitable for veggies. The other option is to just switch entirely to my meaty Bacon & Mozzarella Pastry recipe!

There are other veggie options like adding in grilled halloumi or creating a mix of vegetables.
Make it Vegetarian or Vegan
This recipe as written is suitable for vegetarians.
It is relatively easy to make it vegan. Most commercially available puff pastry is naturally vegan. An then it is a case of substituting the cheeses for vegan alternatives. You can use a plant milk instead of egg wash and either leave off the parmesan step or use a sprinkle of nutritional yeast instead.
Alternatively, if you are looking for a pure vegan puff pastry recipe, you should check out my Vegan Sausage Roll recipe.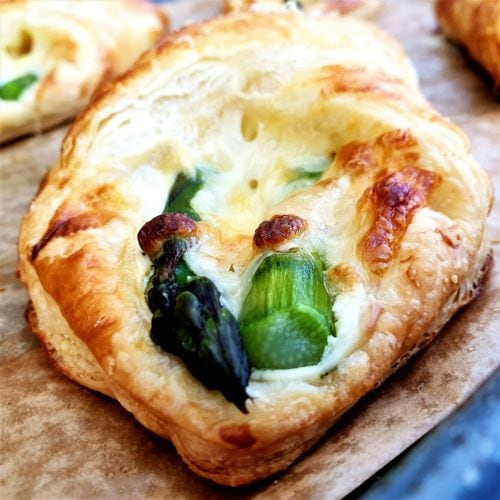 Make it Allergy Friendly
My asparagus puff pastries are naturally nut-free.
Gluten Free: Gluten free puff pastry is now readily available to buy or you can make my homemade recipe using a good gluten free flour mix like from Free From Fairy. You don't need to make any other substitutions although you should make sure that any ready grated cheeses are gluten-free. Most are now.
Dairy Free: Follow the instructions to make the pastries vegan. But use the egg wash as normal.
Egg Free: Use milk in place of the egg wash. It won't be quite as shiny but they'll still be tasty.
Please note that this recipe may contain other allergens not referred to above and any variations suggested have not been tested unless otherwise stated. For more information regarding any dietary information provided on this website, please refer to my Nutritional Disclaimer.
Equipment Notes for Asparagus Wraps
I line even my non-stick baking trays with parchment. It is always better to be safe than sorry.
I love my heavy marble rolling pin but any rolling pin will do. I used a roll of cling film for years until I upgraded. Use, rip off the top layer and no washing up is required. Genius really (if not terribly eco friendly)!
Otherwise there isn't really anything terribly specialist needed to make this recipe.
A comprehensive list of the equipment used to make this recipe is included in the main recipe card below. Click on any item to see an example. There are no hard and fast rules so many items can be sensibly substituted to achieve the same results.
Get Ahead
An absolutely brilliant thing to do with these pastries is to make a large batch up and then freeze them before cooking. Freeze them well spaced out on a tray then once frozen they can be stacked in a container or put in a bag. You simply cook them from frozen. The cooking time will need to be increased.

They can also be fully cooked and then frozen for thawing and reheating at a later date.
If you make them up ready for cooking but don't want to cook them straight away, keep them covered in the fridge for up to 24 hours. I wouldn't keep them this way for much longer as the pastry will start to discolour and the cream cheese could start to soak into the pastry.
Leftover Puff Pastry Asparagus Wraps
Any leftovers are easily reheated, either in the oven or microwave. They can also be frozen for another time.

As you only use the less woody asparagus heads in this recipe, it is brilliant if you can re purpose the bits you snap off. A recipe like this Cream of Asparagus & Celery Soup from fab Food 4 All is ideal as you don't need the fancy tips.
Asparagus Wrap Tips
Make sure to give the pastries plenty of room to puff up on the baking tray. If you need to bake them in several batches or on multiple trays then do this rather than squashing them onto 1.
I oil spray my lined tray for extra protection against sticking. I think this also helps the bottoms to go extra crispy. If you don't have spray, just use a pastry brush to spread a tsp of oil over the paper.
Spend a couple of extra seconds making sure that the folded over corners are well stuck down. This will stop them popping open in the oven. Its no great disaster to be honest but they look prettier when they stay wrapped.
Don't forget to let me know in the comments if you try making this recipe – I want to know what you think and if you made any substitutions, how did it turn out?
Still Have Questions?
Simple! Just contact me and I will do my best to help as quickly as I am able. Head over to my Contact Me page, any of my social media channels or post a comment at the bottom of this page and I'll see what I can do.
Pin Puff Pastry Asparagus Wraps For Later
Hit one of the share buttons to save this page to your Pinterest boards so you can come back and find it at anytime!
Keep Up to Date
Make sure you SUBSCRIBE to my newsletter and avoid missing out on any of my newest and bonus content. Don't worry, I promise not to spam you or bombard you too often. Plus you'll receive a copy of my FREE 7 Day International Meal Plan!

Also please don't forget to follow me over on my social media channels over at Facebook, Twitter, Instagram and Pinterest. I love to interact with my followers and I'd love you to share my content with your friends too.
---
More Puff Pastry Recipes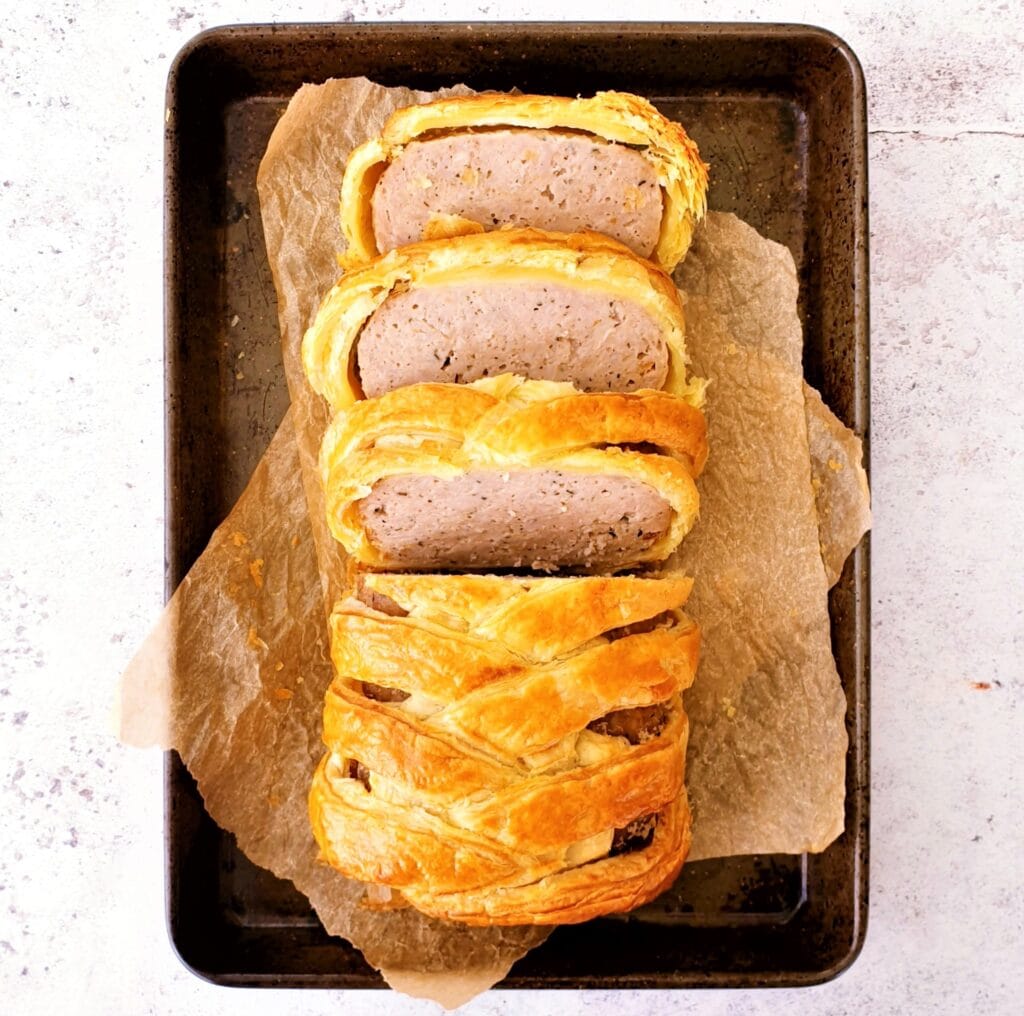 ---
The Recipe
Puff Pastry Asparagus Wraps
---
Puff Pastry Asparagus Wraps are a vegetarian version of the classic bacon & mozzarella variety. The asparagus is tender and sweet while the cheeses provide tang and gooeyness against the crisp and flaky pastry. Be warned, make these and you'll be eating cheesy asparagus pastries for breakfast lunch and dinner!
Ingredients
18

Asparagus Spears

-

roughly

375

g

Puff Pastry

Flour for dusting

Oil Spray

45

g

Garlic & Herb Cream Cheese

90

g

Grated Cheese

½

tsp

Sea Salt Flakes

1

Egg

2

tbsp

Parmesan
Instructions
Turn the oven to 200c or equivalent.

Pop a kettle on to boil.

Prepare

18 Asparagus Spears

by snapping off the woody ends. Be gentle and they will naturally snap in the right place.

Put the asparagus tips in a shallow pan and cover with boiling water. Boil gently for

5 minutes

.

Prepare a bowl of cold water ready to plunge in the asparagus.

Once the asparagus is cooked, take it out of the boiling water and plunge into the bowl of cold.

After a few minutes, drain the asparagus and leave it to the side to dry a little.

Meanwhile lay out or roll out

375g Puff Pastry

on a floured board. Aim for a rectangle about 36cm x 24cm. (Measurements given for 6 pastries. You will need to amend the dimensions or work in batches for other serving sizes).

Trim the edges if needed,

Use a sharp knife to cut squares out of the pastry roughly 12cm x 12cm.

Line a large oven tray with greaseproof paper and lightly spray the surface with oil.

Carefully move the pastry squares to the tray.

Split

45g Garlic & Herb Cream Cheese

across the pastry squares. This should be about 1 tsp per square.

Use the back of a spoon to spread the cream cheese into a circle in the centre of the square. The spread a little to 2 of the opposite corners.

Lay 3 of the cooked asparagus spears onto each smear of cream cheese. Point two heads to one corner and one head to the opposite corner.

Share

90g Grated Cheese

across the pastries. Keep most of the cheese towards the centre although it can be spread a little towards the filled corners.

Sprinkle with

½ tsp Sea Salt Flakes

split across the pastries.

Beat

1 Egg

in a small bowl.

Coat the exposed pastry with egg wash.

Fold one uncovered corner towards the other. Then fold the second corner over that one.

Egg wash all the remaining exposed pastry.

Finely grate

2 tbsp Parmesan

over the pastries.

Bake for

15 minutes

until golden.

Serve!
Nutrition (Approx)
Serving:
1
pastry
|
Calories:
454
kcal
|
Carbohydrates:
31
g
|
Protein:
13
g
|
Fat:
31
g
|
Saturated Fat:
10
g
|
Cholesterol:
46
mg
|
Sodium:
652
mg
|
Potassium:
164
mg
|
Fiber:
2
g
|
Sugar:
2
g
|
Vitamin A:
616
IU
|
Vitamin C:
3
mg
|
Calcium:
217
mg
|
Iron:
3
mg
Download my FREE 7 day international meal plan!
Simply subscribe to the Feast Glorious Feast newsletter and I'll send you the link.