My Puff Pastry Quiche with Bacon, Courgette & Mozzarella is almost a complete meal in itself! I just can't get enough of the light puff pastry crust packed full of smoky bacon, vegetables and melty mozzarella in a soft and creamy egg custard filling. Serve hot or cold for a tasty and portable treat.
This post may contain affiliate links. Please refer to my Disclosures Page for more details.
Quiche can be a little unfashionable nowadays. But I'm on a mission to change that because quiche is damn delicious! You may have noticed that I am a big fan of bacon and so it'll be no great surprise that my favourite fully loaded quiche includes lots of it!
It is however a little more unusual for me to use smoky bacon as I have here. I find that the bacon can get a little lost without that extra kick of flavour. Not surprising really considering all of the glorious flavours at play in this recipe.
I include onions, mushrooms and courgettes but you could add in any other veg that you fancy to really help get to your 5 a day quota.
I first made my Puff Pastry Quiche with Bacon, Courgette & Mozzarella for a Great British Bake Off watching party. The quiche travelled really well in its dish and I reheated it though in the oven. It was perfect!
The Crust
This quiche is slightly unusual as most traditional quiches like my traditional Quiche Lorraine use shortcrust pastry as this base. Here I have used puff pastry to really pack a flavour punch and add a crisp flaky texture that can hold up to the punchy filling.
I sometimes like to faff around and try to make a pretty crust for my quiche. It is not at all necessary but I enjoy the time spent playing with pastry scraps and seeing what designs I can come up with. This is something that I grew up doing and so I would suggest that it is a great way to get kids involved with the baking. Big and little kids alike!
There is no need to get fancy however. Using a fork to crimp down the edges would be more than sufficient way to finish off the quiche.
For an extra creamy puff pastry number with a lid, I can recommend my Egg & Bacon Puff Pastry Pie as an excellent alternative. Other fab uses for Puff Pastry include Mini Sausage Rolls, Asparagus Wraps, Steak Bakes, my family sized Sausage Plait and Puff Pastry Pie.
Make Puff Pastry Quiche with Bacon, Courgette & Mozzarella into a Feast
I truly believe that you can make any dish into a proper feast! Whether thats a feast for one after work on a Tuesday, a casual feast for four on a Friday evening or a feast for 12 for a special occasion!
Quiche can make a surprising but perfect addition to a Brunch Feast. After all, what is more brunch suitable than bacon, egg and mushrooms?!
On top of that it is brilliant to take on a Picnic Feast. Think Scotch Eggs, Sausage Rolls and packed Sesame Bagels. Throw in some Creamy Coleslaw and Whole Orange Choc Chip Muffins along with a little salad and maybe some crisps for a classic spread.
Or to make it a warm dish, serve hot with a side of Roast Potatoes.
Don't forget to head over to my Feast Collection pages to find all of my tips and tricks to help you host a fun and stress-free feast. Plus remember to check out my other Brunch suitable recipes.
Ingredients for Puff Pastry Quiche with Bacon, Courgette & Mozzarella
Pastry
You can use my recipe to make your own Homemade Puff Pastry or use shop bought. Use the ready rolled kind and you can whip this quiche up super fast. The all-butter kind is preferable if available and you're not avoiding dairy.
The quiche will also work just fine using any other kind of pastry such as flaky or shortcrust if you prefer. Its perhaps best to avoid filo or sweet pastry however!
Mozzarella
Unlike with my Bacon Mozzarella Pastries, using fresh mozzarella within the quiche itself is my preference in this case. Although ready grated or block mozzarella will also work.
The trick with using the fresh mozzarella is to squeeze and drain it really well. Use kitchen paper to make sure as much moisture as possible is removed before adding it to the quiche.
The reverse is true for the cheese used to top the quiche. My preference would be to use a ready grated mozzarella as too much moisture will sink into the quiche filling and change the texture.
You can find more recipes featuring mozzarella in my collection of The Best Mozzarella Recipes.
---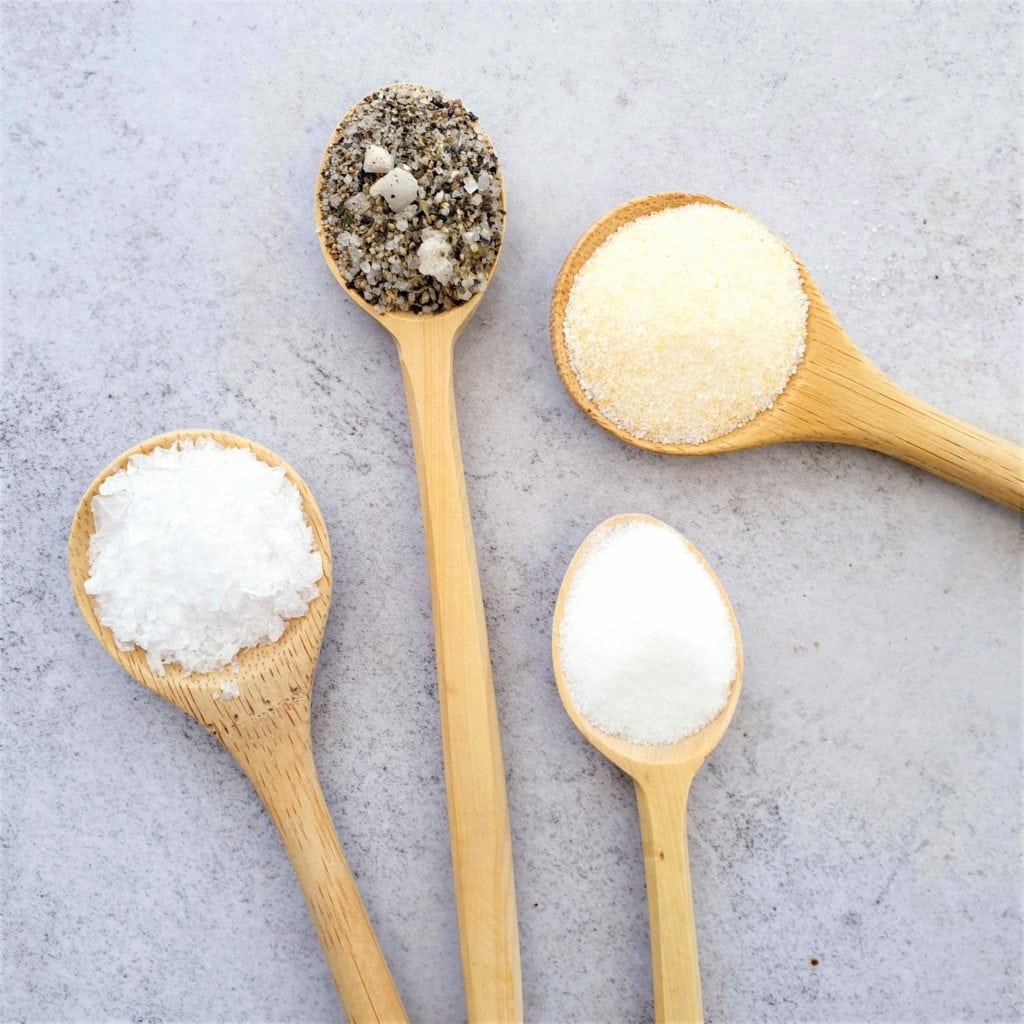 For the lowdown on using salt to properly season and enhance the flavour of your food, check out my Ultimate Guide on How to Use Salt.

There is guidance about which salt to use when, salt alternatives, using salt when baking and even what to do if you add too much salt!
---
Bacon
There are effectively 4 main types of bacon in the UK. Back bacon and streaky bacon with each being available both smoked and unsmoked. I am largely an unsmoked back bacon kind of girl but this is an occasion where I prefer to use streaky smoked bacon. But just use your favourite.
Cream
I have specified whipping cream in the recipe as this gives just the right texture I am looking for. But double cream would work equally as well.
I am often a huge fan of substituting cream for creme fraiche in recipes but when mixing with eggs, I don't think it works. The texture is not quite right. Single cream would be your best alternative to reduce the fat content a little.
Chives
Please use fresh chives! If dried are you only option, you would really be better leaving them out.
Be Flexible
You can adapt almost everything in this recipe except for the egg mixture. And even then you can choose which cream you use. I've already talked about what other pastries you could use above.
You can use ready cooked ham or even another meat like chorizo or chicken (or both!) to vary the meat element.
Another option would be to include any melty cheese as well as, or instead of, the mozzarella. You can equally use any cheese on the top. More mozzarella if you'd like to keep it mild or you could switch it up entirely and use something a bit out there like mexicana. (That would go rather well with that chicken and chorizo I mentioned above!).
To go totally out there, instead of adding a layer of plain fried mushrooms, you could make my Creamed Oregano Mushrooms and use that as a layer at the bottom instead. Decadent!
The vegetables are again totally interchangeable. Roasted red peppers, caramelised onions or even asparagus would be lovely additions or substitutions. Just make sure everything is cooked before adding to the quiche crust.
The other option to mix the recipe up is to either make mini quiches, individual portion size quiches or change the shape. Who cares if a square quiche isn't traditional, only got a square dish? Use it! Alternatively use a shallower quiche dish and halve the filling ingredients.
Make it Vegetarian
Don't add the bacon. Or substitute the bacon for a veggie alternative. And ensure that your cheese is made with vegetarian rennet. You should then be good to go!
Make it Vegan
I love to talk about the substitutions that you can make to my recipes to make them vegan friendly. Most of the time that's quite easy to do but this Bacon Quiche recipe really does hinge on the eggs. You can sub the cheese, sub the bacon and use plant-based cream but at the end of the day, I think you might just have to skip this one. Sorry!
Saying this, there are quiche like options available to you. Tofu can be used as a substitute for the egg like with this Simple Tofu Quiche from The Minimalist Baker.
For a fun puff pastry recipe which is much easier to make vegan, have a look at my Puff Pastry Asparagus Wraps. Alternatively, if you are looking for a pure vegan puff pastry recipe, you should check out my Vegan Sausage Roll recipe.
Make it Allergy Friendly
This recipe is free from nuts.
Gluten Free: You can now buy pretty decent gluten free pastry. Especially in the freezer section. Ensure that you use a gluten free flour when rolling out and you should be grand.
Dairy Free: You will need to make sure that the pastry being used is suitable for vegans. Most ready made commercial pastry is already dairy free (not the all-butter kind) or you can make my Homemade Puff Pastry using baking fat rather than butter. You will also need to use a dairy free cream and dairy free cheese substitutes.
Egg Free: Egg allergies will unfortunately be as difficult to accommodate as vegans for this recipe. I think you will have to take a pass. Sorry again.
Please note that this recipe may contain other allergens not referred to above and any variations suggested have not been tested unless otherwise stated. For more information regarding any dietary information provided on this website, please refer to my Nutritional Disclaimer.
Equipment Notes for Puff Pastry Bacon Quiche
I did not own a rolling pin for many many years. Instead I used a roll of clingfilm. When I was finished, I just disposed of the last layer off the roll. This was all very well and good but clingfilm tends to have a distinct lack of weight to it.
A couple of years ago, I asked for a marble rolling pin for Christmas. I have not looked back. They're not expensive but absolutely brilliant. I use the weight of the rolling pin to do the rolling rather than exerting great pressure on the pin. This is very helpful for not breaking the layers.
I love my little flour shaker. It makes evenly dusting a surface with flour easy and a little less messy than scattering it by hand. Add one to your Christmas list.
This is a deep dish quiche. The quiche tin that I use for my Quiche Lorraine will not be deep enough. I usually use my large ceramic pie dish instead which works perfectly.
I find that heavy duty scissors are the quickest, easiest and least messy way of cutting up bacon. It can go straight from the packet into the pan.
I have a set of star cookie cutters and round cookie cutters. Between these and a good sharp knife, there are a million decorations that you can make out of the pastry scraps. I kept it simple by just using the smallest star cutter. You don't really need to decorate at all but its a bit of fun for me!
---
To see more of my recommended equipment items for new bakers, have a look at my post featuring all the essential equipment you might need.

It is also perfect inspiration for gifts for a budding baker in your life!
---
A comprehensive list of the equipment used to make this recipe is included in the main recipe card below. Click on any item to see an example. There are no hard and fast rules so many items can be sensibly substituted to achieve the same results.
Get Ahead
Quiche freezes surprisingly well so you can make the quiche in full, including baking it and then freeze the whole thing. Or you can cut it into portions and freeze them individually.
Make sure the quiche is fridge cold before trying to cut it. Use the oven to reheat if you like your pastry crispy. (I quite like it a bit soggy so I use the microwave!).
You can alternatively make the pastry crust and prepare all of the individual ingredients up to a day before assembling and baking.
I would not recommend assembling it in full and then leaving it to sit very long or the egg mixture will just eventually soak into the pastry. Add the egg last minute!.
Leftover Puff Pastry Quiche
With quiche being such a great portable snack or lunch, I find that I rarely have to worry about having leftovers.
But if you aren't going to get through the whole quiche within a few days of baking, simply freeze the remaining portions as described above.
Puff Pastry Quiche with Bacon, Courgette & Mozzarella Tips
You can roll the pastry out using a rolling pin and a light dusting of flour straight on your work surface or wooden board. If I can't face the idea of clean up, sometimes I line the work surface with clingfilm first. Once finished, the cling film on the counter can be rolled up and chucked in the bin, containing all of the excess dusted flour. Minimal mess. Lovely.
Consider adding all of the fillings except the egg mixture before decorating this crust if this is your intention. You won't knock the crust while filling it or drop the decorations in it and ruin them!
For extra prevention of filling spillage on the way to the oven, I sometimes take the quiche to the oven, pull out the shelf, pop the quiche in and then use a jug to add the filling right there and then. Don't forget to sprinkle the cheese topping if you are doing this and be very careful not to burn yourself. Also, be as quick as possible or the oven will cool down too much.
If you're brave, you can check that your bottom isn't soggy by turning the quiche out gently onto a plate or chopping board. If the top is looking golden brown before the pastry is cooked through, cover the top with foil before giving the quiche another 5-10 minutes cooking as required.
Don't forget to let me know in the comments if you try making this recipe – I want to know what you think and if you made any substitutions, how did it turn out?
---
For more recipe ideas, make sure to check out my roundup of the best Courgette recipes from top food bloggers.
You can find ideas for simple sides, both meaty and veggie main courses, great cakes and bakes and ways to preserve zucchinis so they last the whole year. Plus don't miss the bonus and slightly unusual breakfast recipe!
---
Still Have Questions?
Simple! Just contact me and I will do my best to help as quickly as I am able. Head over to my Contact Me page, any of my social media channels or post a comment at the bottom of this page and I'll see what I can do.
Pin Puff Pastry Quiche with Bacon, Courgette & Mozzarella For Later
Hit one of the share buttons to save this page to your Pinterest boards so you can come back and find it at anytime!
Keep Up to Date
Make sure you SUBSCRIBE to my newsletter and avoid missing out on any of my newest and bonus content. Don't worry, I promise not to spam you or bombard you too often. Plus you'll receive a copy of my FREE 7 Day International Meal Plan!

Also please don't forget to follow me over on my social media channels over at Facebook, Twitter, Instagram and Pinterest. I love to interact with my followers and I'd love you to share my content with your friends too.
More Puff Pastry Recipes
More Egg Based Recipes
The Recipe
Puff Pastry Quiche with Bacon, Courgette & Mozzarella
---
My Puff Pastry Quiche with Bacon, Courgette & Mozzarella is almost a complete meal in itself! I just can't get enough of the light puff pastry crust packed full of smoky bacon, vegetables and melty mozzarella in a soft and creamy egg custard filling. Serve hot or cold for a tasty and portable treat.
Ingredients
350

g

Puff Pastry

250

g

Mushrooms

2

tsp

Sea Salt Flakes

250

g

Courgette (Zucchini)

300

g

Smoked Streaky Bacon

5

Egg

300

ml

Whipping Cream

1

tbsp

Fresh Chives

140

g

Fresh Mozzarella Ball

100

g

Grated Mozzarella

Oil Spray
Instructions
Prepare the Crust
Prepare a floured work surface to roll your pastry.

Roll out

350g Puff Pastry

to a size a little larger than the dish you are using, taking into account the depth too.

Use an Oil Spray to lightly coat the inside of a tart/flan/pie dish.

Lay the rolled pastry into the pie dish.

Gently press the pastry down into the corners. Press down the couple of inevitable folds.

Using a sharp knife, trim off the excess pastry.

Put the lined pie dish into the fridge to chill.

If you are using the pastry off-cuts to decorate you quiche, prepare your decorations as you like. Pop the decorations on a tray in the fridge to also chill.
Prepare the Fillings.
Slice

250g Closed Cup Mushrooms

into thickish slices and fry on a high heat with a few squirts of Oil Spray and

1 tsp Sea Salt Flakes

.

Fry until they are dry, nicely browned and cooked through. Put aside on a plate to cool.

Meanwhile, slice

250g Courgette

into half moons and cook in the same way as the mushrooms then place aside to cool.

Using scissors, snip

300g Smoked Streaky Bacon

into little pieces straight into a frying pan.

Fry on a high heat until just before the fully crispy stage. You want the fat to be a bit crispy but the meat still a little soft.

Take the bacon out of the pan to drain on kitchen paper and leave to cool.

Whisk

5 Eggs

and

300ml Whipping Cream

together in a mixing bowl.

Snip in around

1 tbsp Fresh Chives

and stir in. Set aside.
Assemble the Quiche
Preheat the oven to 180c or equivalent.

Take the chilled pastry crust out of the fridge and lay the mushrooms into the base of the crust. Then add the courgettes and bacon pieces.

Tear

140g Fresh Mozzarella

into small pieces and scatter over the other fillings.

If decorating the crust, use a pastry brush to wet the edges of the crust. Use a little of your eggy filling as glue to attach any decorations.

Use more of the egg mixture to glaze the top of the crust.

Pour the egg and cream mixture into the pie dish. I use my fingers to mix up the layers of ingredients a little at this stage, just enough so the egg goes under some of them, not so much that the even distribution is too disturbed.

Grate

100g Grated Mozzarella Cheese

over the top of the filling.

Pop into the oven for 45 minutes.

The filling should be set but a little wobbly in the middle and the top golden brown. Give the quiche a little longer in the oven if needed.

Serve warm, either straight after cooking or warmed though in the oven or microwave later.
Notes
Important! If you have adjusted the serving size of this recipe, the cooking time will vary. A larger quiche will take longer to cook although a smaller one won't take much less as the pastry still needs to cook through. If increasing the portions substantially, you may wish to consider making multiple smaller quiches rather than a bigger one.
Nutrition (Approx)
Calories:
668
kcal
|
Carbohydrates:
24
g
|
Protein:
20
g
|
Fat:
54
g
|
Saturated Fat:
22
g
|
Cholesterol:
202
mg
|
Sodium:
1184
mg
|
Potassium:
370
mg
|
Fiber:
1
g
|
Sugar:
2
g
|
Vitamin A:
995
IU
|
Vitamin C:
6.7
mg
|
Calcium:
203
mg
|
Iron:
2.2
mg
Download my FREE 7 day international meal plan!
Simply subscribe to the Feast Glorious Feast newsletter and I'll send you the link.