My Asparagus with Poached Eggs & Prosciutto is the simplest 10 minute meal. Fry the asparagus in butter, poach a couple of eggs and pop some prosciutto on a plate for an instant lunch or lovely brunch. Celebrate these three simple ingredients and give it a try!
This post may contain affiliate links. Please refer to my Disclosures Page for more details.
I eat this dish all the time. No joke. And I cannot get enough of it during English asparagus season which usually runs from the end of April and into June. I'm not the best at eating terribly seasonally but I am known for hitting the asparagus hard in the spring!
I'm also know for hitting up nearly every permutation possible of eggs and bacon. Poached Eggs and prosciutto is definitely classier than some of my other faves like my perfect Triple Decker Sandwich, Eggy Bread and Ham and Cheese Casserole. It may be on a classy par with a great Carbonara though!
Please don't be scared of poaching eggs. I'm so determined that this unnecessary fear be quashed that I've written a step-by-step guide on the subject! There is nothing scary needed, no special equipment, no whirlpools, no vinegar concoctions. The only secrets involve a shallow pan and fresh eggs.
You also shouldn't be scared of not boiling the asparagus. I don't really understand why boiling it is a thing. It just seems to be a wonderful way of achieving a soggy and sorry for itself bendy green stick with half the flavour drained out of it.
Gently pan frying asparagus from raw gives a lovely flavour, cooks it through perfectly and adds a little tasty char.
How to Serve Asparagus with Poached Eggs & Prosciutto
I often eat this dish as quite a light dinner but when I need something a little more substantial, I add a little bread like my Chilli & Oregano Soda Bread or Breakfast Biscuits. I have also halved the portions, added some shavings of Parmesan and a little drizzle of olive oil to turn it into a fab and quick starter.
Since I created my Creamed Oregano with Mushrooms recipe, I've been thinking how awesome that would be poured over the asparagus. I'm going to try it just as soon as I can get my hands on some English asparagus!
Make Asparagus with Poached Eggs & Prosciutto into a Feast
I truly believe that you can make any dish into a proper feast! Whether thats a feast for one after work on a Tuesday, a casual feast for four on a Friday evening or a feast for 12 for a special occasion!
I've included this recipe in my Alternative Brunch Feast.
The eggs and asparagus combine with my Chilli and Oregano Soda Bread, Avocado and Bacon Mozzarella Pastries for a hearty brunch. The meal is topped off with my Scotch Pancakes and Peach Compote for a little sweetness.
Don't forget to head over to the Big Brunch Feast post for all of my tips and tricks to help you host a fun and stress-free feast. Plus remember to check out my other feast collections and all my brunch related recipes.
I also sometimes add a side of Roast Potatoes to create a much fuller and warming meal.
---
More Breakfast Egg Recipes
For more great egg recipe ideas, have a look at my roundup of The Best Eggs for Breakfast Recipes featuring not only more of my recipes but even more from some other top Food Bloggers.

There are plenty of ideas from pancakes to baked eggs, curds to spread on toast, spicy middle eastern dishes and comforting classics.
---
Ingredients for Asparagus with Poached Eggs & Prosciutto
Asparagus
Please do try to buy local asparagus when it is in season if at all possible. Otherwise please do at least try to buy the full bundles rather than just the 'tips' wrapped up on plastic trays. The stalks are very edible so I don't know why you wouldn't buy the whole thing.
Saying that, some of the stalk can be woody so simply snap the end of each stalk off. It will snap where it stops being woody. Thanks nature! If the asparagus is especially thick stemmed, use a peeler to shave off some of the tougher outer layers from the bottom half of each stalk.
Eggs
Use fresh eggs. That is all you need to know or do. Fresher the better.
Oh and in the UK you do not need to keep eggs in the fridge. Room temp eggs are better to work with for nearly everything so don't make things harder than they need to be.
Prosciutto
For the record, yes I had to google how to spell Prosciutto!
I've said prosciutto to be inclusive. Parma Ham is also prosciutto but it is from a specific region and made in a prescribed way. Serrano ham (the Spanish version) would also do the trick perfectly. There is a taste difference but both flavours work great with the asparagus and eggs.
I'll be honest and say that I buy the cheap stuff. From Aldi actually. Because its about half the price of the main brands and just as tasty. I don't think that I've ever had bad prosciutto. I'm a snob when I need to be but in this instance, I don't need to be.
Prosciutto is best served at room temp so take it out of the fridge a little while before you need it.
Be Flexible
I've talked above about the various types of cured ham that you could use. Other options would include other cured meats like bresaola or just regular bacon or ham.

Which eggs you serve could also be changed. Fried or boiled eggs would be the most obvious choices. Scrambled wouldn't be my first choice but if you make them lovely an creamy, I think they would also work well. This might be the best option if cooking for a larger crowd.

You could substitute the asparagus for another vegetable. Tenderstem or purple sprouting broccoli would be my instinctive choices.
Make it Vegetarian
Obviously the ham is going to have to go. You can of course keep the dish extra simple and go for just asparagus and eggs but if you are looking for a little more substance, some Roasted Mushrooms would make a great side. You might want to use regular butter rather than garlic at breakfast time!
I know its a bit of a vegetarian cliche to add mushrooms but actually it would be really great in this case.
---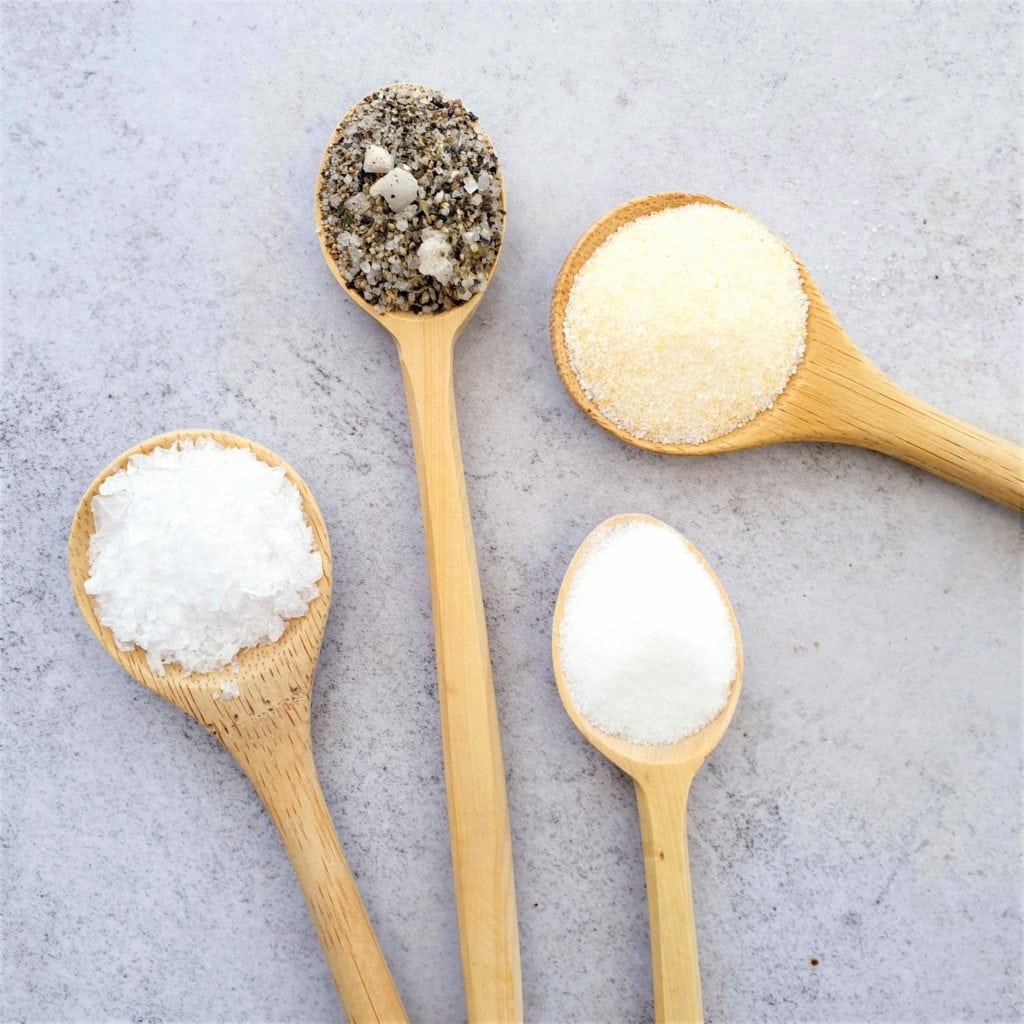 For the lowdown on using salt to properly season and enhance the flavour of your food, check out my Ultimate Guide on How to Use Salt.

There is guidance about which salt to use when, salt alternatives, using salt when baking and even what to do if you add too much salt!
---
Make it Vegan
With two out of the three ingredients in this dish not being suitable for vegans (three out of four if you include the butter), making a truly vegan version is going to be tricky.
I would start by cooking the asparagus in olive oil. I would then use my vegetarian fried mushrooms option given to the vegetarians above. For a little extra bulk, I would definitely serve that with bread.
I have seen a recommendation from Mandy over at Cook Veggielicious for a vegan egg alternative called "Vegan Easy Egg" which would seem to provide an option for making vegan scrambled eggs too.
Make it Allergy Friendly
My Asparagus with Poached Eggs & Prosciutto dish is free from gluten and nuts without amendment.
Dairy Free: Use olive oil to pan fry the asparagus instead of the butter. Or use a dairy free butter substitute if you prefer.
Egg Free: As for the vegan version of this dish, the eggs will have to go but could be replaced with 'vegan scrambled eggs' using an egg alternative.
Please note that this recipe may contain other allergens not referred to above and any variations suggested have not been tested unless otherwise stated. For more information regarding any dietary information provided on this website, please refer to my Nutritional Disclaimer.
Equipment Notes for Asparagus with Poached Eggs & Prosciutto
Scale up the size of your frying pan depending on the number of eggs you are using. A small frying pan is perfect for 2 eggs and a large frying pan will be sufficient for up to 6 or even 8 eggs.
I find using a slotted fish slice better than using a slotted spoon. I believe the flat surface makes it harder to accidentally break the egg. But you do need to be careful that it doesn't slip off!
I suggest boiling a kettle to boil the water quickly. You can of course just boil the water in the pan on the hob but this will unduly increase the cooking time.
A comprehensive list of the equipment used to make this recipe is included in the main recipe card below. Click on any item to see an example. There are no hard and fast rules so many items can be sensibly substituted to achieve the same results.
Get Ahead
I don't think that there is any real need to get ahead with a meal that takes literally 10 minutes from start to finish.
It is possible to poach eggs, sit them in ice water and then reheat them in boiling water for minute. This is how a lot of restaurants do things. As far as I am concerned, this is why fresh home cooked poached eggs are a cut above anything you can buy out of the home.
Leftover Asparagus with Poached Eggs & Prosciutto
I would recommend only cooking the amount that you will need for the number of people you are serving. Any prosciutto left in the packet can be stashed back in the fridge.
Asparagus with Poached Eggs & Prosciutto Tips
Do keep en eye on the asparagus pan as the tips can catch and burn quite quickly.
Please do read my tips for perfect poached eggs if you are under-confident about cooking them.
If your poached eggs don't look like the cover of a magazine, don't worry, that what real eggs look like.
I like to do a little draping with my prosciutto rather than lay it flat on the plate. Obviously this isn't required but a little bit of nice presentation just makes me feel good about what I'm eating!
Don't forget to let me know in the comments if you try making this recipe – I want to know what you think and if you made any substitutions, how did it turn out?
Still Have Questions?
Simple! Just contact me and I will do my best to help as quickly as I am able. Head over to my Contact Me page, any of my social media channels or post a comment at the bottom of this page and I'll see what I can do.
Pin Asparagus with Poached Eggs & Prosciutto For Later
Hit one of the share buttons to save this page to your Pinterest boards so you can come back and find it at anytime!
Keep Up to Date
Make sure you SUBSCRIBE to my newsletter and avoid missing out on any of my newest and bonus content. Don't worry, I promise not to spam you or bombard you too often. Plus you'll receive a copy of my FREE 7 Day International Meal Plan!

Also please don't forget to follow me over on my social media channels over at Facebook, Twitter, Instagram and Pinterest. I love to interact with my followers and I'd love you to share my content with your friends too.
More Egg Based Recipes
The Recipe
Asparagus with Poached Eggs & Prosciutto
---
My Asparagus with Poached Eggs & Prosciutto is the simplest 10 minute meal. Fry the asparagus in butter, poach a couple of eggs and put some prosciutto on a plate for an instant lunch or lovely brunch. Celebrate these three simple ingredients and give it a try!
Ingredients
150

g

Asparagus Spears

1

tsp

Salted Butter

2

Egg

6

slices

Prosciutto

0.25

tsp

Sea Salt Flakes
Instructions
Boil a kettle of water.

Prepare

150g Asparagus

by snapping off the thick bottom ends where they naturally break.

Melt

1 tsp Salted Butter

on a medium frying pan. Add the asparagus to the pan.

Keep the asparagus moving around the pan by gently shaking it every 20 seconds or so.

They're done when the stems are a little soft to the touch and a little charred. This should take 4 to 5 minutes.

Remove the asparagus from the pan and cover with foil to keep warm. Pop in a low oven if you wish.

Fill the frying pan with the now boiled kettle water and crack in

2 Eggs

.

Leave the eggs to cook in gently simmering water.

Splash water over the yolks if they are not fully submerged.

Meanwhile, lay the asparagus and

6 Slices Prosciutto

on a plate.

The eggs are cooked when the white is firm all the way through and the yolks have turned a little pale but are still wobbly.

Use a fish slice to remove the cooked eggs from the water and add two to each serving plate.

Sprinkle

0.25 tsp Sea Salt Flakes

over the eggs and serve straight away.
Nutrition (Approx)
Calories:
195
kcal
|
Carbohydrates:
3
g
|
Protein:
10
g
|
Fat:
15
g
|
Saturated Fat:
5
g
|
Cholesterol:
184
mg
|
Sodium:
531
mg
|
Potassium:
259
mg
|
Fiber:
1
g
|
Sugar:
1
g
|
Vitamin A:
865
IU
|
Vitamin C:
4.2
mg
|
Calcium:
43
mg
|
Iron:
2.5
mg
Download my FREE 7 day international meal plan!
Simply subscribe to the Feast Glorious Feast newsletter and I'll send you the link.