Puff Pastry Pie is the best pie, especially when stuffed full of Chicken, Ham, Mushroom and a tasty white sauce! Its actually my favourite. I use ready rolled pastry for a speedy dinner or make my own puff for a luxurious feast centerpiece. And as I often reheat portions for my lunch, it's basically meal-prep for northerners!
This post may contain affiliate links. Please refer to my Disclosures Page for more details.
I first posted this pie recipe around the time of International Pi Day on 14 March. Mostly because it made me chuckle that bakers over the world rose to the challenge and made Pi day into Pie day. Some really managed to combine the two!
I don't eat that many pies (some people will be very surprised to learn this!) Anyway, not being a low and slow cooked meat kinda gal, beef pies etc don't really do it for me. Therefore Chicken, Gammon & Mushroom is my go-to pie filling. Its creamy and tasty, full of meat, has a bit of veg and is packed with flavour.
Importantly this is a proper pie. One with pastry all the way around, up, under and over. There are times and places for the other types of pie (I lie – there is no excuse!) but this is the gold standard. A true northerner's pie!
How to Make Puff Pastry Pie – Step By Step Video
Pie Crusts
Lets talk crusts. I like to use my Homemade Butter and make Homemade Puff Pastry. But clearly I am a little ridiculous! This is a lovely way to spend some chill time making and baking but I appreciate that sometimes ready-rolled puff pastry from the supermarket is very much the answer to pie!
I actually buy puff pastry the majority of the time, as do most people, top chefs included. (By the way did you know that most commercially available pastry is vegan. Concerning if you're into proper butter but a delight if you're doing the 'plant-based' thing – or importantly, need to cook for one!)
You can of course go for the quick and dirty shortcrust route (double that recipe). I've been a bit anti-shortcrust for most of my life. I used to just find it quite dry but I am slowly coming back around to it. Shortcrust for the pie base and puff for the top would be a nice combo.
This is what is known as a "double crust" or "double crusted pie". Meaning that there is pastry fully encasing the filling. In the US, the term pie is more often given to sweet pies or single crusted pies which in the UK are much more likely to be called a quiche or tart. Or more likely "thats not a bloody pie". I'm a big fan of the double crust so I also use this method for my Egg & Bacon Pie!
There are loads of pie crust design inspiration ideas on Instagram. Search the hashtag #piecrust – my favourite account are arlodesigns and lokokitchen.
Make Puff Pastry Pie with Chicken, Ham & Mushroom into a Feast
I truly believe that you can make any dish into a proper feast! Whether thats a feast for one after work on a Tuesday, a casual feast for four on a Friday evening or a feast for 12 for a special occasion!
I do get a bit excited about pie and often forget to serve anything with it!!! If you're not an absolute pastry fiend like me, its also great served with some kind of potato and veg. I especially like to serve my Roast Potatoes or Garlic Roasted Sweet Potatoes and Garlic Pea Puree. The sweetness of the sides pair great with the rich creaminess of the pie. A proper Feast!
This kind of hearty main course deserves a hearty pudding. Round off your feast with a Figgy Upside Down Pudding, Peach and Ginger Crumble or Chocolate Bread Pudding.
Don't forget to head over to my Feast Collection pages to find all of my tips and tricks to help you host a fun and stress-free feast. Plus remember to check out my recipe index to create your own awesome Feast!
Ingredients for Puff Pastry Pie with Chicken, Ham & Mushroom
Pastry
I have used my own Homemade Puff Pastry but using shop-bought is just fine. Homemade puff actually isn't difficult at all, or that labour intensive, it just takes a little time due to having to leave the layers to chill in between folds.
---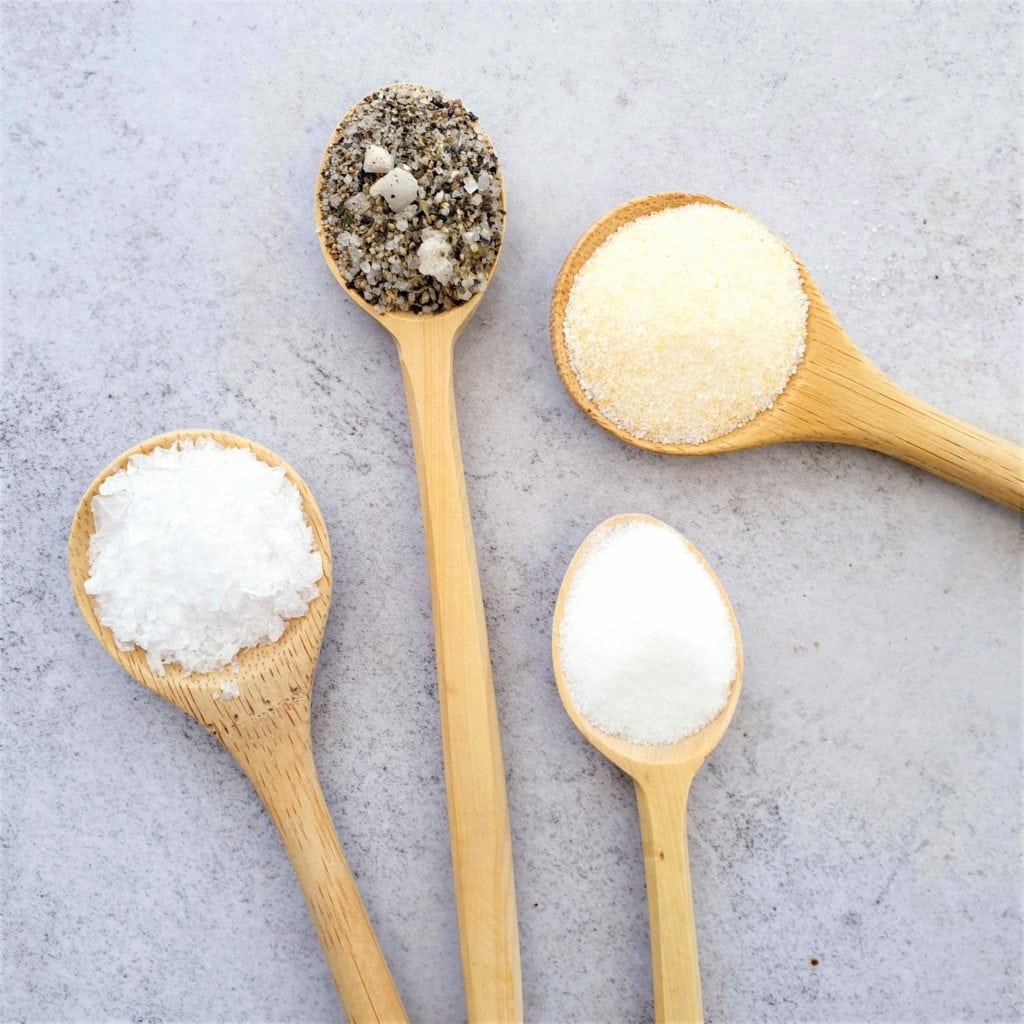 For the lowdown on using salt to properly season and enhance the flavour of your food, check out my Ultimate Guide on How to Use Salt.

There is guidance about which salt to use when, salt alternatives, using salt when baking and even what to do if you add too much salt!
---
Ham
I usually use part of a small value gammon joint or steak for the recipe. Sometimes I cut a slice off a hunk of a larger joint which I'm going to make into my Ginger Beer Ham. You could also used cured bacon loin.
As an alternative, cooking bacon is cheap and generally comes in nice thick pieces. I prefer unsmoked but smoked would work fine too if that is your preference.
The other option is to use already cooked ham. Like leftovers from a boiled or roasted gammon or even an extra thick slice bought from the deli counter. Add the cubed ham in once all the other filling ingredients have been cooked. The same goes for using up leftover chicken.
Be Flexible
As with most of my recipes, there are a myriad of variations that you could make to this pie. Oregano instead of thyme? Turkey instead of chicken? As I mentioned earlier – shortcrust instead of puff pastry?
This chicken and ham pie recipe is designed as one large pie but you could easily turn it into 4 or 6 individual pies. Just bear in mind that you may need slightly more pastry as you'll effectively be making more 'sides'.
Make it Vegetarian
Its a bit of a tricky one this. You can of course make a vegetarian pie. Switch out the chicken and ham for butternut squash and red pepper or use a quorn product and fakeon for a 'meatier' pie.
Make it Vegan
This is an even trickier one! As I said above, most commercially available pastry is already vegan. So the pastry element of the pie is safe but there a quite a lot of swaps to be made to dairy and meat free products to make a vegan version of this puff pie. Perhaps try one of these fillings instead…
Make it Allergy Friendly
This pie recipe is free from nuts.
Gluten Free: You can buy really good gluten free pastry nowadays and I'd recommend thickening the sauce with cornflour or straight substituting the flour for a gluten free flour.
Dairy Free: Check that the pastry is dairy free. Use dairy free spread instead of the butter and a plant based milk for the sauce. Either don't glaze the pie with egg or use the vegan milk.
Egg Free: Glaze the pie with milk rather than egg. Ensure that the pastry does not include egg.
Please note that this recipe may contain other allergens not referred to above and any variations suggested have not been tested unless otherwise stated. For more information regarding any dietary information provided on this website, please refer to my Nutritional Disclaimer.
Equipment Notes for Puff Pastry Pie with Chicken, Ham & Mushroom
I like to use a deep pie dish rather than the shallow plate type. Ceramic is my material of choice as I think that metal ones cook the pastry too quickly.
I did not own a rolling pin for many many years. Instead I used a roll of clingfilm. When I was finished, I just disposed of the last layer off the roll. This was all very well and good but clingfilm tends to have a distinct lack of weight to it.
A couple of years ago, I asked for a marble rolling pin for Christmas. I have not looked back. They're not expensive but absolutely brilliant. I use the weight of the rolling pin to do the rolling rather than exerting great pressure on the pin.
I love my little flour shaker. It makes evenly dusting a surface with flour easy and a little less messy than scattering it by hand. Add one to your Christmas list.
---
To see more of my recommended equipment items for new bakers, have a look at my post featuring all the essential equipment you might need.

It is also perfect inspiration for gifts for a budding baker in your life!
---
A comprehensive list of the equipment used to make this recipe is included in the main recipe card below. Click on any item to see an example. There are no hard and fast rules so many items can be sensibly substituted to achieve the same results.
Get Ahead
You can make the filling at anytime and freeze it in a sealed bag or pyrex dish. It would be a really smart idea to make several batches at once and freeze them. When you want to assemble the pie, defrost the filling and make the pastry case as normal.
You can also make the whole pie up to the prebake stage and freeze it as a whole. This works especially well if you make individual pies.
Leftover Puff Pastry Pie with Chicken, Ham & Mushroom
I have often frozen individual cooked portions of pie to reheat for lunches. You must wait for the pie to be fridge cold before trying to slice it though or you'll have filling splurging everywhere!
I generally reheat in the microwave but this does result in quite soggy pastry. Which I love but I appreciate that others may not. In which case, reheat in the smallest dish possible in the oven.

The same advice applies to any leftovers eaten in the couple of days after the pie is baked.
Puff Pastry Pie with Chicken, Ham & Mushroom Tips
When rolling pastry, make sure that the surface is well floured and that you keep moving the pastry around to make sure it isn't sticking.
My second biggest tip is to make sure you brush any excess flour off the pastry. I keep my silicone pastry brush handy for this.
In the very unlikely event that you have a lumpy sauce related problem, sieve any liquid out of the pan. Add the solids back to the pan and stir well until any remaining sauce comes together. Then add the liquid slowly back a little at a time. Voila!
Don't miss the step of making a hole in the pie lid or you may have a pie-xplosion.
Don't forget to let me know in the comments if you try making this recipe – I want to know what you think and if you made any substitutions, how did it turn out?
Still Have Questions?
Simple! Just contact me and I will do my best to help as quickly as I am able. Head over to my Contact Me page, any of my social media channels or post a comment at the bottom of this page and I'll see what I can do.
Pin Puff Pastry Pie with Chicken, Ham & Mushroom For Later
Hit one of the share buttons to save this page to your Pinterest boards so you can come back and find it at anytime!
Keep Up to Date
Make sure you SUBSCRIBE to my newsletter and avoid missing out on any of my newest and bonus content. Don't worry, I promise not to spam you or bombard you too often. Plus you'll receive a copy of my FREE 7 Day International Meal Plan!

Also please don't forget to follow me over on my social media channels over at Facebook, Twitter, Instagram and Pinterest. I love to interact with my followers and I'd love you to share my content with your friends too.
---
More Puff Pastry Recipes
---
The Recipe
Puff Pastry Pie with Chicken, Ham & Mushroom
---
Puff Pastry Pie is the best pie, especially when stuffed full of Chicken, Ham, Mushroom and a tasty white sauce! Its actually my favourite. I use ready rolled pastry for a speedy dinner or make my own puff for a luxurious feast centerpiece. And as I often reheat portions for my lunch, it's basically meal-prep for northerners!
Ingredients
2

Onion

40

g

Salted Butter

1

tbsp

Olive Oil

1

tbsp

Sea Salt Flakes

350

g

Chicken Breast

350

g

Uncooked Ham (Gammon)

350

g

Mushrooms

1

tbsp

Garlic Paste

4

tbsp

Plain Flour (All Purpose)

2

tbsp

Mustard Powder

2

tbsp

Dijon Mustard

1

tsp

Dried Thyme

600

ml

Milk

600

g

Puff Pastry

1

Egg
Instructions
Make the Filling
Chop

2 Onions

and add them to a large frying pan with

40g Salted Butter

, 1 tbsp Olive Oil and

1 tbsp Sea Salt Flakes

.

Cook for 10 minutes on a medium heat until the onions start to soften.

Meanwhile, dice

350g Chicken Breast

and

350g Uncooked Ham

into 1cm-ish size cubes.

Add the meat to the onions and continue to cook over a high heat for 5 more minutes.

In the meantime, chop

350g Mushrooms

into a size similar to the chicken and ham and add them to the pan.

Continue to cook until everything is cooked through – another 5 minutes.

Add

1 tbsp Garlic Paste

,

4 tbsp Plain Flour

,

2 tbsp Mustard Powder

,

2 tbsp Dijon Mustard

and

1 tsp Dried Thyme

to the pan.

Stir to combine then add

600ml Milk

and stir thoroughly until the sauce has thickened.

Check the seasoning and add more salt/mustard/herbs as you desire.

Set the pie filling aside whist rolling the pastry. It helps for it to have cooled just a little so it is easier to pour and handle.
Assemble the Pie
Pre-heat the oven 220c or equivalent.

Take

600g Puff Pastry

and cut off one third with a sharp knife. Set this aside. Roll out the remaining two thirds on a floured surface.

Make sure it is larger than your pie dish. Take into account the need to cover up the sides. I rolled my sheet out a little wider to achieve this.

Lay the pastry sheet into the pie dish.

Gently press the pastry down into the edges of the dish. Leave any excess pastry hanging over the edges for now.

Fill the pie base with the now slightly cooled filling.

Take the set aside piece of pastry and roll it out to slightly bigger than the size of the top of the dish.

Beat 1 Egg and use a pastry brush to wash the edge of the visible pastry to ensure the lid sticks.

Lay the pastry over the top of the filling gently and press into shape.

Use a sharp knife to slice off the excess pastry. This is my favourite bit. I find it oddly satisfying.

Press the edges of the pastry together with your fingers.

Decorate the pie crust however you wish but make sure that the edges are pressed together in one way or another.

Use the remaining egg wash to glaze the top of the pie.

Give the pie a few minutes to settle before serving hot.
Notes
Important! If you have adjusted the serving size of this recipe, the cooking time will vary. A larger pie will take longer to cook although a smaller one won't take any less.
Nutrition (Approx)
Calories:
882
kcal
|
Carbohydrates:
60
g
|
Protein:
39
g
|
Fat:
53
g
|
Saturated Fat:
16
g
|
Cholesterol:
113
mg
|
Sodium:
2386
mg
|
Potassium:
889
mg
|
Fiber:
3
g
|
Sugar:
8
g
|
Vitamin A:
325
IU
|
Vitamin C:
24.6
mg
|
Calcium:
166
mg
|
Iron:
4.6
mg
Download my FREE 7 day international meal plan!
Simply subscribe to the Feast Glorious Feast newsletter and I'll send you the link.