My Chorizo Rose Tarts are a ridiculously easy way to make yourself look like a incredibly talented baker with minimal skill required! These beautiful but simple savoury scrolls with chorizo, mozzarella and chutney wrapped in puff pastry are perfect for lunchboxes, picnics or even an on-the-go breakfast. Go on, give them a try!
This post may contain affiliate links. Please refer to my Disclosures Page for more details.
Do not be put off my how cool these look! They are SO simple to make – well, assuming you use ready made puff pastry, otherwise they're going to be a little bit bit slower to make.
Check out my recipe for Puff Pastry. It is much easier than you might think. And so worth it!
Like my Cheesy Garlic Rolls, I first created these flower shaped puff pastry tarts to sell at an East Dulwich WI bake sale after being inspired by apple roses that were floating around the internet.
I don't like apple and wanted to make something savoury (and meaty as usual) so thin slices of chorizo seemed like a good idea. Spoiler alert – it was an awesome idea!
I've also made Scones, Chewy Ginger Cookies and Russian Slices for other bake sales. You don't need to be restricted to flapjacks and brownies!
Recipe Development
Experimenting to get the cooking time right so that the pastry cooked all the way through without burning the bejesus out of the top of the chorizo did take a bit of doing.
After a few attempts, I hit on a method of covering the pastries for the whole (surprisingly long) cooking process. I also abandoned the original plan of baking them in a muffin tin as this didn't allow the pasty room to expand outwards which made them a little dense.
My first batch of Chorizo Puff Pastry Roses were a sell out which was a little gutting as I really fancied eating one by the end of the day! I cannot complain at that though really can I?! I just had to make sure more. Shame!
Make Chorizo Rose Tarts into a Feast
I truly believe that you can make any dish into a proper feast! Whether thats a feast for one after work on a Tuesday, a casual feast for four on a Friday evening or a feast for 12 for a special occasion!
My Chorizo Rose Tarts are a perfect addition to any Brunch Feast. Its common to include sweet pastries in a brunch but I just love to include a savoury pastry too.
They're perfect to prep-ahead and include as an addition or substitution in any of my Brunch Feasts but especially my Big Prep-Ahead Feast.
And these tarts are ideal for bake sales. I also often make my Best Scone Recipe and kid friendly Cornflake Cakes to sell too!
Don't forget to head over to my Feast Collection pages to find all of my tips and tricks to help you host a fun and stress-free feast. Plus remember to check out my other Brunch suitable recipes.
Ingredients for Chorizo Rose Tarts
Uncooked Rice
If you can think of something else to line your baking tin with that will mop up excess oil, then do use that. I had rice on hand, its pretty cheap and it worked wonderfully.
Use whatever rice takes your fancy. Something like cous-cous or pearl barley would also work well but most likely would end up in increased clean up time!
Puff Pastry
As I touched on above, you can easily use ready made puff pastry for this recipe. Homemade puff actually isn't difficult at all, or that labour intensive. It just takes a little time due to having to leave the layers to chill in between folds.
But do feel free to use the ready made/ready rolled pastry. I did! Ready rolled helps minimise wastage as rolling a square from a block of pastry is a little harder than rolling a ready rectangle a little thinner.
Chorizo
Use whatever chorizo or even salami or pepperoni that you prefer. I like a spicy chorizo. What is important is that the Chorizo is the kind that is roughly 5cm in diameter and very thinly sliced.
I buy the ready sliced deli packets. Never my choice for cooking with but for this kind of recipe, slices are perfect. For a way to use fresh chorizo in a recipe, have a look at my Chorizo & Butternut Risotto.
Chutney
My preference is to use a lovely sweet and sticky Red Onion Chutney but feasibly you can use whichever chutney you prefer. I would opt to avoid anything too sour and anything too chunky.
Cheese
I like to use ready grated mozzarella cheese as it is lovely and dry, quite mild and provides a nice texture.
I would advise against using a fresh mozzarella cheese as it will make the tarts too soggy. And we all know that we don't want a soggy bottom.
Another melty cheese like Gouda would work wonderfully.
You can find more recipes featuring mozzarella in my collection of The Best Mozzarella Recipes.
Be Flexible
You can take the basic premise of this recipe and combine flavours to your heats delight. Last week I made a version which used light cream cheese and thick balsamic with the chorizo.
You can switch up the meat slices, cheese and chutney elements. What I wouldn't change is the type of pastry. A lovely shortcrust isn't going to work in this instance!
Make it Vegetarian
Substitute the Chorizo for your favourite veggie or vegan alternative and Bob's your uncle – vegetarian rose tarts.
Make it Vegan
I thought this was going to be a difficult section to write until I googled "Vegan Salami". It turns out there are a myriad of options and so making this recipe vegan is surprisingly easy.
Firstly you obviously need to choose your vegan salami of choice. Then your vegan cheese of choice. Make sure that the pastry you buy is suitable for vegans. Most of the commercially available options are. Use your preferred plant based milk to glaze and stick the pastry instead of the egg. Easy Peasy!
Alternatively, if you are looking for a pure vegan puff pastry recipe, you should check out my Vegan Sausage Roll recipe.
Make it Allergy Friendly
This chorizo tart recipe is free from nuts.
Gluten Free: Substitute in a gluten free puff pastry and ensure that your chorizo slices don't contain any rogue gluten ingredients. We all know how tricksy sausages can be for the gluten free.
Dairy Free: In looking at the ingredients for Chorizo slices to write the above section re gluten free alternatives, I made the somewhat shocking discovery that the Chorizo slices I bought contained milk. What! So do obviously be careful on that front. Use your preferred dairy free cheese in place of the mozzarella and ensure that your pastry is dairy free.
Egg Free: Use milk instead of the egg to stick and glaze the pastry. The shine won't be quite the same but that is what it is.
Please note that this recipe may contain other allergens not referred to above and any variations suggested have not been tested unless otherwise stated. For more information regarding any dietary information provided on this website, please refer to my Nutritional Disclaimer.
Equipment Notes for Chorizo Rose Tarts
It is tempting to use a muffin tin to make these tarts. They look like they'd fit nicely right? And they do to a point. But the tins don't allow the pastry to expand properly and the tarts end up dense instead of lovely and puffy. So stick to a roasting tin.
You don't need to use any fancy cake cases, regular cheap paper cake cases will work perfectly.
A flour shaker will help coat your rolling surface with a nice thin even layer of flour and a decent heavy rolling pin will help make easy work of the pastry rolling.
A comprehensive list of the equipment used to make this recipe is included in the main recipe card below. Click on any item to see an example. There are no hard and fast rules so many items can be sensibly substituted to achieve the same results.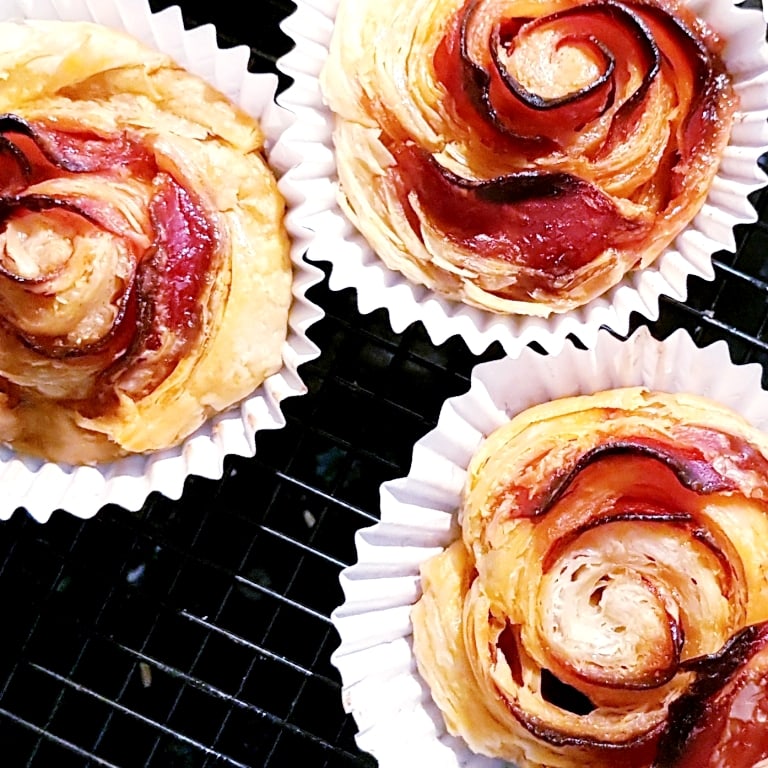 Get Ahead
There are a few ways to get ahead with these Chorizo Roses.
Firstly you can bake them in their entirety up to a couple of days ahead of time. They will store happily in the fridge and respond well to being reheated in both the oven and microwave. Or you can simply eat them cold.
Secondly, you can make them but don't bake them. Place each of the roses on a baking tray and then freeze them. Once fully frozen they can be bagged or boxed up. You can either bake them from frozen (increase the cooking time) or defrost them and bake as usual.
Lastly, you can make the roses up to a day in advance, store them in the fridge and then bake them off when required. I wouldn't be inclined to make them much more in advance than that as puff pastry can discolour when kept. Just be sure to cover/wrap them well in the fridge.
Leftover Chorizo Rose Tarts
As mentioned above, the tarts reheat great in both the microwave and oven for a few days after they're baked.
You can alternatively freeze the baked tarts to defrost at a later date.
Chorizo Rose Tarts Tips
Try to ensure the chorizo slices don't protrude out the top of the pastry too much as the tips will burn.
Don't wrap the roses overly tightly, you do want them to have a little room to expand.
Ensure you leave a little gap at the end of each rectangle when filling them or the filling will squidge out the end when rolling!
Don't forget to let me know in the comments if you try making this recipe – I want to know what you think and if you made any substitutions, how did it turn out?
Still Have Questions?
Simple! Just contact me and I will do my best to help as quickly as I am able. Head over to my Contact Me page, any of my social media channels or post a comment at the bottom of this page and I'll see what I can do.
Pin Chorizo Rose Tarts For Later
Hit one of the share buttons to save this page to your Pinterest boards so you can come back and find it at anytime!
Keep Up to Date
Make sure you SUBSCRIBE to my newsletter and avoid missing out on any of my newest and bonus content. Don't worry, I promise not to spam you or bombard you too often. Plus you'll receive a copy of my FREE 7 Day International Meal Plan!

Also please don't forget to follow me over on my social media channels over at Facebook, Twitter, Instagram and Pinterest. I love to interact with my followers and I'd love you to share my content with your friends too.
More Cheesy Recipes
More Puff Pastry Recipes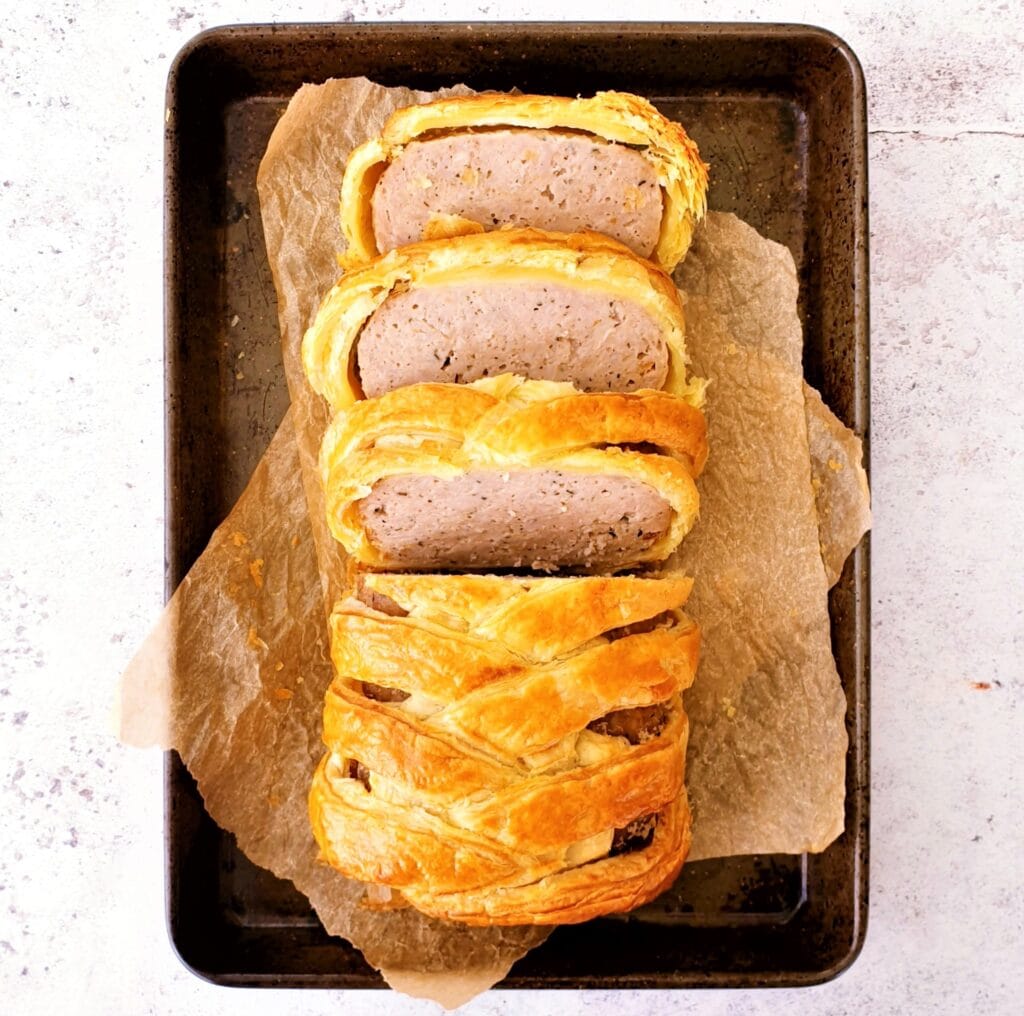 The Recipe
Chorizo Rose Tarts
---
My Chorizo Rose Tarts are a ridiculously easy way to make yourself look like a incredibly talented baker with minimal skill required! These beautiful but simple savoury scrolls with chorizo, mozzarella and chutney wrapped in puff pastry are perfect for lunchboxes, picnics or even an on-the-go breakfast. Go on, give them a try!
Ingredients
175

g

Uncooked Rice

-

roughly

Flour for dusting

375

g

Puff Pastry

10

tsp

Red Onion Chutney

100

g

Grated Mozzarella

20

Slices

Chorizo

1

Egg
Instructions
Preheat the oven to 180c or equivalent.

Prepare a large roasting tin by lining the bottom with roughly 175g Uncooked Rice. This will stop chorizo fat melting everywhere and smoking the place out. Lay 10 muffin cases out ready to fill.

Lightly dust the work surface with flour. Roll

375g Puff Pastry

into a large square roughly

45cm x 45cm

. You will need to roll the ready-rolled kind out to be thinner than it starts.

Cut the pastry in half lengthways with a sharp knife. Then slice each halfhorizontally into 5 equal strips. You should end up with 10 long thin rectangles, roughly 22cm x 9cm in size.

Take

10 tsp Red Onion Chutney

and spread 1 tsp along the middle of each strip.

Split

100g Grated Mozzarella

amongst the 10 strips, sprinkling it lightly over the chutney.

Cut

20 Slices Chorizo

in half with a sharp knife or scissors.

Lay 4 halves of chorizo along the top half of each strip. Leave a gap at either end of each strip and overlap the slices slightly. Leave only a tiny piece of the slice pointing over the top of the pastry edge.

Beat

1 Egg

in a small bowl and brush egg over the bottom part of exposed pastry.

Gently fold the bottom half of each strip over the top and lightly press down.

Egg wash the exposed pastry on each strip then gently roll each folded strip into a rose shape.

Place each into a paper case and lightly egg wash all of the exposed pastry.

Cover the whole tin in 2 layers of foil and put into the oven for 1 hour and 20 mins. Check it a little earlier if your oven runs on the hot side.

Leave the roses to cool a little on a wire rack before digging in. They can also be reheated in the microwave or just chow down on them cold. Lush!
Nutrition (Approx)
Calories:
268
kcal
|
Carbohydrates:
21
g
|
Protein:
5
g
|
Fat:
17
g
|
Saturated Fat:
5
g
|
Cholesterol:
25
mg
|
Sodium:
188
mg
|
Potassium:
41
mg
|
Fiber:
0
g
|
Sugar:
3
g
|
Vitamin A:
100
IU
|
Vitamin C:
0.6
mg
|
Calcium:
58
mg
|
Iron:
1.2
mg
Download my FREE 7 day international meal plan!
Simply subscribe to the Feast Glorious Feast newsletter and I'll send you the link.