I do not claim that my Spaghetti Carbonara is "authentic". I add cream, mushrooms and peas without apology. But I do claim that my Carbonara is full of flavour, contributes to your '5 a day' and can be ready in under 15 minutes. A perfect speedy weeknight dinner if ever there was one.
This post may contain affiliate links. Please refer to my Disclosures Page for more details.
You may have noticed my propensity for eating bacon and eggs in pretty much every permutation possible. Whether I'm making a classic quiche, my breakfast casserole or my favourite sandwich, you can't beat the classic combo.
And so it only seemed right that I share my version of the classic Italian dish Carbonara. There is literally nothing authentic about this recipe. There is far too much sauce for an Italian, I add cream (the horror!) and I've included vegetables to make it a much more rounded dish.
Spaghetti Carbonara is the kind of dish that is perfect for coming in from work and throwing together for a weeknight dinner. It uses mostly ingredients which I keep in the house any way. (There are never less than a dozen eggs in this house, usually we stock up to about three dozen. There are two of us!).
I also find that this is a great dish for an impromptu dinner with friends. Both for the above reason that I rarely have to shop to make it and that it is so quick to put together we can crack on with eating and watching a naff film.
Unfortunately what Spaghetti Carbonara isn't great at is keeping. You make it and then you eat it. Much as I love leftovers for lunch the next day, unless you enjoy scrambled egg pasta, this is not the one for you.
Make Spaghetti Carbonara into a Feast
I truly believe that you can make any dish into a proper feast! Whether thats a feast for one after work on a Tuesday, a casual feast for four on a Friday evening or a feast for 12 for a special occasion!
My Cheesy Garlic Rolls would make the perfect accompaniment to this pasta dish. Its another recipes thats about as inauthentically Italian as I can make it but perfect for mopping up any leftover creamy sauce.
My Muscovado Chocolate Cake served simply with some creme fraiche would make a fab dessert after the carbonara. To truly make this into an Everyday Feast, a starter dish of something like my Classic Caesar Salad would be ideal.
Don't forget to head over to my Feast Collection pages to find all of my tips and tricks to help you host a fun and stress-free feast. Plus remember to check out my recipe index to create your own awesome Feast!
Ingredients for Spaghetti Carbonara
Spaghetti
You are 'supposed' to use long thin pastas for creamy sauces, thick long pastas for meat ragus, little pastas for soups and pasta shells/twists etc for vegetable/pesto type sauces. As a general rule, I use whatever pasta I fancy for whatever I am making! I suggest you do the same. No one will die if you make Penne Carbonara.
The rule that I do try to follow is that I do try to buy slightly better quality dried pastas. A good spaghetti will have a little bit of a rough texture to it which will help the sauce cling on. A cheap smooth pasta will just slip right off.
Fresh pasta will also work for this dish but obviously the cooking time will be reduced. Perhaps cook the peas for a few minutes before adding the pasta.
Frozen Peas
You have a bag of frozen peas in your freezer right? No! Go and buy some immediately! Frozen peas (and sweetcorn) can always be found in my house. They're fresh, keep all of their flavour and nutrients and are super handy to adding to dishes like risottos, making a quick garlic pea puree or simply heating as a side on their own.
Tinned peas would also work in this recipe, as would fresh podded peas.
---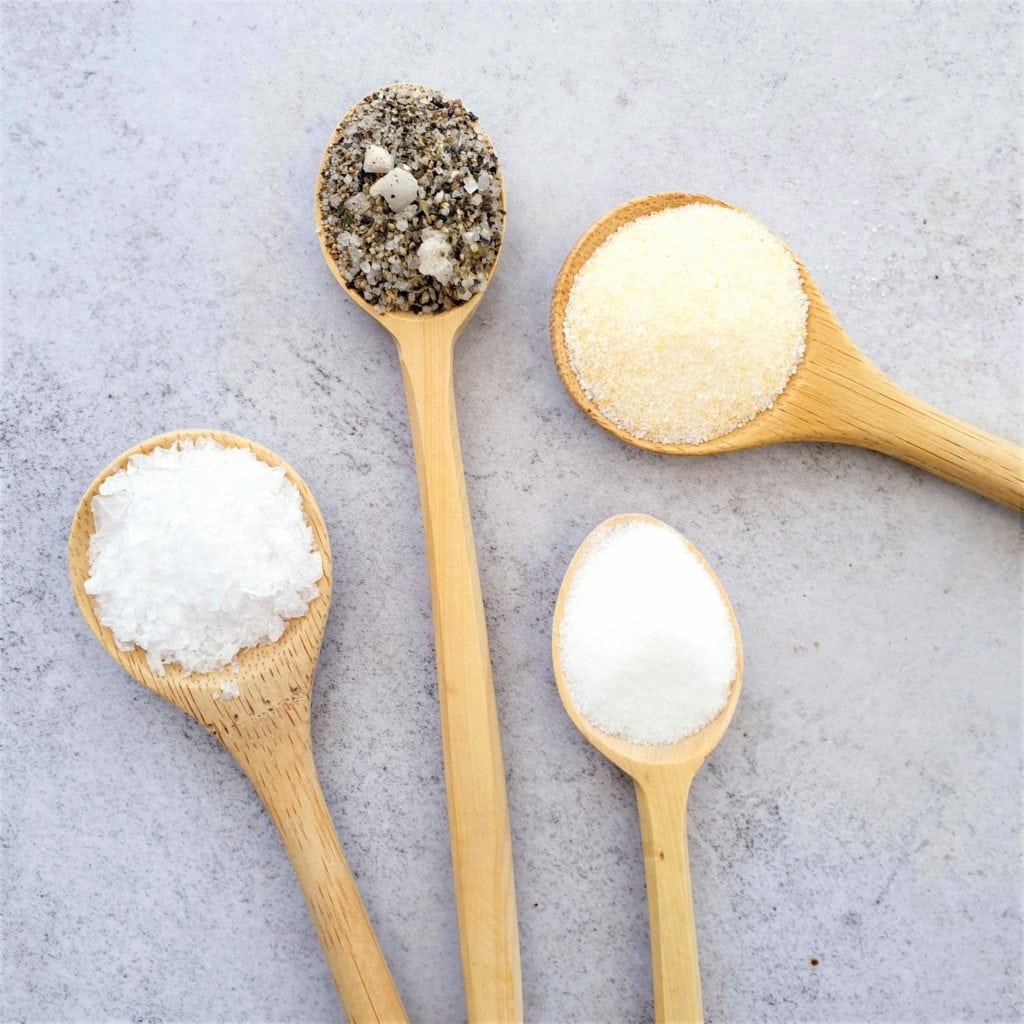 For the lowdown on using salt to properly season and enhance the flavour of your food, check out my Ultimate Guide on How to Use Salt.

There is guidance about which salt to use when, salt alternatives, using salt when baking and even what to do if you add too much salt!
---
Bacon Lardons
I've chosen to use smoked lardons in this recipe which might be the most authentic thing about it. Lardons are small chunks of cured bacon, more like prosciutto than regular bacon.
But do use whatever bacon you like, be it smoked or unsmoked, pancetta or just regular back bacon.
Cheese
I like to add grated mozzarella to my sauce but a slightly stronger cheddar works great too. I personally find that just using only Parmesan brings too much of a 'cheesy feet' taste to the party. But do as you prefer. I like to merely finish the dish with a light grating.
Be Flexible
Take some pasta. Take an eggy creamy sauce and add what you will. And I really would add the peas if you possibly can.
But otherwise the ingredients are super flexible. Add some chicken, sprinkle on some finely shredded parma ham at the end or add more veg. Or add less veg. Add more cream for a looser sauce or add more cheese. Or less cheese. Or no cheese.
Change the pasta shapes you use or use a different bacon. Use parsley instead of chives or 86 the herbs all together.
Or my favourite twist – add a little lemon zest to the creams and eggs before adding to the warm pan. Delish!
Make it Vegetarian
Don't add the bacon! You can use a vegetarian substitute or simply up the amount of mushrooms and other veg that you include.
Parmesan is not vegetarian so you will need to use a substitute. Almost all of the supermarkets carry a vegetarian alternative, usually labeled as "Italian Style Hard Cheese". You should also make sure that the mozzarella or cheddar you use is suitable for veggies.
Make it Vegan
This is one of those tough recipes to veganise. Much like my quiche recipes and any where egg is the main constituent, making straight swaps to make this dish vegan suitable is difficult.
My recommendation is to google or pinterest search for Vegan Carbonara. And hopefully one day, I'll come up with a version of my own that I can post here!
Another alternative would be to riff of my Creamed Mushrooms with Oregano recipe instead. This is much easier to veganise using a cream substitute. You can still add the peas and any other veg or vegan meat alternatives your like.
Make it Allergy Friendly
This Carbonara recipe is free from nuts.
Gluten Free: Substitute the spaghetti for a gluten free pasta. My preference is the basic kind that is found int he free from section of the supermarket. I actually can't tell the difference, you just have to be careful not to overcook it as it does go mushy much quicker than regular pasta.
I am personally not a huge fan of the rice/chickpea/quinoa type pastas. They taste a bit odd and the texture is never quite right. With such good gf alternatives available, I don't see the point in choosing something that sounds fancy but isn't a great swap. But each to your own.
Egg Free: It is possible to make a sauce without eggs. I would up the cream content and if you prefer a thicker sauce, consider stirring through a cornflour slurry to thicken the sauce.
Dairy Free: There are a two swaps required here. Firstly use a dairy free cream instead of the double cream. And secondly substitute in your favourite dairy free cheeses for the mozzarella and Parmesan.
Please note that this recipe may contain other allergens not referred to above and any variations suggested have not been tested unless otherwise stated. For more information regarding any dietary information provided on this website, please refer to my Nutritional Disclaimer.
Equipment Notes for Spaghetti Carbonara
Boiling the kettle to heat the pasta boiling water shaves a good 5, if not 10 minutes off the cooking time of the dish. If you live in the dark ages (or more likely, America) and you don't yet have a kettle. You can just boil the water directly in the saucepan.
A silicone spatula is especially helpful to ensure that none of the sauce sticks to the pan and overcooks or catches. The smooth surface is especially good at scraping things, much more so that ye olde wooden spoon!
Using a decently large frying pan will allow the bacon and mushrooms to cook with enough space so that they will fry and not boil. The large based pan will also retain enough heat to cook the sauce without needing to be put back on the heat.
My microplane grater is the love of my life. Ok, maybe not quite but it beings me great joy every time I create thin and fluffy Parmesan shavings. And things that bring great joy should be on your Christmas list! The fine side of a box grater will work too, just with less joy.
A comprehensive list of the equipment used to make this recipe is included in the main recipe card below. Click on any item to see an example. There are no hard and fast rules so many items can be sensibly substituted to achieve the same results.
Get Ahead
This recipe takes 15 minutes to put together and cook. There is no great requirement to get ahead of the game.
It also doesn't keep well so I wouldn't recommend making it ahead of time and reheating.

You could however, chop the shallots, mushrooms and bacon (if not using lardons) and set those aside for later. The egg/cream/cheese mix could be mixed up and left in the fridge for up to a day. You could part cook the pasta and keep in the fridge. But honestly – it takes 15 minutes to make from scratch!
For a great easy get ahead pasta dish, I'd recommend my Tortellini Pasta Bake instead!
Leftover Spaghetti Carbonara
I really would recommend only making as much of my Spaghetti Carbonara as you are planning to eat then and there.
But if you really really want to get another meal out of your cooking experience, how about adding a couple of extra eggs and then making something like this Leftover Spaghetti Carbonara Frittata from Helen over at Fuss Free Flavours?
Spaghetti Carbonara Tips
Do not be tempted to turn up the heat to try to cook the sauce through quicker. This is a one way ticket to scrambled eggs!
If you like your peas a little crunchier, only add them to the pasta water in the last few minutes.
Keep going back and stirring the pasta a little and the bacon/mushrooms etc as you continue to prepare the other ingredients.
Don't forget to let me know in the comments if you try making this recipe – I want to know what you think and if you made any substitutions, how did it turn out?
Still Have Questions?
Simple! Just contact me and I will do my best to help as quickly as I am able. Head over to my Contact Me page, any of my social media channels or post a comment at the bottom of this page and I'll see what I can do.
Pin Spaghetti Carbonara with Cream & Peas For Later
Hit one of the share buttons to save this page to your Pinterest boards so you can come back and find it at anytime!
Keep Up to Date
Make sure you SUBSCRIBE to my newsletter and avoid missing out on any of my newest and bonus content. Don't worry, I promise not to spam you or bombard you too often. Plus you'll receive a copy of my FREE 7 Day International Meal Plan!

Also please don't forget to follow me over on my social media channels over at Facebook, Twitter, Instagram and Pinterest. I love to interact with my followers and I'd love you to share my content with your friends too.
More Egg Based Recipes
More Meaty Main Meals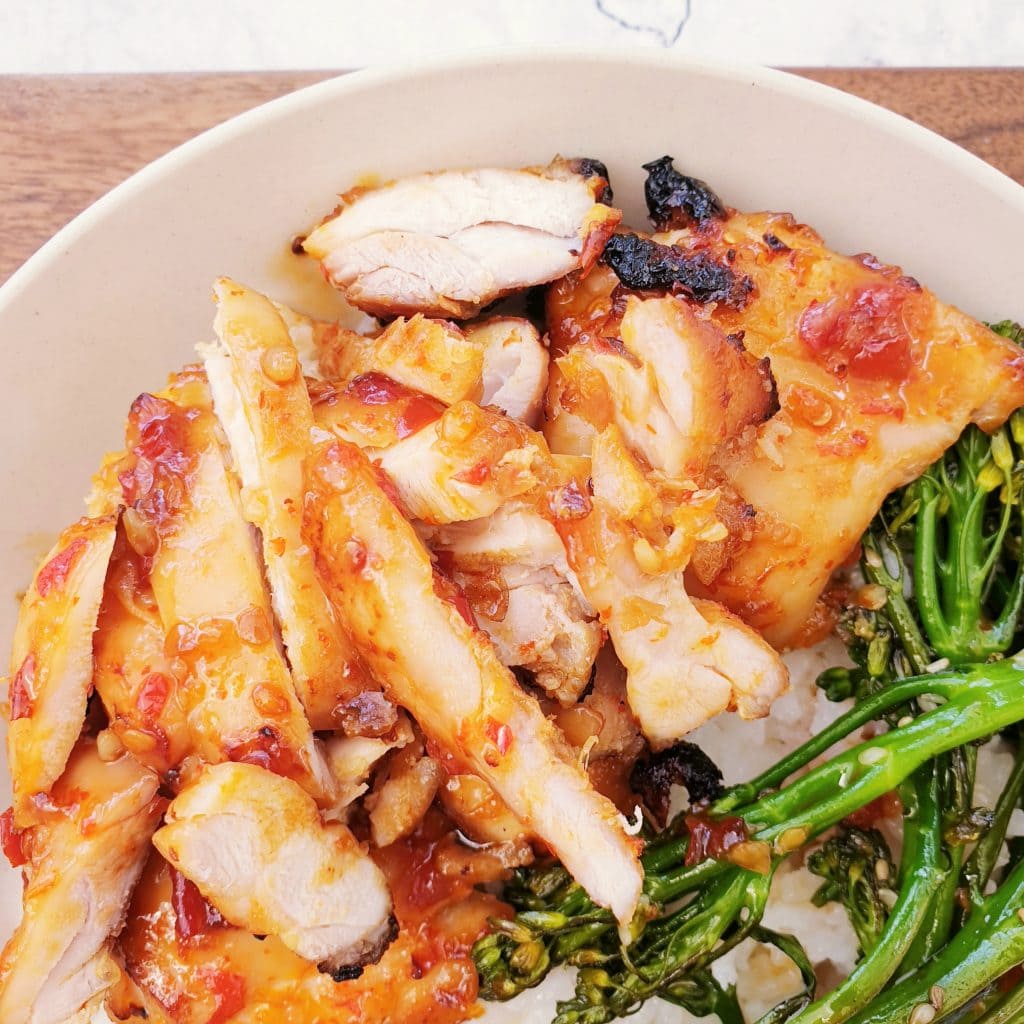 The Recipe
Spaghetti Carbonara with Cream & Peas
---
I do not claim that my Spaghetti Carbonara is "authentic". I add cream, mushrooms and peas without apology. But I do claim that my Carbonara is full of flavour, contributes to your '5 a day' and can be ready in under 15 minutes. A perfect speedy weeknight dinner if ever there was one.
Ingredients
200

g

Spaghetti

100

g

Frozen Peas

80

g

Shallot

250

g

Smoked Bacon Lardons

1

tbsp

Olive Oil

250

g

Mushrooms

4

Egg

8

tbsp

Double Cream (Heavy Cream)

50

g

Grated Mozzarella

-

or cheddar

1

tsp

Sea Salt Flakes

20

g

Parmesan

2

tsp

Fresh Chives

Fine Salt

-

for pasta water
Instructions
Start by putting the kettle onto boil.

Meanwhile put

200g Spaghetti

into a medium size saucepan with

100g Frozen Peas

and a good few spoons of cheap Fine Salt.

Pour the now boiling water over the pasta and peas and put on a high heat until boiling. Turn down the heat a little so it is a gentle rolling boil. Stir the pasta every now and again whilst cracking on with the rest of the dish.

Finely chop

80g Shallot

and add to a frying pan with

250g Smoked Bacon Lardons

and

1 tbsp Olive Oil

. Fry on a medium heat stirring regularly.

Whilst the bacon is frying, slice

250g Closed Cup Mushrooms

into thin slices and add them to the bacon pan. Continue frying and stirring regularly until the mushrooms and bacon are cooked through and a little browned.

Take the bacon and mushrooms off the heat or turn it right down if they are browned and ready before the pasta is cooked and the eggs whisked.

While the mushrooms cook and the pasta continues to boil, Separate the yolks from

2 Eggs

and set the whites aside for another use. Crack the remaining

2 Eggs

into a bowl along with the yolks.

Add

8 tbsp Double Cream

to the eggs along with

50g Grated Mozzerella or Cheddar

,

1 tsp Sea Salt Flakes

. Whisk until well combined.

When the pasta is cooked to your preference, remove a couple of tablespoons of the cooking water and add this to the bacon and mushroom pan.

Strain the pasta and peas. Add to the frying pan along with the egg, cream and cheese mixture.

Make sure the frying pan is on a very low heat or if there is a lot of retained heat, take it off the heat entirely periodically whilst stirring everything together. You do not want the eggs to cook through too fast and scramble.

The dish is ready when the sauce is hot and slightly thickened with the cheese fully melted – only a minute or two at the most.

Split the cooked pasta between two dishes and grate roughly

20g Parmesan

over the dishes and snip

2 tsp Fresh Chives

over the top.
Nutrition (Approx)
Calories:
1498
kcal
|
Carbohydrates:
97
g
|
Protein:
57
g
|
Fat:
97
g
|
Saturated Fat:
39
g
|
Cholesterol:
518
mg
|
Sodium:
2474
mg
|
Potassium:
1309
mg
|
Fiber:
8
g
|
Sugar:
11
g
|
Vitamin A:
2075
IU
|
Vitamin C:
26.4
mg
|
Calcium:
388
mg
|
Iron:
5.3
mg
Download my FREE 7 day international meal plan!
Simply subscribe to the Feast Glorious Feast newsletter and I'll send you the link.