This How to Cook Couscous guide shows you how to quickly and easily prepare couscous in around 8 minutes. Add any flavourings you like or keep it plain. My lemon & coriander version is the perfect base for a summery salad or a perfect side dish for a Middle Eastern mezze platter, BBQ or picnic!
This post may contain affiliate links. Please refer to my Disclosures Page for more details.
Couscous is really the ultimate fast food. Add boiling water, leave it to sit and boom. You have the base for all manner of different meals.
You can cook couscous without needing and oven, a stove or any fancy equipment. All you need is some way of boiling water. Of course I would recommend an electric kettle!
How to Cook Couscous – Step by Step Video
What is Couscous?
Couscous is made from durum wheat which is the same type of grain that pasta is made from. This is a grain that is very similar to the regular wheat that we grind to make flour for bread with, but it is harder in texture.
When durum wheat is ground, you get semolina flour. The hard bit of the grain that is leftover from that process is used to make couscous. Water is added and the grain is rolled into tiny balls. Some regular fine wheat flour is also added to stop the couscous sticking to itself.
How is couscous prepared?
Couscous is traditionally steamed. The process involves multiple steamings to create a light and fluffy texture.
But there is good news. The couscous that we buy in the shops has been steamed already and then dehydrated again ready to sell. This means that you don't actually have to cook couscous at all. You simply have to re-hydrate it. Which does make the title of this post rather null and void but never-mind!
As a note this is exactly the same with "easy cook" rice. You are actually buying cooked and then dried rice which makes the home cooking process much quicker.
What does couscous taste of?
Not an awful lot if we're honest. Much like pasta, the flavour is very mild but the perfect carrier of other flavours.
Using stock instead of water is the easiest way to inject instant flavour. Like with all food salt with also help. And then you can add any other flavours you like. My go-to additions are chilli, lemon and fresh coriander.
How to Serve Couscous
Almost in the same way that you'd serve rice. So you can serve it on the side of stews, tagines or even curries. You can serve it as part of a mezze or with other dishes. Or you can serve it cold as a salad or side on a buffet or barbecue.
How plain in flavour or otherwise you make your couscous will largely depend on what you are serving it with. If it is a side dish to something flavourful and saucy, you can keep it relatively plain. it then becomes a carrier for the flavour of the rest of the dish.
If you are making couscous the star of the show, you can add as many other ingredients and flavours as you like.
I generally don't worry about the heat of coucous too much. I'll serve it warm with a hot meal but as the cooking process doesn't tend to make it very hot, I don't tend to actively make it hotter. You can pop it in a pan or microwave to make it hotter if you prefer but it never seems to make a world of difference.
Make Couscous into a Feast
I truly believe that you can make any dish into a proper feast! Whether thats a feast for one after work on a Tuesday, a casual feast for four on a Friday evening or a feast for 12 for a special occasion!
If I am not mixing in lots of other ingredients like Maple Roasted Cherry Tomatoes, Garlic Roasted Sweet Potato and leftover Roast Chicken (highly recommended) then I'll serve it just with lemon and coriander on the side of lots of other middle eastern inspired dishes.
Hummus almost always accompanies my couscous. Any excuse really. And then I often serve a selection of grilled vegetables like Courgette/Zucchini, flatbread, yoghurt dip, salads and something like lamb koftas or leftover roast chicken.
I'll quite often serve couscous with a simple Grilled Steak too. Gotta mix it up from potato sometimes!
Don't forget to head over to my Feast Collection pages to find all of my tips and tricks to help you host a fun and stress-free feast. Plus remember to check out my recipe index to create your own awesome Feast!
Ingredients to Cook Couscous
Couscous
Couscous is readily available almost everywhere. It can usually be found near the pasta and rice etc. It is important to note that this recipe gives you instructions for cooking small regular couscous. There are other varieties like Israeli and Lebanese couscous (sometimes simply called 'Giant Couscous') which require longer cooking times.
Stock or Water
You technically only need boiling water to cook couscous. But using a stock will create additional flavour from within every grain and so I would highly recommend going this route.
You can heat proper homemade or carton stock to boiling and then pour on. Or dissolve a stock cube or concentrate in boiling water before using it. As I use a liquid bullion, I tend to just add that directly to the dry couscous, add the water and then stir it all together. Any excuse to minimise washing up!
Using a vegan stock will keep the dish vegan suitable. I generally have chicken stock on hand so that is what I mostly use. I wouldn't recommend using anything much stronger than that like beef of fish stock as I think it would become overwhelming.
Salt
Just like pasta, couscous needs salt or it really will taste of absolutely nothing. Using stock instead of water will provide a little bit of a salty element but unless you have a stock that is already super salty, I would definitely always throw in some extra.
Flavourings
Lemon almost always features in my couscous, no matter what use it is intended for. Fresh juice is best but bottled will do. And if I really want to ramp up the flavouring, I'll add some zest after it's cooked too.
I can rarely help myself but to add some dried chilli flakes and there is almost nothing that I won't add fresh coriander (cilantro) to! I often sprinkle a little sumac over the top to increase the lemony hit. And the colour is beautiful too.
But you can add (or not add) any flavourings/fresh herbs that you fancy.
---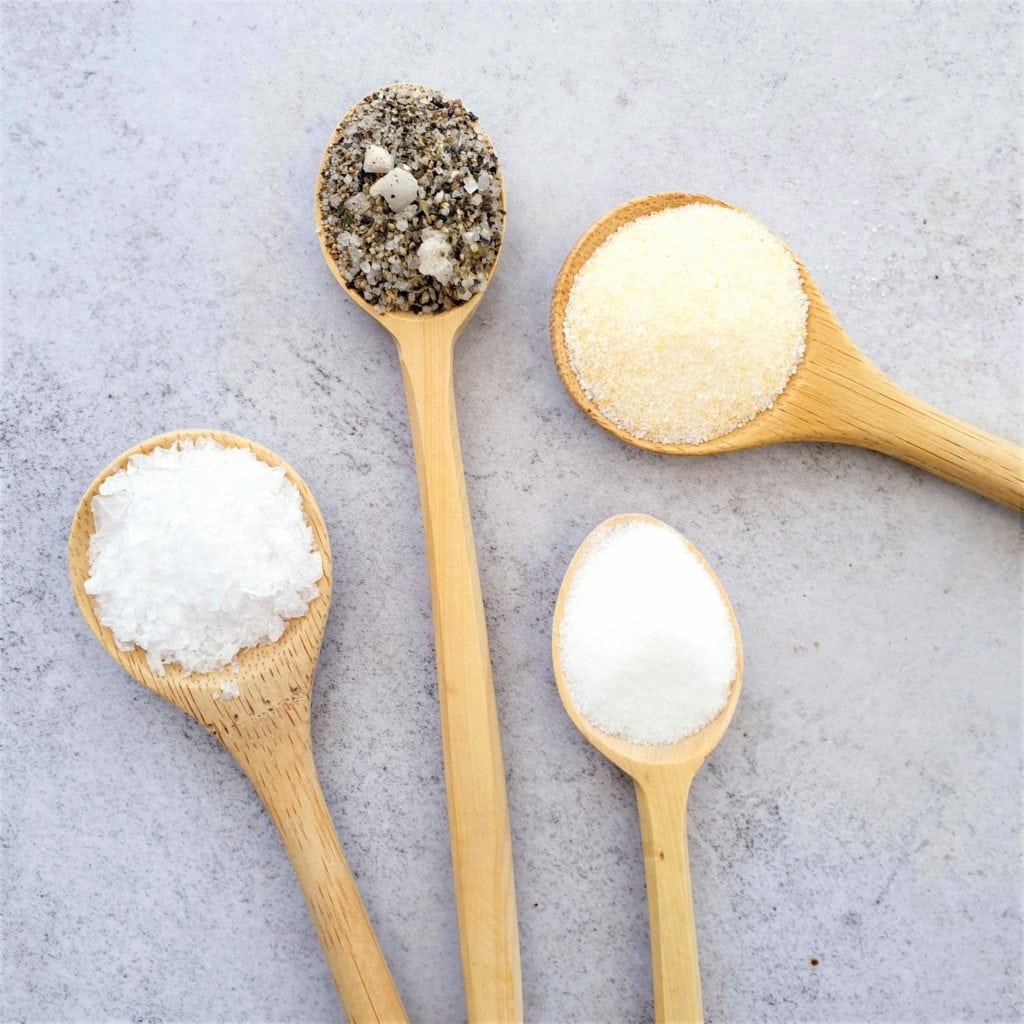 For the lowdown on using salt to properly season and enhance the flavour of your food, check out my Ultimate Guide on How to Use Salt.

There is guidance about which salt to use when, salt alternatives, using salt when baking and even what to do if you add too much salt!
---
Make it Vegetarian or Vegan
Providing that you use a vegetarian stock or vegan stock (or just boiling water) as needed, couscous is suitable for vegans and veggies.
Make it Allergy Friendly
This recipe is free from egg, dairy and nuts.
Gluten Free: Couscous is made from wheat so it doesn't contain gluten. The best gluten free alternative to couscous would be quinoa. It does require longer cooking however so be warned! (not that its difficult).
Please note that this recipe may contain other allergens not referred to above and any variations suggested have not been tested unless otherwise stated. For more information regarding any dietary information provided on this website, please refer to my Nutritional Disclaimer.
Equipment Notes for Couscous
The only thing you really need to make couscous is some way of heating water. So an electric kettle is ideal. If not, a saucepan on a hob will work. And if all else fails, water in a bowl in the microwave will do the trick.
It is helpful to be able to weigh the couscous using scales and the water/stock using a measuring jug. But you can shake some couscous into the bottom of the bowl and then just cover it with the water and it will be all good!
A comprehensive list of the equipment used to make this recipe is included in the main recipe card below. Click on any item to see an example. There are no hard and fast rules so many items can be sensibly substituted to achieve the same results.
How to Cook Couscous – Step by Step
Keep scrolling to find the full and printable recipe.
Step 1
Add couscous, salt and seasonings to a shallow dish.
Step 2
Cover the couscous with boiling water or stock and give it a quick stir.
Step 3
Cover with a plate or lid and leave to sit for 5 minutes.
Step 4
Meanwhile prepare any fresh seasonings/additional ingredients like fresh herbs.
Step 5
When the couscous has finished sitting, take off the lid and use a fork to separate the grains.
Step 6
Stir in any fresh ingredients. Check the seasoning and adjust if needed.
Step 7
Serve warm or cold.
Don't forget to let me know in the comments if you try making this recipe – I want to know what you think and if you made any substitutions, how did it turn out?
Still Have Questions?
Simple! Just contact me and I will do my best to help as quickly as I am able. Head over to my Contact Me page, any of my social media channels or post a comment at the bottom of this page and I'll see what I can do.
Pin How to Cook Couscous For Later
Hit one of the share buttons to save this page to your Pinterest boards so you can come back and find it at anytime!
Keep Up to Date
Make sure you SUBSCRIBE to my newsletter and avoid missing out on any of my newest and bonus content. Don't worry, I promise not to spam you or bombard you too often. Plus you'll receive a copy of my FREE 7 Day International Meal Plan!

Also please don't forget to follow me over on my social media channels over at Facebook, Twitter, Instagram and Pinterest. I love to interact with my followers and I'd love you to share my content with your friends too.
---
More Vegan Side Dishes
---
Instructions in Brief
Lemon & Coriander Couscous Recipe
---
This How to Cook Couscous guide shows you how to quickly and easily prepare couscous in around 8 minutes. Add any flavourings you like or keep it plain. My lemon & coriander version is the perfect base for a summery salad or a perfect side dish for a Middle Eastern mezze platter, BBQ or picnic!
Ingredients
80

g

Couscous

1

tbsp

Lemon Juice

½

tsp

Garlic Salt

1

tsp

Dried Chilli Flakes

½

tsp

Vegetable Stock Concentrate

-

or Chicken

150

ml

Boiling Water

10

g

Fresh Coriander
Instructions
Pop a kettle on to boil.

Add

80g Couscous

,

1 tbsp Lemon Juice

,

½ tsp Garlic Salt

,

1 tsp Dried Chilli Flakes

and

½ tsp Vegetable Stock Concentrate

to a shallow dish.

Cover the couscous with

150ml Boiling Water

and give it a quick stir.

Cover with a plate or lid and leave to sit for

5 minutes

.

Meanwhile chop

10g Fresh Coriander

into small but not too fine pieces.

When the couscous has finished sitting, take off the lid and use a fork to separate the grains.

Stir in most of the chopped coriander. Check the seasoning and add more lemon juice/salt/chilli if you wish.

Serve and use the rest of the coriander as a garnish.
Nutrition (Approx)
Serving:
1
Main Serving
|
Calories:
160
kcal
|
Carbohydrates:
32
g
|
Protein:
5
g
|
Fat:
1
g
|
Saturated Fat:
1
g
|
Sodium:
814
mg
|
Potassium:
112
mg
|
Fiber:
2
g
|
Sugar:
1
g
|
Vitamin A:
634
IU
|
Vitamin C:
4
mg
|
Calcium:
10
mg
|
Iron:
1
mg
Download my FREE 7 day international meal plan!
Simply subscribe to the Feast Glorious Feast newsletter and I'll send you the link.