These Simply Boiled Brussels Sprouts are indeed simple and easy for when we don't need every element of a meal to be highly complicated with lots of added flavours! Boiled sprouts are flavourful in their own right and a cheeky bit of butter at the end of the cooking makes them glossy and even more delicious!
This post may contain affiliate links. Please refer to my Disclosures Page for more details.
I understand that the chances are that you're here reading this post for one of two possible reasons. You either just want to know how long to boil sprouts for or whether you really should put a cross in them before boiling. Fair enough.
The answer to the first question is easy. Get them on to boil by no later than November 26th. And if you neither get the joke, simply don't appreciate it or genuinely need the real answer, you'll find the actual timings in the recipe at the bottom of this post.
As for whether to cut a cross in the bottom of the sprouts before boiling, I'll discuss that below. You can also find some ideas for how to jazz up these simple brussels sprouts, how far in advance you can prepare them, if they freeze and my top tips. So maybe give me the benefit of the doubt and have a quick scan through!
How to Serve Boiled Brussels Sprouts
Here in the UK, sprouts are synonymous with Christmas Dinner. Infamous might be a better word for it. And boiled sprouts really are at their greatest served as part of a roast dinner or any kind of meat and two veg with gravy type meal.
In the photos on this page, I've served sprouts with both air fried pork fillet and air fried pork chops. The chops are kept simple with mashed potatoes and air fried carrots with onion gravy.
The fillet is served with air fried whole baby potatoes, sweetcorn, mashed carrot and unsurprisingly, even more gravy!
The really important thing to note is that no matter what you're serving them with, they really want to be served piping hot. I love a good sprout but never a cold sprout.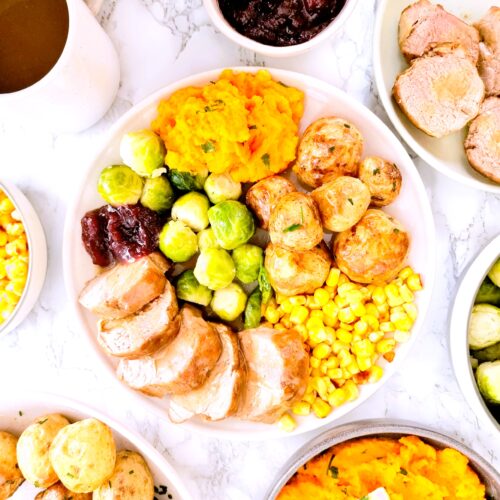 Why are Brussels Sprouts Bitter?
They're not! Not anymore anyway.
Some families will cook brussels merely as a traditional decoration on the table for everyone to have a moan about. Many people across this nation have been scarred by seriously overboiled, bitter tasting sprouts back in the day. And once upon a time, this was pretty accurate.
But over the years, brussels sprouts have been bred and engineered to be much less bitter. I find them very on par with savoy cabbage – only a tiny hint of pleasant bitterness. So if you have an older sprout hater in your life, try and get them to try one – you never know, they might actually like it!
To Cross or Not to Cross Brussels Sprouts!
The age old question. To prepare brussels sprouts, I slice off the very end of the stalk and remove any outer leaves that aren't looking their best. You're then left with a compact sprout with a fair amount of visible stalk underneath.
It is tradition for many people to use a small sharp knife to cut a cross into that exposed bit of stalk. I think the idea is so that the boiling water and therefore heat can penetrate the thicker stalk part and cook more evenly.
But I've tried it every which way and it honestly makes absolutely no difference to how the sprouts cook. I've not included this step in my recipe instructions but I do sometimes still cut the cross. I just find it quite therapeutic.
Boiled Brussels Sprouts Ingredients
Sprouts
You can buy sprouts at various points of preparation. Its quite common to be able to buy them still attached to their stalk in the winter, especially in the run up to Christmas. I do like to buy them like this because they last really well.
The thing to take into account when buying a stalk is that there will inevitably be many varying sizes of sprout on it. So for each meal or serving its easiest if you try to cut off sprouts of a similar size so they cook evenly.
If you do have some significantly differing sizes, you might want to allow the large ones to cook for a few minutes before adding the smaller ones. This advice really stands regardless of how you buy (or grow) them.
Next are the stalkless sprouts that come with all their outer leaves. You don't need to remove these unless they're looking gnarly. Use your gut to determine which to remove or not. If it doesn't look appetising, get rid.
And then they now often come "prepared". This is how the sprouts I cooked came. They don't generally have any dark outer leaves but you should still check through them. By the very nature of the inner leaves now becoming the outer leaves, they can still discolour and wither.
Lastly, you can buy frozen sprouts. I've got no issue with using frozen veg at all. But I do find that frozen sprouts can end up extremely soft even with minimal boiling. So they're not my favourite and if you can get hold of fresh, I would recommend it.
Butter
I'm all for keeping things extremely simple, but there aren't many simply cooked vegetables that a bit of butter doesn't improve.
I generally use proper salted butter where the flavour is going to be really on show. But if all you have is a tub of spreadable butter or something along those lines, that'll do just fine. If you must use unsalted butter, add a little more salt at the end.
If the option is a full on margarine, I'd say perhaps don't bother.
Salt
I've specified two types of salt in the recipe. The first is fine table salt to add to the boiling water. I only use cheap salt for this.
Then I use sea salt flakes for actual flavour after cooking. I much prefer to use sea salt like Maldon for the vast majority of cooking purposes. If you only have fine salt, reduce the amount by at least half. Table salt is much stronger, and a little harsher in flavour by volume than sea salt flakes.
Be Flexible
With such a simple recipe, there is less flexibility but many more options to add to it. One of the most obvious options it to add bacon. Either fry up some small cut pieces of bacon and fry them off before tossing into the cooked sprouts. If the bacon is fatty, use can use the rendered fat instead of the butter.
If I'm serving with roast turkey where I've cooked it with a bacon lattice, I'll often crumble that bacon over my sprouts – highly recommend this!
You can also add other flavours like garlic salt, lemon zest or even orange zest.
The other thing to do is to carry on the cooking process in another way. Air frying the sprouts, wrapping them in bacon and roasting/air frying or sautéing them in a pan with the butter in the recipe. I often halve sprouts and then sauté them at Christmas with a little fresh garlic and a dash of double cream. Delicious.
Vegetarian or Vegan Brussels Sprouts
This recipe is vegetarian as written but not vegan due to the butter. Simply switch the butter for a plant based version to make it vegan. And definitely don't add any bacon.
Make Allergy Friendly Sprouts
This recipe is free from egg, gluten and nuts.
Dairy Free Brussels Sprouts: As with making the recipe vegan, simply switch the butter for a dairy free version.
Please note that this recipe may contain other allergens not referred to above and any variations suggested have not been tested unless otherwise stated. For more information regarding any dietary information provided on this website, please refer to my Nutritional Disclaimer.
Get Ahead
I will often prepare vegetables like sprouts the night before I'm cooking a meal, especially a larger meal like Christmas lunch or a big roast. All I do is prepare them and put them in the pan covered with cold water. Ideally with a lid on. It is important not to salt this water.
When its time to cook, I drain that water and add boiling water from the kettle along with the salt. I find this a much easier and cost effective way of cooking them then heating a pan full of cold water on the stove.
A point to note here, and the same is true with many veg, is that the sprouts will likely cook more quickly after they've sat and soaked overnight.
I would not really recommend boiling them in advance or cooking with the intention to freeze them. By the time you've defrosted/reheated, you're not really saving any time.
Leftover Boiled Sprouts
Leftovers can be stored in an air tight container for several days in the fridge. They can be frozen but they will be really quite on the soft and soggy side when reheated.
To use them in other ways than just being served straight, leftover sprouts are really quite versatile.
Add to leftover mashed potatoes and other leftover veg like roasted carrots to make a quick bubble and squeak. Fry until crisp in oil and butter then serve with fried eggs. Add corned beef too to make a hash.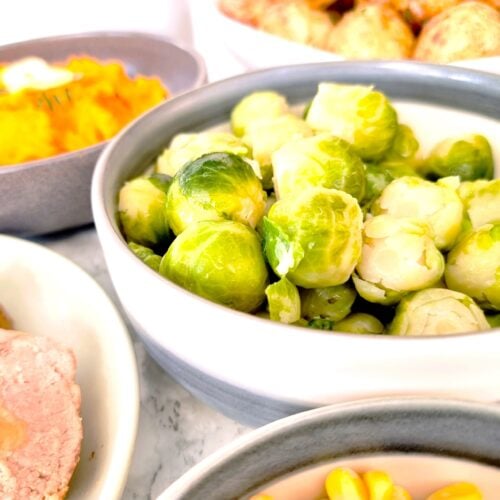 Simply Boiled Brussels Sprouts Tips
Remember that different sized sprouts will take slightly different times to cook. Plus everyone has a preference on exactly how they like them cooked. I've given the times for what I would consider a medium size sprout and so it is just soft without being crunchy or soggy. But you do need to keep and eye on them. Trust your gut.
The stage of letting the sprouts sit and steam after you have drained them is important as they can be watery to eat otherwise.
If you want to add more butter, I will not be stopping you.
Don't forget to let me know in the comments if you try making this recipe – I want to know what you think and if you made any substitutions, how did it turn out?
Still Have Questions?
Simple! Just contact me and I will do my best to help as quickly as I am able. Head over to my Contact Me page, any of my social media channels or post a comment at the bottom of this page and I'll see what I can do.
Pin Simply Boiled Brussels Sprouts For Later
Hit one of the share buttons to save this page to your Pinterest boards so you can come back and find it at anytime!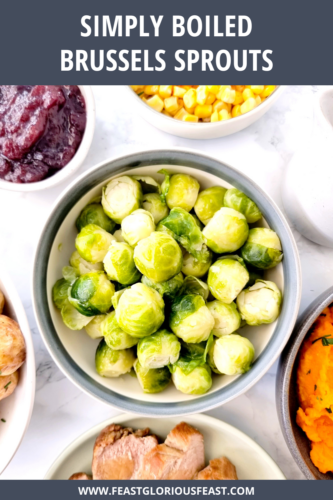 ---
Keep Up to Date
Make sure you SUBSCRIBE to my newsletter and avoid missing out on any of my newest and bonus content. Don't worry, I promise not to spam you or bombard you too often. Plus you'll receive a copy of my FREE 7 Day International Meal Plan!

Also please don't forget to follow me over on my social media channels over at Facebook, Twitter, Instagram and Pinterest. I love to interact with my followers and I'd love you to share my content with your friends too.
The Recipe
Simply Boiled Brussels Sprouts Recipe
---
These Simply Boiled Brussels Sprouts are indeed simple and easy for when we don't need every element of a meal to be highly complicated with lots of added flavours! Boiled sprouts are flavourful in their own right and a cheeky bit of butter at the end of the cooking makes them glossy and even more delicious!
Ingredients
350

g

Brussels Sprouts

1

tsp

Fine Salt

1

tbsp

Salted Butter

1

tsp

Sea Salt Flakes
Instructions
Check over

350g Brussels Sprouts

. Trim any gnarly ends and remove any leaves that have brown bits or just generally don't appear appealing to eat.

Add the sprouts to a saucepan along with

1 tsp Fine Salt

. Cover with the boiling water.

Boil for around 12 minutes. Check that the sprouts are tender all the way through using a small sharp knife.

Take the lid off the pan and allow to sit and steam a little dryer without the lid for a minute.

Add

1 tbsp Salted Butter

and

1 tsp Sea Salt Flakes

. Toss to fully coat the sprouts.
Notes
Portion Size – The portion size given assumes that the sprouts are being served as a main side. If wanting to serve as part of a larger meal like a roast dinner with multiple side options, Halve the recipe (or consider the portion number doubled).
Nutrition (Approx)
Calories:
68
kcal
|
Carbohydrates:
8
g
|
Protein:
3
g
|
Fat:
4
g
|
Saturated Fat:
1
g
|
Polyunsaturated Fat:
2
g
|
Monounsaturated Fat:
1
g
|
Trans Fat:
0.02
g
|
Sodium:
1185
mg
|
Potassium:
341
mg
|
Fiber:
3
g
|
Sugar:
2
g
|
Vitamin A:
660
IU
|
Vitamin C:
74
mg
|
Calcium:
37
mg
|
Iron:
1
mg
Download my FREE 7 day international meal plan!
Simply subscribe to the Feast Glorious Feast newsletter and I'll send you the link.