My Paprika & Sage Butter Roast Chicken was declared "the best chicken ever" by my former housemate and I am inclined to agree! The credit really goes to the generous layer of spiced butter which is smothered over the whole bird before roasting. You really can't go wrong.
This post may contain affiliate links. Please refer to my Disclosures Page for more details.
This recipe is a variation on the simple roast chickens that I've been cooking for years. This version builds on that basic recipe and adds herbs, spices, a good hit of butter and garlic.
The flavourings are mixed together and spread all over the chicken before roasting. The flavourful butter mixed with juices from the chicken forms the basis of a simple cornflour thickened sauce.
A roast chicken does not need to be reserved for Sundays (indeed Ina Garten famously cooks one every single Friday)! And whilst I absolutely love a traditional roast chicken dinner, sometimes I like to mix it up a little.
The paprika and garlic kick in this chicken makes for a perfect alternative roast chicken and its a recipe I come back to time and time again.
How to Serve Paprika & Sage Butter Roast Chicken
You can serve this roast chicken simply carved off the bone or hack it into chunks and serve in pieces on the bone.
I usually go a method somewhere in between where I remove the whole legs (thigh and drumstick) and serve them on the bone. I also remove the wings and serve them on the bone too (who am I kidding, I usually eat them which I'm carving!).
I then take each breast off the carcass in one hunk. The boneless breast is then thickly sliced and served. Any other little pieces of chicken remaining on the carcass (especially underneath) and then picked off and served too.
They do say "the closer to the bone, the sweeter the meat". I don't know who "they" are but they're right. Pick that meat off the bones people. Because its the best bit!
Make Sage & Paprika Roast Chicken into a Feast
I truly believe that you can make any dish into a proper feast! Whether thats a feast for one after work on a Tuesday, a casual feast for four on a Friday evening or a feast for 12 for a special occasion!
I almost always serve this roast chicken with the sauce that the chicken creates, Garlic Sweet Potatoes or Roast Potatoes, Topped & Roasted Red Onions, and Maple Roasted Tomatoes. I sometimes add some Roasted Mushrooms for good measure! Plus a good ol' handful of baby spinach leaves for freshness to counteract all of the richness of the chicken and sauce. I call this a Sunday Feast!
I'm going to try adding a chorizo version of my Pigs in Blankets the next time I make this feast. i think they'll make a fabulous addition.
All good Sunday Feasts include a pudding so I usually head towards something like my Chocolate Bread Pudding, Peach and Ginger Crumble or Upside Down Fig Cake. With custard on the side of course!
Don't forget to head over to my Feast Collection pages to find all of my tips and tricks to help you host a fun and stress-free feast. Plus remember to check out my recipe index to create your own awesome Feast!
Or how about celebrating chicken by creating a chicken feast. You could also serve Honey Maple Wings, Sweet Chilli Chicken Thighs and Satay Chicken Skewers too.
Ingredients for Paprika & Sage Butter Roast Chicken
Chicken
This site is not about persuading you to spend excess money on ingredients and extras where they don't matter. I want you to buy cheap spices from the world food aisle, cooking chocolate from Aldi and cobble together some table decorations from things you have in the back of your cupboards.
I don't buy expensive bacon or organic eggs from hens massaged by Prince Charles himself. But what I really want you to do is spend as much on a chicken as you can afford. Because you will taste the difference. If you can get to a local butcher, even better.
And if not, a supermarket bird is just fine. It will still taste great, it will fill you up and impress anyone you feed it to. The bird in these photos was from the standard range at Morrisons. But do please buy the big one. About £2kg. Don't be worried about leftovers – there are a million ways to use up roast chicken.
Paprika
There are several main types of paprika available. Sweet (likely just called 'paprika', smoked (Spanish) and hot (Hungarian). The flavour of each is quite distinct but you could use any in this recipe. The overall flavour will differ slightly depending on your choice but all are equally amazing. For the subtlest flavour, choose sweet.
---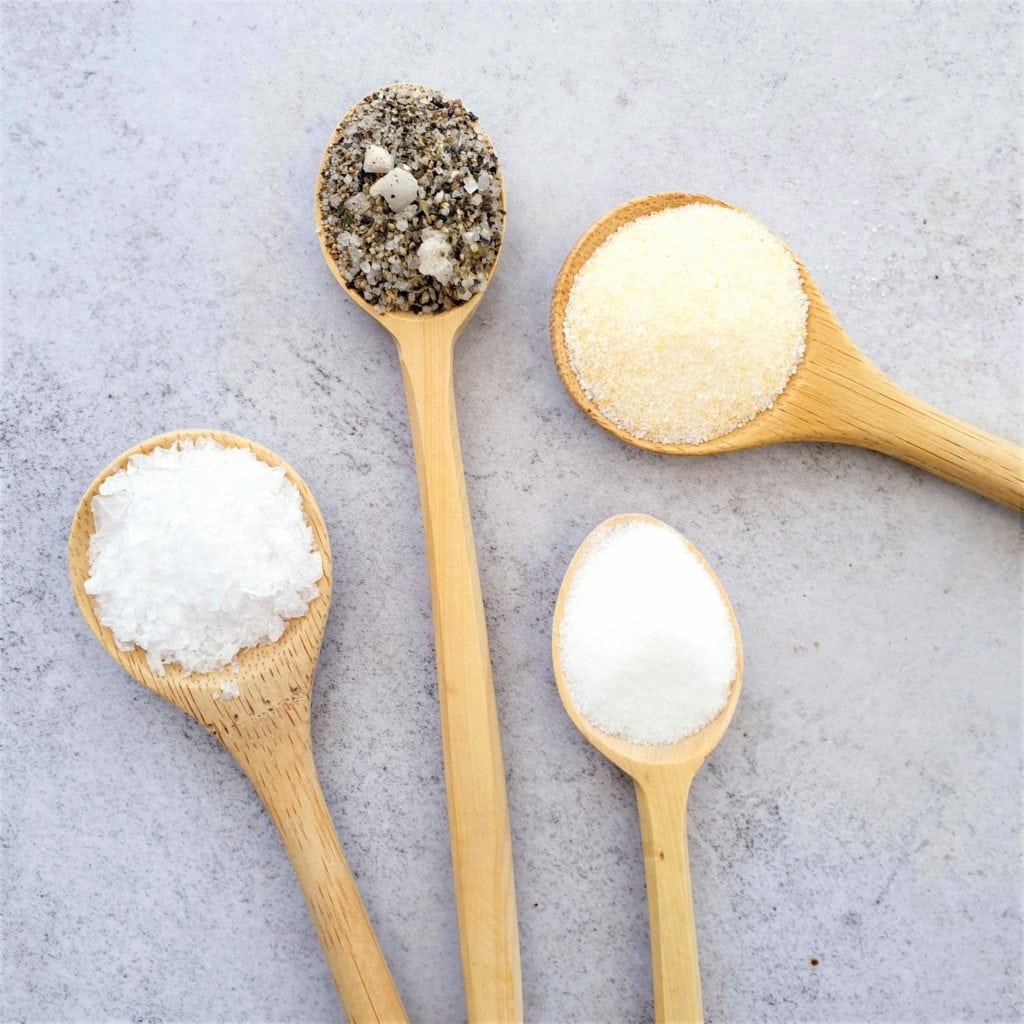 For the lowdown on using salt to properly season and enhance the flavour of your food, check out my Ultimate Guide on How to Use Salt.

There is guidance about which salt to use when, salt alternatives, using salt when baking and even what to do if you add too much salt!
---
Sage
Sage is probably the easiest herb to grow (with the possible exception of chives) and with very little effort, I generally always have fresh sage available in a pot in my garden. Even throughout winter. Its also available fresh in the supermarkets but if fresh isn't available, dried sage works great.
You can find more of my favourite recipes using garlic in my collection of The Best Garlic Recipes.
Be Flexible
It is easy to take the concept of a flavoured butter slathered over a whole chicken and vary the flavours of that butter to your heart's content. A classic herb butter packed with oregano, parsley, thyme, sage and rosemary is fabulous.
Or perhaps go a little more left-field and add in chopped fresh chillies, ginger and lemongrass to make an Asian inspired roast (add coconut milk to the sauce and serve with rice?)
Equally the flavoured butter works just as great with chicken portions as it does a whole bird.
Thighs are probably my favourite bit of a chicken so I would follow the recipe but smother 8 to 10 bone-in and skin on chicken thighs. The roasting time will be close to half that of a whole bird. Using the butter on breast fillets would also work. Or even another meat such as pork or turkey.
Make it Vegetarian or Vegan
This is a very difficult section of my posts to write when the primary ingredient is meat! That isn't to say that you can't take the concept of the Paprika and Sage Butter and apply it to other non-meat items.
For a showpiece, how about roasting a whole head of cauliflower in the butter or roasting portobello mushrooms in it. Meat substitutes like quorn or seitan would soak up the butter flavour perfectly too.
Whilst the flavoured butter is suitable for vegetarians, the butter will need to be substituted to make it suitable for vegans. There are numerous dairy free margarine available which could be used instead, otherwise olive oil is a perfectly great base to add the other flavours too.
Make it Allergy Friendly
There are no nuts, eggs or gluten in this recipe.
Dairy Free: Substitute the salted butter for dairy free spread or olive oil.
Please note that this recipe may contain other allergens not referred to above and any variations suggested have not been tested unless otherwise stated. For more information regarding any dietary information provided on this website, please refer to my Nutritional Disclaimer.
Equipment Notes for Paprika & Sage Butter Roast Chicken
A good pair of heavy duty kitchen scissors will be your best friend when preparing chicken. They are much easier and safer to wield that a sharp knife and much easier and more effective.
I generally use a roasting tin or dish only slightly larger than the chicken that I'm roasting. This is to ensure that the juices collect rather than spreading and burning onto the tray. I think that it ultimately keeps the chicken moister (sorry).
Silicone tongs make light work of lifting the chicken with one hand in order to drain the juices from the pan. Be firm otherwise the chicken will slip away from you and no one wants a part cooked chicken on the floor!
A carving fork is not an essential piece of kitchen equipment. But they are pretty handy. When I remember to dig mine out, it really does help save my sensitive little fingers from getting burnt while I carve up the chicken.
A comprehensive list of the equipment used to make this recipe is included in the main recipe card below. Click on any item to see an example. There are no hard and fast rules so many items can be sensibly substituted to achieve the same results.
Get Ahead
You can both prepare and cook the chicken in advance should you need to.
To prepare it, take the recipe all the way to the stage where the chicken is ready to go into the oven. Cover it with foil instead and leave in the fridge until ready to cook. It is best to bring the chicken back to room temp before starting to cook it. You could also freeze the chicken at this point too.
Otherwise complete the recipe in full and then either wrap the whole chicken and keep or freeze until needed or cut into portions and freeze. Serve cold or reheat in the oven or microwave but do make sure that the chicken is piping hot before serving.
Leftover Paprika & Sage Butter Roast Chicken
There are millions of ways to use up leftover chicken. Firstly I like to take any chicken off the bone before storing in the fridge (or freezer).
The most immediate option is to use the chicken to make sandwiches. A little more baby spinach, some mayo and the chicken warmed in any leftover sauce. Delicious.
Don't miss my Leftover Roast Dinner Pizza which is the perfect way to use up all manner of leftovers from any Sunday roast or Christmas dinner.
Other easy options include using it in a risotto, my Butternut Chowder or Puff Pastry Pie with Chicken, Ham & Mushroom.
Any leftovers will also freeze.
Paprika & Sage Roast Chicken Tips
I start roasting the chicken upside down to give the underneath skin and flesh a chance to cook and crisp. Once turned upright, the chicken is a slightly flattened. I would rather that my chicken is super juicy and tasty than amazing looking. If you want flabby under skin but magazine looks, then by all means, roast it the right way up from the start. (To be fair, I do do this sometimes!)
I continue to drain all of the juices from the chicken as it roasts for much the same reason. I want the whole chicken to roast, not for the bottom of it to boil. You can also use some of the drained juices to baste the chicken but honestly, I've not had a dry chicken yet with my method.
The resting time is crucial, please don't skip it. The chicken will be much more tender if left to rest.
Actually I could eat this every Sunday!
Don't forget to let me know in the comments if you try making this recipe – I want to know what you think and if you made any substitutions, how did it turn out?
Still Have Questions?
Simple! Just contact me and I will do my best to help as quickly as I am able. Head over to my Contact Me page, any of my social media channels or post a comment at the bottom of this page and I'll see what I can do.
Pin Paprika & Sage Butter Roast Chicken For Later
Hit one of the share buttons to save this page to your Pinterest boards so you can come back and find it at anytime!
Keep Up to Date
Make sure you SUBSCRIBE to my newsletter and avoid missing out on any of my newest and bonus content. Don't worry, I promise not to spam you or bombard you too often. Plus you'll receive a copy of my FREE 7 Day International Meal Plan!

Also please don't forget to follow me over on my social media channels over at Facebook, Twitter, Instagram and Pinterest. I love to interact with my followers and I'd love you to share my content with your friends too.
More Meaty Main Meals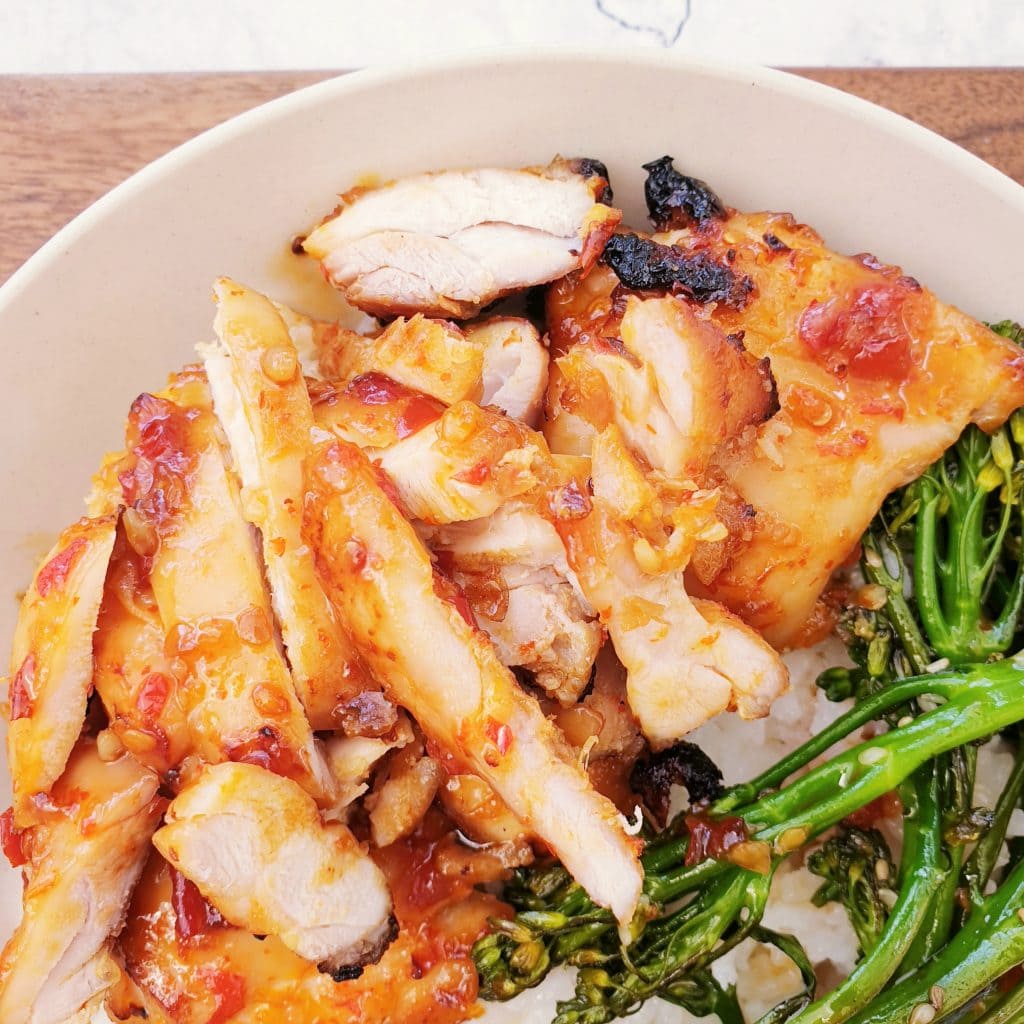 More Chicken Recipes
The Recipe
Paprika & Sage Butter Roast Chicken
---
My Paprika & Sage Butter Roast Chicken was declared "the best chicken ever" by my former housemate and I am inclined to agree! The credit really goes to the generous layer of spiced butter which is smothered over the whole bird before roasting. You really can't go wrong.
Ingredients
2

kg

Whole Chicken

10

Fresh Sage Leaves

-

1 tbsp Dried Sage = 5 Leaves

100

g

Salted Butter

1

tbsp

Garlic Paste

2

tbsp

Sea Salt Flakes

2

tsp

Paprika

2

tbsp

Cornflour (Cornstarch)
Instructions
Preheat the oven to 200c or equivalent.

Line a baking tray or oven dish which the chicken fits in snuggly.

Remove any string trussing a

2kg Whole Chicken

.

Use a pair of sharp kitchen scissors to remove the wing tips, parsons's nose, the neck remnants, knuckles and any extra flaps of skin from around the opening the chicken.

Finely chop

10 Sage Leaves

and add to a small mixing bowl with

100g Salted Butter

,

1 tbsp Garlic Paste

,

2 tbsp Sea Salt Flakes

and

2 tsp Paprika

.

Spread the buttery mix all over the chicken, not forgetting the legs and underside.

Put the chicken into the lined tin upside down and place on the top shelf of the oven for

40 minutes

.

Take the chicken out of the oven and drain the juices into a small saucepan.

Set the juices aside and return the chicken to the oven right side up.

After

30 minutes

, drain any further juices that the chicken has released then return it to the oven.

After a further

20 minutes

, remove the chicken from the oven, drain any more juices. Check that it is cooked by slicing between the thigh and breast to check if the juices run clear. If the meat is overly pink or juices are a bit pink, put the chicken back in the oven and check it at 5 minute intervals. Don't panic and overcook – trust your instinct.

Once cooked, drain any further juices, cover the chicken with foil and set aside to rest.

Meanwhile, mix

2 tbsp Cornflour

with a little cold water to make a slurry.

Put the small saucepan of cooking juices onto a medium-high.

Once it is simmering, add the cornflour slurry a little a time whilst whisking. Keep adding until the sauce is a drizzling thickness of your liking. Leave to keep warm on a low heat until needed.

Once the chicken has rested for at least 15 minutes, carve and serve with the sauce. You can add any additional juices released during the resting time into the sauce.
Notes
Important! If you have adjusted the serving size/size of chicken in this recipe, the cooking time will vary. A larger bird will take longer to cook and a smaller one will take less.
Nutrition (Approx)
Calories:
719
kcal
|
Carbohydrates:
5
g
|
Protein:
45
g
|
Fat:
56
g
|
Saturated Fat:
23
g
|
Cholesterol:
233
mg
|
Sodium:
3836
mg
|
Potassium:
494
mg
|
Fiber:
0
g
|
Sugar:
0
g
|
Vitamin A:
1525
IU
|
Vitamin C:
5
mg
|
Calcium:
42
mg
|
Iron:
2.5
mg
Download my FREE 7 day international meal plan!
Simply subscribe to the Feast Glorious Feast newsletter and I'll send you the link.