The Best Roast Parsnips are golden and crispy on the outside and juicy and tender inside. No skinny burnt ends, no stringy middles, just pure unadulterated crispy roast parsnip joy. They're just as tasty on the Christmas table as with any roast dinner or just as a simple weekday side.
This post may contain affiliate links. Please refer to my Disclosures Page for more details.
I've made another big claim here. But anyone that knows me that I don't call recipes "perfect" or "the best" if I don't believe it. These roasted parsnips are simple, easy and perfect every time. Just like with Roast Potatoes, part boiling them before roasting is the trick.
Removing the core is the other trick. With these methods combined, my roast parsnips are soft and tender with no nasty stringy or chewy bits. And don't forget golden and crispy.
The other important thing to note about this recipe is that I use a neutral oil, not meat fat so the parsnips are suitable for both vegans and vegetarians. I believe that not using a more heavily flavoured fat allows the natural sweetness and flavour of the parsnips to shine.
This is also the reason there is no honey, maple or sugar glaze. Its not that I don't love a sweet glazed parsnip as I really do. But this recipe is really designed to be a side dish to a meal with lots of components. Keeping the additional flavours simpler allows the overall dish to sing.
How to Serve Crispy Roast Parsnips
The trick is to not eat them all straight out of the roasting tray, however difficult that might be. My other tip to to serve and eat them hot. You want the crispy element to be retained.
Make Roast Parsnips into a Feast
I truly believe that you can make any dish into a proper feast! Whether thats a feast for one after work on a Tuesday, a casual feast for four on a Friday evening or a feast for 12 for a special occasion!
What is included in that roast dinner also varies from household to household, cook to cook and region to region. And if you're anything like me, one roast dinner to another!
Traditionally a roast dinner will revolve around a joint of meat. This could be anything from a Sirloin of Beef or a shoulder of pork to a classic Roast Chicken, perfectly brined Roast Turkey or leg of lamb. There will be a Gravy made from the meat juices and I include Yorkshire Puddings every single time.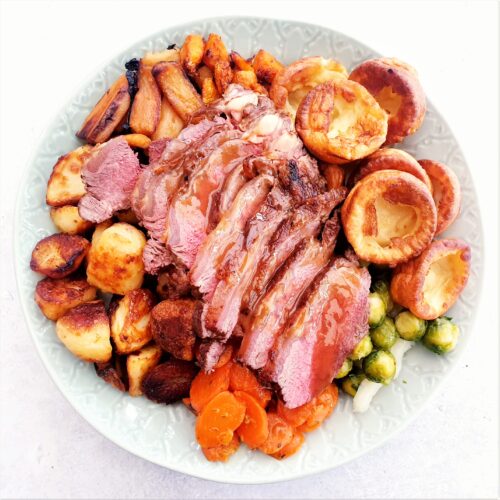 Of course vegetarians tend to be less inclined to serve a joint of meat so some kind of nut roast or wellington is quite a common substitute.
Roast Potatoes are another essential although I will sometimes go for Roasted Sweet Potatoes instead or follow exactly the same recipe with butternut squash. Carrots are another given in my house. I especially love the buttery sweet glaze of Vichy Style Carrots.
And then something leafy and green is needed. Savoy cabbage is a particular favourite of mine. Simply boiled white cabbage or spring greens come a close second followed by sprouts or kale/cavelo nero.
You then have extras like Sausagemeat Stuffing or Homemade Sage & Onion Stuffing . A given for me with pork or chicken but not so much beef. If you like it, serve it! Cauliflower cheese is another well loved accompaniment.
---
Don't miss my comprehensive collection of ideas for classic Christmas sides. I've included simple basic recipes and ways to level up each dish.
There is everything from roast potatoes, numerous stuffing ideas and red cabbage dishes to cranberry sauces and even a vegan gravy option.
---
Don't forget to head over to my Feast Collection pages to find all of my tips and tricks to help you host a fun and stress-free feast. Plus remember to check out my recipe index to create your own awesome Feast!
Ingredients for Best Roast Parsnips
Parsnips
Parsnips are a strangely British ingredient. I am led to understand that in France and Italy they're merely fed to the pigs. More fool them.
For roasting, I look for the fat ones. They're easier to peel, easier to core and leave a thicker piece of flesh to roast.
This doesn't mean to say that you don't roast thinner ones, of course you can. You simply need to be a little more discerning about how you cut them so you don't have a load of skinny bits which can catch and burn.
The parsnip trimmings can be added to stocks and the core can be boiled and blitzed up into soups. Waste not, want not!
Oil
I've mentioned that I use a neutral flavoured oil when roasting. Lighter neutral oils can get to a higher smoking point which is a bonus when roasting. Plus the lack of overt flavour means that the flavour of the parsnip isn't masked.
You could use olive oil or even lard or dripping if that is what you have but you will need to keep an eye on it heating up in the oven.
Salt
I use two types of salt in this recipe. The fine salt is the cheaper variety used for salting the boiling water. And the sea salt flakes are used for flavour and finishing.
---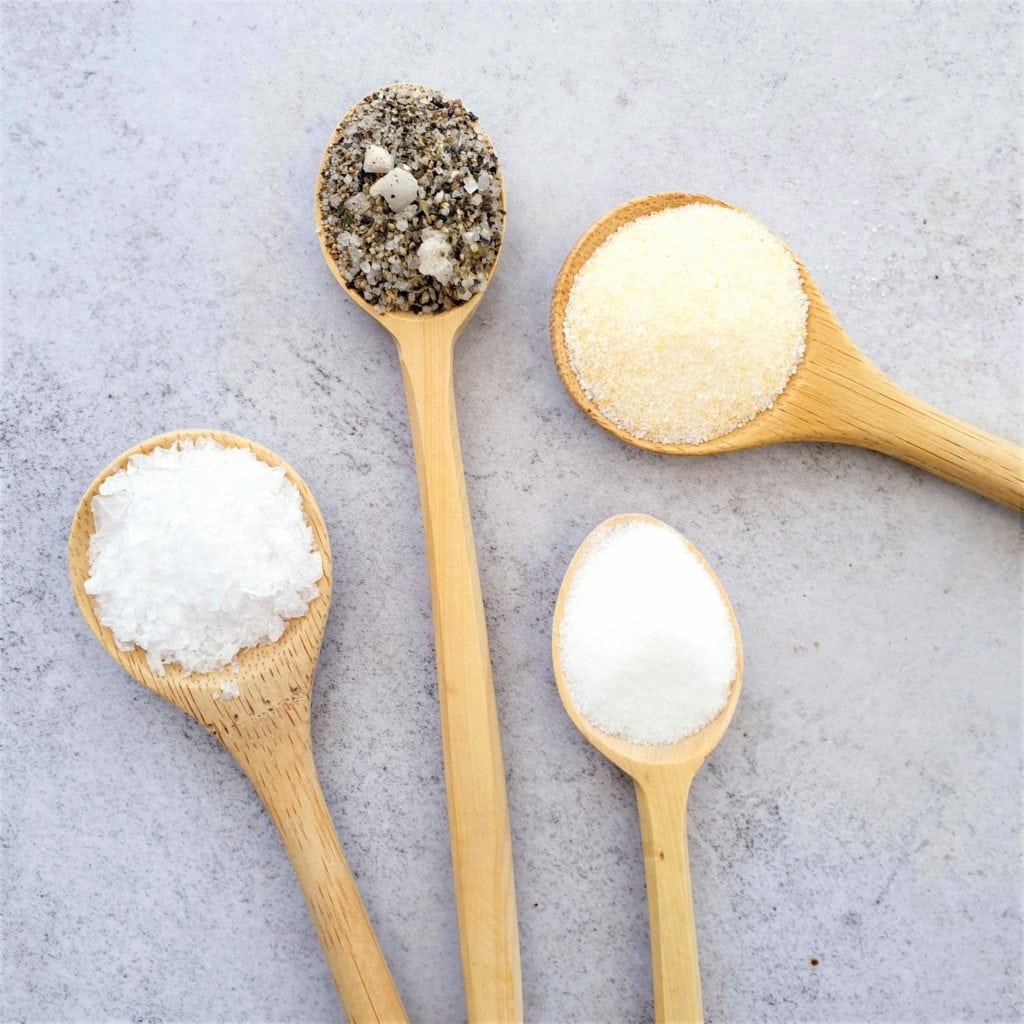 For the lowdown on using salt to properly season and enhance the flavour of your food, check out my Ultimate Guide on How to Use Salt.

There is guidance about which salt to use when, salt alternatives, using salt when baking and even what to do if you add too much salt!
---
Be Flexible
Parsnips. Oil. Salt. I don't know how to tell you to be flexible with this recipe!
Sure you could entirely skip the part-boiling section of the recipe and just throw the parsnips in the oven. You'll get good parsnips but they won't be the best parsnips.
And then I do sometimes add honey or maple syrup. I only add this about 10 minutes before the end of cooking. You are looking for a glaze, not a burnt mess of caramelised sugars.
Are These Roast Parsnips Vegetarian or Vegan?
This recipe as written is suitable for vegetarians and vegans.
Are Roast Parsnips Allergy Friendly?
This crispy roast parsnip recipe is free from egg, dairy, gluten and nuts. Bingo!
Please note that this recipe may contain other allergens not referred to above and any variations suggested have not been tested unless otherwise stated. For more information regarding any dietary information provided on this website, please refer to my Nutritional Disclaimer.
Equipment Notes for Perfect Roast Parsnips
You don't require much specialist equipment to make roast parsnips, but you will obviously need a saucepan, some kind of oven roasting tray and ideally a sieve or colander.
A kettle will help speed up the process of boiling the water and a speed peeler is my preferred method of peeling veg and potatoes. You can use a good sharp knife if that is your preferred method.
I use a good silicone spatula or fish slice to help make tossing the parsnips on the tray easier.
A comprehensive list of the equipment used to make this recipe is included in the main recipe card below. Click on any item to see an example. There are no hard and fast rules so many items can be sensibly substituted to achieve the same results.
Get Ahead
You can part boil the parsnips then do the roasting part later, but I do find that the parsnips can discolour. So instead I tend to take them right up to the half roasted point.
At that time you can put them aside to finish off just before serving, leave them in the fridge overnight or even freeze them. The first option is what I do the vast majority of the time.
At Christmas I always make the parsnips on Christmas eve and then finish off the roast on the day. The benefit of doing this is that you can usually finish them off in a much smaller roasting try, thus saving space in the oven.
Leftover Roasted Parsnips
Don't miss my Leftover Roast Dinner Pizza which is the perfect way to use up all manner of leftovers from any Sunday roast or Christmas dinner.
I am not adverse to throwing roast parsnips in a leftovers sandwich with meat, stuffing and gravy. But that might just be me.
Other than simply reheating them in the oven or a pan, you can throw leftover roast parsnips into a soup, bubble and squeak, a casserole or even at the end of a traybake. Lush.
Roast Parsnip Tips
Do make sure to heed my instruction to allow the parsnips to steam dry a little after draining. You do not want to be tipping any water into a tray of hot oil. That is a recipe to create a fat fire!
The cooking time will vary on many factors – the time of year, the size of your parsnips, the breed of your parsnips or even the altitude you live at. So trust your instinct and use my timings as a guide.
Don't forget to let me know in the comments if you try making this recipe – I want to know what you think and if you made any substitutions, how did it turn out?
Still Have Questions?
Simple! Just contact me and I will do my best to help as quickly as I am able. Head over to my Contact Me page, any of my social media channels or post a comment at the bottom of this page and I'll see what I can do.
Pin The Best Roast Parsnips For Later
Hit one of the share buttons to save this page to your Pinterest boards so you can come back and find it at anytime!
---
Keep Up to Date
Make sure you SUBSCRIBE to my newsletter and avoid missing out on any of my newest and bonus content. Don't worry, I promise not to spam you or bombard you too often. Plus you'll receive a copy of my FREE 7 Day International Meal Plan!

Also please don't forget to follow me over on my social media channels over at Facebook, Twitter, Instagram and Pinterest. I love to interact with my followers and I'd love you to share my content with your friends too.
More Simple Side Dishes
The Recipe
The Best Roast Parsnips
---
The Best Roast Parsnips are golden and crispy on the outside and juicy and tender inside. No skinny burnt ends, no stringy middles, just pure unadulterated crispy roast parsnip joy. They're just as tasty on the Christmas table as with any roast dinner or just as a simple weekday side.
Ingredients
1

kg

Parsnips

1

tbsp

Fine Salt

3

tbsp

Vegetable Oil

1

tbsp

Sea Salt Flakes
Instructions
Put a full kettle onto boil and grab a medium saucepan. Or put a saucepan of water onto a high heat.

Turn the oven on to 230c fan | 450f.

Top, tail and peel

1kg Parsnips

.

Quarter each parsnip lengthwise. If the thin end is especially thin, cut this off and set it aside first.

Hold each quarter upright and use a sharp knife to cut the core out. You will be able to see the colour difference between the stringy core and the tender parsnip. Be sparing and try not to cut any flesh away with the core.

Depending on the size of the parsnips, you can cut them down further if needed. You are looking for pieces around the size of, and a little longer than an adult thumb.

Put the parsnips into the saucepan and cover with boiling water. Add

1 tbsp Fine Salt

and bring the water to a boil over a high heat. Allow them to boil for around

20 minutes

until the parsnips are just fork tender.

Pour

3 tbsp Vegetable Oil

into a medium baking tray and put it into the oven while the parsnips boil.

When the parsnips are just cooked through, thoroughly strain them. Leave them to sit in the colander/sieve for a minute to steam dry a little.

Take the tray of hot oil out of the oven and tip the parsnips onto the tray.

Sprinkle over

1 tbsp Sea Salt Flakes

and toss them around until they are covered in the oil.

Spread them over the tray in one layer and return to the oven.

After

20 minutes

, use a spatula to move and turn them around the pan.

After a further

20 minutes

or so , they should be golden and crispy. But keep and eye on them, the cooking time can vary on a number of things. The important thing is to take them out of the oven when they look good to you!.
Nutrition (Approx)
Serving:
1
side
|
Calories:
275
kcal
|
Carbohydrates:
45
g
|
Protein:
3
g
|
Fat:
11
g
|
Saturated Fat:
8
g
|
Sodium:
3513
mg
|
Potassium:
938
mg
|
Fiber:
12
g
|
Sugar:
12
g
|
Vitamin C:
43
mg
|
Calcium:
90
mg
|
Iron:
1
mg
Download my FREE 7 day international meal plan!
Simply subscribe to the Feast Glorious Feast newsletter and I'll send you the link.