As if bread and butter pudding isn't decadent enough, I've gone for an upgrade using soft and buttery brioche bread and chocolate spread to make my extra indulgent Chocolate Bread Pudding. It's perhaps not an everyday pud but its a real corker of a treat!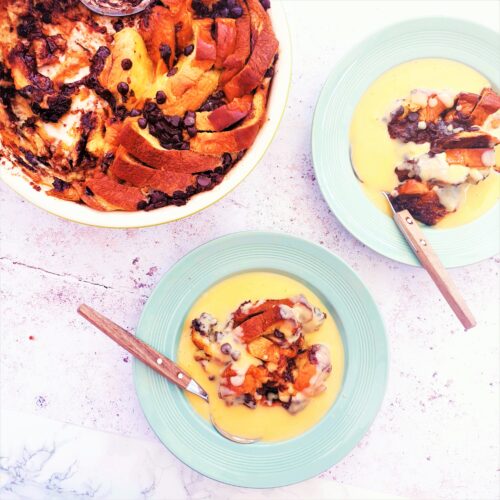 This post may contain affiliate links. Please refer to my Disclosures Page for more details.
This recipe for Chocolate Bread Pudding came about as I was staying with friends and offered to make a pudding for a celebration meal that night.
As I was standing in the supermarket thinking about what I could make in someone else's house with minimal equipment, a squidgy loaf of brioche caught my eye.
With only 7 ingredients, all easily available to buy in that supermarket, Chocolate Bread Pudding was a no brainer. And so I headed off to see what jars of chocolate spread I could find. I settled on a non hazelnut variety as I often find that Nutella can be a little overpowering.
There was not a jot of dessert left at the end of the evening so I think it was a good call!
How to Make Brioche Bread & Butter Pudding – Step By Step Video
Inspiration
I'm good with recipes living in my head but I didn't have a clue about the ratios that I would need to make the custard part of the pudding.
As we now live in the future, I stood in the aforementioned supermarket and found a Nigella Lawson brioche bread and butter pudding recipe on my phone. I quickly adapted it in my head to be chocolatey without being too chocolatey.
How to Serve Chocolate Brioche Bread Pudding
I am going to insist that you please serve this dessert hot. The butter in the brioche warms and melts into the bread to make the whole thing extra soft and tasty. The chocolate gets melty and the whole thing is simply more delicious.
This is a great pudding for a celebration. I've made it as an alternative to Christmas pudding, for Easter celebrations, birthday parties and all manner of occasions in between. I've never been left with anything but a clean dish and very happy guests.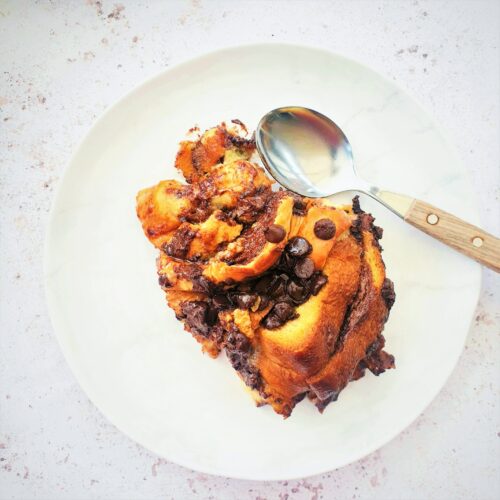 Make Chocolate Bread Pudding into a Feast
I truly believe that you can make any dish into a proper feast! Whether thats a feast for one after work on a Tuesday, a casual feast for four on a Friday evening or a feast for 12 for a special occasion!
This bread pudding can be served at the end of almost any feast! It would be especially fabulous as part of a Sunday Feast including my Paprika Roast Chicken, Roasted Sweet Potatoes and Baked Red Onions.
Or served after an especially British themed feast including my corned beef and bacon stuffed Pan Aggie. We'll just ignore that the brioche is French!!
Of course there is nothing to say that you can only serve one pudding at a Feast. It is especially great to include other varying desserts like my Fig Upside Down Cake and/or Peach and Ginger Crumble when feeding a larger crowd.
Don't forget to head over to my Feast Collection pages to find all of my tips and tricks to help you host a fun and stress-free feast. Plus remember to check out my recipe index to create your own awesome Feast!
Ingredients for Chocolate Bread Pudding
Chocolate Spread
I have already talked above above how I chose not to use Nutella as my chocolate spread of choice due to the prevalence of the flavour that it gives. A more neutral milk chocolate spread allows the brioche flavour to come through.
I also wouldn't tend to use a very expensive high cocoa percentage spread. This is not really a grown-up dessert! Of course the choice of spread you use is entirely up to you but that is my preference.
Bread
If you don't want to or don't have any brioche to hand, you could use regular white bread for this recipe. I would aim for something a little softer and cheaper than a sourdough type loaf.
The other option is to use those little brioche finger buns. Even better would be the kind that come with choc chips already in them. Or, to be extra decadent, you could use croissants or pain au chocolat. Now there's an idea!
Be Flexible
This recipe is for one large pudding. You could make smaller individual puddings, in which case I would cut each of my 'sandwiches' into 4 or even 8 triangles before adding to smaller dishes.
Make it Vegetarian or Vegan
Great news veggies! There are no ingredients in this recipe which aren't suitable for vegetarians!
You're a little trickier to accommodate vegans! The first thing to do is to make sure that whichever bread you decide to use doesn't contain any dairy or egg products. Brioche contains milk, butter and eggs so will not be ideal!
You will then need to source a vegan chocolate spread. There are many free-from versions nowadays so should not be that tricky. And dairy free choc chips (or just leave these out).
Next is the custard. I would eschew my recipe entirely and start with some Birds Custard Powder. You did know that its vegan right? Mr Bird's wife was allergic to eggs so in 1837 he invented a custard that she could eat. Nifty piece of trivia too right!
So you need to make up a thin-ish custard using sugar and a plant-based milk then use it in the same way as in the recipe. Bingo!
Make it Allergy Friendly
This Bread Pudding Recipe is free from nuts.
Dairy Free: Follow the instructions for the vegan version above.
Egg Free: Follow the instructions to make birds custard in the vegan section above but you can use regular milk and cream. Also make sure that the bread you choose does not include egg. A milk bread loaf might be a good substitute.
Gluten Free: Use a gluten free brioche loaf or croissants in place of the brioche bread.
Please note that this recipe may contain other allergens not referred to above and any variations suggested have not been tested unless otherwise stated. For more information regarding any dietary information provided on this website, please refer to my Nutritional Disclaimer.
Equipment Notes for Chocolate Bread Pudding
You can bake this pudding in roasting tin rather than a baking dish. Anything where the brioche sits nice and snugly would be perfect.
A comprehensive list of the equipment used to make this recipe is included in the main recipe card below. Click on any item to see an example. There are no hard and fast rules so many items can be sensibly substituted to achieve the same results.
Get Ahead
You can prepare the bread pudding up to a day in advance. Just make sure to keep it refrigerated. Also ensure that you bring it to room temp before cooking or expect to cook it for a little longer than stated in the recipe.
I would not recommend freezing the uncooked pudding but you can bake it then freeze it for a later day.
Leftover Chocolate Bread Pudding
You are unlikely to have too many leftovers here but if you do, just portion up the pudding and freeze. reheat in the microwave or the oven when you want a cheeky treat or pud.
Chocolate Bread Pudding Tips
Try not to push the bread down as you cut or the slices will be a bit pathetic! Using a large serrated knife and a gentle sawing motion is best.
To cut the brioche loaf into 16 even slices, simply keep halving the loaf and then halve each cut section. Repeat until you have 16 pieces.
Serve with lashings of custard!
Don't forget to let me know in the comments if you try making this recipe – I want to know what you think and if you made any substitutions, how did it turn out?
Still Have Questions?
Simple! Just contact me and I will do my best to help as quickly as I am able. Head over to my Contact Me page, any of my social media channels or post a comment at the bottom of this page and I'll see what I can do.
Pin Chocolate Bread Pudding (with Brioche) For Later
Hit one of the share buttons to save this page to your Pinterest boards so you can come back and find it at anytime!
Keep Up to Date
Make sure you SUBSCRIBE to my newsletter and avoid missing out on any of my newest and bonus content. Don't worry, I promise not to spam you or bombard you too often. Plus you'll receive a copy of my FREE 7 Day International Meal Plan!

Also please don't forget to follow me over on my social media channels over at Facebook, Twitter, Instagram and Pinterest. I love to interact with my followers and I'd love you to share my content with your friends too.
The Recipe
Chocolate Bread Pudding Recipe (With Brioche)
---
As if bread and butter pudding isn't decadent enough, I've gone for an upgrade using soft and buttery brioche bread and chocolate spread to make my extra indulgent Chocolate Bread Pudding. It's perhaps not an everyday pud but its a real corker of a treat!
Ingredients
500

g

Brioche Loaf

-

whole or pre-sliced

8

tbsp

Milk Chocolate Spread

100

g

Dark Chocolate Chips (Bittersweet)

2

tbsp

Caster Sugar (Superfine Sugar)

5

Egg

500

ml

Double Cream (Heavy Cream)

250

ml

Milk
Instructions
Preheat the oven to 170c or equivalent.

Slice a

500g Brioche Loaf

into 16 slices. Or just separate the slices of a pre sliced loaf.

Lay half of the brioche slices out on a board, then dollop

8 tbsp Milk Chocolate

. Use 1 tbsp of chocolate spread on each slice.

Spread the chocolate spread to the edges of each slice.

Make sandwiches using the remaining slices of brioche. I had 15 slices so left the last one!

Cut each sandwich in half on the diagonal. Do the same for any lone slice and make a half sandwich! You should now have 15/16 pieces again.

Squidge the 16 triangles into you baking dish. You can try to be pretty but it might get tricky towards the end.

Sprinkle over

100g Dark Chocolate Chips

making sure they fall into all of the cracks and crevices.

Separate

3 Eggs

and discard the whites (or reserve them for another dish).

Make up the custard by mixing

2 tbsp Caster Sugar

with the 3 egg yolks,

2 whole Eggs

,

500ml Double Cream

and

250ml Milk

.

Note: The custard does not need to be cooked – simply mixed together.

Pour the custard over the brioche sandwiches and leave it to soak in for at least 10 minutes before covering the dish in foil. You might need to add some, let it soak in a bit and then add the rest if you are in danger of overflow.

Put it into the oven for 20 minutes before removing the foil and cooking for a further 25 minutes.

Serve the pudding fresh from the oven with lashings of custard. Or Cream. Or crème fraiche if you must.
Notes
Important! If you have adjusted the serving size of this recipe, the cooking time will vary. A larger dish will take longer to cook and a smaller one will take less.
Nutrition (Approx)
Serving:
1
portion
|
Calories:
713
kcal
|
Carbohydrates:
54
g
|
Protein:
15
g
|
Fat:
49
g
|
Saturated Fat:
32
g
|
Cholesterol:
296
mg
|
Sodium:
383
mg
|
Potassium:
288
mg
|
Fiber:
1
g
|
Sugar:
19
g
|
Vitamin A:
1667
IU
|
Vitamin C:
1
mg
|
Calcium:
188
mg
|
Iron:
2
mg
Download my FREE 7 day international meal plan!
Simply subscribe to the Feast Glorious Feast newsletter and I'll send you the link.