This Sage & Onion Sausagemeat Stuffing is my pimped up Paxo recipe. Yes we could make it all from scratch but packet stuffing mix is easy and tasty so I make no apologies for this cheat's shortcut. It is a must on my Christmas table and any other roast dinner for that matter!
This post may contain affiliate links. Please refer to my Disclosures Page for more details.
I couldn't put together a collection of my favourite roast dinner dishes without giving you my "recipe" for sausagemeat stuffing. I say "recipe" because really this is an assembly job. An upgrade on a packet mix at most
Considering I often make my own Butter and even sometimes make my own Puff Pastry, you might wonder why I don't make a traditional sage and onion stuffing from scratch. Surely it isn't difficult?
The answer is simple. It isn't difficult but I love Paxo. I've grown up eating it, I like the flavour just as it is and that's good enough for me. It's a little bit of comfort and taste of my childhood. (For the sake of clarity, this post is in no way sponsored or affiliated with the Paxo people.)
But for with a roast dinner, I love Paxo Sage and Onion. And for Christmas or a special occasion, I want sausage meat mixed in. Because if in doubt….add pork.
To Stuff or Not to Stuff?
Obviously the traditional use for stuffing was to actually stuff the cavity of a chicken, turkey or other poultry. The whole thing was cooked as one. The benefit of this is that the stuffing absorbs lots of the meat juices as its cooking. This results in extremely tasty stuffing.
So I cook my stuffing separately in its own baking dish. There is plenty of flavour in the packet mix and sausage meat. This is not a method which is lacking in flavour.
I do sometimes take a halfway approach. If I am cooking stuffing with the sole intention of making sandwiches, I might roast a couple of chicken thighs sitting directly on top of the stuffing. If I don't need the juices for gravy, I'm happy for them to mingle with the stuffing.
What About Sausagemeat Stuffing Balls?
Making the mixture quite dry then rolling it into gold size balls and baking them is pretty common. Especially in pub carveries. Don't even start me on Aunt Bessies. Yes its common, yes its popular, but why on earth you'd want to eat those dry nuggets of stuffing I have no idea.
I beg you to add that extra liquid and make a spoon-able stuffing. I actually quite often make my stuffing even more loose than this recipe is written. Feel free to add a little extra water if you like.
How to Serve Cheat's Sausage Stuffing
There are two main ways that I'm going to serve sausage sage & onion stuffing. The first is as a side dish with a roast dinner. It is especially traditional with Roast Chicken or Roast Turkey. But is also commonly served with roast pork too.
Just like with Yorkshire Puddings which I firmly insist on eating with any and every roast, I would also not object to a little stuffing with my Roast Beef or even lamb.
Like many roast dinner elements, providing there is some piping hot gravy to hand, sausage stuffing is fine to serve warm rather them immediately straight from the oven. Hot hot is fine but I would tend to avoid serving it actually cold.
Which brings me to the second main usage: sandwiches. I am almost a bigger fan of a leftover roast dinner sandwich as I am the main event.
With thin white bread slices, warmed meat, the sausagemeat stuffing and a little cranberry or redcurrant jelly, you cannot go wrong. To make it even more right, you can heat up any leftover gravy too. I said this sandwich was good, I didn't say it was pretty. Just make sure that the stuffing layer is generous. I ideally want as much stuffing in there as roasted meat.
It is again important to note that this should be a hot sandwich. I can't abide the supermarket sandwiches filled with cold stuffing and heaven forbid mayonnaise. But I suppose if that's your thing then who am I to stop you making a homemade version.
Make Sage & Onion Sausagemeat Stuffing into a Feast
I truly believe that you can make any dish into a proper feast! Whether thats a feast for one after work on a Tuesday, a casual feast for four on a Friday evening or a feast for 12 for a special occasion!
Sausage meat stuffing is absolutely essential as part of a Christmas Dinner Feast. Along with your perfectly brined Roast Turkey (or Roast Chicken if you are keeping things smaller), you can mix and match any of the following recipes (and more!)
Don't forget dessert! For a twist on a classic trifle try my Sherry Trifle Cheesecake. Or for a hot option what about Chocolate Brioche Bread Pudding? Don't forget the custard!
And please don't just keep this kind of awesome meal for Christmas (or Thanksgiving if you're in the US or Canada). A great roast turkey dinner is for any time of year!
---
Don't miss my comprehensive collection of ideas for classic Christmas sides. I've included simple basic recipes and ways to level up each dish.
There is everything from roast potatoes, numerous stuffing ideas and red cabbage dishes to cranberry sauces and even a vegan gravy option.
---
Don't forget to head over to my Feast Collection pages to find all of my tips and tricks to help you host a fun and stress-free feast. Plus remember to check out my recipe index to create your own awesome Feast!
Ingredients for Sausage Meat Stuffing
Paxo Sage & Onion Stuffing Mix
Why have I specified Paxo and not any old generic supermarket brand packet mix? Because as I've mentioned above, I like the flavour of Paxo.
I'm not adverse to non branded products, in fact I largely recommend them, but this time I'm specifying. I'm sure one of the supermarket varieties will be identical but I'm yet to find it!
The world will not end if you use another brand. But I do like to stick to the original sage and onion variety for with chicken, turkey and pork.
You can now get many variations like garlic & thyme (might be good with lamb) or chestnut and cranberry. Maybe I'll branch out one of these days. Let me know if you try a variation.
Sausage Meat
Just like with my other recipes which use sausage meat like Sausage Rolls and Scotch Eggs, I generally like to buy proper sausages, remove the skins and then use the meat in my recipe.
I find that the meat from sausages tends to be tastier and better quality than the meat sold simply as "sausage meat". A very simple pork sausage is all you need here. The stuffing mix will be providing all the herbs, flavour and seasoning that is needed.
Be Flexible
With three ingredients in a recipe, in theory you can only be so flexible. I've mentioned that you could use another variety of stuffing mix and you could easily use another variety of sausage that isn't plain pork.
I've also mentioned that you can actually stuff a bird or use less water and make stuffing balls. But other than that, the most rogue I go with this recipe is to add a few dots of butter to the top before baking for extra tasty crispy bits.
How to Make Vegetarian or Vegan Sausage Stuffing
Paxo sage and onion original stuffing mix is suitable for vegans and therefore vegetarians. I fail to imagine that substituting the pork sausage meat in this recipe for a vegetarian or vegan sausage is going to add anything.
Whilst I generally always try to make suggestions to make my recipes suitable for various diets, in this instance I think I'm going to say just stick with the packet. Or make your own sage and onion stuffing from scratch. Sorry!
Allergy Friendly Sausage Meat Stuffing
This sausagemeat stuffing recipe is free from egg, dairy and nuts.
Gluten Free: Great news! Paxo do a gluten free version of their standard stuffing mix. So this can be purchased and used instead of the standard wheat based variety. You should also ensure that the sausages being used are gluten free. This is getting easier as time goes on but it is always worth checking.
Please note that this recipe may contain other allergens not referred to above and any variations suggested have not been tested unless otherwise stated. For more information regarding any dietary information provided on this website, please refer to my Nutritional Disclaimer.
Equipment Notes for Pimped Up Paxo
If you use a deeper dish, you may find that the cooking time is longer. I used a roughly 20cm ceramic pie dish for the cooking times given.
I also often use one of my various sized pyrex dishes. The plastic lid cuts down on washing up as they can be stored right in the cooking and serving dish.
Very little other equipment is needed but like any time boiled water is required, I beg you to use an electric kettle rather than faffing around on the hob.
A comprehensive list of the equipment used to make this recipe is included in the main recipe card below. Click on any item to see an example. There are no hard and fast rules so many items can be sensibly substituted to achieve the same results.
Get Ahead
This is a great recipe to get ahead with. You can make it up ready to bake and stash it in the fridge for a couple of days or even freeze it.
Leftover Christmas Stuffing
Don't miss my Leftover Roast Dinner Pizza which is the perfect way to use up all manner of leftovers from any Sunday roast or Christmas dinner.
Leftovers are amazing in sandwiches. I usually microwave it to reheat. Crispiness isn't really a factor here and you could even heat it on the hob.
Go one step further and make it into patties and fry it in a little oil. Add that to your sandwich or even a chicken burger. (Remind me to add chicken and stuffing burger to my recipe post to do list).
The other way that I sometimes use stuffing is in a roast dinner soup. I use the gravy and stock to make a soup base, add in various bits of meat and vegetables and then add mini suet dumplings. I break up the stuffing and mix it with the dumpling dough with roughly twice as much dough as stuffing. This then gets cooked in the soup with a lid on. Try it, you'll thank me.
Sage & Onion Sausagemeat Stuffing Tips
Raking the surface of the stuffing gives you some crispy edges but this isn't a requirement. If however you want an even crispier crust, try adding a few small knobs of butter just before baking.
Don't forget to let me know in the comments if you try making this recipe – I want to know what you think and if you made any substitutions, how did it turn out?
Still Have Questions?
Simple! Just contact me and I will do my best to help as quickly as I am able. Head over to my Contact Me page, any of my social media channels or post a comment at the bottom of this page and I'll see what I can do.
Pin Sage & Onion Sausagemeat Stuffing For Later
Hit one of the share buttons to save this page to your Pinterest boards so you can come back and find it at anytime!
---
Keep Up to Date
Make sure you SUBSCRIBE to my newsletter and avoid missing out on any of my newest and bonus content. Don't worry, I promise not to spam you or bombard you too often. Plus you'll receive a copy of my FREE 7 Day International Meal Plan!

Also please don't forget to follow me over on my social media channels over at Facebook, Twitter, Instagram and Pinterest. I love to interact with my followers and I'd love you to share my content with your friends too.
More Pork Recipes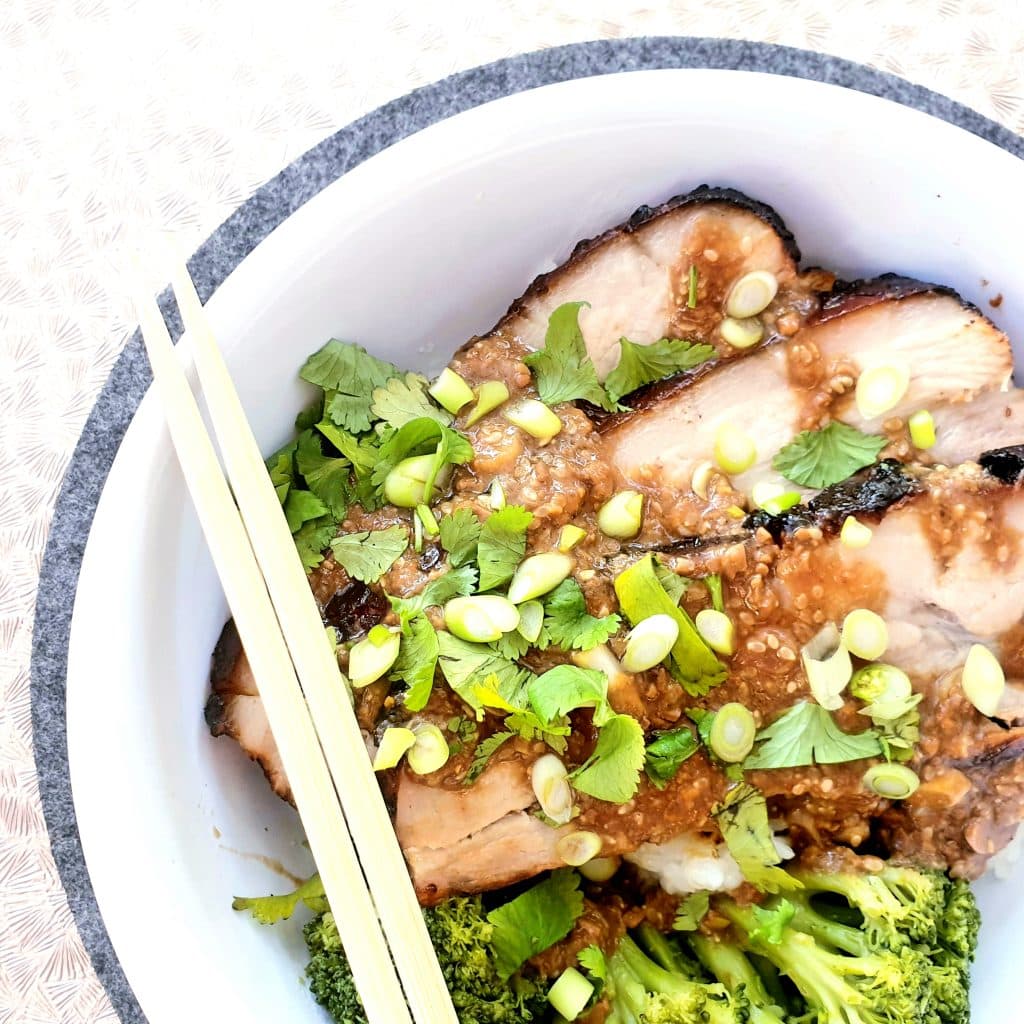 The Recipe
Sage & Onion Sausagemeat Stuffing
---
This Sage & Onion Sausagemeat Stuffing is my pimped up Paxo recipe. Yes we could make it all from scratch but packet stuffing mix is easy and tasty so I make no apologies for this cheat's shortcut. Sausage meat stuffing is a must on my Christmas table and any other roast dinner for that matter!
Ingredients
85

g

Sage & Onion Stuffing Mix

-

Paxo

350

ml

Boiling Water

225

g

Pork Sausage Meat
Instructions
Pop the kettle on to boil.

Turn the oven on to 220c fan | 425f.

Measure

85g Sage & Onion Stuffing Mix

in a mixing bowl.

Measure and pour in

350ml Boiling Water

.

Stir until fully mixed. Cover and leave for

5 minutes

.

Break up

225g Pork Sausage Meat

into the stuffing mix. Use you hands to fully mix it into the stuffing. Using your hands is essential as you will need to do much squishing for it to fully combine.

Move the stuffing into a small baking dish. Spread it to the edges and corners and smooth the top.

Use a fork to rough up the top. These ridges will get nice and crispy.

Pop the dish into the oven to bake for

45 minutes

.

The top should be golden. The cooking time might differ depending on how deep the mix is in your dish so it is worth making a cut and checking that the sausage is cooked all the way through. Pop it back into the oven if it is at all pink.
Nutrition (Approx)
Serving:
1
side
|
Calories:
169
kcal
|
Carbohydrates:
11
g
|
Protein:
7
g
|
Fat:
10
g
|
Saturated Fat:
3
g
|
Cholesterol:
27
mg
|
Sodium:
438
mg
|
Potassium:
128
mg
|
Fiber:
1
g
|
Sugar:
1
g
|
Vitamin A:
28
IU
|
Vitamin C:
1
mg
|
Calcium:
17
mg
|
Iron:
1
mg
Download my FREE 7 day international meal plan!
Simply subscribe to the Feast Glorious Feast newsletter and I'll send you the link.