It might seem silly to publish a how-to for a product that contains instructions on the packet. But I've seen so many Bird's type custard disasters and explosions that it doesn't feel all that daft at all. So this how to make custard powder custard guide is my way of making this traditional British treat fool proof – quickly, easily and in the microwave.
This post may contain affiliate links. Please refer to my Disclosures Page for more details.
Some people are shocked that as a proficient cook and baker, I use custard powder at all. Well I do! 90% of the time. It is my favourite custard – I find the tinned and carton custard to be a bit tin and insipid. And a proper made from scratch crème Anglaise is really quite a different sauce entirely.
So whether its because its what you have on hand, it evokes childhood pudding nostalgia, or you just like it, never ever let anyone shame you for using a "shortcut" product in the kitchen.
Custard Powder Vs Instant Custard Powder
It is confusing but there are two very similar products that are common on the UK.
Instant custard powder is a fully formed dehydrated custard which you make by just adding hot water. I'm not a massive fan of the taste and this is is not the type of custard powder that this post is discussing.
Custard powder is basically flavoured cornflour. To make the actual custard you need to add sugar and milk. This is the custard powder I'm talking about in this post.
Bird's Custard vs Own Brand Custard Powder
Custard powder started life when in 1837 Alfred Bird invented a way of making custard for his wife who was intolerant to eggs. As traditional custard is thickened using eggs, she couldn't eat it. Other people liked in and so he formed a company and started selling it.
Bird's custard is to this day the most easily recognisable (custard) brand in the UK. And after years of trying various own brand custard powders, I have gone back to using it. I find that some of the imitators have an odd almond taste to them which I don't really like. So I do recommend using Bird's custard if you can.
Fun fact – Alfred Bird also invented baking powder.
How to Serve Custard Powder Custard
Hot and lashings of it please!
In seriousness, there are very few traditional British puddings that you can't serve with custard. From Jam Sponge Puddings, Chocolate Brioche Bread Pudding, all manner of crumbles like Plum & Apple, Strawberry or Apple & Blueberry to warm Chocolate Chip Flapjacks and Fig Upside Down Cake.
And don't forget good old bananas and custard – a true classic of the genre.
There are a few other times where custard powder can be useful in cold dessert too.
I use it to make the main cheesecake layer of my No Bake Sherry Trifle Cheesecake as well as in this cheat's version of the Platinum Jubilee Trifle.
If you're not into brandy sauce or brandy butter with your Christmas Pudding, this custard will do the trick too.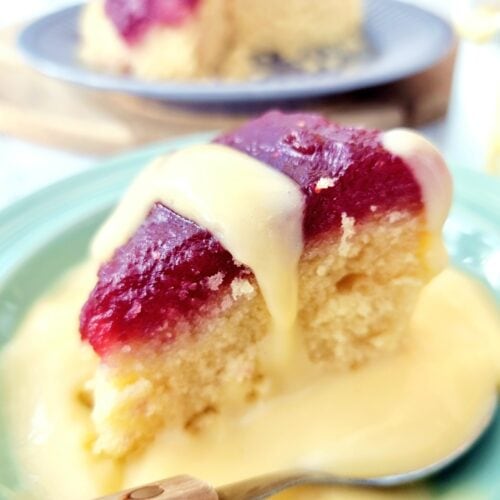 Ingredients for Custard Powder Custard
Custard Powder
Obviously! I've mentioned that you need to avoid the instant kind and that my preference is to use the main brand, Bird's custard. But this microwave cooking method will work for any of the own brand varieties that are available.
Milk
I use skimmed milk because that it what I have in the house and have on hand. If you use a semi or whole milk you may want to add slightly more or cook the custard slightly less. The thicker the milk, the thicker the custard.
You can use single (light) cream in place of all or part of the milk for a richer custard.
Sugar
I just use regular white granulated sugar. There is no benefit to using the more expensive caster (superfine) sugar unless that is all you have on hand.
Brown sugar will add an unwelcome flavour so please don't use this. An unbleached sugar is however fine to use.
Be Flexible
You can make a simple chocolate custard by beating melted dark chocolate into the finished and thickened custard.
You can also add melted white chocolate to make a cheat's thick custard layer in a trifle. Or add extra cornflour for the same result with a less rich flavour.
Make it Vegetarian or Vegan
Custard powder custard is suitable for vegetarians as written.
It is easy to make Vegan Custard Powder Custard – simply use a plant based milk in place of regular cow milk.
However, please note that Bird's custard doesn't have any milk products in the ingredient list (as of September 2022) although there is a "may contain" warning on the package for milk so use your discretion.
Make it Allergy Friendly
This recipe is free from egg, gluten and nuts.
Dairy Free Custard Powder Custard: I've mentioned above that it is simple to substitute the milk in the recipe for a dairy-free milk. Please also take note of the warning about the may-contain label on custard powder.
Please note that this recipe may contain other allergens not referred to above and any variations suggested have not been tested unless otherwise stated. For more information regarding any dietary information provided on this website, please refer to my Nutritional Disclaimer.
Equipment Notes for Microwaved Custard Powder Custard
The main piece of equipment you will need for this recipe is a microwave. If you do not have one, I think you are bonkers. But if I can't persuade you to invest, you can make this recipe in a saucepan on the hob. Just whisk the ingredients over a medium heat until thickened.
The other piece of equipment you need to consider is the bowl or jug that you use to make the custard and heat it in the microwave.
I prefer to use thin plastic mixing bowls. The plastic absorbs minimal heat which allows the microwaves to actually heat the food as the priority. The food, in this case custard, heats more quickly and more evenly.
My second choice for microwaving is a pyrex bowl. Pyrex is toughened glass which doesn't absorb much heat.
My last choice and what I actively try to avoid is to use ceramic bowls. Things like your regular cereal bowls or Mason Cash style mixing bowls/jugs absorb so much heat. The thicker they are, the worse they are.
Wood, melamine, metal and bamboo are all best avoided too. And anything else which isn't noted as microwave safe obviously.
A comprehensive list of the equipment used to make this recipe is included in the main recipe card below. Click on any item to see an example. There are no hard and fast rules so many items can be sensibly substituted to achieve the same results.
Get Ahead
I very rarely make custard in advance. I do sometimes mix it up ready to microwave a few hours or so in advance. You will find that the custard powder settles so you do need to give it a good whisk before starting to heat it.
If you are intending to eat or use the custard cold, you can make it at least 24 if not 48 hours in advance and store it in the fridge.
How To Stop Skin Forming On Custard
If you are into custard skin, you can just leave the custard uncovered and unstirred.
But like me, you aren't a psychopath, I can tell you how to stop that skin forming. If you are going to be using the hot custard fairly quickly, giving it a quick stir should do the job.
If you are needing to let it sit for any reason, you need to effectively create an artificial skin. I do this using cling film (saran wrap). You must make sure that the whole surface area is being touched by the cling film and that there is no air trapped between the film and custard.
Leftover Custard
It is very easy to reheat custard if you don't want to eat it cold.
Simply microwave the custard in short bursts until hot. If you find that the custard is too thick, whisk in some more milk until it is exactly as thick as you want it to be.
Custard Powder Custard Tips
The exact time your microwave will take to heat and thicken the custard will depend on a number of factors – the dish you use, the max power level of your microwave and how cold your ingredients are when you start.

The recipe gives a guide but use your gut. Remember you can heat it more but it is impossible to heat it less so err on the side of caution.
My custard was perfect with 6 minutes of total cooking using a 700w microwave and a thick plastic mixing bowl.
Please make sure your dish is microwave safe before using.
Make sure to whisk the mixture just before microwaving. Custard powder settles very quickly – you do not want to end up with extra thick goop in the bottom of your bowl and hot milk sitting on top of it.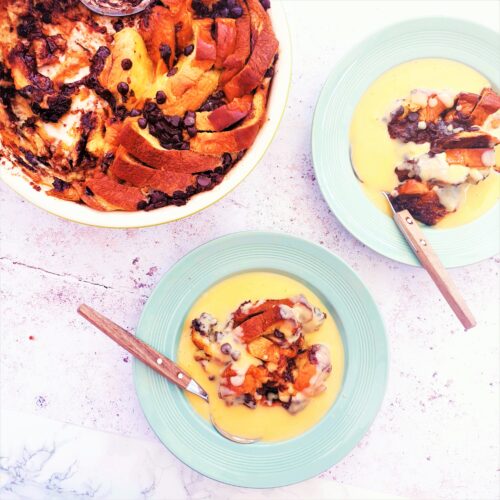 Don't forget to let me know in the comments if you try making this recipe – I want to know what you think and if you made any substitutions, how did it turn out?
Still Have Questions?
Simple! Just contact me and I will do my best to help as quickly as I am able. Head over to my Contact Me page, any of my social media channels or post a comment at the bottom of this page and I'll see what I can do.
Pin How to Make Custard Powder Custard For Later
Hit one of the share buttons to save this page to your Pinterest boards so you can come back and find it at anytime!
---
Keep Up to Date
Make sure you SUBSCRIBE to my newsletter and avoid missing out on any of my newest and bonus content. Don't worry, I promise not to spam you or bombard you too often. Plus you'll receive a copy of my FREE 7 Day International Meal Plan!

Also please don't forget to follow me over on my social media channels over at Facebook, Twitter, Instagram and Pinterest. I love to interact with my followers and I'd love you to share my content with your friends too.
The Recipe
How to Make Custard Powder Custard (Microwave)
---
It might seem silly to publish a how-to for a product that contains instructions on the packet. But I've seen so many Bird's type custard disasters and explosions that it doesn't feel all that daft at all. So this how to make custard powder custard guide is my way of making this traditional British treat fool proof – quickly, easily and in the microwave.
Ingredients
3

tbsp

Custard Powder

2

tbsp

Sugar

500

ml

Milk
Instructions
Measure

3 tbsp Custard Powder

and

2 tbsp Sugar

into a medium sized mixing bowl.

Pour in a little of

500ml Milk

and mix until the powder and sugar makes a paste.

And a little more milk to make a looser liquid.

Pour the rest of the milk in and whisk until fully combined.

Make sure to scrape the bottom and sides of the bowl to make sure there is no paste or powder left unmixed.

Note – You can do this using a large microwave proof measuring jug. Just fill the jug to just over

500ml

when adding the milk.

Microwave on high for 3 minutes.

Take the bowl out the microwave and give the custard a whisk.

Microwave on high for a further 2 minutes. The custard should be at least partially thickened by now – whisk it all together again so it all one texture.

Keep microwaving on high in 30 second bursts and whisking again each time until your preferred thickness.

If it is very nearly where you want it, reduce to 10 seconds per time.

Serve as desired.
Notes
My custard was perfect with 6 minutes of total cooking using a 700w microwave and a thick plastic mixing bowl.
The material of your bowl or jug will affect the cooking time. The more heat it absorbs, the longer you will need to microwave the food to achieve the same cook.
Ceramic and pyrex will absorb more heat than a thin plastic. A thicker ceramic will absorb more heat than a thinner ceramic, etc.
Please make sure your dish is microwave safe before using.
Nutrition (Approx)
Calories:
113
kcal
|
Carbohydrates:
21
g
|
Protein:
5
g
|
Fat:
1
g
|
Saturated Fat:
0.3
g
|
Polyunsaturated Fat:
0.1
g
|
Monounsaturated Fat:
0.3
g
|
Cholesterol:
32
mg
|
Sodium:
84
mg
|
Potassium:
276
mg
|
Sugar:
13
g
|
Vitamin A:
288
IU
|
Vitamin C:
0.04
mg
|
Calcium:
196
mg
|
Iron:
0.2
mg
Download my FREE 7 day international meal plan!
Simply subscribe to the Feast Glorious Feast newsletter and I'll send you the link.