My Peanut Lentil Soup uses satay sauce and coconut milk along with carrots and red lentils to make a thick, rich and extra tasty soup. My satay soup is accidentally vegan and can be gluten free too. Super easy to make and even easier to eat, give it a go for a flavour packed lunch.
This post may contain affiliate links. Please refer to my Disclosures Page for more details.
This recipe is another classic concoction from my 'stare at the fridge and pray for inspiration' repertoire. It was utterly delicious and I've made it many times since. I also make another non-vegan Meal Soup version which is topped with chicken, veg and coriander.
The soup is packed with flavour as well as nutritious lentils and veg. The coconut milk used is purposefully light to keep the soup itself a little lighter. It can be made in advance and reheated for lunches throughout the week or stashed in the freezer for emergencies. We've all had them!
If this soup can make the likes of me a fan of lentils whilst not containing any meat or dairy, I think it can probably convert anyone!
How to Serve Peanut Lentil Soup
Serve simply in a soup bowl. Check out my chicken topped version of the soup for ideas of additional toppings to make the soup into a full meal. A fresh coriander garnish is especially nice, as is an additional swirl of coconut milk.
Make Peanut Lentil Soup into a Feast
I truly believe that you can make any dish into a proper feast! Whether thats a feast for one after work on a Tuesday, a casual feast for four on a Friday evening or a feast for 12 for a special occasion!
This soup has satay type flavours which marry well with other Asian inspired recipes. It pairs wonderfully as part of a Vegan Asian Feast alongside my Vietnamese Tofu Summer Rolls and Salt and Chilli Edamame Beans.
It would also make a great addition to a Soup Feast. Soup nights are more popular in the States but I think we should start holding them in the UK. You could serve also serve my Turkey Chowder and something different like this ever popular Scotch Broth by Farmersgirl Kitchen. Don't forget something to mop it all up like my Chilli and Oregano Soda Bread or Cheesy Garlic Pull-Apart Bread.
Head over to my Feast Collection pages to find all of my tips and tricks to help you host a fun and stress-free feast. Plus remember to check out my other Asian inspired recipes.
Ingredients for Peanut Lentil Soup
Lentils
I have used dried red lentils the majority of the time that I have made this soup. But I've alternatively used green lentils too. I think really dark lentils like puy would be a little too heavy. Beware that green lentils may take longer to cook until tender.
Tinned lentils would also be fabulous to use. Treat them in exactly the same way as I have the dried. 100g dried lentils = 250g cooked lentils.
Coconut Milk
I have specified light tinned coconut milk but you can use any coconut milk or cream that you prefer. You could use regular milk too if you don't want such a prominent coconut flavour and being dairy free isn't an issue.
---
More Coconut Milk Recipes
For more great recipes featuring coconut milk, check out my post featuring the Best Coconut Milk Recipes from top food bloggers and this site.

There are soups, curries, sauces, chocolate tarts, ice creams and even scones to try.
---
Satay Sauce
There are numerous varieties of satay sauce available. Almost any will work brilliantly in this recipe. But you must be careful which you pick if you are making this recipe specifically to be gluten free or vegan. Check the ingredients carefully.
I would of course heartily suggest that you use my Homemade Satay Sauce recipe. It has other uses too like my Chicken Satay Skewers and as a dip to my various dumpling recipes.
If you cannot find a satay sauce, you can substitute the sauce for some peanut butter, soy sauce (beware gluten) and a little mild curry powder.
Be Flexible
As I mention above, you can choose which lentils which satay sauce you use. You can also replace the carrot with another vegetable. Something with some sweetness would be ideal like sweet potato, butternut squash or even parsnip.
I would highly recommend making a large batch of this soup to freeze in individual portions.
Make it Vegetarian or Vegan
Great news, this recipe is naturally suitable for vegetarians and vegans.
Make it Allergy Friendly
This recipe is naturally dairy, gluten and egg free.
Nut Free: The satay sauce contains peanuts so this should be avoided. If you are able to use other nuts such as cashews, a substitute can be made using cashew or another nut butter, a little soy sauce and some mild curry powder.
Please note that this recipe may contain other allergens not referred to above and any variations suggested have not been tested unless otherwise stated. For more information regarding any dietary information provided on this website, please refer to my Nutritional Disclaimer.
Equipment Notes for Peanut Lentil Soup
There are various options available for blending the soup. Between my food processor, the blender attachments on my processor and my stand mixer and a stick blender, I use whichever my mood takes me. If you think that excessive, I did once own a freestanding blender too but I let that go a while back.
Do be careful with whichever blending method that you choose as some of them do not take well to hot liquids. You may have to leave the soup to cool a little before blending.
A comprehensive list of the equipment used to make this recipe is included in the main recipe card below. Click on any item to see an example. There are no hard and fast rules so many items can be sensibly substituted to achieve the same results.
Get Ahead
The soup can be made ahead of time and stored in the fridge for a couple of days before being reheated.
It is also perfect for making up and freezing, either as a batch or in individual portions.
---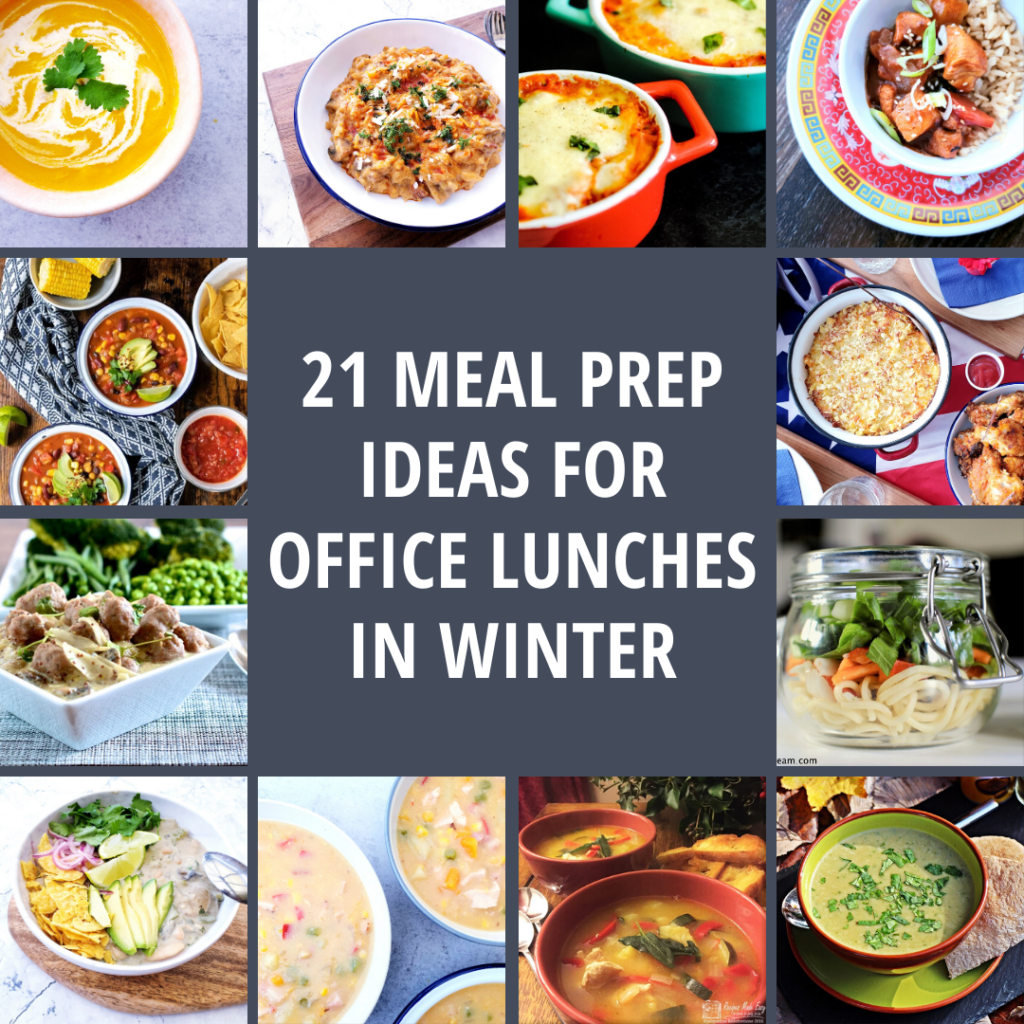 I've included this recipe in my roundup of hot recipes which are ideal to meal prep and then reheat at the office for lunch.
The collection also includes ideas from other top food bloggers as well as advice about how to store, transport and reheat the meals.
---
Leftover Peanut Lentil Soup
The Satay Soup will keep for several days in the fridge and can be varied by adding different toppings if desired.
Any leftover satay sauce can be used to make my Chicken Satay Skewers or my Satay Sprouts to keep things vegan.
Peanut Lentil Soup Tips
If the soup is starting to look a little dry before the lentils are cooked, add more water. It doesn't want to be overly wet as however as the tin of coconut milk will let down the soup even more.
Blend the soup to whatever consistency that you prefer. I like it to be as smooth as possible. You could also decide to not blend the soup at all if you prefer.
Don't forget to let me know in the comments if you try making this recipe – I want to know what you think and if you made any substitutions, how did it turn out?
Still Have Questions?
Simple! Just contact me and I will do my best to help as quickly as I am able. Head over to my Contact Me page, any of my social media channels or post a comment at the bottom of this page and I'll see what I can do.
Pin Peanut Lentil Soup For Later
Hit one of the share buttons to save this page to your Pinterest boards so you can come back and find it at anytime!
Keep Up to Date
Make sure you SUBSCRIBE to my newsletter and avoid missing out on any of my newest and bonus content. Don't worry, I promise not to spam you or bombard you too often. Plus you'll receive a copy of my FREE 7 Day International Meal Plan!

Also please don't forget to follow me over on my social media channels over at Facebook, Twitter, Instagram and Pinterest. I love to interact with my followers and I'd love you to share my content with your friends too.
More Veggie Recipes
The Recipe
Peanut Lentil Soup
---
My Peanut Lentil Soup uses satay sauce and coconut milk along with carrots and red lentils to make a thick, rich and extra tasty soup. My satay soup is accidentally vegan and can be gluten free too. Super easy to make and even easier to eat, give it a go for a flavour packed lunch.
Ingredients
600

g

Carrots

200

g

Onion

1

tbsp

Vegetable Oil

1

tbsp

Garlic Paste

125

g

Red Lentils

400

ml

Light Coconut Milk

150

g

Satay Sauce

Sea Salt Flakes
Instructions
Pop a kettle of water on to boil.

Peel, top, tail and dice

600g Carrots

and

200g Onion

.

Add to a soup pan or large saucepan along with

1 tbsp Vegetable Oil

and fry on a medium-high heat until the onion is lightly browned. Around 5 to 6 minutes.

Add

1 tbsp Garlic Paste

and fry for another minute.

Add

125g Red Lentils

to the pan along with circa

1 litre of Boiling Water

. Cover and leave to gently simmer for 20 minutes or until the lentils are soft all the way though.

Take the soup off the heat and blend the soup until smooth.

Return the soup to the pan, add

400ml Light Coconut Milk

and

150g Satay Sauce.

Leave to simmer for a further

5 minutes

.

Check the seasoning and consistency. Add Sea Salt Flakes to taste and any additional boiling water needed to achieve your preferred consistency.

Serve hot.
Nutrition (Approx)
Calories:
409
kcal
|
Carbohydrates:
51
g
|
Protein:
12
g
|
Fat:
16
g
|
Saturated Fat:
9
g
|
Cholesterol:
0
mg
|
Sodium:
720
mg
|
Potassium:
866
mg
|
Fiber:
14
g
|
Sugar:
16
g
|
Vitamin A:
25060
IU
|
Vitamin C:
15.1
mg
|
Calcium:
85
mg
|
Iron:
3
mg
Download my FREE 7 day international meal plan!
Simply subscribe to the Feast Glorious Feast newsletter and I'll send you the link.