My Sweet & Sour Chicken recipe is the nostalgic kind from my childhood. Its not an authentic Chinese dish. Instead its the homemade version of the jarred sauce kind from the supermarket. This no batter and no deep fry recipe is full on tasty nostalgia! Sorry Uncle Ben but we don't need you anymore!
This post may contain affiliate links. Please refer to my Disclosures Page for more details.
I think we've all eaten a version of Sweet & Sour Chicken at some point. It might be the deep fried battered chunks of chicken served with a gloopy and bright orange sauce (why is there always one solitary lump of pineapple in there?)
Or you might prefer your sweet and sour to be served "Hong Kong Style" which involves smaller pieces of coated and deep fried chicken stirred into the same gloopy and bright orange sauce as before but with added peppers and under cooked onions. (This is my favourite kind from the takeaway).
And then there is the version beloved of the British middle classes back in the day. I'm talking about a jar of Uncle Bens sauce. Just add chicken breast and boil-in-the-bag rice for a super exotic weeknight meal. Along with Chicken Tonight (sorry, I know you're singing the advert now), these jars opened up a world of exotic home-cooking which I still enjoy.
And whilst jars of ready made sauce still have a time and a place in most of our lives, many of us know that it actually only take a minute more and some basic store cupboard ingredients to replicate these sauces from scratch. This way we avoid the ubiquitous additives and preservatives which are inevitable in many processed foods.
The Secret to Homemade Sweet & Sour Sauce
There are two real secrets to recreating this kind of dish from scratch.
The first is cornflour. This is the best way to get the required gloop on the sauce. Cornflour is actually a pretty authentic ingredient in Chinese cuisine. It is used a lot both for thickening sauces, coating things that are going to be deep fried and making dumpling skins.
The second is tomato ketchup. Preferably the cheap kind with a good amount of sugar and lack of actual tomato. This provides the colour and adds to the tang, body and sweetness of the sauce. You could substitute a little tomato puree for a more grown up affair.
Please don't be alarmed that my recipe is not bright orange! Its a little darker due to the soy sauce in the sauce but still tastes both sweet and sour!
To Serve
I would always serve this with plain white boiled rice. Egg fried rice would be my second choice followed by egg noodles.
The boil in the bag kind would be the most (or least) authentic followed by the microwaveable bags. For a more modern twist, I would use my Sticky Rice recipe. Mostly I use microwave bags of rice for convenience.
I also like to garnish the rice and dish with some finely shredded spring onion and lightly toasted sesame seeds.
My melamine Chinese plates and rice bowls make for a great presentation along with a set of nice bamboo chopsticks. But you can serve it on anything really!
Make Sweet & Sour Chicken into a Feast
I truly believe that you can make any dish into a proper feast! Whether thats a feast for one after work on a Tuesday, a casual feast for four on a Friday evening or a feast for 12 for a special occasion!
This Sweet and Sour Chicken works perfectly when served with other Asian Inspired Dishes. You could easily swap it for one of the main course dishes in my Big Asian Feast or even just add it as an extra dish.
Or you could make it into an Everyday Feast by adding a selection of steamed dumplings like my Har Gow and Fun Guo dumplings or serving it with a bowl of Miso Soup on the side. Or both!
Don't forget to head over to my Feast Collection pages to find all of my tips and tricks to help you host a fun and stress-free feast. Plus remember to check out my other Asian inspired recipes.
Ingredients for Sweet & Sour Chicken
Bell Peppers
You can use any colour but I would probably avoid just using green. Red will always be my preference, for colour and flavour. You know that all peppers start green and then ripen right? So green peppers are just unripe red/yellow/orange peppers.
Chicken Breasts
I have used breasts in this recipe as that is the classic but it would be lovely to use thigh meat instead. Thigh will take a little longer to cook so I would cut it a little smaller or make sure to cook it a little longer.
Pineapple/Pineapple Juice
A 227g tin of pineapple chunks in juice yields roughly 6 tbsp of pineapple juice. If you prefer to leave out the pineapple itself, just substitute in 6 tbsp of drinking pineapple juice.
Cornflour
Never add dry cornflour directly to a sauce. Always mix it with a little water to form a smooth paste first. This is called a slurry and its how you get a lovely thick sauce instead of a thin one with lots of lumps of cornflour floating in it!
---
To find out about more of my favourite Asian Ingredients, check out my guide to the Top 16 Asian Ingredients which I always keep stocked in my pantry.

I've also suggested a whole bunch of recipes to try once your cupboard is fully stocked!
---
Be Flexible
There are a multitude of ways in which you could adapt this recipe.
The first major change would be to swap out the chicken breast. I have already talked about using thigh meat instead but you could equally switch out the chicken for turkey breast, pork loin/shoulder/leg, duck breast or king prawns.
The second major change would be to vary the vegetables. I think it would be churlish to not use bell peppers and onions (unless for taste or allergy reasons) but you could also use mushrooms, bamboo shoots, sugar snap peas/mangetout, beansprouts or carrot.
Changing the sauce ingredients too much will result in it being too sweet or too sour but you can be flexible with the type of sugar and type of vinegar you use. A sweetener substitute would work and almost any vinegar except balsamic would do. I do sometimes use orange juice instead of the pineapple.
Make it Vegetarian or Vegan
Sweet and Sour Tofu anyone? I would make sure to coat my tofu and give it a good fry before adding to the sauce in the last 5 minutes just like with my Teriyaki Tofu. Quorn 'chicken' pieces would also work great as would any of the vegan meat substitutes available nowadays like seitan. Adding extra vegetables instead of fake meat would also be a great option.
Also use a vegetable stock concentrate instead of the chicken one and this dish is instantly suitable for veggies or vegans (depending on which protein substitute you make obviously).
Vegans should also ensure that the ketchup being used is suitable for their diet.
Make it Allergy Friendly
This recipe is free from egg, dairy and nuts.
You should however ensure that the stock concentrate and tomato ketchup don't contain any of the relevant allergens which you are trying to avoid.
Gluten Free: Ensure that the soy sauce being used is suitable for a gluten free diet and this dish is naturally gluten free. (Do make sure to serve with rice or rice noodles rather than egg/wheat noodles!)
Please note that this recipe may contain other allergens not referred to above and any variations suggested have not been tested unless otherwise stated. For more information regarding any dietary information provided on this website, please refer to my Nutritional Disclaimer.
Equipment Notes for Sweet & Sour Chicken
It has taken me years to find the right wok. It turns out that the best ones are the cheap ones. Carbon steel woks with bamboo handles are what are used all over China. They are thin, conduct the heat fast and easy to maintain.
They don't have a nonstick coating but treat it right and one will build up nicely as you use it. Jeremy Pang from School of Wok has a great video to tell you how.
A comprehensive list of the equipment used to make this recipe is included in the main recipe card below. Click on any item to see an example. There are no hard and fast rules so many items can be sensibly substituted to achieve the same results.
Get Ahead
This is a great dish to make ahead of time. You can make the whole thing and freeze it. Leave it in the fridge for a few days or just make it up a few hours before its needed and reheat when you want to eat.
As the cornflour in the sauce can thicken even further during the reheating process, you may wish to add some additional water to obtain the original sauce consistency. Or get ahead of the game and make the sauce thinner before freezing or popping it in the fridge.
Leftover Sweet & Sour Chicken
I almost always make double the quantity I need in order to freeze a few portions for later. It makes a great lunch to take to the office and reheat in the microwave.
I either store the portions in double sealing sandwich bags in the freezer (laid flat so they are quick to defrost and take up minimal room) or I use small tupperware containers.
Do make sure to read my tips above re adding extra water to the dish if it is to be reheated.
I'm dying to know what your favourite version of Sweet and Sour is – Balls, Hong Kong Style or Uncle Bens? Or did I miss a version? Let me know!
Don't forget to let me know in the comments if you try making this recipe – I want to know what you think and if you made any substitutions, how did it turn out?
Still Have Questions?
Simple! Just contact me and I will do my best to help as quickly as I am able. Head over to my Contact Me page, any of my social media channels or post a comment at the bottom of this page and I'll see what I can do.
Pin this Sweet & Sour Chicken (No Batter) recipe For Later
Hit one of the share buttons to save this page to your Pinterest boards so you can come back and find it at anytime!
Keep Up to Date
Make sure you SUBSCRIBE to my newsletter and avoid missing out on any of my newest and bonus content. Don't worry, I promise not to spam you or bombard you too often. Plus you'll receive a copy of my FREE 7 Day International Meal Plan!

Also please don't forget to follow me over on my social media channels over at Facebook, Twitter, Instagram and Pinterest. I love to interact with my followers and I'd love you to share my content with your friends too.
More Meaty Main Meals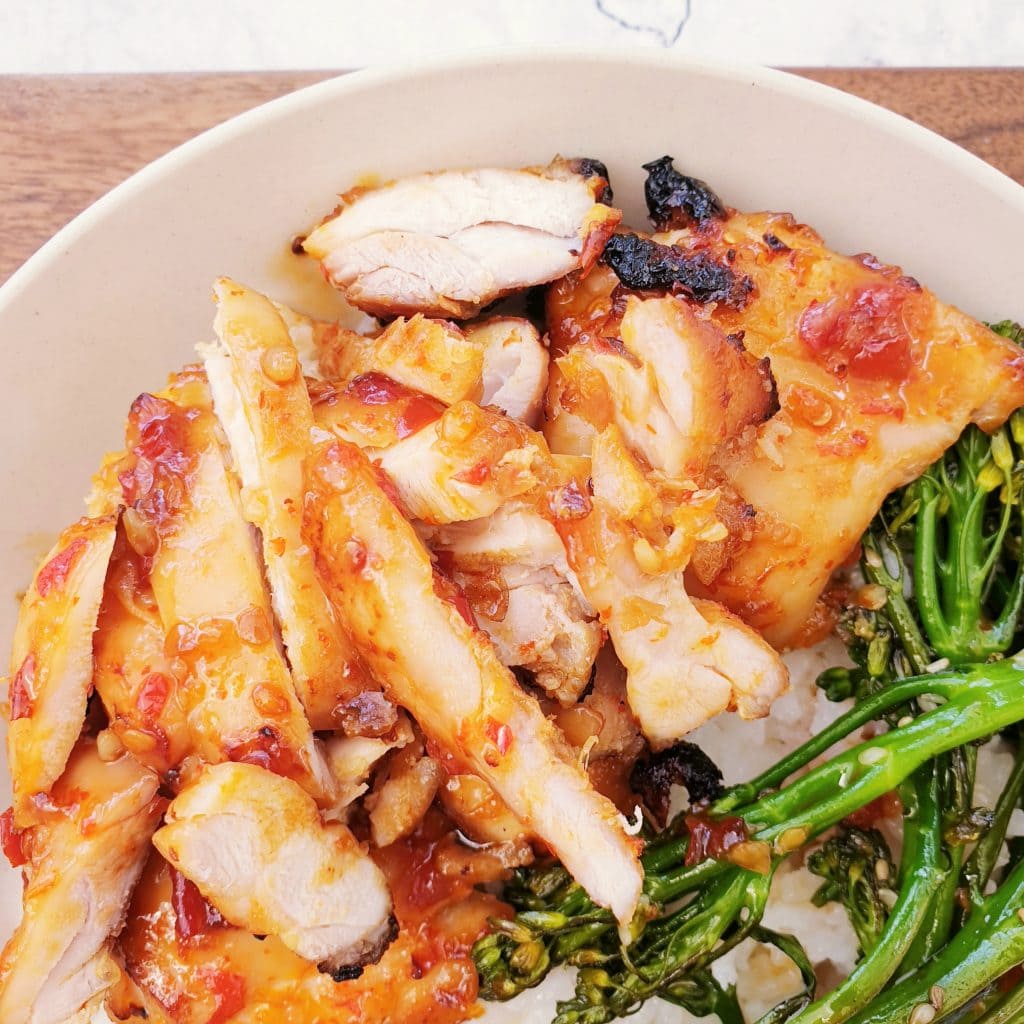 The Recipe
Sweet & Sour Chicken (No Batter Recipe)
---
My Sweet & Sour Chicken recipe is the nostalgic kind from my childhood. Its not an authentic Chinese dish. Instead its the homemade version of the jarred sauce kind from the supermarket. This no batter and no deep fry recipe is full on tasty nostalgia! Sorry Uncle Ben but we don't need you anymore!
Ingredients
200

g

Bell Pepper

-

1 pepper roughly = 100g

180

g

White Onions

150

g

Courgette (Zucchini)

2

tbsp

Vegetable Oil

450

g

Chicken Breast

200

ml

Water

2

tbsp

Chicken Stock Concentrate

4

tbsp

Light Brown Sugar

3

tbsp

White Wine/Cyder/Rice Wine Vinegar

3

tbsp

Tomato Ketchup

1

tbsp

Garlic Paste

2

tsp

Light Soy Sauce (Gluten free if required)

227

g

Canned Pineapple in Juice

-

1 x small UK tin = 227g

3

tbsp

Cornflour (Cornstarch)
Instructions
Chop

200g Bell Pepper

,

180g White Onion

and

150g Courgette

into roughly 1cm chunks.

Add to a large based pan with

2 tbsp Vegetable Oil

and fry on a medium heat for

10 minutes

or so, until the veg has softened a little.

Meanwhile, chop

450g Chicken Breast

into similar sized chunks.

Add the chicken to the pan and continue cooking for about

10 more minutes

until the chicken has cooked though. Keep stirring every now and again.

Whilst the chicken is cooking, mix

200ml Water

,

2 tbsp Chicken Stock Concentrate

,

4 tbsp Light Brown Sugar

,

3 tbsp White Wine/Cyder/Rice Wine Vinegar

,

3 tbsp Tomato Ketchup

,

1 tbsp Garlic Paste

and

2 tsp Light Soy Sauce

in a jug.

Open

227g Tinned Pineapple in Juice

and tip the juice into the jug.

Chop the pineapple into chunks if they are not already chunks.

Once the chicken is cooked though, add the sauce and pineapple chunks. Simmer for

5 minutes

.

Mix

3 tbsp Cornflour

with a little cold water to make a slurry and add to the sauce.

Stir over the heat until the sauce is thickened. A little gloopy is the desired texture.

Serve with plain boiled rice and garnish with spring onion and sesame seeds (optional)
Nutrition (Approx)
Calories:
718
kcal
|
Carbohydrates:
79
g
|
Protein:
53
g
|
Fat:
20
g
|
Saturated Fat:
12
g
|
Cholesterol:
144
mg
|
Sodium:
2051
mg
|
Potassium:
1653
mg
|
Fiber:
6
g
|
Sugar:
55
g
|
Vitamin A:
3535
IU
|
Vitamin C:
164.5
mg
|
Calcium:
112
mg
|
Iron:
2.7
mg
Download my FREE 7 day international meal plan!
Simply subscribe to the Feast Glorious Feast newsletter and I'll send you the link.