These Tofu Crystal Dumplings are my vegan version of the classic steamed Har Gow dumplings which I love. They're folded slightly differently to mark them apart but the highly flavoured tofu filling is easily on par with the original prawn filling.
This post may contain affiliate links. Please refer to my Disclosures Page for more details.
Sometimes I surprise myself. And honestly I was pretty surprised by how much I love these steamed vegan dumplings. The tofu filling packs a real punch and has enough contrast of texture from the slippery dough to satisfy even a hardcore carnivore like me.
I first learnt to make crystal dumpling dough at London Cookery School back in 2017. We were taught to make Har Gow, Fun Guo and Siu Mai with various pork and prawn fillings.
I took what I learnt on that course to create both these Tofu Crystal Dumplings and my Tofu Siu Mai. Making dumplings like these at home is a great time and money saver. Whist dumplings are readily available in supermarkets and Asian grocers, they can be rather quite pricey!
Sourcing Ingredients
As I've mentioned in all of my dumpling posts, on first glance the list of ingredients does look sort of long and scary.
But everything can easily be bought at any small Asian grocers or even online. I love to head to one of the big Wing Yip superstores every now and again and do a big bulk buy of all the random ingredients.
You will also likely be surprised by the amount of Asian ingredients that are available in your local supermarket. The best tip is to head to the world food aisle where the same ingredients tend to be available much cheaper than in the supermarket's own brand or major brand packaging.
How to Serve Tofu Crystal Dumplings
Some kind of dipping sauce is essential to serve with any Chinese Dumpling.
This can be as a simple as a little light soy mixed with some rice wine vinegar like with my Dumpling Dipping Sauce. A sweet chilli sauce also works fabulously as do all manner of weird and wonderful sauces that I buy from Asian grocers or world food aisle. My favourite is handily called "Dipping Sauce".
Another alternative would be to cross cultures and make the dipping sauce included in my Vegan Vietnamese Summer Rolls recipe.
I sometimes serve my crystal dumplings as part of a wider selection of boiled/fried/steamed dumplings. Sometimes this is accompanied by a simple bowl of Miso Soup. Alternatively, I might serve a smaller selection as a starter course before another Asian inspired main course.
Crockery wise I tend to use my set of Chinese melamine crockery to serve my Asian inspired dishes. I love this set as it is easy to clean, easy to store and brings a smile to my face whenever I bring it out. I've bought it in stages to make a full set.
Or, like in the case of the photos on this page, simple dark matt crockery sets off the dumplings and allows the light to literally shine through them.
The dumplings themselves are usually served in the steamer baskets they were cooked in. This keeps them nice and hot, just as they should be. Take one to your plate, replace the lid and repeat. Chopsticks can be tricky to use with the slippery skins but I find that trying is half the fun.
There is no shame in grabbing a fork, or even mucking in and using your fingers. Incidentally, did you know that Sushi is supposed to be eaten with your fingers? Who knew!
Make Tofu Crystal Dumplings into a Feast
I truly believe that you can make any dish into a proper feast! Whether thats a feast for one after work on a Tuesday, a casual feast for four on a Friday evening or a feast for 12 for a special occasion!
I've included this recipe in both my Big Asian Feast and Vegetarian Asian Feast as part of a selection of dumplings served as a starter course.
My Big Feast starts with Edamame nibbles and a selection of dumplings also including Har Gow and Siu Mai along with Miso Soup.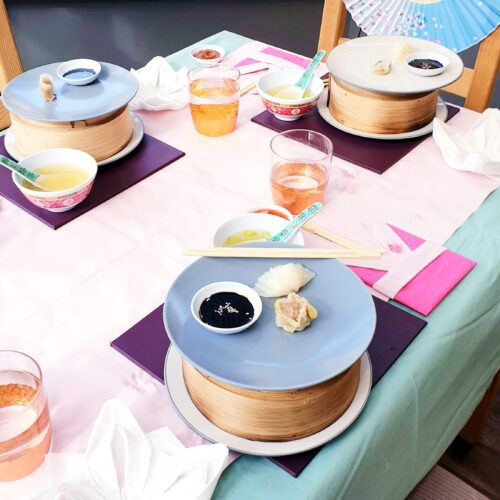 There follows a selection of fabulous dishes to share including Korean Belly Pork, Teriyaki Tofu, Sesame Tenderstem and Sweet Chilli Salmon. It's all served with Sticky Rice and followed by an unusual Chinese Steamed Cake.
My Vegetarian menu collection is a festival of tofu! It also includes Tofu Siu Mai dumplings served with a Dipping Sauce. Then there are my Vietnamese Tofu Summer Rolls and and Miso Soup with Tofu plus Satay Sauce for dipping. If that isn't enough there is Sticky Rice, Tenderstem Broccoli and Edamame Beans too!
Don't forget to head over to the Big Asian Feast post for all of my tips and tricks to help you host a fun and stress-free feast. Plus remember to check out my other feast collections and all my Asian inspired recipes.
Ingredients for Tofu Crystal Dumplings
Tofu
You can buy various types of tofu. The most common are silken, soft, firm and extra firm. Firm or extra firm is what you are looking for here.
You might find it in the supermarket chiller on in a tetrapak in the world food aisle. Fresh is generally preferable if possible but I do often keep a long life option in the pantry.
The biggest thing to remember with tofu is that as much moisture as possible needs to be removed before cooking. This can be achieved by using a mixture of kitchen roll and pressing it.
Dried Mushroom
Chinese dried mushrooms can be bought in vac packed bags. They are not dry and crispy but soft and pliable. They can be easily cut and cooked with without being re-hydrated.
If you are struggling to find the dried mushrooms or simply can't be bothered to look, simply omit the ingredient. I would not recommend substituting them with fresh as the moisture content will affect the filling consistency.
Light Soy Sauce
Light soy is a lighter (!), saltier version of dark soy sauce. You can use dark in this recipe if you prefer but I would half the given quantity or it may become overpowering.
---
To find out about more of my favourite Asian Ingredients, check out my guide to the Top 16 Asian Ingredients which I always keep stocked in my pantry.

I've also suggested a whole bunch of recipes to try once your cupboard is fully stocked!
---
Wheat Starch
This is important. Wheat starch is not flour. You cannot substitute flour for the wheat starch. This is an ingredient that you can buy in small bags from Asian grocers. It has the texture of cornflour so do be careful that it doesn't fly everywhere when you open the packet.
Tapioca Flour
This is another ingredient that you will most likely want to buy from an Asian grocers. Saying that, I have seen this in supermarkets labelled as tapioca starch or even cassava flour. It is all the same thing. Tapioca flour also has a very fine consistency.
Be Flexible
The crystal dumpling/har gow dough is quite specific and this is an occasion when I would suggest that you do not mess with it. The filling can be changed as you wish providing that the consistency is similar to the original.
I have already varied the shape of the dumpling from the original Har Gow to distinguish it from the prawn version. If you want to try the pleating from the original shape, have a look at the instructions on my Har Gow post. All other instructions should remain per this recipe.
You can really be as inventive as you like with your vegan dumpling filling. The main thing to consider is that the filling needs to be moist enough to stick together. In this case the remaining moisture from the tofu combined with the sesame oil and cornflour means that it binds together nicely.
Make it Vegetarian or Vegan
These Tofu Crystal Dumplings are suitable for both vegetarians and vegans.
Make it Allergy Friendly
This crystal dumpling recipe is suitable for those who are free from nuts, dairy and egg.
Nut Free: Saying this, sesame can trigger nut allergies in some people so it is best to check if you are planning on serving this to someone who is allergic or intolerant. Use veg oil rather than sesame oil in the filling if needed.
Gluten Free: One potential gluten containing ingredient in this recipe is the Wheat Starch. Having done some research, it seems that as wheat starch is a processed element of wheat, it contains so little gluten that it is often considered gluten free even for a coeliac diet.
But the advice does vary so please please do your own research and ask anyone that you are cooking for whether they can tolerate wheat starch.
I believe that cornflour is the nearest 100% gluten free substitute and so I would use cornflour with a little xantham gum if the wheat starch cannot be used.
To ensure that the recipe is fully gluten free, ensure that the soy sauce used is a gluten free variety.
Please note that this recipe may contain other allergens not referred to above and any variations suggested have not been tested unless otherwise stated. For more information regarding any dietary information provided on this website, please refer to my Nutritional Disclaimer.
Equipment Notes for Tofu Crystal Dumplings
If you don't have kettle you should buy one immediately. In the meantime, boil the water in a small saucepan. Boil more than you need then measure it once heated. You don't want to lose water to evaporation and mess up the quantities. Seriously though, buy a kettle.
Whether you choose to roll out your dough on a wooden board, plastic chopping board or your counter top, DO NOT flour the surface. The dough will not stick but flour will change the texture of the dough.
I own a small nylon rolling pin purely for the purpose of making dumplings. It was only a few quid and it is way easier to use than my super heavy marble rolling pin. I would highly recommend tracking one down.
After some experimenting with the various sizes of cookie cutters which are included in my little set, I determined that the 3″ cutter (or red/2nd smallest) was the perfect size for these dumplings. Use the straight side rather than the fluted unless you are very talented at matching up the flutes.
There are various options for steaming the dumplings. I prefer to use bamboo steamers lined with parchment circles. They are easy, quick to clean and balance perfectly on my medium sized saucepan. Using the steamer part of my saucepan set is another option as would be using an electric steamer.
A comprehensive list of the equipment used to make this recipe is included in the main recipe card below. Click on any item to see an example. There are no hard and fast rules so many items can be sensibly substituted to achieve the same results.
Get Ahead
The filling can be prepared up to a day before making the dumplings providing it is properly refrigerated. The filling mix can also be frozen and turned into dumplings at a later time.
The best thing about all of my Chinese Dumpling Recipes is that they can all be made in large batches, frozen and then simply steamed to order straight from frozen.
To freeze the dumplings, lay them out on a baking tray and pop them in the freezer. Try to make sure the dumplings are not touching as much as possible.
Once the dumplings are fully frozen, they can be much more tightly packed into trays or bags and popped back in the freezer in a much smaller space than before.
Leftover Tofu Crystal Dumplings
To the extent possible I would recommend only cooking as many dumplings as you are likely to eat. Once steamed and cooled, they can be reheated in the microwave or re-steamed but they do have a tendency of going a little soggy.
The best way to cook leftover crystal dumplings is actually deep fry them. You can reheat the filling whilst making the outer skin much more crisp that you will otherwise achieve. (Actually I love a deep fried crystal dumplings!)
Tofu Crystal Dumplings Tips
The ingredient quantities look quite small and they are but the dough is very thin when used so a little really does go a long way.
Don't overcrowd your steamer basket. It is better to cook in batches than squeeze too many in as they won't cook evenly.
Don't forget to let me know in the comments if you try making this recipe – I want to know what you think and if you made any substitutions, how did it turn out?
Still Have Questions?
Simple! Just contact me and I will do my best to help as quickly as I am able. Head over to my Contact Me page, any of my social media channels or post a comment at the bottom of this page and I'll see what I can do.
Pin Tofu Crystal Dumplings (Chinese Vegan Har Gow) For Later
Hit one of the share buttons to save this page to your Pinterest boards so you can come back and find it at anytime!
Keep Up to Date
Make sure you SUBSCRIBE to my newsletter and avoid missing out on any of my newest and bonus content. Don't worry, I promise not to spam you or bombard you too often. Plus you'll receive a copy of my FREE 7 Day International Meal Plan!

Also please don't forget to follow me over on my social media channels over at Facebook, Twitter, Instagram and Pinterest. I love to interact with my followers and I'd love you to share my content with your friends too.
More Tofu Recipes
More Dim Sum Recipes
The Recipe
Tofu Crystal Dumplings (Chinese Vegan Har Gow)
---
These Tofu Crystal Dumplings are my vegan version of the classic steamed Har Gow dumplings which I love. They're folded slightly differently to mark them apart but the highly flavoured tofu filling is easily on par with the original prawn filling.
Ingredients
For the Filling
100

g

Firm Tofu

5

g

Chinese Dried Mushroom

2

Spring Onions (Scallions)

0.5

tsp

Fine Salt

0.5

tsp

Sugar

2

tbsp

Cornflour (Cornstarch)

1

tbsp

Light Soy Sauce (Gluten free if required)

1

tsp

Sesame Oil
For the Dough
90

g

Wheat Starch

60

g

Tapioca Flour

60

g

Cornflour (Cornstarch)

1.5

tsp

Sugar

1

tsp

Fine Salt

180

g

Water

1

tbsp

Vegetable Oil
Instructions
Prepare the Filling
Very finely mince

100g Firm Tofu

. Remove any moisture using kitchen roll until it is as dry as possible.

Also mince

5g Chinese Dried Mushroom

and

2 Spring Onions

.

Add the tofu, mushroom and spring onion to a small mixing bowl along with

0.5 tsp Fine Salt

,

0.5 tsp Sugar

,

2 tbsp Cornflour

,

1 tbsp Light Soy Sauce

and

1 tsp Sesame Oil

.

Mix everything extremely thoroughly to combine. I use my hands to scrunch everything together. Leave the mix to sit in the fridge for at least

10 minutes

.
Prepare the Dough
Combine

90g Wheat Starch

,

60g Tapioca Flour

,

60g Cornflour

,

1.5 tsp Sugar

and

1 tsp Fine Salt

in a medium bowl.

Add

180g Boiling Water

, mix quickly for only 20 seconds then cover the bowl and leave for

3 minutes

. This 'cooks' the flour.

Add

1 tbsp Vegetable Oil

to the dough and knead until very smooth.

This doesn't take long at all. And it goes VERY smooth.

Divide the dough into thirds, roll each chunk into a thick sausage and then divide each sausage into 8 equal pieces. (this will vary if you have adjusted the portions for this recipe). You should end up with

24

pieces in total. You will use offcuts to make the remaining dumplings.

Keep the dough balls in a plastic bag with the top kept tightly wound to stop them from drying out.
Assemble the Dumplings
Assemble the tofu mix, dough pieces, rolling pin, board and cookie cutter in one place.

Roll out one of the dough balls to about 0.5mm thick.

Keep turning and flipping the dough to prevent it sticking. Do not use flour or oil.

Cut out a round with a smooth edged 3 inch cookie cutter.

Squeeze the cuttings together and place back in the plastic bag with the rest of the dough.

Pick up the dough round and add about a teaspoon of filling.

Fold the dough oven in half to form a half moon.

Press the edges together all the way around the seam until it is fully sealed.

Bring the pointy ends together in the middle of the dumpling and squeeze them together.

Place the folded dumpling onto a tray and continue to repeat with the other balls of dough.

There should be some filling left so squeeze together all the off cuts and roll them out. Form as many extra dumplings as you can get with the remaining dough and filling.
To Steam the Dumplings:
To cook the dumplings, place them in a steamer basket and cook for

8 minutes

over boiling hot water. To cook from frozen, allow

12 minutes

.
Nutrition (Approx)
Calories:
37
kcal
|
Carbohydrates:
7
g
|
Protein:
0
g
|
Fat:
0
g
|
Saturated Fat:
0
g
|
Cholesterol:
0
mg
|
Sodium:
152
mg
|
Potassium:
36
mg
|
Fiber:
0
g
|
Sugar:
0
g
|
Vitamin A:
10
IU
|
Vitamin C:
0.2
mg
|
Calcium:
7
mg
|
Iron:
0.1
mg
Download my FREE 7 day international meal plan!
Simply subscribe to the Feast Glorious Feast newsletter and I'll send you the link.