King Prawn Nigiri is the simplest item in a sushi set. Sushi rice is formed into a block before being topped with cooked king prawn. I like to add a chive garnish for extra flourish, interest and flavour. Keeping it simple for the win.
This post may contain affiliate links. Please refer to my Disclosures Page for more details.
I am a little embarrassed about calling this a recipe a recipe. There are only 5 ingredients including salt and an optional garnish. Admittedly the cooked sushi rice does require a few extra ingredients to cook from scratch. But still, this nigiri sushi is ridiculously simple.
Nigiri consists of a hunk of sushi rice topped with something. My favourite and the most common nigiri toppings are (raw) salmon sashimi and this king prawn.
There is often a little smudge of wasabi (Japanese horseradish) paste between the rice and topping but I am personally not a fan and don't include it as an ingredient.
How to Serve King Prawn Nigiri
Like with all of my sushi recipes, I like to serve a selection of different sushi rolls together. Variety really is the spice of life. A dipping sauce is essential and I tend to stick with simple light soy sauce.
Pickled ginger is also traditional although technically you are only supposed to eat the ginger between pieces of sushi to cleanse the palate. With apologies to any highly trained and easily offended sushi chefs around the world, I like to eat a piece of ginger right on top! Pickled ginger can be bought in jars from supermarkets or Asian groceries.
I tend to serve sushi on plain dishes, slates and the like. I love Japanese minimalism and clean lines and I think it complements the lovely colours of the sushi perfectly.
I'd usually eat sushi with chopsticks but it is actually supposed to be eaten with your fingers so feel no shame in just digging in.
Make King Prawn Nigiri into a Feast
I've included this recipe in my Alternative Asian Feast.
The feast centres around my Korean Ramen with Belly Pork and Satay Chicken. There is a selection of sushi which also includes Scallop Onigiri, Salmon Maki Rolls and Crab Uramaki to start and Vietnamese Summer Rolls on the side. Everything is rounded off with my Mango Coconut Ice Cream.
This Nigiri is also included in my Sushi Platter Everyday Feast! The platter again also includes Fried Scallop Onigiri, Salmon Maki Rolls and inside out Chilli Crab Uramaki Rolls. There is also Miso Soup on the side and Edamame Beans provide a little more veg and something a little different!
Don't forget to head over to the Big Asian Feast post for all of my tips and tricks to help you host a fun and stress-free feast. Plus remember to check out my other feast collections and all my Asian inspired recipes.
Ingredients for King Prawn Nigiri
Prawn
You ideally want to look for good size king prawns. It is most important that they are raw, have no shell and have been de-veined.
I buy uncooked but peeled king prawns from my local Chinese supermarket or the goliath Wing-Yip. Of course you can buy them fresh but I love having some always ready to go. They take moments to defrost from the freezer.
You could also use ready cooked prawns but poaching them from raw in the salt and ginger will provide you with more flavour.
You can buy ready flavoured cooked prawns which would be fine to use providing that the flavour is within the Japanese/Asian realm. I'm not sure anyone wants a Mexican/Italian/Herby kick on their sushi platter.
Sushi Rice
Sushi rice is an essential ingredient. Check out my How to Make Sushi Rice post to find out all you need to know. The post also includes full instructions for exactly how to cook the rice.
Ginger
I always buy my ginger in jar form. This means that I always have some on hand in the fridge. It also means that I don't have to break anything chopping it (beware the garlic press, they are just not robust enough!). Plus I don't end up with wrinkled and unusable nubs of ginger littering my fridge drawer.
But if you have/prefer fresh then use that.
Chive
Chives stems are an optional extra to garnish the top of the nigiri. I carefully tie a stem in a knot and then trim off the excess length. It is much easier to do this starting with a longer stem than a shorter one.
---
To find out about more of my favourite Asian Ingredients, check out my guide to the Top 16 Asian Ingredients which I always keep stocked in my pantry.

I've also suggested a whole bunch of recipes to try once your cupboard is fully stocked!
---
Be Flexible
You can take the basic concept of a rounded block of rice and top it with anything you please. As I've mentioned above, I also like to use thinly sliced raw salmon. Other options include egg omelette, scallops (raw or cooked), octopus, eel, tuna, mackerel or yellowtail.
Make it Vegetarian or Vegan
The rice base is suitable for vegetarians and vegans. The topping that you choose then simply needs to be veggie or vegan friendly.
Egg omelette would be suitable for vegetarians and chilli fried tofu would be make a perfect vegan option. Obviously that would also be suitable for vegetarians. I would suggest following the instructions for the tofu in my Vegan Vietnamese Summer Rolls recipe.
Make it Allergy Friendly
My King Prawn Nigiri recipe is free from gluten, nuts, dairy and egg.
Please note that this recipe may contain other allergens not referred to above and any variations suggested have not been tested unless otherwise stated. For more information regarding any dietary information provided on this website, please refer to my Nutritional Disclaimer.
Equipment Notes for King Prawn Nigiri
I use cocktail sticks or small wooden skewers to straighten the prawns during the cooking process.
A small sharp knife is best to slice the prawns. A larger knife is a little unwieldy for such delicate work.
This recipe is otherwise very equipment light.
A comprehensive list of the equipment used to make this recipe is included in the main recipe card below. Click on any item to see an example. There are no hard and fast rules so many items can be sensibly substituted to achieve the same results.
Get Ahead
My King Prawn Nigiri recipe can be prepared up to 24 hours in advance and kept covered in the fridge. I would not be inclined to prepare it any further in advance and I would also not wish to freeze it.
Technically you could cook and then freeze the prawns before thawing them and topping the rice. But it would be much more preferable to keep the uncooked prawns frozen and then cook them fresh.
Leftover King Prawn Nigiri
Leftover Nigiri can be stored in the fridge and eaten later. But I would want to make sure that it was eaten within 24 hours of being prepared.
The other option is to deconstruct the Prawn Nigiri and wok fry the rice and prawns, adding in some vegetables like onion and peas. This way you can create a whole new dish.
King Prawn Nigiri Tips
Make sure you keep your hands wet with cold water when handling the cooked rice. It will stick to everything and be very difficult to form without it.
You can also wet your knife to negate the same issue when cutting the rice block.
Bring the sushi back up to just below room temperature before serving to get the maximum flavour.
Spend a little bit of time trying to get the sushi nice and neat. The overall outcome will really benefit from a few seconds extra effort!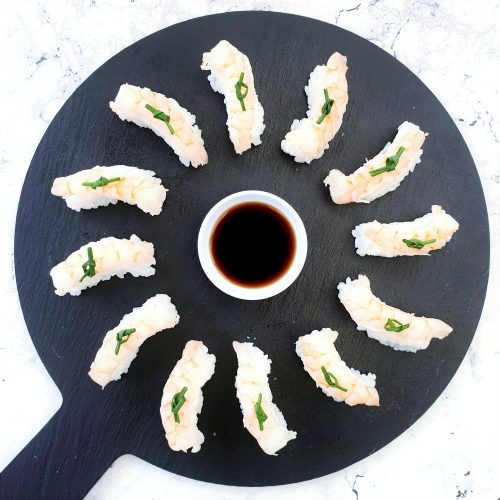 Don't forget to let me know in the comments if you try making this recipe – I want to know what you think and if you made any substitutions, how did it turn out?
Still Have Questions?
Simple! Just contact me and I will do my best to help as quickly as I am able. Head over to my Contact Me page, any of my social media channels or post a comment at the bottom of this page and I'll see what I can do.
Pin King Prawn Nigiri For Later
Hit one of the share buttons to save this page to your Pinterest boards so you can come back and find it at anytime!
Keep Up to Date
Make sure you SUBSCRIBE to my newsletter and avoid missing out on any of my newest and bonus content. Don't worry, I promise not to spam you or bombard you too often. Plus you'll receive a copy of my FREE 7 Day International Meal Plan!

Also please don't forget to follow me over on my social media channels over at Facebook, Twitter, Instagram and Pinterest. I love to interact with my followers and I'd love you to share my content with your friends too.
More Fish & Seafood Recipes
More Ginger Recipes
The Recipe
King Prawn Nigiri
---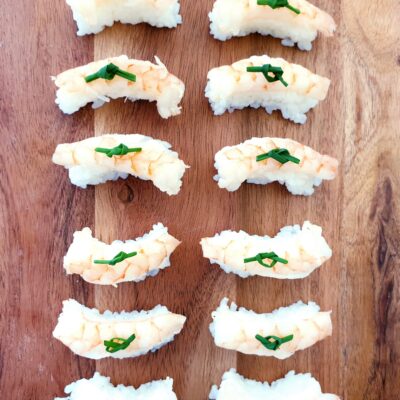 King Prawn Nigiri is the simplest item in a sushi set. Sushi rice is formed into a block before being topped with cooked king prawn. I like to add a chive garnish for extra flourish, interest and flavour. Keeping it simple for the win.
Ingredients
6

Large King Prawns (Shrimp)

-

raw, de-veined and peeled

1

tbsp

Ginger Paste

1

tbsp

Sea Salt Flakes

200

g

Cooked Sushi Rice

12

stems

Fresh Chives

-

optional garnish
Instructions
Pop a full kettle on to boil.

Skewer 6 Large King Prawns along their whole length using small skewers or cocktail sticks. This will ensure that they cook and stay straight rather than curved.

Use a sharp knife to make a slit down the front of each prawn to remove the remaining vein.

Half fill a small saucepan with the now boiling water and add 1 tbsp Ginger Paste and 1 tbsp Sea Salt Flakes. Bring the water to a boil.

Add the prepared king prawns to the boiling water and boil for

2 minutes

.

Remove the pan from the heat and run the prawns under cold water. Dry them and leave the prawns to cool.

Meanwhile tip 200g Cooked Sushi Rice onto the board.

Wet your hands with cold water and form the rice into a long thin rectangle. Use a sharp knife to cut the rectangle in half and then half again. Cut each of those quarters into 3 equal pieces to end up with 12 sections. You will want to do this in sections if you have adjusted the quantity of this recipe from the standard 12.

Wet your hands again and pick up one piece of the rice. Use your hands to ensure that the rice is holding together and round out the corners of the rectangle slightly. I curve slightly to mirror the slight curve of the prawns.

Repeat this with the remaining sections of rice. Set aside.

Take each of the now cooled prawns and remove the skewer.

Slice each prawn lengthwise. You should end up with 12 mirror image pieces.

Add a piece of prawn, outer side up to the top of each rice piece.

Tie a knot in each of 12 Chive Stems and use scissors to trim off the long ends. (optional)

Add a chive knot to the top of each prawn and serve.
Nutrition (Approx)
Calories:
37
kcal
|
Carbohydrates:
4
g
|
Protein:
4
g
|
Fat:
1
g
|
Saturated Fat:
1
g
|
Cholesterol:
35
mg
|
Sodium:
741
mg
|
Potassium:
35
mg
|
Fiber:
1
g
|
Sugar:
1
g
|
Vitamin A:
95
IU
|
Vitamin C:
0.6
mg
|
Calcium:
16
mg
|
Iron:
0.1
mg
Download my FREE 7 day international meal plan!
Simply subscribe to the Feast Glorious Feast newsletter and I'll send you the link.