Uramaki Sushi with Chilli Crab is definitely my favourite sushi roll of all time. I might just be perverse and like that its the wrong way round. But it might be because it is so tasty and easy to make, despite looking really impressive!
This post may contain affiliate links. Please refer to my Disclosures Page for more details.
This crab uramaki roll recipe is one of the first sushi recipes that I ever made along with my Salmon Maki Rolls and King Prawn Nigiri. I was surprised how easy and fun they were to make. The Uramaki is the visual stunner in the set and doesn't include any raw fish if that normally puts you off sushi.
"Uramaki" essentially refers to an inside out sushi roll. A standard maki roll encloses the rice and filling within a seaweed wrapping. Uramaki encloses the filling in the seaweed and wraps the sushi rice around the outside. Something is then often used to coat and decorate the outside of the rice such as the sesame seeds used here, crispy onions or a Japanese spice mix.
The other option is to drape a small slice of raw fish (sashimi) such as salmon over the top of each slice for extra decadence.
How to Serve Uramaki Sushi with Chilli Crab
Like with all of my sushi recipes, I like to serve a selection of different sushi rolls together. Variety really is the spice of life. A dipping sauce is essential and I tend to stick with simple light soy sauce.
Pickled ginger is also traditional although technically you are only supposed to eat the ginger between pieces of sushi to cleanse the palate. With apologies to any highly trained and easily offended sushi chefs around the world, I like to eat a piece of ginger right on top! Pickled ginger can be bought in jars from supermarkets or Asian groceries.
I tend to serve sushi on plain dishes, slates and the like. I love Japanese minimalism and clean lines and I think it complements the lovely colours of the sushi perfectly.
I'd usually eat sushi with chopsticks but it is actually supposed to be eaten with your fingers so feel no shame in just digging in.
Ingredients for Uramaki Sushi with Chilli Crab
Crab
You could cook and pick a fresh crab to make the Uramaki. Two rolls are about equal to one regular sized crab. I usually use the pots of mixed crab meat but a ready dressed crab is also a good option.
It is obviously important to ensure that there are no little pieces of shell in the picked meat and I'd always recommend picking over the crab meat before using, even if you buy it ready picked.
Tinned crab is an option but as this tends to be only white meat, I would be inclined to mix it with some crab paste or pate to give it extra moisture and boost the richness of the flavour.
Sushi Rice
Sushi rice is an essential ingredient. Check out my How to Make Sushi Rice post to find out all you need to know. The post also includes full instructions exactly how to cook the rice.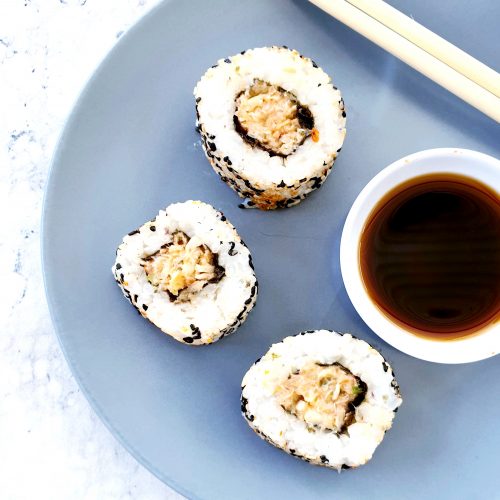 Nori
Nori sheets are intrinsic to many sushi rolls. They contain the filling and add another texture but if we are honest, not a whole lot of flavour.
Nori sheets are available to buy in packs from any supermarket and I have been unable to discern any real different in the varieties available. They also tend to be of a relatively standard size.
There is no real alternative to the Nori so I would suggest sourcing some if you plan on making any sushi rolls.
Sweet Chilli Sauce
You can use any sweet chilli sauce you prefer, whether that is a milder or spicier version. I prefer a milder variety to allow the crab flavour to still shine through.
Shichimi
Shichimi (also known as Shichimi Togarashi) is a 7 spice mix which is commonly used throughout Japan. It generally includes chilli, orange and sesame. It is spicy but not crazily so and is available in supermarkets now.
I use shichimi to roll on the outside of the uramaki roll along with the sesame seeds. It adds an extra dimension and a little extra spice. You can substitute a little chilli powder or leave it out entirely if you wish.
---
To find out about more of my favourite Asian Ingredients, check out my guide to the Top 16 Asian Ingredients which I always keep stocked in my pantry.

I've also suggested a whole bunch of recipes to try once your cupboard is fully stocked!
---
Be Flexible
There are a million varieties of uramaki roll that you could make with this method. The filling options are endless. Cooked salmon, raw salmon, various vegetables, avocado, breaded chicken, tempura prawn or egg omelette. Crab sticks are also a common filling as would be a tuna mayonnaise mix.

The coating on the outside of the roll can also be changed from sesame seeds/shichimi. Crispy onions are a common option along with simply leaving the roll without an outer coating.
I generally keep my sushi round in shape but square sushi is quite common. This can be achieved by shaping the roll once is has been formed and wrapped slightly more loosely in clingfilm.
Make it Vegetarian or Vegan
Everything but the crab in this recipe is suitable for vegetarians and vegans. My best suggestion for substituting would be to use marinated and fried tofu, much like to tofu that I use in my Vegan Vietnamese Summer Rolls.
Make it Allergy Friendly
This Uramaki Sushi Roll with Chilli Crab recipe is free from nuts, gluten, egg and dairy. This does however depend on the ingredients of the sweet chilli sauce that you use so do check the ingredients carefully.
Please note that this recipe may contain other allergens not referred to above and any variations suggested have not been tested unless otherwise stated. For more information regarding any dietary information provided on this website, please refer to my Nutritional Disclaimer.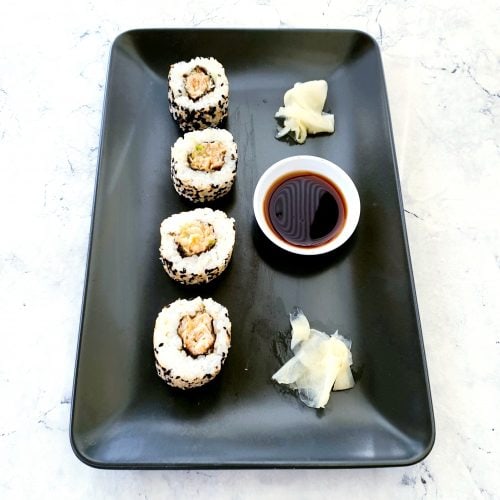 Equipment Notes for Uramaki Sushi with Chilli Crab
A beautifully sharp large knife really is needed to get crisp and sharp cuts on the rolls. Along with a set of decent knives, I bought myself a vintage knife steel which I swear by to keep all of my knives easily razor sharp. Every kitchen should have one.
A Sushi Rolling Mat isn't actually essential but really is helpful in ensuring that the uramaki roll is lovely and tightly rolled. They are available in the supermarket world food aisles as well as online and in Asian grocers. They are a couple of quid max and can be reused again and again. Bargain!
A comprehensive list of the equipment used to make this recipe is included in the main recipe card below. Click on any item to see an example. There are no hard and fast rules so many items can be sensibly substituted to achieve the same results.
Get Ahead
Sushi does not freeze well and I'm not a fan of recommending that you keep fresh crab for more than about 24 hours before eating. But you can still make sushi the day before you plan to eat it. This makes it a great option for serving with minimal effort needed just before serving.
I would generally leave the sushi as a full roll until just before serving. I would then slice and serve but it can be left in the fridge for a couple of hours sliced.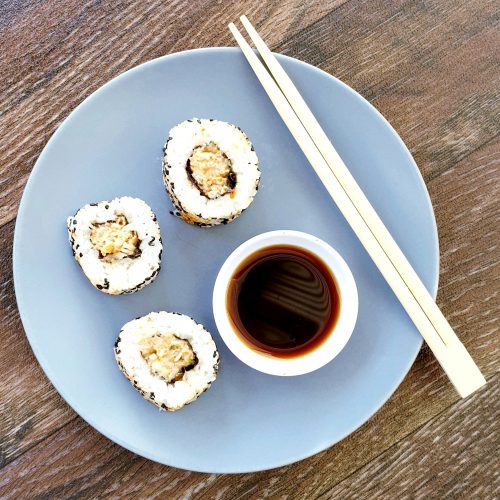 Leftover Uramaki Crab Sushi
Leftovers are again best eaten as soon as possible. They're fine the next day for lunch but aren't great much after that.
I am aware that it sounds kind of crazy but you can treat a sushi roll like onigiri. Follow the breading and frying instructions for my Scallop Onigiri. Sometimes I like to mix it up!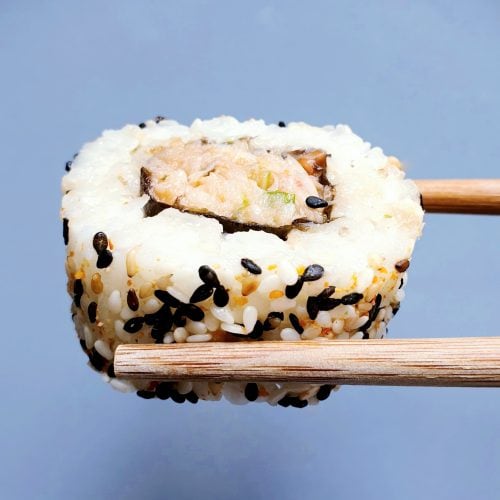 Uramaki Sushi with Chilli Crab Tips
Liberally wet your fingers before handling the rice. It will be stickier than any other substance you have touched in your life otherwise.
Bring the sushi back up to just below room temperature before serving to get the maximum flavour.
Spend a little bit of time trying to get the rolls nice and neat. The overall outcome will really benefit from a few seconds extra effort!
Don't forget to let me know in the comments if you try making this recipe – I want to know what you think and if you made any substitutions, how did it turn out?
Still Have Questions?
Simple! Just contact me and I will do my best to help as quickly as I am able. Head over to my Contact Me page, any of my social media channels or post a comment at the bottom of this page and I'll see what I can do.
Pin Uramaki Sushi with Chilli Crab For Later
Hit one of the share buttons to save this page to your Pinterest boards so you can come back and find it at anytime!
Keep Up to Date
Make sure you SUBSCRIBE to my newsletter and avoid missing out on any of my newest and bonus content. Don't worry, I promise not to spam you or bombard you too often. Plus you'll receive a copy of my FREE 7 Day International Meal Plan!

Also please don't forget to follow me over on my social media channels over at Facebook, Twitter, Instagram and Pinterest. I love to interact with my followers and I'd love you to share my content with your friends too.
More Fish & Seafood Recipes
The Recipe
Uramaki Sushi with Chilli Crab Recipe
---
Uramaki Sushi with Chilli Crab is definitely my favourite sushi roll of all time. I might just be perverse and like that its the wrong way round. But it might be because it is so tasty and easy to make, despite looking really impressive!
Ingredients
440

g

Cooked Sushi Rice

3

Spring Onions (Scallions)

100

g

Mixed Brown and White Crab Meat

3

tbsp

Sweet Chilli Sauce

1

tsp

Ginger Paste

1

Sheet

Sheets Toasted Nori

-

seaweed

4

tbsp

Mixed Sesame Seeds

1

tsp

Shichimi Spice Mix

-

or chilli powder
Instructions
Start by ensuring that your 440g Cooked Sushi Rice is totally cooled.

Trim and very finely slice 3 Spring Onions. Add to a small mixing bowl with 100g Mixed Brown and White Crab Meat, 3 tbsp Sweet Chilli Sauce and 1 tsp Ginger Paste.

Fully mix the crab and flavourings together.

Using a sharp knife, halve 1 Sheet Toasted Nori and set aside one half. Lay the other half at one end of a bamboo rolling mat.

Evenly spoon

1/2

of the crab mixture evenly along one edge of the nori. Leave a small border.

Use your finger to wet the visible nori with a tiny bit of cold water.

Using the bamboo mat to assist, roll the crab mix in the nori and ensure that the loose edge is sealed well. Try to make it as tight as possible without the crab mix spurting out the ends of the roll!

Set aside and repeat with the rest of the fillings and nori sheets.

Cover the rolling mat in a generous sheet of cling film, trying to make sure that there are no big creases.

Take

1/2

of the sushi rice and spread it evenly over about half of the rolling mat. Use the crab/nori roll to establish how wide it needs to be.

Use the side of your large knife to neaten the edges. Add one of the crab/nori rolls to the edge of the rice.

Use the mat to gently roll the rice around the nori roll.

Cut the rice where the start of the rice meets the end of the rice. You are aiming for no gap or overlap. It is worth spending a few moments getting this right.

Once you are confident that the rice is the right size, use the mat to tightly roll the rice around the nori.

Wrap the rice roll in the cling film and twist the ends to 'burrito roll' and tighten it. Set aside.

Repeat with the remaining rice and rolls.

On a board or ideally, a lipped tray which will contain the seeds, sprinkle 4 tbsp Mixed Sesame Seeds and 1 tsp Shichimi Spice Mix. You can do this in batches if your tray isn't very large.

Carefully release the rice rolls from their clingfilm and roll them in the seeds and spices until evenly covered. Roll the rolls every which way you can to ensure no gaps.

Re-roll each uramaki roll in its clingfilm and leave in the fridge for at least

60 minutes

or in the freezer for only

15 minutes

.

Once chilled, remove the rolls from the fridge. Trim the ends of each roll using a sharp knife. You do not need to remove the cling film at this point.

Use a sharp knife to mark the roll at the halfway then quarter way points. Mark halfway into each quarter.

Cut the roll all the way through at each marked point.

Remove the cut rolls from the clingfilm.

Serve the sushi at room temperature.
Nutrition (Approx)
Calories:
53
kcal
|
Carbohydrates:
8
g
|
Protein:
2
g
|
Fat:
1
g
|
Saturated Fat:
1
g
|
Cholesterol:
6
mg
|
Sodium:
61
mg
|
Potassium:
38
mg
|
Fiber:
1
g
|
Sugar:
2
g
|
Vitamin A:
70
IU
|
Vitamin C:
0.7
mg
|
Calcium:
29
mg
|
Iron:
0.5
mg
Download my FREE 7 day international meal plan!
Simply subscribe to the Feast Glorious Feast newsletter and I'll send you the link.