Vietnamese Summer Rolls are incredibly easy to make, naturally gluten free and everything you need is available right in the supermarket. King Prawn adds a touch of luxury to a stunning dish with barely any cooking. They're perfect for a warm summers day!
This post may contain affiliate links. Please refer to my Disclosures Page for more details.
There is something magical about dipping a brittle round of rice paper wrapper into water to see it dramatically change in mere moments before your eyes.
There is also something magical about how fresh and different tasting these rolls are. They are nothing at all like spring or pancake rolls that you would get from a takeaway. They are pretty healthy too, no deep frying involved.
In fact, there is very little fat involved at all. And best of all for your intolerant brethren, they're gluten and dairy free too.
These Prawn Summer Rolls are a slight twist on the usual version. I've made slightly smaller rolls which don't include rice noodles. Instead, these include only crispy vegetables, fresh herbs and the prawns themselves. It also makes them much easier to roll,
My Tofu Vegan Vietnamese Summer Rolls are made in the more traditional way with the noodles so feel free to mix and match the recipes to end up with the combination you prefer.
How to Serve Vietnamese Summer Rolls with King Prawn
Just like how I suggested with my Tofu Summer Rolls, this is a great dish to prep and then leave the ingredients out for your guests to roll the rolls themselves. I love a good interactive feast and you can mix it up by providing a mix of potential fillings.
This recipe given includes my all time favourite dipping sauce which is my version of Nuoc Cham. The fish sauce gives it a pungency and the dried chilli flakes make it a spicy delight. I use my melamine dipping bowls to serve the sauce.
I've eaten summer rolls as a starter to various Asian dishes, as part of a buffet and just on their own as a lovely lunch or snack. They're actually fairly substantial despite being very fresh and fairly low cal.
I generally start off showing off my chopstick prowess but usually quickly switch to just using my hands. And so I will leave it to you to decide how you wish to proceed.
Ingredients for Vietnamese Summer Rolls with King Prawn
Prawn
You ideally want to look for good size king prawns. It is most important that they are raw, have no shell and have been de-veined. You can use a greater quantity of smaller prawns or less larger prawns as you prefer and can source.
I buy uncooked but peeled king prawns from my local Chinese supermarket or the goliath Wing-Yip. Of course you can buy them fresh but I love having some always ready to go. They take only moments to defrost from the freezer.
You could also use ready cooked prawns but you will only want to give them a moment or two in the frying pan. Just enough to cook the ginger out.
Rice Paper Wrappers
Rice paper wrappers are surprisingly easy to get hold of. Most of the major supermarkets stock them but do note that they are sometimes called "Spring Roll Wrappers".
Do be careful in transporting them. They are brittle and the edges tend to crack off if they are not moved and stored carefully. They do last for absolutely ages in the cupboard so do consider stocking up if you've sourced a good supply.
Fish Sauce
This is a pungent Asian sauce made from fermented anchovies. And it stinks. Really badly. But it tastes nothing like it smells so please try it if you are unfamiliar. It really makes the dipping sauce all it should be. All of the supermarkets sell it but I love to buy massive bottles from the Asian grocers.
---
To find out about more of my favourite Asian Ingredients, check out my guide to the Top 16 Asian Ingredients which I always keep stocked in my pantry.

I've also suggested a whole bunch of recipes to try once your cupboard is fully stocked!
---
Herbs
Fresh herbs are the key to a fab summer roll. Mint provides the a classic Vietnamese flavour and coriander provides a distinctive fresh and complementary flavour.
I am aware than many people are not a fan of coriander. I would suggest simply leaving it out of their rolls rather than trying to find a substitute.
Be Flexible
You can go crazy experimenting with fillings. As always, if you don't like something, leave it out. If you prefer chicken, beef or tofu, use that. If you have beansprouts but not peppers, go for it.
The only real limit on what you can use to fill a summer roll is your imagination. And possibly the contents of your fridge!
I've even seen Vietnamese summer rolls made with non traditional fillings like pulled pork and I'm sure someone american has made a 'cheeseburger' version and suggested eating it whilst watching the superbowl. You know its true!
Make it Vegetarian or Vegan
The only non-vegan ingredients in these rolls are the prawns themselves and the fish sauce in the dipping sauce. But never fear as I have created a fully vegan version of both the summer rolls and dipping sauce.
As I've mentioned above, my tofu summer rolls include rice noodles in the filling and make larger rolls. You can cut the tofu in half, omit the rice noodles and make vegan versions on a smaller scale like this prawn version.
Make it Allergy Friendly
My Vietnamese Prawn Rolls are free from nuts, gluten, dairy, and egg.
Please note that this recipe may contain other allergens not referred to above and any variations suggested have not been tested unless otherwise stated. For more information regarding any dietary information provided on this website, please refer to my Nutritional Disclaimer.
Equipment Notes for Vietnamese Summer Rolls with King Prawn
I roll my summer rolls on my big wooden board as the surface doesn't stick to the rice paper wrapper. A plastic chopping board would be an appropriate alternative.
If you don't have a kettle to boil the noodle and rice paper soaking water, you can boil the water in a pan on the hob. Also, you should order a kettle!
A comprehensive list of the equipment used to make this recipe is included in the main recipe card below. Click on any item to see an example. There are no hard and fast rules so many items can be sensibly substituted to achieve the same results.
Get Ahead
Summer rolls keep surprisingly well in an airtight container in the fridge for a good 24 hours. Much longer than that and the veg starts to lose its crunch.
You can therefore take 2 routes to getting ahead. Firstly, prep all of the veg and cook the prawn then assemble the rolls later (only dip the wrappers as you are assembling). Secondly, make them up in full and store them.
Leftover Summer Rolls
I would advise trying to only make up as many summer rolls as you are likely to eat.
If you do have leftovers, they will store for up to 24 hours in the fridge. Alternatively you could deep fry them for a variation on the snack if you fancied something different for your next meal!
The other option, is to release the innards from the roll and quickly wok fry the contents for another hot alternative.
King Prawn Vietnamese Summer Rolls Tips
The dipping sauce is….pungent. Do not be put off – it is delicious!
The rolls are not difficult to roll but can be a bit tricky on the first attempt. Just keep practising. Getting them as tight as possible without the wrapper splitting is the key.
Do not dunk the wrappers in water for anything like as long as you think they need. They will continue to soften up as you add fillings so taking them too far straight away will make them un-roll-able.
Don't forget to let me know in the comments if you try making this recipe – I want to know what you think and if you made any substitutions, how did it turn out?
Still Have Questions?
Simple! Just contact me and I will do my best to help as quickly as I am able. Head over to my Contact Me page, any of my social media channels or post a comment at the bottom of this page and I'll see what I can do.
Pin Vietnamese Summer Rolls with King Prawn For Later
Hit one of the share buttons to save this page to your Pinterest boards so you can come back and find it at anytime!
Keep Up to Date
Make sure you SUBSCRIBE to my newsletter and avoid missing out on any of my newest and bonus content. Don't worry, I promise not to spam you or bombard you too often. Plus you'll receive a copy of my FREE 7 Day International Meal Plan!

Also please don't forget to follow me over on my social media channels over at Facebook, Twitter, Instagram and Pinterest. I love to interact with my followers and I'd love you to share my content with your friends too.
More Fish & Seafood Recipes
The Recipe
Vietnamese Summer Rolls with King Prawn Recipe
---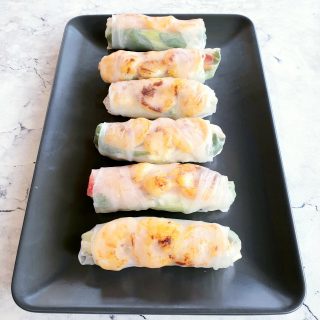 Vietnamese Summer Rolls are incredibly easy to make, naturally gluten free and everything you need is available right in the supermarket. King Prawn adds a touch of luxury to a stunning dish with barely any cooking. They're perfect for a warm summers day!
Ingredients
Summer Rolls
1

tsp

Vegetable Oil

9

Large King Prawns (Shrimp)

-

raw, peeled and deveined

1

tsp

Ginger Paste

1

tsp

Chilli Oil

30

g

Bell Pepper

-

not green

50

g

White Cabbage

25

g

Carrots

3

Spring Onions (Scallions)

12

Fresh Mint Leaves

10

g

Fresh Coriander (Cilantro)

6

Rice Paper Wrappers
Dipping Sauce:
1

tbsp

Lime Juice

1

tbsp

Fish Sauce (Nam Pla)

1

tbsp

Caster Sugar (Superfine Sugar)

1

tsp

Garlic Paste

0.5

tsp

Dried Chilli Flakes
Instructions
Cook the Prawns
Heat a small frying pan on a high heat and add 1 tsp Vegetable Oil and 9 King Prawns.

Leave to cook for 30 seconds or so on each side then add 1 tsp Ginger Paste and 1 tsp Chilli Oil to the pan.

Continue to move the prawns around the pan for another minute or so until they are a little coloured and firm to the touch.

Remove from the pan and set aside to cool.
Prepare the Fillings
Finely slice 30g Bell Pepper. Set aside.

Finely slice about 50g White Cabbage. It is best to aim for slices similar in size to the peppers. Set aside.

Peel and vert finely slice 25g Carrot. Set aside.

Peel the outer layers and top & tail 3 Spring Onions. Finely slice on a long diagonal. Set aside.

Wash and dry 12 Mint Leaves and 10g of Fresh Coriander. Set aside.

Now split each of the fillings into

6 small piles

. This will allow you to make sure that each filling is evenly distributed throughout each of the rolls.

Now that the cooked prawns will be cool to the touch, slice them in half length-ways. Imagine you are opening them up like a book. But slice all the way through.
Assemble the Summer Rolls
Put the kettle on to boil.

Assemble all of the prepared fillings along with 6 Rice Paper Wrappers, a lipped plate slightly larger than the wrappers and a board at least as big as the wrappers.

Add boiling water to the lipped plate.

Take one of the wrappers and carefully dip it into the hot water. It does not need to be submerged for more than 10-15 seconds. Take it out while it is still holding its shape. Don't panic and over-soak it. The wrapper will continue to soften as you add the fillings.

Lay the soaked wrapper on a clean board and use a clean tea towel or kitchen roll to gently dab off any excess water.

Add one of the piles of veg filling to the centre edge of the wrapper. Leave a little room, about the same size as the pile of filling. Try to keep the pile as compact as possible.

Take the wrapper edge nearest to you and fold that away from you – right over the fillings. Squeeze the filling as tight as possible.

Fold in each side, again making the parcel as tight as possible.

Roll the whole thing away from you once.

Add 3 halves of King Prawn onto the wrapper and behind the bit that has already been rolled. Place the halves cooked side down as this will be the presentation side.

Continue rolling the roll over the prawns to incorporate them. Continue rolling until the roll is completely sealed.

Repeat with the remaining piles of filling, prawns and wrappers.
Make the Dipping Sauce
Combine 1 tbsp Lime Juice, 1 tbsp Fish Sauce, 1 tbsp Caster Sugar, 1 tsp Garlic Paste and 0.5 tsp Dried Chilli Flakes in a small bowl. Keep stirring until the sugar has dissolved.

Serve the rolls with the dipping sauce.
Nutrition (Approx)
Calories:
97
kcal
|
Carbohydrates:
16
g
|
Protein:
4
g
|
Fat:
2
g
|
Saturated Fat:
1
g
|
Cholesterol:
24
mg
|
Sodium:
424
mg
|
Potassium:
106
mg
|
Fiber:
1
g
|
Sugar:
3
g
|
Vitamin A:
1160
IU
|
Vitamin C:
13.3
mg
|
Calcium:
34
mg
|
Iron:
1.1
mg
Download my FREE 7 day international meal plan!
Simply subscribe to the Feast Glorious Feast newsletter and I'll send you the link.