My Salt & Chilli Edamame Beans are inspired by the tasty morsels served by Wagamamas. But with my version, there is no popping beans out of pods or wasting precious seasoning on the inedible bits! Did I mention they're ready in under 10 minutes?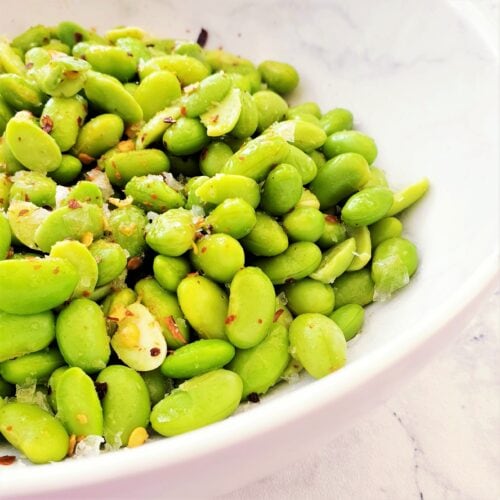 This post may contain affiliate links. Please refer to my Disclosures Page for more details.
I'm not calling this a copycat recipe because Wagamamas serve their edamame beans in their pods. And they don't use sesame oil in the UK. Although according to the recipe in their cookbook, they do in their Sydney restaurants.
What I never understood is flavouring a part of the ingredient that you don't eat. This goes for shell-on-prawns too. Its all very well and good shaking salt and chilli all over the edamame pods but the edible beans inside remain kind of bland.
And so this is the first of two reasons why I don't use edamame beans in their pods. The other is that I simply can't source them! But bags of frozen beans are now available in most supermarkets.
How to Serve Salt & Chilli Edamame Beans
These edamame beans are equally delicious as a snack, something to nibble on at a party with drinks, or as a full on side to a meal. I recently added them to a rice bowl with my Sweet Chilli Chicken Thighs, Sticky Rice and Sesame Tenderstem.
They are perfect to serve in a bowl for everyone to just dig into (like a bowl of nuts) or portioned up for individual snacks. My Satay Sprouts recipe is equally as versatile and also vegan. Perhaps you could double the veggie fun.
I do prefer to serve the beans hot or warm rather than cold. Saying that, judging by the regularity that I just eat them straight out of the fridge. Cold is ok too!
The portion size given if for a canape portion. Double the recipe to serve as a side dish or more substantial snack.
Make Salt & Chilli Edamame Beans into a Feast
I truly believe that you can make any dish into a proper feast! Whether thats a feast for one after work on a Tuesday, a casual feast for four on a Friday evening or a feast for 12 for a special occasion!
I've included this recipe in my Big and Vegetarian Asian Feasts.
My Big Feast starts with a selection of dumplings including Har Gow, Siu Mai and Tofu Crystal Dumplings along with Miso Soup.
Ingredients for Salt & Chilli Edamame Beans
Edamame Beans
"Edd-ah-mar-may" beans are quite simply soya beans. But edamame does sound fancier doesn't it! Technically the term refers to the beans when they are boiled in the pod but terms can be variable.
I've never seen soya beans for sale in the UK as a raw vegetable but they are available podded and frozen in most of the major supermarkets. Like peas and many other frozen veg, there is no shame in utilising a product that is picked and packed to retain freshness.
Dried Chilli Flakes
The heat of chilli flakes does vary. We made the mistake of buying dried habenero flakes once and you only had to look at the jar to need a glass of milk. If you are sensitive to chilli you might want to consider adding fewer flakes. If you like a kick, then add a few more!
---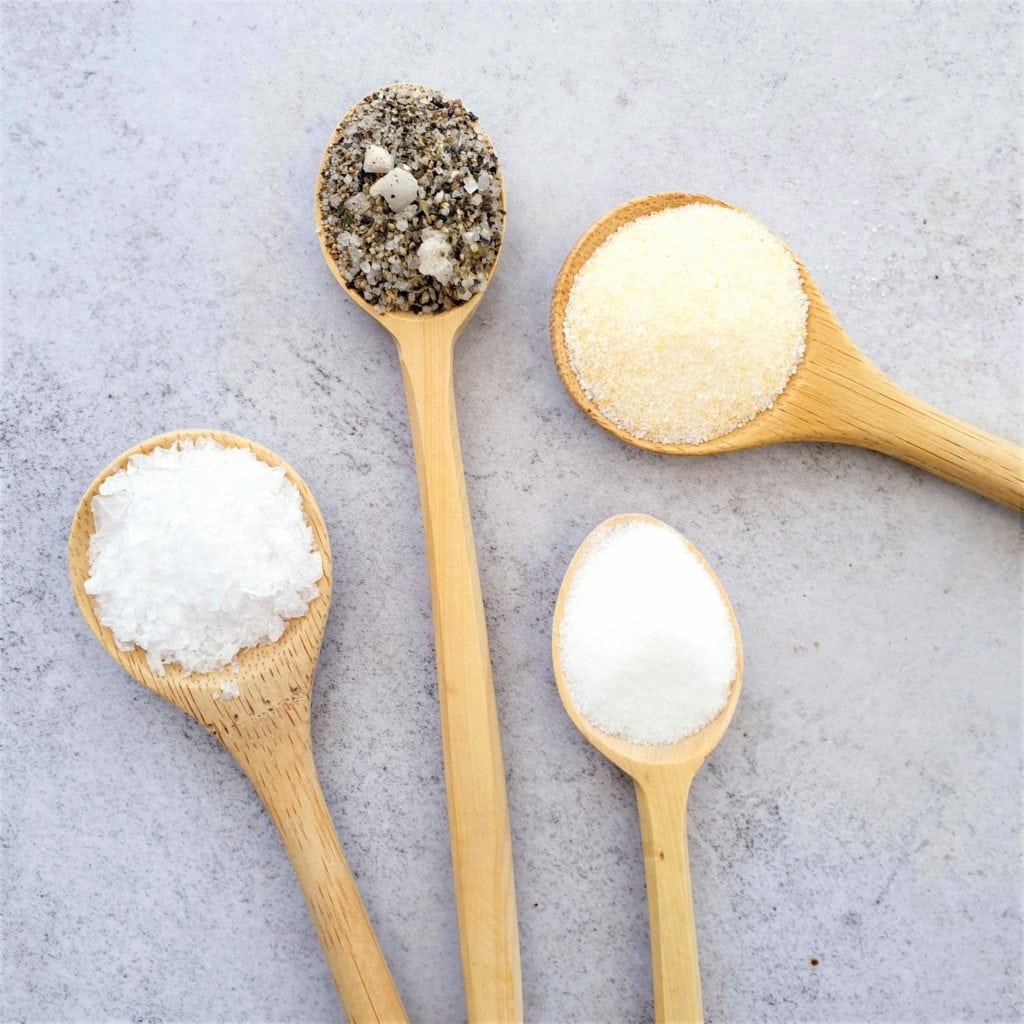 For the lowdown on using salt to properly season and enhance the flavour of your food, check out my Ultimate Guide on How to Use Salt.

There is guidance about which salt to use when, salt alternatives, using salt when baking and even what to do if you add too much salt!
---
Sea Salt Flakes
I recommend Maldon. The flakes are subtle but seriously enhance whatever they touch. Using the same amount of table salt would provide way too much of a salty flavour so reduce the quantity considerably.
But ideally please buy some sea salt flakes.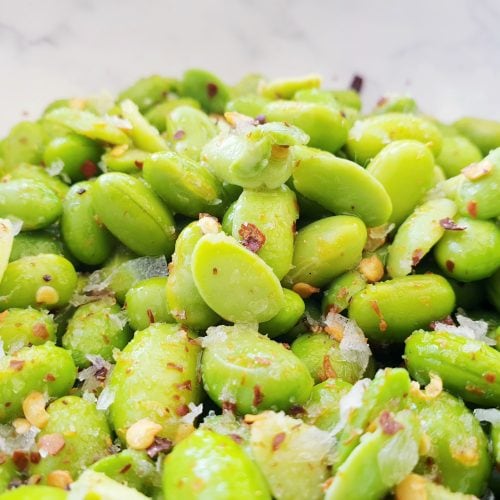 Sesame Oil
Make sure to buy pure sesame oil and not the blended kind. Please also make sure to never use sesame oil as a frying oil – it is for seasoning. In this case, a little goes an awful long way.
---
To find out about more of my favourite Asian Ingredients, check out my guide to the Top 16 Asian Ingredients which I always keep stocked in my pantry.

I've also suggested a whole bunch of recipes to try once your cupboard is fully stocked!
---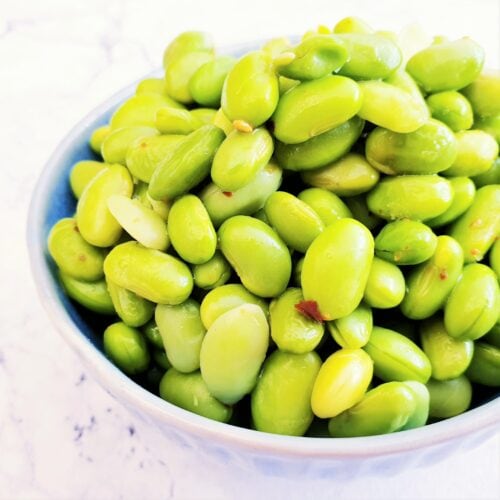 Be Flexible
The method can be applied to other peas and beans. Regular peas or broad beans would be my first port of call. I would stick to using the frozen kind for the freshest taste. Broad beans are best double podded.
To make garlic and chilli edamame beans, substitute the sesame oil for garlic oil or switch 1/4 of the sea salt flakes for garlic salt.
As I've mentioned above, adjust the levels of dried chilli to your taste. You could use chilli oil in place of the sesame oil for a serious extra kick.
Please do not be tempted to skimp on the salt. It is essential to the dish.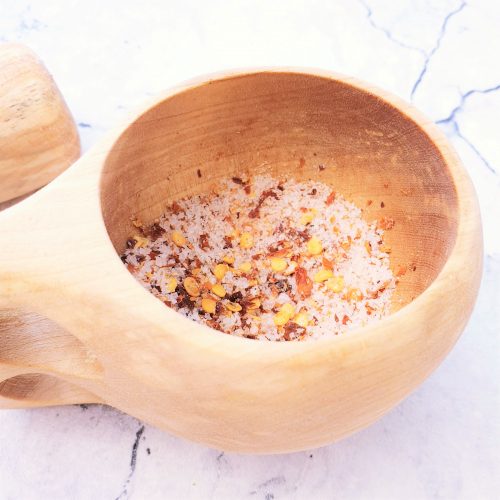 Is This Recipe Vegetarian or Vegan?
My chilli and salt soybeans are naturally vegetarian and vegan.
Is This Recipe Allergy Friendly
This recipe is gluten free, egg free and dairy free. It is also nut free subject to the following caveat.
Nut Free: Some people with nut allergies are also sensitive to sesame. Do therefore check with the person with allergies that you are feeding if this dish is appropriate for them. Swap the sesame oil for garlic oil if you need to ditch the sesame.
Please note that this recipe may contain other allergens not referred to above and any variations suggested have not been tested unless otherwise stated. For more information regarding any dietary information provided on this website, please refer to my Nutritional Disclaimer.
Equipment Notes for Salt & Chilli Edamame Beans
I've suggested that the chilli flakes and salt are smashed down with a pestle & mortar. I have a little wooden number which is perfect for making very small quantities of ground spices etc. A small marble number would be my next replacement purchase.
If you don't have one, you could use a small food chopper to do the same job although you'd potentially want to make a larger quantity so that the blades properly catch the chilli and salt.
My next option would be to use the end of a rolling pin in a sturdy bowl. My marble rolling pin is just effectively a massive pestle anyway! Saying that my little nylon rolling pin would also work pretty effectively.
A comprehensive list of the equipment used to make this recipe is included in the main recipe card below. Click on any item to see an example. There are no hard and fast rules so many items can be sensibly substituted to achieve the same results.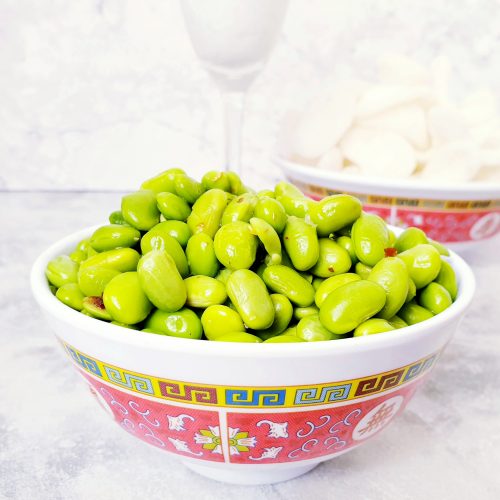 Get Ahead
These edamame beans are perfect for making up ahead of time. I have used them for snacks at work and reheated them for lunch the next day without any issue.
The beans could be made and frozen but I don't really see the point. The time it would take to reheat them would be similar to the time the recipe takes to make.
Leftover Salt & Chilli Edamame Beans
Any leftovers can be stored in the fridge and reheated in the microwave or in a dry pan on the hob. They can also be frozen and reheated the same way from frozen.
Salt & Chilli Edamame Beans Tips
There is nothing difficult in this recipe and therefore I will use this space to tell you to make a little more than you need as I couldn't stop popping them long before they were due to be served!
Don't forget to let me know in the comments if you try making this recipe – I want to know what you think and if you made any substitutions, how did it turn out?
Still Have Questions?
Simple! Just contact me and I will do my best to help as quickly as I am able. Head over to my Contact Me page, any of my social media channels or post a comment at the bottom of this page and I'll see what I can do.
Pin Salt & Chilli Edamame Beans For Later
Hit one of the share buttons to save this page to your Pinterest boards so you can come back and find it at anytime!
Keep Up to Date
Make sure you SUBSCRIBE to my newsletter and avoid missing out on any of my newest and bonus content. Don't worry, I promise not to spam you or bombard you too often. Plus you'll receive a copy of my FREE 7 Day International Meal Plan!

Also please don't forget to follow me over on my social media channels over at Facebook, Twitter, Instagram and Pinterest. I love to interact with my followers and I'd love you to share my content with your friends too.
More Vegan Side Dishes
The Recipe
Salt & Chilli Edamame Beans
---
My Salt & Chilli Edamame Beans are inspired by the tasty morsels served by Wagamamas. But with my version, there is no popping beans out of pods or wasting precious seasoning on the inedible bits! Did I mention they're ready in under 10 minutes?
Ingredients
250

g

Frozen Edamame Beans

0.5

tsp

Dried Chilli Flakes

2

tsp

Sea Salt Flakes

0.5

tsp

Sesame Oil
Instructions
Pop the kettle on to boil.

Measure

250g Frozen Edamame Beans

into a small saucepan.

Cover the beans with boiling water and put onto a medium heat to boil for 3 minutes.

Meanwhile, add

0.5 tsp Dried Chilli Flakes

and

1 tsp Sea Salt Flakes

into a pestle and mortar. Bash the chilli and salt together for a minute.

Add in a further

1 tsp Sea Salt Flakes

and mix in but don't crush.

Once the beans have boiled for 3 minutes, drain them and return to the hot pan.

Stir 3/4 of the chilli salt into the hot beans along with

0.5 tsp Sesame Oil

.

Serve the beans and top with the remaining 1/4 chilli salt.
Nutrition (Approx)
Calories:
82
kcal
|
Carbohydrates:
6
g
|
Protein:
7
g
|
Fat:
4
g
|
Saturated Fat:
1
g
|
Sodium:
1171
mg
|
Potassium:
273
mg
|
Fiber:
3
g
|
Sugar:
1
g
|
Vitamin A:
74
IU
|
Vitamin C:
4
mg
|
Calcium:
39
mg
|
Iron:
1
mg
Download my FREE 7 day international meal plan!
Simply subscribe to the Feast Glorious Feast newsletter and I'll send you the link.