Sweet Chilli Chicken Thighs are marinated with three simple ingredients and then grilled to juicy perfection in 15 minutes. They're perfect to serve in a rice bowl, throw into a wrap for lunch or even take out on a picnic.
This post may contain affiliate links. Please refer to my Disclosures Page for more details.
This simple sweet chilli chicken recipe uses thigh meat to make sure that the chicken is as juicy as can be. Thighs will always make for the tastiest chicken, just like with my Satay Chicken Skewers. This is especially true where the chicken is cooked with no added fat.
My recipe uses ready made sweet chilli sauce as a base but gets extra flavour from garlic salt and fish sauce. Both the marinade and finished chicken dish are super versatile and I use this dish in many many ways quite regularly.
My Sweet Chilli Salmon dish uses similar flavours with a slightly different method.
How to Serve Sweet Chilli Chicken Thighs
These thighs are equally great served hot or cold. They can be taken out on a picnic cold or added hot to a rice bowl with some veg for a full dinner. They can be served whole or sliced into bite sized pieces.
The cooked chicken makes a great alternative to the prawns in my Vietnamese Prawn Rolls or as a topping in a version of my Korean Ramen. It can be used hot or cold to top a salad or stuffed into a baguette/sandwich/wrap with some cool mayo and shredded lettuce.
Make Sweet Chilli Chicken Thighs into a Feast
I truly believe that you can make any dish into a proper feast! Whether thats a feast for one after work on a Tuesday, a casual feast for four on a Friday evening or a feast for 12 for a special occasion!
I've included these sticky chicken thighs recipe in my Everyday Feast with Chicken and Rice. In this smaller feast the chicken is served with Sticky Rice and Sesame Tenderstem with Miso Soup on the side.
They are equally good throw in a wrap, on top of a salad or eaten as a quick lunch with a side or Lemon & Coriander Couscous.
Don't forget to head over to the Big Asian Feast post for all of my tips and tricks to help you host a fun and stress-free feast. Plus remember to check out my other feast collections and all my Asian inspired recipes.
Ingredients for Sweet Chilli Chicken Thighs
Chicken
I've specified chicken thighs in the recipe as thigh meat is a little fattier and juicer than breast meat. It is ideal to be used in a dish like this where there is no added fat.
You can use the marinade on chicken breasts but I would recommend butterflying the breasts to make them flat and even then cooking them for less time than the thighs.
The thighs can also be cooked on the bone but I would tend to oven-bake bone in thighs rather than grill them.
Sweet Chilli Sauce
There are multiple varieties of sweet chilli sauce available. I will always head to an Asian supermarket or the world food aisle at the very least to grab the big bottles at half the price. "Healthy Boy Brand" and "Lee Kum Kee" are my go-to brands.
Do check that the type that you buy as some varieties are spicier than others.
---
To find out about more of my favourite Asian Ingredients, check out my guide to the Top 16 Asian Ingredients which I always keep stocked in my pantry.

I've also suggested a whole bunch of recipes to try once your cupboard is fully stocked!
---
Fish Sauce
This is a pungent Asian sauce made from fermented anchovies. And it stinks. Really badly. But it tastes nothing like it smells so please try it if you are unfamiliar. It really makes the sauce all it should be. All of the supermarkets sell it but I love to buy massive bottles from the Asian grocers.
Be Flexible
The sweet chilli marinade and glaze can be used on other meats and fish too. It is especially amazing on cod fillets and king prawns as well as pork loin steaks and even lamb leg steaks.
The fish sauce and garlic salt can be removed entirely and the sweet chilli sauce used just in its own right. The flavour won't be quite as pungent but if it's all you have then go for it.
Make it Vegetarian or Vegan
The concept of glazing sweet chilli sauce over a protein will also work with well pressed and dried firm tofu or another meat substitute like seitan or tempeh.
But you will need to leave the fish sauce out of the recipe. A little light soy sauce can be used instead.
And then it will also work with vegetables too. Large mushrooms, sliced courgettes or aubergine would all be great.
Make it Allergy Friendly
This recipe is free from gluten, dairy, egg and nuts. But do be sure to double check the ingredients on the sweet chilli sauce in case some gluten or nuts have snuck in there.
Please note that this recipe may contain other allergens not referred to above and any variations suggested have not been tested unless otherwise stated. For more information regarding any dietary information provided on this website, please refer to my Nutritional Disclaimer.
Equipment Notes for Sweet Chilli Chicken Thighs
Do make sure that you fully line your baking tray as the marinade/glaze is full of sugar. As it cooks it was inevitably burn onto the tray surface.
I usually use a combination of foil and baking parchment. Although I have just discovered that you can buy a product that combines both of these in one.
Again due to the molten sugar, the chicken will be mega hot once its been under the grill. Do not try to pick it up with your fingers! I find that a set of silicone tongs is the most helpful utensil here.
If you don't have a grill, you can cook the thighs in a regular oven. Think high and quick cooking rather than low and slow.
A comprehensive list of the equipment used to make this recipe is included in the main recipe card below. Click on any item to see an example. There are no hard and fast rules so many items can be sensibly substituted to achieve the same results.
Get Ahead
Sweet chilli thighs are perfect to make ahead of time. Because they're lovely and moist, they won't dry out on reheating. Plus they're equally delicious served cold.
They will keep in the fridge for 2 to 3 days and will also freeze like a dream.
As for preparation, the chicken can sit in the marinade for anything up to 24 hours before it is cooked. As it only takes 15 minutes to cook, it is a great recipe to get ahead with. The chicken can also be frozen uncooked in the marinade.
Leftover Sweet Chilli Chicken Thighs
There are a million options for things to do with leftovers. They can store in the fridge for a couple of days or be frozen until you need them. I am not adverse to making extra for the specific purpose of having them as leftovers.
They can be used in sandwiches, salads, wraps, with rice, thrown into stirfrys, eaten cold straight from the fridge. If you want to make them a little saucier, simply use sweet chilli sauce straight from the bottle or whip up another batch of the marinade for more tang.
Sweet Chilli Chicken Thighs Tips
Be careful with the thighs as they will be super hot. The sugars in the sauce will caramelise and become hotter than a thousands suns.
The 5 minute resting time really makes a difference so don't skip this step.
Don't forget to use the juices from the pan/anything that comes out the chicken when its resting. There is some serious flavour in the juices!
Don't forget to let me know in the comments if you try making this recipe – I want to know what you think and if you made any substitutions, how did it turn out?
Still Have Questions?
Simple! Just contact me and I will do my best to help as quickly as I am able. Head over to my Contact Me page, any of my social media channels or post a comment at the bottom of this page and I'll see what I can do.
Pin Sweet Chilli Chicken Thighs For Later
Hit one of the share buttons to save this page to your Pinterest boards so you can come back and find it at anytime!
Keep Up to Date
Make sure you SUBSCRIBE to my newsletter and avoid missing out on any of my newest and bonus content. Don't worry, I promise not to spam you or bombard you too often. Plus you'll receive a copy of my FREE 7 Day International Meal Plan!

Also please don't forget to follow me over on my social media channels over at Facebook, Twitter, Instagram and Pinterest. I love to interact with my followers and I'd love you to share my content with your friends too.
More Chicken Recipes
The Recipe
Sweet Chilli Chicken Thighs Recipe
---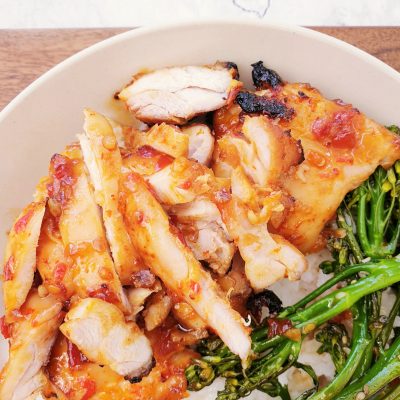 Sweet Chilli Chicken Thighs are marinated with three simple ingredients and then grilled to juicy perfection in 15 minutes. They're perfect to serve on a rice bowl, throw into a wrap for lunch or even take out on a picnic.
Ingredients
450

g

Chicken Thigh Fillets

-

Skinless & Boneless

1

tsp

Garlic Salt

5

tbsp

Sweet Chilli Sauce

2

tbsp

Fish Sauce (Nam Pla)
Instructions
Thoroughly coat

450g Chicken Thighs

in

1 tsp Garlic Salt

,

5 tbsp Sweet Chilli Sauce

and

2 tbsp Fish Sauce

.

Leave covered in the fridge for anything up to 24 hours. Or cook straight away.

When ready to cook, preheat a grill to its highest setting.

Line a baking tray with baking parchment and foil.

Lay the chicken thighs out on the lined tray. Spoon over any remaining marinade.

Put the tray under the grill (not to high or close to the grill for

10 minutes

.

Turn the thighs over and return to the grill for a further

5 minutes

.

Leave the thighs to rest for 5 minutes and then slice or serve whole. Spoon over any juices from the tray.
Nutrition (Approx)
Calories:
587
kcal
|
Carbohydrates:
22
g
|
Protein:
38
g
|
Fat:
38
g
|
Saturated Fat:
10
g
|
Cholesterol:
221
mg
|
Sodium:
3174
mg
|
Potassium:
513
mg
|
Fiber:
1
g
|
Sugar:
21
g
|
Vitamin A:
176
IU
|
Calcium:
26
mg
|
Iron:
2
mg
Download my FREE 7 day international meal plan!
Simply subscribe to the Feast Glorious Feast newsletter and I'll send you the link.